Newcastle 2 Leeds United 1

Date: Tues 26th December 2000, 3pm.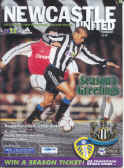 Venue: St.James' Park
Conditions: Clear but cool.
Crowd: 52,118 - new record attendance at rebuilt ground.
Referee: Andy D'Urso (Billericay) Absolute tosser.
Teams:
NUFC (normal home kit): Harper, Barton, Marcelino, Griffin, Bassedas, Hughes, Speed, Dyer, Solano, Acuna, Ameobi
Subs Not Used: Cordone, Glass, Lua-Lua, Karelse, Steve Caldwell
Booked: Bassedas, Barton, Acuna, Speed.
Sent off: None.
LUFC (All yellow away kit): Robinson, Kelly, Ferdinand, Woodgate, Matteo, Bowyer, Bakke (Batty 74 mins), Dacourt, Kewell (Keane 55 mins), Viduka, Smith
Subs not used: Martyn, Radebe, Mills.
Booked: Dacourt, Smith.
Sent off: None.
Goals:

10 mins. A free kick in a central position about 6 yards outside the United area was taken by Dacourt, and after encroachment from the wall, was moved forward ten yards into the area.

With Harper and his defensive wall not managing to concur, Dacourt simply stepped up and slotted home a slow, low shot into Harper's bottom left hand corner.

The United 'keeper led the protests, which continued back to the halfway line, chief grouse appearing to be either that the referee had indicated an indirect free kick and Dacourt's shot went straight in, or that the whistle to take the kick hadn't been blown when the shot went in. 0-1
41 mins. Nolberto Solano buried a free kick from well over 30 yards out into the top right hand corner of Robinson's goal, seemingly going in off post, bar and keeper's glove. 1-1

44 mins. Woodgate stopped another Dyer raid unfairly and Solano swept over the resulting free kick from the left side of the pitch between touchline and penalty area, for Clarence Acuna to beat Bakke and powerfully head home at the near post. 2-1
Half time: NUFC 2 LUFC 1
Full time: NUFC 2 LUFC 1

We said:
A knackered looking Uncle Bobby said:
"We decided to play young Shola because we needed a header of the ball and he was outstandingly good for us."
"Dyer was a bundle of energy who continued to run at them, and they couldn't catch him.
"We were strong in midfield. All our midfielder players got booked, so it's indicative of the challenge and effort they put into it. We had seven players out who would have started so the team has done very well."
"The victory was satisfying, pleasurable and important.
"The players showed a great collective spirit and that was one of the reasons I didn't change the starting line-up. The 11 who started together deserved to finish together and come off at the end as one."

Newcastle's Captain for the day, Warren Barton added:
"We needed that result. We let a lot of people down at Derby. We should have at least got a point at Pride Park.
"But every time we let ourselves down we have managed to bounce back.
"I was really pleased for the young players. I thought big Shola Ameobi showed a lot of character and the two South Americans, Clarence Acuna and Christian Bassedas, battled so hard.
"Make no mistake about it, this was a big, big win for us. What is important is that you don't lose two or three games in a row because this is something that is so easy to do because of the quality of teams in the Premiership."
They said:
With more lines on his brow than there are under repair by Railtrack, a chastened David O'Leary muttered:
"I thought Dyer and the young lad were outstanding, the pair of them were first to everything and every time there was a tackle to be won they won it. When the ball was there they were first to it and it was a similar story across the park. We looked very dodgy at the back, didn't perform in midfield and we never got going up front. Over 90 minutes Newcastle out-battled us."

"We have made life very difficult for ourselves. It is a disgrace to be where we are and if we want to qualify for Europe through the league we really have to kick off from now and get results."

"The best team won and the biggest disappointment is that we were out-battled by a team who were more passionate than us. It's a big sin – no matter how much talent you have the bottom line is that you have to work hard..."
Match Facts:

100th game of Solano's Newcastle career and 13th goal.
Largest home attendance of the season so far.
First time we've won on Boxing day in seven attempts (Wolves (h) 1992 being the last.)
First time this season in the Premiership we've managed more than one goal before half time.
First Chilean to score for united since George Robledo in March 1953.

Waffle:
A simply magnificent performance from Newcastle, as they came back from a controversial early goal to lead 2-1 at the interval and eventually claim the points, maintaining our hold on 7th spot.

To come back from that was remarkable enough, but to do it with something of a patched-up side was even more incredible, given the meekness of the performance at Derby.

Ameobi had replaced the operating theatre-bound Shearer in the starting XI, Bassedas played on with a broken nose (and got another smack on the hooter) and although Speed and Solano were back, Lee missed out. Result? - free-flowing football, passing and movement, sharp tackles and above all,
A Newcastle side playing as a team.
All breathless stuff, with the crowd backing the lads to the hilt and the team responding with an effort and passion that some feared had been lost in a welter of passports and unfestive rancour.

Shola Ameobi played the whole 90 minutes as a striker in the absence of Shearer, and was tremendous, giving every ounce of energy and testing the expensive Leeds defence all afternoon.

Of the other performances, every player dug in and was prepared to go the distance against their much-hyped opponents - principally Acuna and the flying machine that is Kieron Dyer. No wonder David O'Leary wants to sign him - he was electrifying.

The second half saw no more goals, but no slackening of effort from Newcastle. An amazing deflection off a post denied Bowyer a leveller, but Leeds never managed to get a foothold in the game and in contrast to our recent defeat of Liverpool, this was a totally deserved home victory.

Nobby Solano summed up the day perfectly when he wheeled away after scoring, ran towards Bobby Robson and the home bench and then revealed a hand-written T-shirt with the slogan:
"Merry Christmas Newcastle"
An apt message, and a memorable way for the wee Peruvian to become a ton-up toon player.

Luckily the performance of referee and linesmen didn't matter in the end, but D'Urso's reputation took a further hammering for his generally messy idea of control - resulting in him being surrounded by players of both teams in the second half, not threatening him, just merely wondering what the hell his decision was. The crowd supplied their own comment at this point - 50,000 voices shouting "you don't know what you're doing."

However, the referee in his own way contributed to the home win, by allowing the dubious opening goal and thus provoking waves of support from the aggrieved home fans. Nowt like a bit of righteous anger for getting folk out of their seats and joining in with a quick chorus of "The Blaydon Races."
Had Newcastle opened the scoring, things might not have followed the same pattern, but we'll leave dealing in ifs, buts and maybes to the Match of the Day panel, and just savour the win.
We did say a few games ago that "...Now is the time for careers to be launched and lost at Newcastle United." With the big guns out of action, Ameobi certainly did his reputation a power of good, Bassedas at least showed signs of filling the role vacated by Lee and Acuna made a telling contribution in defence as well as up front. Even Marcelino earned his money, and felt sufficiently confident to gallop forward once or twice and even try a shot on goal in the second half.

Happy days then, with the crowd cheering the players from the pitch, a deserved reception. Bring on Man U, and let's hope that Bobby's reborn team can do it all again.
PS - Speaking of good receptions, former Newcastle midfielder David Batty received a standing ovation when he entered the fray as a second-half substitute.
Biffa