Ryan Taylor rifled home a 25 yard free kick after Gutierrez had conceded a needless foul. 0-1

Half time: Wigan 1 Newcastle 0

73 mins

Emile Heskey made a strong run down the Wigan right and initially clashed with Sebastien Bassong midway into our half. With the linesman flagging for a free kick, the two players continued their coming together until the home striker fell over in the box - at which point referee Mike Dean indicated a spot kick and red-carded the Magpies defender. Amr Zaki crashed home the penalty. 0-2

88 mins Carroll fell under aerial challenge from Kirkland in the box and with Michael Owen having earlier been subbed, Danny Guthrie took responsibility from the spot - firing home for his second goal in successive away games. 1-2
The only thing missing from the pantomime appears to be further FA sanction for JFK. However the man who turns 62 on Saturday appears to have just about kept on the right side of the law when saying:

"I'm livid about some of the decisions - I can't really express myself in the way I'd like to as I'm already in trouble with referees.

"I can't find words to express his (Dean's) performance. If he gives a penalty for (Emile) Heskey why couldn't he for Andy Carroll.

"Heskey has done well, thrown himself and lost his balance. But he's 6ft 3in for Christ's sake.

"The referees fall for it. At the other end Andy Carroll's got hacked down from behind. See it on TV, see it on the tape, it's a clear penalty. Even Stevie Bruce said the same but we didn't get it. That sums up his performance.

"In the last 15 minutes I always thought we'd get something out of the game. Then the penalty pops us, but you have to rely on officials to do their job, what they are supposed to do.

"They want respect in the game but what would you say after today. I'm too sick to say anything else. "I'll be kind and call it a reckless challenge (by Cattermole). he did the same to Joey Barton. We know Beye has a badly bruised knee but we are not sure if there is a fracture."

Bruce gushed:

"We definitely got the right result, but the last two or three minutes I don't know what's happened to us. It took the gloss off a really good performance, in a game in which we were easy winners up until then.

"All of sudden it went into chaos, but all credit to Newcastle for sticking at it. In the end, though, we got the right result.

"You could see that we have got a really good side here. We had a difficult start to the season, when we didn't pick up as many points as we should have done, and we needed to turn that around.

"But this is arguably the best set of players I have had. They are a terrific group and we have some very, very good players."

About the assault on Habib Beye:

"Lee Cattermole has gone for the ball, and wins the ball, and he has followed through and his knee catches the player.

"We hope the player is okay, but it was a genuine challenge to get the ball. Sometimes that happens.

"It's a man's game and we never want to see serious injuries, but Lee is a tackler and has unfortunately caught the man with his knee.

"It certainly wasn't a red card, the referee got it right."

About Ryan Taylor:

"His deliveries from set-pieces are as good as I've seen. Shay Given must hate the sight of him. It is an unbelievable art he has got."

About penalty scorer Zaki:

"Whatever happens in the dressing room I'll keep in-house. His daughter has not been well and he has had a difficult couple of months trying to settle. But today he was back to what the Premier League found exciting about him."





Mags @ Latics:

2008/09 lost 1-2 Guthrie (Taylor 29)
2007/08 lost 0-1 (Taylor 65)
2006/07 lost 0-1 (Taylor 40)
2005/06 lost 0-1 (LC)
2005/06 lost 0-1
1953/54 won 3-2 (FA) Broadis, Keeble, White*

(* at Springfield Park; all others at JJB Stadium)

Full record against Wigan:

P
W
D
L
F
A
SJP
4
3
1
0
8
4
JJB
4
0
0
4
1
5
League
8
3
1
4
9
9
SJP(FA)
1
0
1
0
2
2
SP

1

1

0

0

3

2

JJB

(LC)

1
0
0
1
0
1
Cup
3
1
1
1
5
5
Tot
11
4
2
5
14
14
Crowds @ JJB v NUFC:

2008/09: 20,266
2007/08: 20,304
2006/07: 21,179
2005/06: 11,574 (LC)
2005/06: 22,374

NUFC - Boxing Day away day Hangovers:

2008/09 Wigan (a) lost 1-2
2007/08 Wigan (a) lost 0-1
2006/07 Bolton (a) lost 1-2
2005/06 Liverpool (a) lost 0-2
2004/05 Blackburn (a) drew 2-2
2003/04 Leicester (a) drew 1-1
2002/03 Bolton (a) lost 3-4
1997/98 Derby (a) lost 0-1
1996/97 Blackburn (a) lost 0-1
1995/96 Man U (a) lost 0-2 (moved to Dec 27th)
1994/95 Leeds (a) drew 0-0
1993/94 Chelsea (a) lost 0-1 (moved to Dec 28th)
1989/90 Stoke (a) lost 1-2
1988/89 Sheff Weds (a) won 2-1


Waffle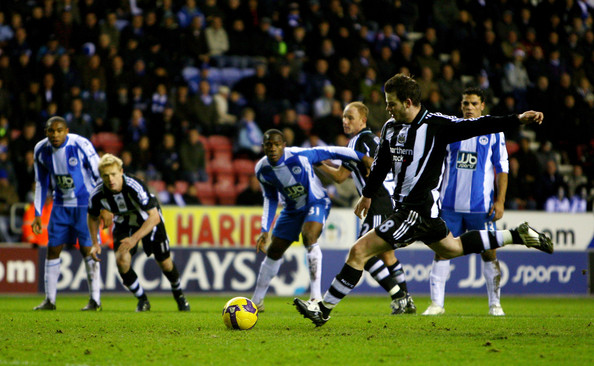 United left Lancashire on Friday having finally found the net at the JJB Stadium at the fifth time of asking and with results elsewhere keeping us in twelfth position.

Other than that though, Newcastle's latest Boxing Day misadventure was as gloomy as any of those we've suffered in the last two winless decades.

The implosion began with Jose Enrique limping out of the pre-match warm-up, forcing Joe Kinnear to shoehorn Charles N'Zogbia into the left back position that he's patently incapable of filling from a defensive perspective.

An unimpressive opening spell from both sides then saw the deadlock broken just before the half hour, when Ryan Taylor rifled home a 20 yard free kick - the first goal we've conceded away from home in 323 minutes.

That was Taylor's second goal of the season - both have which had come against the Magpies and also extended his record of scoring in this fixture to three in a row.

All but two of his half dozen career league strikes have been recorded against Shay Given and today's match programme carried an interview with the player, but still he was given the chance to score...and duly did so - with United opting not to put a player on the post.

Within ten minutes we suffered a further blow, when Lee Cattermole clattered into Habib Beye on halfway, leaving the United defender prone on the turf and needing to be stretchered off after a prolonged period of paramedic attention on his right knee.

That saw substitute Steven Taylor introduced at right back, while former smoggie Cattermole was barracked by the away fans - having crippled Joey Barton with an unpunished challenge in the last meeting of the two teams.

Further misfortune then befell us, with Emile Heskey making a strong run down the Wigan right and initially clashing with Sebastien Bassong midway into our half.

With the linesman flagging for a free kick, the two players continued their coming together until the home striker fell over in the box - at which point referee Mike Dean indicated a spot kick and red-carded the Magpies defender.

Amr Zaki crashed home the penalty, leaving us 0-2 behind and a man short, with things then unraveling still further as Mark Viduka failed to move for a loose ball on halfway.

At the venue that saw United fans barrack their own club exactly 12 months previously with the infamous "we're sh*t and we're sick of it", the Australian then strolled from the field to shouts of "you're not fit to wear the shirt".

His replacement Andy Carroll was hastily prepared for action and made more of an impact than the immobile Viduka - claimed later to have injured his groin.

With the increasingly erratic referee further infuriating Toon fans and players with more mystifying decisions, both Duff and Butt were booked in quick succession for dissent - taking the latter to within one yellow card of an automatic one-match suspension.

Meanwhile Latics 'keeper Chris Kirkland wasn't in direct action, but handed a small object to the referee that had earlier been flung at him from the away end.

Apparently down and out, Newcastle belatedly made their mark in the contest on 88 minutes when Carroll fell under aerial challenge from Kirkland in the box.

With Michael Owen having earlier been subbed, Danny Guthrie took responsibility from the spot - firing home for his second goal in successive away games.

However despite some frantic late pressure from United in five minutes of added time, our six match unbeaten run came to an end at the hands of Steve Bruce's side.

Last week's last-gasp goal hero Damien Duff had a glorious chance to salvage a point, but the ball failed to drop and he shot over from 12 yards.

And with Given having joined the attack in the dying seconds for a corner kick, Wigan also survived what looked like a valid handball shout in their own box.

The final act of the game saw Carroll felledl in the box after being challenged from behind - getting a yellow card for his troubles, despite this penalty claim being decidedly more valid than the one he'd seen given minutes earlier.

Given our loathsome record on this ground and recurring defeats on this day of the year, it's tempting to write this all off as nothing more than a bad day at the office.

Despite the injury and suspension misfortunes that piled up as the game wore on however, the overall awfulness of our performance is cause for concern, as we contrived to drop points against another thoroughly average outfit.

Biffa