Date: Saturday 13th September 2014, 3.00pm.

Venue:

St. Mary's Stadium



Conditions: cadaverous

Admission: £25 (£37 in 2013/14)

Programme: £4 for an A4 sized effort, plus a separate A4 sized brochure produced for Southampton FC's Foundation.


Southampton

Newcastle United

4 - 0

Teams
6mins: With the United side looking in no mood to mark or chase, Ryan Bertrand's lobbed cross from the Saints left flank found the head of the unmarked Graziano Pelle who nodded it back across Krul and into the top corner in front of the away supporters.
19mins: Attempting a clearance outside his own area, Mike Williamson inexplicably headed the ball sideways to Pelle. Although the Italian mis-kicked the ball towards Tadic, but he was able to square the ball back to his colleague to sidefoot home. Tim Krul appealed in vain for offside but neither of the final two passes were near to troubling the linesman.
Half time: Saints 2 United 0

54mins: Jack Cork's maiden Premier League goal came after yet more comic cuts defending, Mike Williamson got into another tangle, Cork easily rounding Krul before tucking the ball into the empty net.

90+4mins: Following a 41 pass move, Morgan Schneiderlin - who played for the Saints during Pardew's time in charge - curled the ball past Krul from the left side of the box to complete the rout.
Full time: Saints 4 United 0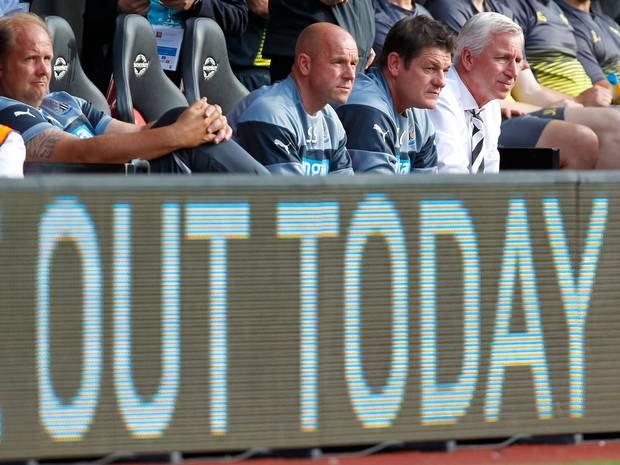 Alan Pardew (from the BBC):

"Well it's tough coming back to my old club here again last time we come here we didn't start well and they scored a good goal first goal and the second goal was a mistake and they got a bit fortunate with that.

"And then we probably had our best spell and couldn't score - we had a couple of good chances if we could have got a goal back then maybe at halftime we could of had something to really cling on to.

"And second half another individual mistake and you know as a team we have to kind of absorb those and be better than we were today.

"The best team won, they were stronger, faster and a bit more inventive than us today - we're better than that.

".....the performance today from the start put us on the back foot and our fans were on us from the start - or me in particular - and I don't think that helped the situation.

"The game sort of got away from us a little bit in that period, we-re booted after about 20 minutes, did quite well and was a lot better but over the 90 minutes you can only say that the best team won and they won with a bit to spare.

"I do feel that we have more quality than we've shown today and we need to show real character now to get ourselves out of what now is a difficult start because if we'd won today you'd argue it was a good start but it's a difficult start now.

"What we have to do is make sure that the work on the training ground is to a level. We was unlucky this week, we lost two big players to injury*, we've had kind of mental blows all week - two early goals at the start of the game; very, very difficult to bounce back from those blows and hopefully this week we'll have a better week on the training ground and get ourselves a shape and a formula that's going to get us a win.

"Well I'm just you know trying to do the job to the best of my ability."

* one of those being Rolando Aarons; an 18 year old from the development team who has made two substitute appearances in his senior league career. That's beyond clutching at straws....

Alan Pardew comments, 18th September 2014:
"I hate the fact John got involved in that incident before the game, because he has got black and white blood. Nobody loves this club more than him.
"He's had more roles at this club more than anyone else probably – academy director, youth team coach, first team coach to Bobby Robson and to me in different eras. That all hurts.
"Do you think before a game he wants to see the banners going up and negativity towards the team? Of course not. He tried to defend that and has apologised for being slightly aggressive, but that's all it was."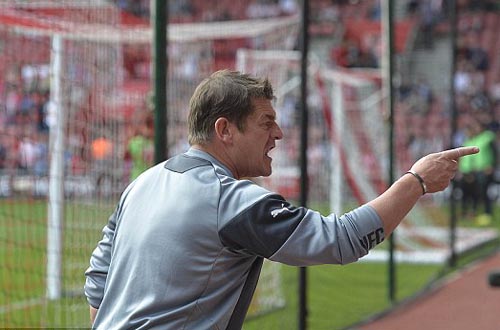 JC in 'slightly aggressive' mood


Newcastle United statement, 18th September 2014:
"Newcastle United received a number of complaints from supporters regarding the conduct of its coaching staff during and after the defeat to Southampton on Saturday, 13th September. This matter has now been dealt with internally.
"Following the conclusion of the club's inquiries, assistant manager John Carver, said:

'My sole focus on Saturday, as it always is, was on trying to gain three points for Newcastle United and preparing the players to the best of my ability. this included keeping them focused on their roles and duties in the upcoming 90 minutes.
'In the warm-up, I was disappointed to see banners that could, in my opinion, distract the players and take focus away from the job in hand – namely winning the match.
'I went over to our fans to ask them to help us and requested that they take the banners down. The vast majority of supporters back the team through thick and thin and I am very proud to be one of them.
'I was met with abuse from one supporter and I regret that I responded inappropriately. I sincerely apologise for any offence caused by my reaction.
'Every fan is entitled to an opinion, positive or negative, and I respect that. I hope fans will understand that I, like them, only wanted what was best for the team.
'I am proud to work for my home town club and would ask every supporter to back the players and all staff, as they really can make a difference.'"

Ronald Koeman:

"Tim (Krul) is still a great goalkeeper. It wasn't special for me that it was 4-0 against him. Maybe it would have been more special if it had been against Manchester United, but I understand how difficult it is for Newcastle right now.

"It's always important as you realise the situation for them. They lack a little bit of confidence.

"It was a perfect game for Graziano (Pelle). Scoring twice gave confidence to the team, and now we know what he can bring. He needs one or two weeks to adapt, because it's not Holland - it's different. But he played fantastically today.

"It wasn't a perfect game because we made some mistakes in the first half. We had a fantastic start and scored a fantastic first goal. We controlled it totally, and we played the last 10-15 minutes well.

"To score in the way Morgan (Schneiderlin) did – it was a great finish.

"It was a great result and I'm proud of the team. We'll enjoy this weekend and we'll prepare ourselves for next weekend."


Toon @ Saints - PL era:
2014/15: Lost 0-4
2013/14: Lost 0-4
2012/13: Lost 0-2
2004/05: Won 2-1 OG, Carr
2003/04: Drew 3-3 Ameobi, Bowyer, Ambrose
2003/04: Won 3-0 Dyer 2, Robert (FAC)
2002/03: Drew 1-1 Bellamy
2001/02: Lost 1-3 Shearer
2000/01: Lost 0-2 No scorer*
1999/00: Lost 2-4 Shearer, Speed*
1998/99: Lost 1-2 Hamann*
1997/98: Lost 1-2 Lee*
1996/97: Drew 2-2 Ferdinand, Clark*
1995/96: Lost 0-1 No scorer*
1994/95: Lost 1-3 Kitson*
1993/94: Lost 1-2 Cole*

* At the Dell, all subsequent games at St. Mary's.


Full record v Saints:

| | | | | | | |
| --- | --- | --- | --- | --- | --- | --- |
| | P | W | D | L | F | A |
| SJP | 38 | 28 | 6 | 4 | 89 | 35 |
| SM/TD | 39 | 4 | 11 | 24 | 30 | 71 |
| League | 77 | 32 | 17 | 28 | 119 | 106 |
| SJP(FA) | 3 | 2 | 1 | 0 | 4 | 1 |
| HCG/TD/SM | 6 | 1 | 0 | 5 | 6 | 13 |
| SJP(LC) | 0 | 0 | 0 | 0 | 0 | 0 |
| TD | 1 | 0 | 0 | 1 | 1 | 4 |
| SJP(FC) | 1 | 0 | 1 | 0 | 0 | 0 |
| TD | 1 | 0 | 1 | 0 | 1 | 1 |
| Cup | 12 | 3 | 3 | 6 | 12 | 19 |
| Tot | 89 | 35 | 20 | 34 | 131 | 125 |



Newcastle last kept a clean sheet in an away league game
against Southampton back in February 1969 (a 0-0 draw). Today was their 25th unsuccessful attempt to emulate that.

It's now 630 minutes since a Newcastle player scored a Premier League goal for his side away from SJP (Vurnon Anita at Hull in March). In the visits to Fulham, Southampton, Stoke, Arsenal, Liverpool, Villa and Southampton again our only goal was an OG from a Liverpool player.
Our Premier League record in 2014 makes miserable reading, with just 18 points taken from a possible 69. That translates as five victories, three draws and 15 losses, with 17 goals scored, 44 conceded and five clean sheets.

Compare that to the 19 points from a possible 48 that Chris Hughton's Newcastle side had amassed when his sacking took place in 2010.
That had been achieved through five victories, four draws and seven losses, with 24 goals scored, 25 conceded and four clean sheets.

Sam Allardyce meanwhile walked the plank in early 2008, after his side took 26 points from a possible 63.
His side recorded seven victories, five draws and nine losses, with 27 goals scored, 33 conceded and three clean sheets.

You want more? how about the final 22 games of the relegation season, when 18 points were taken from a possible 66 under Hughton, JFK and Alan Shearer. That came from four victories, six draws and 12 losses, with 21 goals scored, 34 conceded and three clean sheets.

Season-opening winless runs (PL only):

2014/15: no win in four games
2013/14: won the third game
2012/13: won the first game
2011/12: won the second game
2010/11: won the second game
2008/09: won the second game
2007/08: won the first game
2006/07: won the first game
2005/06: won the sixth game
2004/05: won the fifth game
2003/04: won the seventh game
2002/03: won the first game
2001/02: won the third game
2000/01: won the second game
1999/00: won the eighth game
1998/99: won the fifth game
1997/98: won the first game
1996/97: won the second game
1995/96: won the first game
1994/95: won the first game
1993/94: won the fourth game

Waffle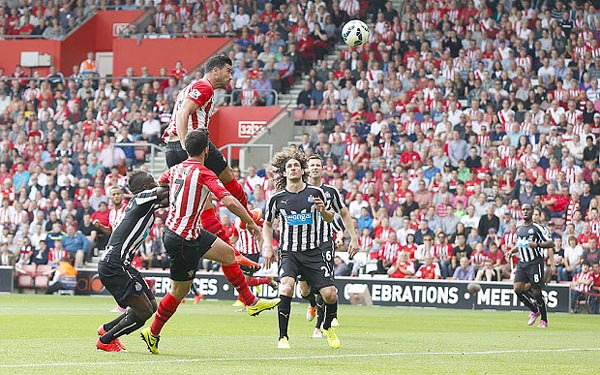 It's now no longer a question of if, just when.

The 140th Premier league game of Alan Pardew's tenure as United manager further eroded his survival chances, as a second 0-4 rout here by his former employers in 2014 was witnessed at first hand by owner, Mike Ashley.

Post-match media claims that the pair were in talks were false, with some speculation raised after Pardew failed to attend the written press conference (perhaps because there's hardly any of them still allowed to talk to him....) He did fulfil his radio and TV interview requirements.

And there was further disquiet as social media postings reported a pre-game incident when assistant manager John Carver shouted comments at away fans behind the goal, after a banner calling for managerial change was unfurled as the players began their warm-up drills.

Anti-Pardew chants were audible, while the bed sheet pictured above was unfurled during the second half as the manager remained rooted to his seat. Instead, Carver and Steve Stone occupied the technical area, provoking a chorus of, "Pardew, Pardew, show your face" as well as the now familiar "It's never your fault..." refrain.
claims that Habib Beye has rejoined on a contract basis remain unconfirmed...
The full time whistle then saw further negative reaction from malcontented Magpie followers, one making it past stewards and onto the field before he was apprehended - having shown far more commitment to evading opponents than anyone else in black and white all afternoon.

A 57th defeat under Pardew confirmed Newcastle's worst start to a season since 2005 and means that they've now won just one of their last dozen league matches.

Back to the game and meek and unconfident display from United was duly punished by a Southampton side who underwent similar squad modifications after last season - but needed to demonstrate no more than competence to exploit the goalscoring opportunities served up for them.

Unlike last season, when the Magpies somehow held out until the end of the first half before conceding, they buckled from the very first whistle on Saturday and could have fallen behind in the opening minute.

Fabricio Coloccini's weak backpass put Tim Krul in trouble but his clearance hit Shane Long and almost went in the net, although it would have been via the forward's arm.

Minutes later the same two were involved as Long raced onto an upfield ball, Krul seeming to take out the Saints forward rather than punch the ball. Referee Chris Foy contented himself though by awarding only a throw-in.

The opener wasn't long in coming though, as Ryan Bertrand centred for Graziano Pelle to nod home his third goal in as many games with ridiculous ease. Pelle had a snapshot saved a minute later and the big forward almost played in Dusan Tadic but Daryl Janmaat was able to avert the danger - one of the few times the harassed Dutchman looked vaguely comfortable in the entire game.

Krul saved another Pelle effort - although the offside flag was already raised - but it wasn't long before the Italian striker got his second, former Saint Mike Williamson abetting with a tragically misplaced clearance.

There was a brief reaction from the visitors - wearing black and white on this occasion - and Moussa Sissoko linked up with Massadio Haidara after 26 minutes for the former to test Fraser Forster.

Within 30 seconds Janmaat had teed up a fit-again Jack Colback for the midfielder to manage a decent strike that former Newcastle custodian Forster smothered.

Hull old boy Long was treated for the after effects of his clash with Krul, and Colback was booked before half-time after he brought down the Irishman on the halfway line.

Long made way for Victor Wanyama in the second half, while the no-longer-hamstrung Cheick Tiote appeared for the first time this season at club level - having played two full matches for Ivory Coast in the previous week. It made little difference to Newcastle's shambling display though, and Jack Cork walked the ball home within ten minutes of the resumption.

Ayoze Perez replaced the ineffective and disheartened Remy Cabella and although United forced some corners and applied some modest pressure, the nearest they came to a consolation was when Colback narrowly failed to make contact with Emmanuel Riviere's cross-shot.

Sammy Ameobi made his first appearance of the season, replacing Sissoko, but the final nail in the coffin came after the three added minutes had been played, Southampton stringing together an elongated passing move before Morgan Schneiderlin chipped Krul to put the tin lid on things.

The names may have changed for both sides since their last meeting here in March, but the manner and magnitude of the defeat was no different.

What Ronald Koeman did was assess what was missing from his squad and oversee the replacement of those elements right across the field. That's in contrast to Newcastle, who ignored the obvious deficiencies that defeats like our most recent visit highlighted, namely a soft-centred defence and a non-existent attack. Instead they bundled two more out of the door and completed deals for players in positions where we already have cover. Fiscal sense but certainly not football logic.

However it's impossible to know from today's game whether the Saints have actually bought wisely to replace the departees; they simply weren't tested in any meaningful way. The soothsayers on TV praising Southampton to the heavens for beating us may be better advised to leave their eulogising until after far tougher tests than this glorified practice match.

But in fairness, Ronald McDonald could have put a team out today that were more motivated and organised than our rabble. And Koeman certainly blew a hole in the old adage that it takes time for an influx of new players to gel - obviously the caveat to that is, unless they're playing Newcastle.

The post-match thoughts of former Magpie Fraser Forster weren't forthcoming, but a second clean sheet in his fourth-ever Premier League game cannot have been more easily earned than any of those record-setting shutouts during his time at Parkhead. And like those days at Celtic, there was a crushing inevitability to proceedings - when fans of both sides knew exactly what was in store.

This defeat put United rock bottom of the Premier League on goal difference and they will remain there until next week's visit of Hull City to SJP. Assuming the axe doesn't fall quickly in the wake of this result, we're now set fair for another grim week ahead of that game, which threatens to be played in a similarly toxic atmosphere to May's visit of Cardiff.

This loss came exactly six years after the Tigers left Tyneside with all three points, after one of the most corrosive days in our recent history saw mass protests outside the stadium following Kevin Keegan's departure.

While the cause of the unrest is rather different though (urging a sacking rather than bemoaning a resignation), two constants remain in 2014: the short-changing of the supporters and the essential flaws in the structure of the club and the way it conducts its business.

Until that changes, then the identity of the next poor sap through the door will only be of marginal importance. For Pardew read Hughton or whoever is prepared to work in this madhouse and bear the brunt of the inevitable backlash that comes with the post of chief apologist.

In the short-term though, while this season can still be salvaged, it seems obvious that a lack of motivation and belief on the terraces is echoed in the dressing room, such was our half-hearted, hangdog demeanour today. It's hard to believe that anyone could achieve less with this squad than the current incumbent. Except JFK.

PS: Among the Southampton substitutes today was an S.McQueen, whose first name proved to be Sam. Much more of this dross though and it's Steve McQueen that United will need on board to try and pull off a great escape....

Biffa