Date: Saturday 27th April 2019, 5.30pm
Live on BT Sports

Venue: Amex Stadium

Conditions: Blustery but sunny - right in the eyes of the away supporters.

Programme: £3.50






Brighton

Newcastle United

1 - 1

Teams
32 mins Paul Dummett's cross to the far post was chested down by Salomon Rondon into the path of Ayoze Perez who lashed the ball into the top corner from 15 yards at the North End of the ground where the same player had scored in February 2017. 1-0
Half time: Seagulls 0 Magpies 1

32 mins Bruno's cross from the right flank into the box was nodded on by Glenn Murray. As two defenders hesitated, Pascal Gross lunged forward to head past Martin Dubravka from five yards, the 'keeper making it easy by coming for a ball he was never going to get. 1-1
Full time: Seagulls 1 Magpies 1
Rafa:
"We knew Brighton were in a difficult position and would be under pressure. We started really well - in the first half, we had total control of the game -passing the ball, creating chances - and it was a pity we couldn't score the second goal.

"We said at half time they will be aggressive in second half and on the front foot, if they can. We needed to be a little bit better on the ball and on the counter attack - and finish the game. We didn't do it.

"It's a game you cannot complain about too much. But, if you analyse - there are two or three incidents that were quite clear (penalties), if you see the replays.

"But, I don't want to talk too much about that."

On frustrating the home side:

"We have been working on that (keeping the ball), and we're expecting something like that. We had been watching Brighton games and clips.

"There were still two or three situations where we could do something better, some clear chances, but we were quite happy with everything (before halftime).

"We knew it would become more difficult for us, that they would be pushing and pushing and on top of us. I was expecting a bit more quality from us."

On Kenedy:

"I think he was trying, but if you analyse the second half it was not just him. A lot of players didn't have the same confidence and control as they had before then.

"You have to give credit to the other team sometimes. It was massive game for them and for us, but last year when we were safe we lost four games in a row, not because we didn't have the intensity, but it's not always the same when you have to do it and need to do it."

On the absent Almiron:

"I think Atsu did well, but he's a different kind of player, more in between the lines, he can go behind. But he does not have the 30 or 40 metres runs that Almiron has.
"So when you are defending deep, we didn't have that.
"Also, Jonjo (Shelvey) was playing really well in the first half, because we had the possession, but the second half you could see we needed some legs in the middle, because they were physically more aggressive.
"They were quite strong in the air."
Any developments over his future?:

"Not really. Today was about the game. The day we have any news, we'll let you know. Every day counts because in the end you want to do everything possible to start working. But we will see.

"This morning I saw Lee (Charnley). We talk every week. I'm relaxed. It's not depending on me. I am waiting. It's very clear: everyone has his own ideas. What do we want to do in the future? That is the key.

"If we have different visions, we'll have to find a point in between that we are happy with, if not we have to talk and try and move forward as soon as possible."

Chris Hughton:
"That performance probably sums up how we've been — a little bit fragile at both ends, not looking like scoring or creating too much, and a little bit vulnerable.

"But what I can say is the reaction from the team in the second half is what you want to see — a team that knew we were up against it and needed to get something from the game.
"We played a 4-4-2, which we haven't played too often, and we had to change that because it wasn't working as well as I would have liked — we weren't able to get the press on the ball.
"Newcastle are a good team in good form, and if you afford them too much space, they can hurt you. They hurt us with the goal and were far better than us in the first half.
"But it was a good second-half performance and they showed lots of spirit. When Glenn (Murray) had the opportunity towards the end, I thought we had done it.

"It's about energy — we certainly showed more energy in the second half. The shape gave us that extra player in the middle of the park, which gives you that little bit more possession.

"You're after individuals to step up, Solly (March) was very good when he came on, Bernardo on the left flank got high and wide — you get a feel and a momentum in the game.
"When the momentum is changing, anything is possible. What you need in that period of time is a goal to get us back in the game, and I thought we deserved it.

"We're hoping that the goal has made a big difference, but you can't afford to think that way.
"Cardiff are a very spirited team, they showed that here, and they are fighting. They are capable of winning their next two games.
"We have to go to Arsenal not thinking that we can't get something, but thinking we might have to get something and how we can do that."


Ayoze Perez continued his hot streak in front of goal and now has 12 for the season, 11 in the Premier League. The Spaniard moves on to 47 competitive strikes in all competitions for the club.

Perez has now scored seven goals in seven PL appearances, having taken 33 games to reach that target previously.

With one away fixture to play Newcastle have lost seven times in 18 PL games on the road this season. Losing at Craven Cottage would see them match the eight losses of the 2011/12 season, while a win or draw would make this their most robust away campaign since 2003/04 (five defeats).

The Magpies have now drawn eight PL games away from home, three of which ended 0-0. In all of the other five - including today's stalemate - Newcastle scored first.

With one game remaining, a haul of 17 points from 18 away games is one more than we managed in the whole of last season and our best top-flight haul on the road since the 22 in 2013/14.
Competitive visits to the Seagulls - all time:
2018/19 drew 1-1 Perez
2017/18 lost 0-1
2016/17 won 2-1 Diame, Perez
2012/13 lost 0-2 (FAC)
2011/12 lost 0-1 (FAC)
1991/92 drew 2-2 G.Peacock, Kelly
1990/91 lost 2-4 Quinn, Brock
1989/90 won 3-0 Quinn 3
1983/84 won 1-0 Waddle
1982/83 drew 1-1 McDermott (FAC)
1978/79 lost 0-2
1961/62 won 4-0 Allchurch, Thomas, Kerray, Suddick
(At the Goldstone Ground up to and including 1991/92, Amex thereafter)
Waffle
A fabulous first half strike by Ayoze Perez was enough to earn Newcastle a point on Saturday - with an Albion equaliser coupled with Cardiff's loss to Fulham giving SJP old boy Chris Hughton some much-needed respite.
Clad in their red and blue change kit, United held the upper hand in the opening 45 minutes as the hosts were tentative and seldom looked like ending their marathon scoreless run.
They provided an early moment of comedy when a free-kick routine ended up with a short pass followed by a lay-off to no-one as a training ground move went badly awry.
The Magpies' goal came on 18 minutes when Paul Dummett's centre was headed back by Salomon Rondon for Perez to send a rising shot past Ryan for his fifth goal in three games.
However, the Spaniard was injured after being baulked on a run into the box which he aggravated while scoring. After attempting to play on, he hobbled off to be replaced by Kenedy, who seemed to be on a different planet to the rest of his team mates.
With Miguel Almiron's season over, Christian Atsu was included in the starting selection and the unwell Jamaal Lascelles made way for Federico Fernandez.

Jonjo Shelvey meanwhile made a first start since November and took the captain's armband. Given plenty of time and space to pick his passes, he prompted and prodded from midfield without providing the killer ball.
The Seagulls inevitably showed more adventure in the second half and Shelvey had less time to orchestrate, while the absence of Perez and Almiron badly affected our balance up front.
After some sustained pressure Albion inevitably levelled on 75 minutes, when Bruno's cross from the right flank into the box was nodded on by Glenn Murray. As two defenders hesitated, Pascal Gross lunged forward to head in from five yards and end his side's 735 minute wait for a goal.
With the visitors on the back foot, Brighton went in search of a winner and came closest when Murray headed over Anthony Knockaert's cross from the right in the final seconds of normal time.
However, it ended all square, Newcastle remaining in 13th and moving on to 42 points - with games against Liverpool and Fulham still remaining - two less than their final tally last season.

This really was the proverbial game of two halves - it was almost as if the players had swapped shirts at half-time. We were as poor as Albion were before the break, while their second half showing matched ours in the first period.

Cardiff's defeat at Fulham earlier in the day changed the complexion of this contest.

Had the Bluebirds won then Albion would have needed to be at it from the off and being content with a point allowed us to take the initiative. But having gained the upper hand, we didn't use Brighton's desperation after half-time to our advantage. We didn't need to go for the jugular, so we didn't and although our defending wasn't bad, we weren't fighting for our lives and it showed.

The point suited everyone, really and all fans leaving the ground seemed reasonably happy with what they'd seen but although a trip here next season now looks more certain, both clubs could well have rocky roads to negotiate before meeting again.

But in the short term, the result and the Sussex sunshine helped paper over the cracks.
Niall MacKenzie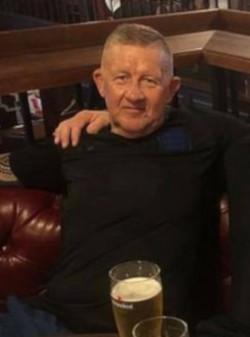 This report is dedicated to lifelong Newcastle supporter Simon Jones, who has died aged 57.

A regular at Newcastle, North Shields and England home and away games, he was the victim of what appears to be a random knife attack in Derby a week ago.

Our condolences go to Simon's fiancée Sarah, family and friends.