Date: Tuesday 8th February 2022, 7.45pm
Live on BT Sport

Venue: St. James' Park

Conditions: Acclaimed






Newcastle

Everton

3 - 1

Teams
36 mins Having been unceremoniously dumped off the field by Shelvey, Anthony Gordon got up to swing a free kick from the left touchline that ended up at Mason Holgate's feet deep in the United area.

His shot was brilliantly cleared off the line by Fabian Schar but the ball whacked off the helpless Jamaal Lascelles before bouncing back into the Gallowgate net, nestling next to Schar and Matt Targett who had desperately tried to keep it out. 0-1
37 mins Kieran Trippier's flag kick from firebomb corner found Lascelles at the back post; his powerful header hitting the cross bar and dropping down, deflecting off the thigh of Holgate standing a yard out and straight into the Leazes net. Jonjo Shelvey was on hand to ensure it went in. 1-1
Half time: Magpies 1 Toffees 1
56 mins Joe Willock cut in from the right and played the ball to Chris Wood, who helped it on to Joelinton. He in turn found Allan Saint-Maximin on the left side of the box; the Frenchman wriggling to the byline and sending over a cross that deflected off a defender.

That fell nicely for Ryan Fraser who hit it on the half volley from inside the six yard box, Andros Townsend unable to block it on the line. The goalscorer later called it a "shank". 2-1

A cheesy chip? discuss
80 mins Everton's conceded a free-kick for a foul on Fraser 25 yards from goal, slightly to the right. Shelvey and Kieran Trippier shaped up to shoot but thankfully it was the latter who hit a perfect strike around the wall and beyond the despairing dive of mackem Jordan Pickford. Delicious. 3-1

Enjoy this Tripp
Full time: Magpies 3 Toffees 1
Eddie Howe said:

"I think it was a tight game, it was a tough game. The first half was even, the second half we were the better team and created the better chances.
"It created a really good feeling around the stadium and supporters played their part. It gave us a good feeling and we built on that.
"It was nice to have that two goal cushion, which we haven't had. I felt we looked like a creative force.
"There is a good feeling in the dressing room, confidence levels are building. Our navigating of the game in tight situations has improved. I hope to see a big psychological effect from this win.
"It is a big result for us because it was back-to-back wins. Consecutive wins in the Premier League are rare - they can change your status and elevate the club. We have to stay calm and focus on the next game.
"There were lots of different (positive) things - coming from a goal down, the spirit in the group, the togetherness and the fight shown on the pitch.
"And the quality as well, I thought in the second half, we created a lot of chances. It was a little bit nervy at the end because you want the points, but we had a two-goal cushion and that was nice because we haven't had that in a while.
"We try and take the game to every opponent in and out of possession. I thought the lads delivered what we asked of them really well. We won a lot of duels today, a lot of second balls, all the ugly stuff that you have to do well at this level and our quality showed as well.
"I think we are in a better place, but football has a way of twisting and turning, so we are not getting ahead of ourselves, we know how tough this league can be."
On Saint-Maximin:

"He's such a special player. We've seen in the last few weeks that he's got better and better since I've been here.

"I'm delighted with his performance today, he's a real threat and he's someone I'd hate to play against personally because you just can't predict what he's going to do, but he's a match winner and we're going to need him at this level for the rest of the season."

On Guimaraes:

"He's a technician. You saw from his cameo that he's confident in his ability, which is great, and I think he is going to be an outstanding player for the club for many years.
"It will take him time to get to the pace of the Premier League but he is not afraid to mix it. I think the fans will really take to him."
Frank Lampard said:

"It was a difficult game. The performance, after a good performance on Saturday, it wasn't at the levels that we want. We get in front and then concede quickly, inviting pressure.

"I think we have to be balanced about it. I've been here a week, we've come to a very difficult match against Newcastle, who are very effective in some of their direct play, the second balls and a player on the pitch like Saint-Maximin, who is pretty unplayable to be fair.

"There were elements of their game that were good and ours that weren't so good but we must keep our heads up for sure because there's a long way to go.

"People made a lot of out this game. I was very aware of the difficulties of this game, coming in fresh and I learnt some bits about the team as well.

"The lack of confidence smacks you in the face because I came into the club when they were on a run of results that has left them in the position that we're in.

"So it's my job to change that but there isn't a magic wand on that front because this is the Premier League so the only thing to do is work, focus, look back at the game and then look forward to what we can do in the next games coming up."


This was the first time that Newcastle have recovered from going behind to take all three points in a home PL game since turning a 0-1 deficit into a 2-1 advantage against Southampton at SJP in December 2019. They have done it since then away from home, turning 0-1 into 2-1 at Burnley in April 2021.

Newcastle scored three goals in a game for only the second time this season after the 3-3 home draw with Brentford back in November - and tonight was the first time since that day they've netted more than one in a game.

Just 107 seconds elapsed between the two OGs - the shortest-ever interval between own goals in favour of both sides in a Premier League match (NB: "all time" PL stats of this ilk aren't always 100% reliable due to inconsistent data recording in seasons before around 2006).

This was the first PL game involving Newcastle with an OG for both sides. The last instance we can find of such an occurrence was a 1-2 home loss Wolves in Division Two during September 1991, when United's Kevin Scott put through his own goal and Lawrie Madden then followed suit.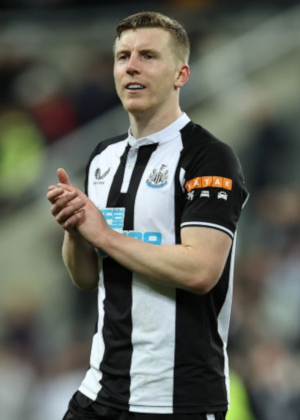 Matt Targett (pictured left) became the 250th player to appear for the club in the Premier League - and Bruno Guimaraes (pictured below) then made it 251.

The latter became the fifth Brazilian-born player to have represented United in the PL, following on from Fumaca, Cacapa, Kenedy and Joelinton.

Ryan Fraser broke his PL scoring duck for Newcastle at the 34th time of asking (18 starts), becoming the 157th different Magpie to score for us in the competition. His last PL goal was for Bournemouth during a 3-1 home win over Everton in September 2019.

Kieran Trippier then became the 158th different PL scorer in his third PL game as a Newcastle player.

Jamaal Lascelles was credited with his second own goal of the season, following one at home to Brentford. He now has four OGs to his name as a Magpie, the other pair both coming in the 2016/17 Championship season.

The Magpies won for only the second time in their 12 PL home games so far this season. That figure was three wins at the same point in the 2008/09 relegation season and four in the 2015/16 one.

Toffees @ SJP - Premier years:
2021/22 Won 3-1 og(Holgate), Fraser, Trippier
2020/21 Won 2-1 Wilson 2
2019/20 Lost 1-2 Schar
2018/19 Won 3-2 Rondon, Perez 2
2017/18 Lost 0-1
2015/16 Lost 0-1
2014/15 Won 3-2 Cisse, Perez, Colback
2013/14 Lost 0-3
2012/13 Lost 1-2 Cisse
2011/12 Won 2-1 og, R.Taylor
2010/11 Lost 1-2 Best
2008/09 Drew 0-0
2007/08 Won 3-2 Butt, Emre, Owen
2006/07 Drew 1-1 Ameobi
2005/06 Won 2-0 Solano 2
2004/05 Drew 1-1 Bellamy
2003/04 Won 4-2 Bellamy, Dyer, Shearer 2
2002/03 Drew 3-3 Dyer 2, og (LC: 2-3 on pens)
2002/03 Won 2-1 Shearer, Bellamy
2001/02 Won 6-2 Shearer, Cort, O'Brien, Solano 2, Bernard
2000/01 Lost 0-1
1999/00 Drew 1-1 Shearer
1998/99 Lost 1-3 Shearer
1998/99 Won 4-1 Ketsbaia 2, Shearer, Georgiadis (FAC)
1997/98 Won 1-0 Lee
1996/97 Won 4-1 Ferdinand, Lee, Shearer, Elliott
1995/96 Won 1-0 Ferdinand
1994/95 Won 2-0 Fox, Beardsley
1993/94 Won 1-0 Allen
Waffle
Newcastle climbed out of the bottom three for the first time since September thanks to a spirited victory over Everton at a gleeful Gallowgate on Tuesday.

Recovering from going behind to record successive wins for the first time this season, Eddie Howe's side chased, pressed and left Frank Lampard deservedly empty-handed after his first league game in charge of the Toffees.

There were towering performances all over the pitch from the black and whites, notably from Kieran Trippier who topped off his night with a stunning free-kick to seal the win.

Behind on 36 minutes when a goal line clearance rebounded off Jamaal Lascelles and into the net, the Magpies captain instantly atoned when his header from Trippier's corner crashed against the cross bar and hit visiting defender Mason Holgate before crossing the line.

Newcastle went ahead 11 minutes after the interval when Ryan Fraser diverted Allan Saint-Maximin's low centre home from five yards out.

And much-needed breathing space came ten minutes from the end of normal time, when Trippier supplied a classic free kick conversion that Pickford was powerless to prevent - although Keegan's famous 1982 quote about the crowd at the Gallowgate End sucking the ball into the net came to mind.

There was still time for substitute Jacob Murphy to ping his shot off a post; a revitalised Joe Willock hammering the rebound straight at the visiting 'keeper.

Amid great applause, Willock then made way for debutant Bruno Guimaraes - the second debutant, with Targett having started and instantly looking at home in the left back position. Fellow new arrival Dan Burn remained on the bench after reporting a slight toe injury in training.

The introduction of Bruno was to be a final flourish, two pieces of trickery from him topping off the evening nicely and giving a hint of what will hopefully follow. Two years ago we were trying (and failing) to muster enthusiasm for a first glimpse of Nabil Bentaleb.

In addition to the goals, United made and missed several other chances: something that was pleasing, given the concerns over quite when top scorer Callum Wilson will be sighted again on a pitch.

The industrious Wood agonisingly placing a header into the arms of Pickford at 1-1 and two good chances for Joelinton - the second ending in some bizarre Brazilian buffoonery when he headed the ball on to his own foot....

Saint-Maximin's evening meanwhile threatened to be a frustrating one until assisting Fraser's goal; repeatedly tormenting the opposition but seeing crosses fizz harmlessly across goal.

As Lampard admitted afterwards, he was unplayable and surely benefited from the assurance that Targett provided behind him. For all the industry of Wood and Fraser, or the welcome resurgence in Willock, Wor Allan remains the talent, his fitness utterly pivotal to our short-term survival.

Victory was doubly important; not just for the three precious points but also dragging Everton firmly into the relegation mire. The Toffees have now won just once in 15 league games and also have the distraction of a home FA Cup tie against non-league opponents, not to mention a lengthening sick list.

That injury tally was boosted by two before half time here, including the withdrawal of Mina; linked with a move to United last month and seemingly intent on changing shirt and shorts mid-match with Saint-Maximin.

The unsettling effect of those changes was significant, not least for bringing the little waster himself, Deli Alli into view. We were twitching on deadline day when he was linked with a move to SJP, but thankfully that was gossip: the only impression he made tonight was on Joelinton's shin.

The fragmented fixture list makes it unwise to make predictions or draw conclusions at this point, but we crucially appear to have gained momentum and our destiny again rests in our own hands. The lack of margin for error down there though meant that it took a Palace equaliser at Norwich 24 hours later for United not to drop back into the relegation places.

Having referenced the crowd behaviour and reaction in a separate section above, it seems fitting to return to that here, if only to underline the level of joy that accompanied this victory.

The uplift provided by that victory at Leeds before another fixture break and being active and successful in the transfer market was incalculable; but returning to action tonight looking focused and enthused and responding instantly to a setback was every bit as heartening and important.

And although COVID entry checks may now be a thing of the past, the after-effects of the pandemic remain - the outpouring of positivity is a direct response to that. It's easy to get carried away, but the place was alive.

Relief at seeing their team win is respite from the sheer bloody misery of some lives - and going into the final moments of a home game two goals ahead a genuine novelty for fans, who last enjoyed that feeling first hand against Southampton here in April 2019.

One of our overseas fans making his first permitted return for over two years commented that this was the best atmosphere at a home game against a club outside the top six in years, with singing breaking out across the East Stand, Leazes and Platinum Club - a totally new phenomenon to him.

Paul Dummett remarked that there were 18 cup finals to come after the draw against Watford in January. Well, tonight was what you dreamt it would be like if we were 90 minutes away from silverware, rather than flaking out after a chorus of Abide with Me.

A raucous atmosphere that inspired one set of players and inhibited the other, illustrious opponents put to the sword and victory capped off by a picture book goal. Those who compared this to a European night were on the money, except that this atmosphere was better than many of those.

Almost unnoticed amidst the hullabaloo was that the 30th anniversary of Kevin Keegan's managerial debut fell on this day. That saw a 3-0 victory against Bristol City achieved here amid great emotion and a sense that the decline had been arrested - as it was when KK had signed a decade before.

Then as now, the building blocks were starting to be put in place off the field and the future looked bright, notwithstanding the relegation battle that we were - and are - locked in. Let's hope history repeats itself and it really is lift off United rather than another false dawn. Dressing room belief that the job was done proved to be fatal in 2009.

Deserved delight for Howe then and doubtless relief that a new manager bounce is now belatedly evident. The fans may have been up for it since he arrived, but pulling the players out of their Bruce-inspired death spiral took rather longer than may have been anticipated. Onwards and upwards.

Biffa


Dedicated to Norman Dowers RIP