Date: Saturday 20th November 1999, 3.00pm.

Venue: Vicarage Road

Conditions: Overcast

Admission: £tbc

Programme: £tbc


Watford

Newcastle

1 - 1

Teams
Half time: Hornets 0 Magpies 0

53 mins: Xavier Gravelaine found Michel Ngonge whose shot was blocked by Steve Harper. The ball looped up towards Gifton Noel-Williams and his off-target header looked to be no threat.

However a blatantly offside Ngonge connected with the ball and nodded it into the empty net. Visiting players and supporters waited for an offside decision that inexplicably never came. 0-1

59 mins: A free kick into the Watford box wasn't dealt with and Nicos Dabizas had time to sweep the ball into the corner of the net.1-1
Full time: Hornets 1 Magpies 1
Bobby Robson:

To follow


Graham Taylor:

To follow




United wore white socks.

Waffle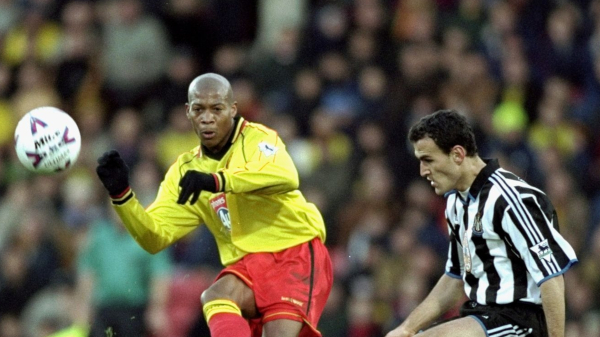 Down among the deadheads of the basement lie teams such as Watford, who in their own small way seem at times to have been created for the sole purpose of frustrating the men from Tyneside.

In times past we've visited Hertfordshire for an extended dose of FA Cup heartache, seen blatant goals not given and been continually upset on our own patch by the yellow perils - witness the David Barton own goal that terminally blighted his career......
Had we been in our mid 90's pomp, marching down Vicarage Road with a confident air, this would have been considered a gimme, three banker away points - a David versus Goliath encounter.

However, in the reduced circumstances we find ourselves in, such thoughts were far from the mind of all but the most optimistic away fan, corralled in one corner of a newish stand, seemingly built to a seventeenth century design featuring babbling brooks of urine running throughout.
We couldn't win here back in 1993 with a certain Andy Cole newly-installed in a black and white shirt, and when the hugely underwhelming Kevin Gallacher was withdrawn after barely ten minutes here , suddenly it looked a lone battle for that man Alan Shearer.

Of course it being a Saturday, Ferguson was broken again, inevitably. The introduction of the Georgian loon to partner Al was as risky as it was mystifying, considering he gingerly felt his way through part of a reserve game only days before and Paul Robinson wasn't even a substitute. In a time of comparative need up front, Robbo must have really upset Bobby in training not to be celebrating his 21st birthday by playing in the Newcastle first team.
Presumably Robert R. must also have had a tiff with the remaining undamaged sections of his defensive pool, there being no back four cover on the bench at all. Nolberto Solano lost his ever- present record, having being named as a sub following his midweek exertions in Peru, while the fitful contribution Stephen Glass later made is barely worthy of note.

The unproven Fumaca never got his trackie off and precisely why Bobby felt unable to name one of the Caldwells or even Robbie Elliott, Carl Serrant or David Beharall is beyond me, especially as he subsequently handed untried Gary Caldwell a plane ticket to Rome as part of the UEFA squad.
No matter; at kickoff time Newcastle still had 10 internationals of varying experience and distinction on the field. That they subjected their watching fans and clearly anxious manager to an hour of drivel masquerading as entertainment is both regrettable and unacceptable. While the home fans howled at Shearer in their own unthreatening but media-attention grabbing manner, Newcastle simply got on with the business of looking as tepid, shapeless and lacking inspiration as their hosts.

A Shearer header did strike a post, but it was virtually the only thing that stuck in the mind, apart from the constant standing up and sitting down caused by the to'ing and fro'ing of the restless Geordie natives behind the goal.
In much the same way as Campbell scoring for Everton the previous week had galvanised us, so it was today - the arrival of the first goal of the afternoon, scored by Watford but clearly offside.

This metaphorical kick up the arse had the desired effect and within six minutes Dabizas had struck to level it up. However, once again the match drifted off into a parallel universe of misplaced set pieces and inept attempts at passing by both teams, from which it was never to recover.
On this evidence, if Bobby needs lolly for his new faces, he could start by accepting one of the rumoured offers for Marcelino from abroad, as he struggled to cope with the ragbag of dimwits Watford relied on for their attacking thrust.

The continued rehabilitation of Howey would seem to be the signal for the panic-stricken Spaniard to take his leave, while the lessening influence of Robert Lee must be superseded by a younger creative force, capable of dovetailing with Dyer. Up front ? God knows. Perhaps we can get genetic scientists to strip big Dunc down for spares, or melt him down, or something.
I know that it's easy to snipe, and uncharitable not to mention another away point gained in the M25 area, (plus our six game unbeaten run.) But isn't it just so damn uninspiring to be judged equally with Watford and hear our players churn out "hard game" verbals in post-match interviews ?
We should be capable of shutting up slack-jawed wannabe cockernees on their own cabbage patch by dint of our style, ability and goalscoring, rather than the unedifying spectacle of uncle Bobby appealing to a long-gone sense of fair play. You can't always live in the past, unfortunately.

Just around the corner meanwhile, the big guns of Roma await - very much in the present.
Biffa