Date: Saturday 25th March 2000, 3.00pm.

Venue: Anfield

Conditions: Glorious - Henry Blofeld would have been an appropriate choice of commentator, such was the cricketness of the weather, my dear old thing.

There again, the line "a stolen car goes down the Anfield Road" doesn't sound quite right...

Admission: £tbc

Programme: £2.20


Liverpool

Newcastle

2 - 1

Teams
Half time: Reds 0 Black & whites 0

52 mins A move that began in the Liverpool half with a misplaced Warren Barton pass ended with Titi Camara blasting home the ball from the edge of the box, after Patrik Berger and Steven Gerrard had outflanked the United rearguard. 0-1.

62 mins Newcastle made headway down their left, with Aaron Hughes lofting a cross into the box for Alan Shearer to climb above a defender before looping a header past Sander Westerveld and into the Kop End goal. Kevin Gallacher was also on hand, lurking for scraps. 1-1.

89 mins Nicos Dabizas howked the ball out for a corner that Danny Murphy blasted back over, rebounding off fellow substitute Jamie Redknapp's napper and into the net. Deja-bloody-vu. 1-2.
Full time: Reds 2 Black and whites 1
Bobby Robson:

To follow


Gerard Houllier:

To follow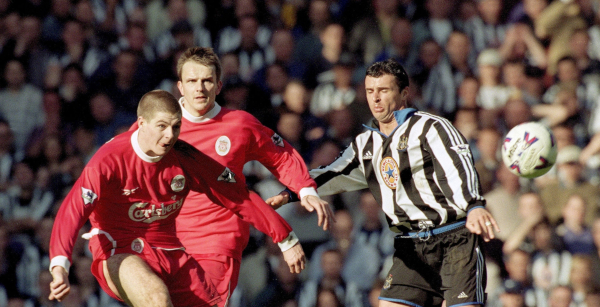 Stretching the bounds of credibility it may well be, but a team third in the recent form table for Premiership teams might have fancied their chances of taking something from Anfield. That is, of course unless that team are Newcastle.
In much the same way that I don't honestly believe we'dbeat Clydebank reserves at Wembley, but I'd walk there to see it, the expected Stanley Park sickener unfolded as Bobby joined Kevin, Kenny and Rudi in walking back under the "This is Anfield" sign, head shaking in disbelief.

While pundits rejoice in half-baked memories and reheated cliches, our travelling fans get on with the usual business; boosting local licensors holiday funds and clogging up the motorway system.
A cautionary approach to the game by Bobby resulted in three centre backs being employed, and the first league appearance of Alain Goma since Robson arrived, Helder not being deemed ready to return to the fray.

The fact that whoever picked the team the day Gullit officially took charge and we crashed 4-1 at home to the Reds had thought along similar lines did bother me for a while, but the absence of both Albert and Owen from that fateful afternoon calmed my fears slightly.
As it was, the defence did all asked of them, including Shay Given, and it was further up the park that problems arose. The expected lack of width caused by the absence of Didier Domi and Kevin Gallacher (both subs) and Nolberto Solano (international duty) led to long periods of comparative inactivity by the front pair.

People also tell me that Gary Speed was playing, but the sun was in my eyes for five minutes of the first half, so it must have been then....
Once the home goal came, the mass ranks of defenders were clearly inadequate for the task then required, and Bobby promptly sent on Domi for Goma, followed shortly after by Gallacher in place of the clearly knackered Robert Lee.

Precisely what recreational drugs the people howling for a longer contract for the former England midfielder are using isn't known, but one certain summer signing will be a replacement in his position. The lad has simply run himself into the ground for our cause and should be applauded heartily....but. Two words: Peter Beardsley. Lovely fella. Super player. Ex-footballer. Historical figure.
The Shearer leveller came totally out of the blue, and via a cross supplied by Hughes. Further delight was almost engendered by a Dyer effort that the 'keeper clawed on a post, but after that the scoring looked to have been completed. With the finishing line in sight, Dabizas got a boot on to a dangerous infield ball and looked slightly surprised when the ball flew out for a corner.

Murphy took responsibility in the absence of Berger and promptly drilled it across the box on to the head of the recently arrived Redknapp. A transfixed Given and straining Warren Barton were unable to prevent the consequent last-minute winner, and yet again we'd been done here.

Those home fans who hadn't already gone home celebrated with gusto and tatty old scarves, while young Jamie went bonkers. There again, if I was away home to give the lovely Louise a blow by blow account (of his goal) I'd be chuffed as well...
So, what can we learn from this defeat ? Nowt, not a bloody thing.

The fact that our former German had a quiet game and pulled his free kick away from the goal merely delayed the misery. With results across the rest of the league not going according to plan, we now look becalmed in mid-table, in itself a feat worthy of an Oscar for Bobby and his supporting cast.

However, our upcoming run of home games and that Wembley appearance could yet see what all fans really want; a happy ending.
Biffa