Date: Saturday 12th February 2000, 1.00pm

Venue: St. James' Park

Conditions: Joyous








Newcastle

Manchester United

3 - 0

Teams
26 mins: As good a goal as you are ever likely to see: a left footed Duncan Ferguson volley from just outside the box, that went past Bosnich like the bullet from a gun.

The Leazes end saluted the big yin as he walked towards them snarling, and provider Shearer came over to hug him and comment "what a f***ing goal", according to my lip-reading brethren. 1-0

Half time: Newcastle 2 Manchester United 0
76 mins: A solo Alan Shearer spectacular as he broke towards the box from the left flank and hit a perfect low curling shot into the bottom right hand corner of the Gallowgate goal 2-0

86 mins: Houses were brought down as Helder disrupted a Reds attack midway in his own half, brought the ball free in the style of Albert, knocked it to Domi and watched as his fresh legs propelled him down the left side, a la Ewood Park.

Same low cross, same scorer, but Alan Shearer was somewhat fortunate to see his effort go in despite being almost aimed at Bosnich. When it's your day.... 3-0

Full time: Newcastle 3 Manchester United 0
Sir Bobby said:

"It was a big spectacle for the supporters and a magnificent match.
"We have beaten a very good team here today...the dismissal of (Roy) Keane was vital."

Alex Ferguson:

"We were careless. The Ferguson goal was a marvellous hit...when the second goal went in, that was it - game over.

"But you have to take risks if you want to recover and we will take them."


Red Devils @ SJP - Premier era:
1999/00 won 3-0 Ferguson, Shearer 2
1998/99 lost 1-2 Solano
1997/98 lost 0-1
1996/97 won 5-0 D.Peacock, Ginola, Ferdinand, Shearer, Albert
1995/96 lost 0-1
1994/95 drew 1-1 Kitson
1994/95 won 2-0 Albert, Kitson (LC)
1993/94 drew 1-1 Cole


Waffle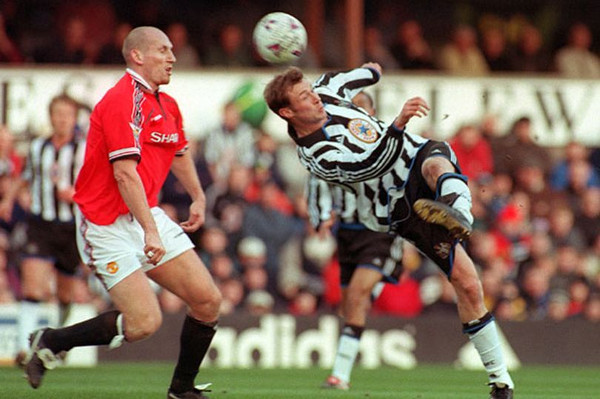 Geordie people are happy people, they smile all the time......

Well, once again the Nation loves us, and everyone from Alan Shearer to uncle Bobby, David O'Leary and publicans everywhere allowed smiles to play across their lips on Saturday teatime as the lads rolled back the years.

Reports flooded in to NUFC.com of joyous geordies partying from New Zealand to Nevada as news spread via satellite, web, the noise of distant shouting from local taverns and the sight of people in red shirts slinking off home before the end. What a pity it wasn't the Cup Final....

Returning to reality for a few moments, despite all the media clamour and adulation afforded our wrinkled supremo, the fact remains that the team he presides over are thirteenth in the table at present.

Without turning into a whinging mackem about it though, three points gained at the expense of Alex Ferguson, mirth-inducing they may be, are the same three points that should have been taken from Paul Jewell or Egil Olsen. In fact it could be argued that a victory at either Valley Parade or Selhurst would have been of greater objective value, depriving our fellow strugglers of precious points.

While a crushing defeat of the Old Trafford synchronised moaning XI is to be savoured and replayed, again and again, this season we won't have any interest whatsoever in the Championship race again until Mid-April when Leeds come visiting.

I think the phrase I'm frantically searching for is pyrrhic victory. Only when we can reach the level of consistency demonstrated by Messrs Cole and Beckham etc. can we really abuse the hangers-on and social deviants from a position of strength. We've won two away this season, they've won six.

On a brighter note though, it's encouraging and timely that our once-feared home reputation has been rebuilt week by week, as the ground is rebuilt around us. The prospect of seeing goals at Gallowgate tends to tempt the uncommitted, and those extra seats will need to be filled to keep the debtors at a safe difference.

Right, commonsense bit ends here...back to the dancing party...

There are few better sights in football than seeing a good old-fashioned Alex Ferguson bleat, and Saturday provided a golden moment for connoisseurs of the paranoid. It's all a vendetta apparently. Yes Alex, and people are watching you from down the plughole of your sink.

From my jaundiced position, it seemed to me quite simple: referee Lodge and the Newcastle team seemed slightly in awe of them for the first twenty minutes of this match, and things didn't look particularly promising for the home fans.

Then a moment of magic from our Fergie put opposition players on the back foot and suddenly the snarling and grimacing returned with a vengeance. The spell was broken and the toon lads learned from their failure to capitalise on their lead in the corresponding game last season, continuing to take the game to the opposition, right up the opposition in fact (as wor Al later confirmed.)

It took a while longer for referee Lodge to sicken of the Red antics, but sicken he did; a combination of seeing his officials abused, being harangued after the end of the first half and having a three-line whip berate his every whistle, led to the inevitable and correct decision when the idiotic Keane lunged into Lee in a neutral midfield area.

While he at least walked without murmur, his colleagues indulged in the same gobshite panto witnessed at Old Trafford against 'Boro. Result? The referee now became completely unsympathetic to whatever future claims Man U had, justified or unjustified (including a goal). Which of course leads to highly-paid professionals acting like street urchins, and their old-enough-to-know-better manager squawking away like a demented parrot. Splendid.

As early birthday presents for uncle Bobby and Kevin Keegan, this one was hard to beat. Both managers must have taken strength from the goalscoring resurgence of Shearer. For Bobby, the absence of Solano has been partially compensated by the assists Domi has brought to the party, while Hughes ably covered for the absent Alessandro Pistone.

The fettled Italian even appeared on the pitch for a pre-match wave before heading back for some Italian-based recuperation, and presumably had a few words of encouragement for his team mates.

One can't imagine that happening under the previous regime. Hopefully the spirit engendered in the Newcastle camp at present between players, fans and management may spill over into the administrative areas...but I doubt it.

PS: Got all the way through and never mentioned the 5-0. Are you impressed?


Biffa