Date: Monday

3rd January 2000,

Venue: St. James' Park

Conditions: Don't ask me, in my comfy Gallowgate End perch. Those in the Leazes End seemed to emerge devoid of precipitation so I guess it must have been dry. It was chilly but not freezing.








Newcastle

West Ham

2 - 2

Teams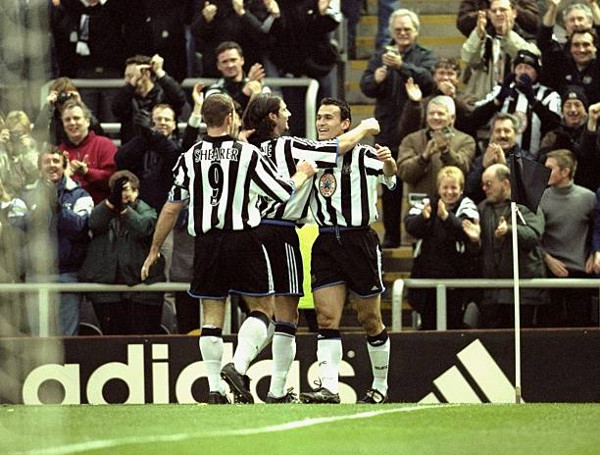 18 mins: Another poor decision went in our favour as Alan Shearer clattered his former colleague, Shaka Hislop. The ball fell kindly for Alessandro Pistone who made a hash of his shot. His "drive" landed at the feet of Nicos Dabizas who poked a right footed shot beyond Rio Ferdinand on the Leazes End goal-line as an out-of-position Hislop lumbered helplessly. 1-0

Half time: Newcastle 1 West Ham 0
65 mins: What should have been the spectacular clincher of three welcome points. Nolbero Solano jinked down the right flank and a flattish cross was thumped home by the right (yes, that's right) boot of Gary Speed. A classic. 2-0

84 mins: Marcelino got the blame for this one in my book. No logical explanation for his retreat (other than his ancestry) as the ball found Lampard 20 yards out. The phrase "invited a shot" doesn't quite cover it but young Frank (NOT Junior as he recently insisted on Sky Sports) finished tidily as Steve Harper misjudged exactly what angle the ball would come off the post. 2-1

88 mins: The stuff of nightmares as a needless free-kick, generously conceded by Pistone, was taken smartly by Trevor Sinclair and finished similarly by the head of Igor Stimac. 2-2
Full time: Newcastle 2 West Ham 2
Sir Bobby said:

To follow

Harry Redknapp:

To follow


Newcastle named an unchanged XI for the first time in 68 games.

Waffle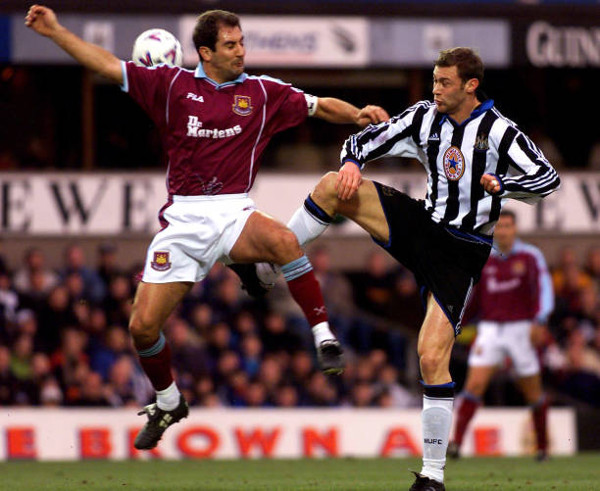 While the more mature 50% of NUFC.com donned his philosophical hat, this half felt dejected and deeply disappointed at West Ham's late fight back. Not because the two points discarded today should end up being particularly crucial, as mid-table security seems probable, but because our soft-centred defence should capitulate in such a fashion.

What if the miracle of a hat-trick of Wembley appearances should happen? We'd need our back three/four/five to be made of far sterner stuff than the powder-puff resistance offered in the dying embers of this contest.
This should have been the easiest three points of the season and that includes the 8-0 drubbing of Sheffield Wednesday. We totally dominated the game for 83 minutes and looked likely to grab a sackload against a Hammers side lacking Di Canio, Wanchope, Ruddock (shame) and a few others.

At times we seemed almost embarrassed at the ease of victory and had Big Dunc not been suffering a Hogmanay hangover we could have rattled up four or five.
Even from early on we tried desperately to throw things away as time and time again possession was laid on a plate for the visitors. It was just as well that they only had the one player capable of causing us trouble. Frank Sinclair worked tirelessly and effectively but without being on the end of his own crosses he was unable to orchestrate much of a challenge.
To be fair, it wasn't just Dunc who had obviously over-indulged. His team mates all looked a little sluggish and the subdued crowd and limp atmosphere simply added to the air of apathy. It made you wonder whether Sinclair had been the only consummate professional and got an early night on December 31st. Either that, or he was still pissed.
The Dabizas goal seemed a little unreal and was one of those that you celebrate after a moment's pause just to make sure that it had indeed gone in. It was reminiscent of Mark McGhee's equaliser at Plymouth in 1990 but then that's just between me and my sadly encyclopaedic memory....
Kevin Gallacher looked most lively up front for us in the first half with Shearer seemed intent on doing no more than necessary as Dunc lumbered about. The £22m pairing seemed to assume that goals would inevitably come their way (as they had in the three previous games). And they should have. Poor crossing was the main reason with the final ball never causing any real damage in the Iron's box.

Solano came closest to doubling the lead with a free-kick shortly before half-time but Hislop saved comfortably. Lee trooped off on 57 minutes with what a good old-fashioned kick-in-the-nuts - later referred to as the all-encompassing groin strain. Fumaca came on and looked lively if ineffective. The midfield lost its shape and most of its bite with Lee's withdrawal but we still looked well on top.
The smug air of an Old Trafford or Highbury followed Speed's excellent goal after 65 minutes but this time it seemed unlikely to backfire. No-one could have predicted anything other than three more Premiership points at this stage. Steve Harper produced a superb save to deny Keller at the far post and when ref Harris denied the Londoners a certain penalty that seemed that.
Only a further shambolic decision or two remained before the best forgotten final six minutes of play: Steve Potts thanked his lucky stars and the referee for staying on the pitch when he blatantly and cynically chopped down Shearer as he bore down on goal. What the hell was the red card rule brought in for if it wasn't to punish exactly this sort of offence?? A possible handball against Minto when Ketsbaia tricked to flick the ball past him was also missed as the third killer goal eluded us.
Aye, well. One to put down to experience, I suppose, although this defence is now becoming far too experienced in the act of bearing gifts for my liking.
Niall