Date: Monday 22nd July 2002, ko tbc.

Venue: Diekman Oost, Enschede, Netherlands

Conditions: Pleasant

Admission: €tbc

Programme: Free


De Tubanters

Newcastle

0 - 9

Teams
19 mins Lomana LuaLua's shot from Quinn's pass was blocked by goalkeeper Jordy Besselink, but Lua was on hand to sweep the rebound home. 1-0

24 mins Brian Kerr set up Alan Shearer to shoot into the net. 2-0

29 mins Lomana LuaLua set up Alan Shearer to shoot into the net. 3-0

34 mins Wayne Quinn's left wing centre was headed in by Alan Shearer. 4-0

Half time: De Tubanters 0 NUFC 4

48 mins Gary Speed set up Laurent Robert to fire in easily. 5-0

52 mins Maarten Bollen fouled Shola Ameobi in the box and Laurent Robert cbeat replacement 'keeper Wout oude Voshaar from the penalty spot. 6-0

60 mins Steve Caldwell crossed for Marcelino to net with a header. 7-0

62 mins Maarten Bollen diverted a Solano cross into his own net. 8-0

75 mins Bassedas fired home. 9-0
Full time: De Tubanters 0 NUFC 9

Bobby Robson:
To follow

tbc

To follow


Pre-season goals:
Ameobi 1
Bassedas 1
Griffin 1
LuaLua 1
Marcelino 1
Robert 3
Shearer 3
Solano 1
OG 1

Pre-season pitch time (in minutes):
Acuna 45+45=90
Ameobi 45+45=90
Bassedas 45+45=90
Bernard 45+45=90
Bramble 0+0=0
S.Caldwell 45+90=135
Cort 0+0=0
Dabizas 45+0=45
Dyer 45+0=45
Elliott 45+45=90
Given 45+45=90
Griffin 45+45=90
Harper 45+45=90
Hughes 45+45=90
Jenas 0+0=0
Kerr 45+45=90
LuaLua 45+45=90
Marcelino 45+45=90
McClen 0+45=45
O'Brien 45+45=90
Quinn 45+45=90
Robert 45+45=90
Shearer 45+45=90
Solano 45+45=90
Speed 45+45=90
Viana 45+45=90
Waffle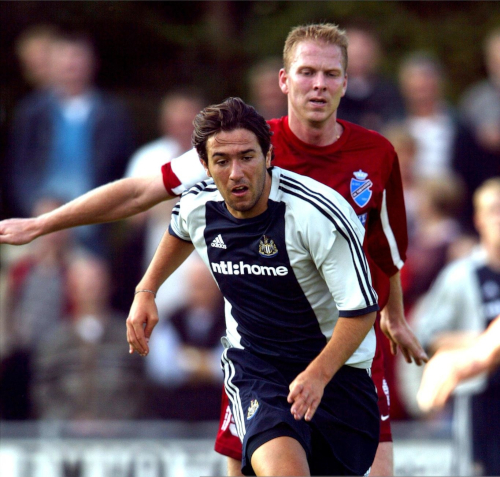 The second game of United's pre-season jaunt in the Netherlands took them to the extreme east of the country, a short walk from the German border.

With something of a history of welcoming foreign opposition, amateur side Tubanters (which loosely translates as the first settlers) had played host in previous years to Real Zaragosa, Schalke 04 and Spurs.

Their affable manager pointed out before kickoff that their scoreboard only went as far as nine and if we got any more, we'd have to start from one again.... He was nearly right….
Early signs of a compact and organised home side evaporated within 20 minutes once the scoring started, as Newcastle's first outing in the new blue and grey change strip proved to be a goalfest.

There were dropped pencils a-plenty in the press box as both Bassedas and Marcelino got on the scoresheet, the latter for the first time in a first team outing of any sort. Suspicion lingers that United settled at nine so as not to embarrass their hosts unduly.

The final word from one local, who applauded as Wor Al completed his hat trick, before wryly commenting that "not all Dutchmen are as daft as Gullit".
Biffa