In association
with NUFC.com



Date: Wednesday 28th November 2012, 7.45pm

Venue: Britannia Stadium

Conditions: Chilly, dry and miserable

Admission: £30 (£30 in 2011/12)

Programme: £3.50




Stoke City

Newcastle United

2 - 1

Teams
Half time: Potters 0 Magpies 0

47 mins Tiote managed to dispossess Whelan in midfield and sent Ba heading towards the penalty area with a surprising amount of room. He shaped to shoot and hit a decent effort that dipped in front of Begovic who could only spill the ball to Papiss Cisse and he squeezed the ball home via an upright in front of the Newcastle contingent. 1-0

81 mins Gutierrez pulled out of a challenge holding up his arms basketball-style, allowing Jerome to cross for Walters to nod the ball beyond Krul into the far top corner. 1-1

85 mins A long punt upfield saw Jones leap well above Williamson for Jerome, who had been neglected by Coloccini, to hit a first time shot that Krul got a hand to but couldn't keep out. 1-2

Full time: Potters 2 Magpies 1

Alan Pardew said:

"The improvement from Sunday was immense and we deserved to get something from today and we certainly didn't deserve to get beat that's for sure, we were the better side.
"There is a crucial moment in the game at 1-0 where I thought we had a handball and I just looked again and I think it is a penalty and then two sucker punches really and we have got beat.
"Their keeper has made two good saves, and it is galling really as we are on this run and we are having setback after setback and I feel sorry for the players today as they were brilliant, sometimes you don't get what you deserve and we certainly didn't today.
"We made a couple of errors in those goals and that has cost us. We do not make many errors but we have tonight...that team won't go far short if they play like that at home, they will get a result - it was much, much improved.
"In terms that we have a run of defeats now which looks bad but in all honesty we should not have got beat tonight....our fans were brilliant tonight and the next game is important.

"A couple of mistakes have lost the game for us - it was a game we deserved to win. Thatís the sort of season weíre having. Weíre not really getting any breaks.
"Weíre very much aware that itís four defeats in a row, and we canít really complain about some of them. I also thought we should have had a penalty when Shawcross stopped the ball going back to Cisse.
"There were a couple of errors for the goals, but it was such an improved display.

"Sometimes itís just about a bit of confidence - we gave him (Cisse) a different role, and some responsibility to score goals.

"I thought he might come up with a goal without the responsibility of playing him on the side, and he did - he was terrific all night.

(When asked if his team were in a relegation scrap):

"Well, we are now, and no itís not too early. We canít bury our head in the sand, and we have to get wins to get out of it.Ē
"Iím so buoyed by the performance: the things we have changed, and the things weíve done, have definitely helped the team. The team have responded to them. Hopefully, we can take that forward.Ē

Gentleman of the road Tony Pulis:

"I thought the first half was very even. The last three games we've hit the post or the bar in every game and not had a break where it's come out to us or it's come off the inside of the post and gone in.

"So when that happened in the first half, you just think maybe it might not be your night. And when Asmir spills one, and he's been absolutely brilliant this season, and they tap it in, again you think it might not be our night.

"We made the substitutions and that brought a little bit of life into the game. I thought it lifted the crowd as well, and the crowd in the last 20 or 25 minutes were absolutely wonderful.

"When we got the equaliser, the belief in the crowd, you actually think, 'Well, we'll go on and win this'.

"He (Crouch) wanted to carry on until he saw his teeth in the doc's hands, and then he nearly fainted. He'll need some work on that. I haven't seen it (the challenge) but I don't think there was any malice in it.

"I've always got this thing in the back of my mind that when people say, 'Oh, he's made changes, he's been brilliant,'. Why didn't I start with Michael Kightly, why didn't I start with Cameron (Jerome)? That's how brilliant I am.

"The lads have been fantastic, they've not played much this year but the spirit has been very good and their commitment to the group has been fantastic.

"They could easily have come on tonight and just jogged around and done what they wanted to do for themselves, but the effort they put in for the team was there for everybody to see, and that is a real plus for their character. And I think that really typifies what we've got at the football club."


Potters v Magpies - last 15:

2012/13 lost 1-2 Cisse
2011/12 won 3-1 Ba 3
2010/11 lost 0-4
2008/09 drew 1-1 Carroll
2007/08 drew 0-0 (FAC)
1995/96 won 4-0 (LC) Beardsley 2, Sir Les, D.Peacock
1989/90 lost 1-2 K.Scott
1984/85 won 1-0 OG
1978/79 drew 0-0
1976/77 drew 0-0
1975/76 drew 1-1 Gowling
1974/75 drew 0-0
1973/74 lost 1-2 Tudor
1972/73 lost 0-2
1971/72 drew 3-3 Macdonald 2, D.Craig

(At the Victoria Ground until 1995/96 then Britannia Stadium).
Total record against Stoke:

P

W

D

L

F

A

SJP

36

25

7

4

88

30

VG/BS

3

7

8

10

19

33

59

League

73

33

17

23

121

89

SJP

(TM)

1

1

0

0

2

1

VG

(TM)

1

0

0

1

0

1

SJP

(FA)

4

4

0

0

11

4

VG/BS

3

1

2

0

5

3

SJP(LC)
1
1
0
0
3
0

VG
1
1
0
0
4
0

Cup/TM

11

8

2

1

25

9

Tot

8

4

41

19

2

4

14

6

9

8
Since the mackems won there back in February, City have now gone unbeaten in fourteen home league games, recording seven wins and seven draws. Cisse's goal was only the second they'd conceded at home this season, coming 472 minutes after the first.

United remain without an away win in any competitive fixture in the 2012/13 season, this their 11th attempt.

Nile Ranger completed his half century of league appearances (45 as sub) for the Magpies when appearing from the bench, some 18 months after the 49th.

Newcastle were defeated in a fourth successive Premier League fixture for the sixth time, following similar runs in the 1997/98, 2004/05/, 2007/08 (twice) and 2008/09 seasons. They have never lost five PL games in a row. Yet.

Seasonal comparison: NUFC after fourteen games:

2008/09: 14 points, 15th (scored 17, conceded 22)
2012/13: 14 points, 14th (scored 14, conceded 21)

This defeat completed a thoroughly miserable month for Magpies followers, with the senior side, U21s and U18s all failing to win a single game in either league or cup competitions. Since a fortunate deflection gave us a 2-1 home victory over West Bromwich Albion on October 27th, we have played 14 fixtures (7 first team, 3 stiffs and 4 bairns) without registering any victories.


Waffle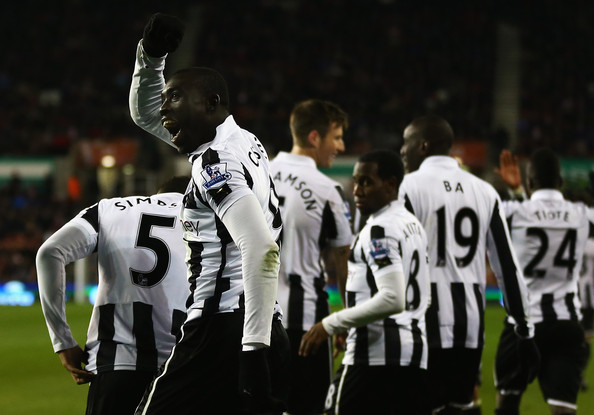 Another day, another defeat for Alan Pardew and his beleaguered players, but at least those fans who followed the side to the Potteries on Wednesday saw them take the lead and give a more committed display than when losing at Southampton in their last outing.

But what threatened to be another memorable midweek trip to this horrible venue, turned sour in five forgettable minutes towards the end of the game and there wasn't to be a repeat of the joy provided last season by Demba Ba's fabulous hat-trick.

If we'd held out for a win it might have been slightly fortunate but there would certainly have been some disappointment in a draw, having got within ten minutes of the final whistle. But a defeat was certainly rough justice and desperately hard to take as we trudged away into the freezing night air pointless again.

To be honest, we hadn't really contemplated any other result before the match but as the game panned out it looked increasingly likely that we'd defy expectations and leave with our first victory on the road this season. Stoke were surprisingly poor and having got to the break goalless, taking te lead was a huge boost for fans and players alike.

Our goal came early in the second half, when an effort from Demba Ba was blocked by 'keeper Asmir Begovic. Papiss Cisse was following up though and managed to steer home the rebound from close range via a post.

Cisse's second league strike of the season was the first goal City had conceded at home in almost eight hours and both he and Ba then saw further efforts saved when running into the box from the right, plus a penalty shout ignored by referee Howard Webb after a handball by Ryan Shawcross.

United looked to press home their advantage against a lacklustre home side who lost Peter Crouch to injury in the first half, when Fabricio Coloccini inadvertently knocked three of his teeth out (!).

However, the belated but inevitable City response was spearheaded by substitute duo Kenwyne Jones and Cameron Jerome. Michael Owen wasn't fit enough to make the bench, having devoted most of the last to talking nonsense on the telly and growing a 'tache that suggests a future career in a Village People tribute band.

Despite coming under ever-increasing pressure though, Tim Krul had only made one noteworthy stop before he picked the ball out of his net with nine minutes to play, Jonas Gutierrez failing to prevent Jerome dispatching a right wing cross for Jon Walters to head home.

Restored to a left wing role, Jonas gave a better account of himself than he had at St.Marys but still looked off the pace and clearly had run out of steam by the second half.

However, his expected replacement by the fresh legs of Shane Ferguson never happened and fatally for United, our forward forays down that flank were too often spearheaded by Davide Santon.

But before the intended introduction of Gael Bigirimana into central midfield could be made to try and hold on for a point, they fell behind and Nile Ranger and Sam Ameobi appeared instead in the fruitless pursuit of an equaliser.

City's 85th minute winner came when both substitutes combined, former mackem Jones rising above Mike Williamson to head a searching forward ball down for Jerome to finish, the returning Fabricio Coloccini too far away to do anything more than be a bystander.

That confirmed United's fourth successive league loss and left them languishing in fourteenth position, level on points with our next opponents, Wigan Athletic.

And there is now a further selection problem for Pardew ahead of that game, with James Perch booked for a tackle during the first half here. That was his fifth yellow card time this season, earning him a one match ban sidelining him against the Latics.

Various online sources did credit the booking arising from that incident to Vurnon Anita, but official confirmation came later that it was Perch cautioned by Webb.

It's another blow to our squad numbers with three tough games in eight days on their way. To see Ranger make an appearance under Pardew speaks volumes about our desperation and that's also true of Xisco's face appearing in the first team squad. We're beyond bare bones at the moment and the line-up at Bordeaux will be very interesting.

At least we seem to be doing our utmost to ensure that the Europa League won't be a distraction in the 2013/14 season....

Niall Mackenzie &
Biffa