In association
with NUFC.com



Date: Monday 10th December 2012, 8pm
Live on Sky Sports

Venue: Craven Cottage

Conditions: dry / chilly

Admission: £40

Programme: £3.50

Fulham

Newcastle United

2 - 1

Teams
19 mins Old boy Damien Duff teed up Steve Sidwell to sidefoot an effort that Williamson deflected past Tim Krul and in off the bar at the Hammersmith End. The Newcastle 'keeper looked certain to comfortably deal with the shot before it hit Williamson's knee and was incredibly unlucky to see the ball loop past him 0-1

Half time: Cottagers 1 Magpies 0

54 mins Hatem Ben Arfa picked up the ball down the United right and went for goal himself, unleashing a powerful shot from outside the corner of the box that took a slight deflection and dipped in off the bar - his second goal here in as many games 1-1
63 mins A needless foul on the right hand edge of the area was conceded by Cheick Tiote. That allowed Duff to float a free-kick into the box and an unchallenged Hugo Rodallega to nod the ball past Krul from six yards. Pardew called it soft, pathetic was more accurate. 1-2

Full time: Cottagers 2 Magpies 1

Alan Pardew
said:


"
We've come here as the away team and had a real go. Unfortunately the second goal was costly - it was a poor goal, a poor free kick and a poor defensive situation for us.

"Some of our attacking play - we looked more like a team - the last three games, the levels have improved but unfortunately we need to get results.

"I'm worried in so much as we are not picking up enough points, that is pretty evident. The performances against Stoke, Wigan and today have improved, but it is a worry we don't have enough points.

"Second half we had the game by the scruff of the neck really, the goal was a soft goal. We gave away a cheap free-kick and then we didn't defend that situation well at all and have come away losing a game we should've got something out of.

"We just didn't defend it well it I'm honest, we are going to have to be better - we can't concede soft goals at this level. To win that game we needed to score three at Fulham and it is really difficult to do that.

"Of course it is very, very disappointing because I believe we have an honest set of players and we work on situations and really for us it is a poor goal.

"Hatem (Ben Arfa) struggled with that first twenty minutes to get the pace of a Premier League game again but he had that great bit of magic that got us the goal. We had to protect him a little bit to make sure he's fit for the next run of games - he's an important player for us.

"It's difficult to get points at the minute but we are a side that on it's day can beat anybody. We've got Man City next and we'll give them a good game for sure."


Martin Jol expectorated:

"We had that spell (of bad results) that started against Sunderland with the red card and two big injuries for us,' he said. 'That was very disappointing for us and then after that we couldn't play Bryan Ruiz - he was out for four weeks for us.

"I was happy that Berbatov, after talking to him, could fill in that role (behind the striker). It was vital, he didn't score so that was disappointing, but on the other hand he linked us up and kept the team together - I was very happy with him.

'The good thing about my squad is that they realise Berbatov is an outstanding player. For me the most important thing is that after losing (Clint) Dempsey - who is making the difference for Spurs now, as well as (Mousa) Dembele plus Danny Murphy and Bryan Ruiz (through injury) I'm very happy that he came to this club because otherwise maybe we could have ended up with a little problem.'

'We couldn't finish them off and then they scored that goal with Ben Arfa - he is a quality player and he scored, but to be fair we have got three or four opportunities and, Berbatov had maybe three of them, to score the 2-1 before that.

"You could say we didn't score at the right moment but if you see the first goal and the second goal, in hindsight it was just enough because we deserved it."

Since winning at nearby Stamford Bridge last May, we've taken just four points from a possible 27 away from home in the Premier League - all from draws.

Hatem Ben Arfa's special strike was his third goal of the season, his ninth in the Premier League and his tenth in our colours.

Toon @ Craven Cottage since WW2:

2012/13: Lost 1-2 Ben Arfa
2011/12: Lost 2-5 Guthrie, Ben Arfa
2010/11: Lost 0-1
2008/09: Lost 1-2 Ameobi
2007/08: Won 1-0 Barton (pen)
2006/07: Lost 1-2 Martins
2005/06: Lost 0-1
2004/05: Won 3-1 Ambrose, Kluivert, Ameobi
2003/04: Won 3-2 Robert, Shearer 2*
2002/03: Lost 1-2 Shearer*
2001/02: Lost 1-3 Speed
1983/84: Drew 2-2 Beardsley, Keegan
1982/83: Drew 2-2 McDermott, Varadi
1981/82: Lost 0-2 (LC)
1979/80: Lost 0-1
1978/79: Won 3-1 Connolly, Withe, Shoulder
1967/68: Lost 0-2
1966/67: Lost 1-5 B.Robson
1965/66: Lost 0-2
1960/61: Lost 3-4 Allchurch, Hughes, Woods
1959/60: Lost 3-4 Eastham, Hale 2
1955/56: Won 5-4 (FA) Casey, Keeble 2, Milburn, Stokoe
1951/52: Drew 1-1 G.Robledo
1950/51: Drew 1-1 Walker
1949/50: Lost 1-2 Milburn
1947/48: Lost 0-3
1946/47: Won 3-0 Bentley, Wayman

Total record against Fulham:
| | | | | | | |
| --- | --- | --- | --- | --- | --- | --- |
| | P | W | D | L | F | A |
| SJP | 29 | 13 | 8 | 8 | 50 | 37 |
| CC/LR | 30 | 7 | 5 | 18 | 44 | 62 |
| League | 59 | 20 | 13 | 26 | 94 | 99 |
| SJP(FA) | 3 | 3 | 0 | 0 | 15 | 0 |
| CC | 1 | 1 | 0 | 0 | 5 | 4 |
| SJP(LC) | 2 | 1 | 0 | 1 | 4 | 2 |
| CC | 1 | 0 | 0 | 1 | 0 | 2 |
| Cup | 7 | 5 | 0 | 2 | 24 | 8 |
| Tot | 66 | 25 | 13 | 28 | 118 | 107 |
Waffle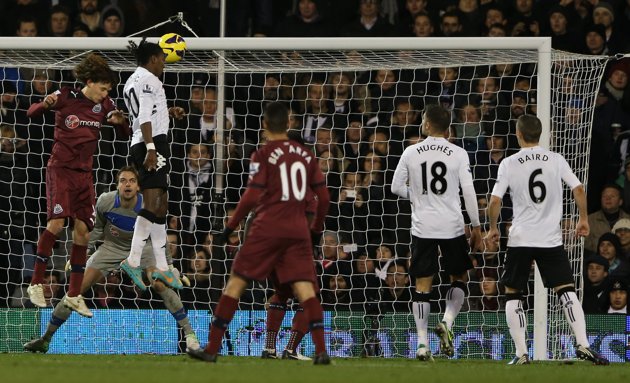 United's fourth successive defeat at Craven Cottage leaves the club facing a real fight to stay above the relegation zone as a tough Christmas period approaches.

Just three points from our last six Premier League games and no wins on the road this season leaves the Magpies in a precarious position, with Champions Manchester City next up and trips to both Old Trafford and the Emirates still to come this month.

Starting his third year as Newcastle boss, Alan Pardew was able to field a strong first XI, with only Yohan Cabaye and Steven Taylor missing from his first-choice selection. However, his team were distinctly second best in a frustrating first half against an equally out-of-form Cottagers.

Wearing the maroon away kit, United started slowly and quickly came under pressure, Danny Simpson clearing an early cross and Alex Kacaniklic then having a hopeful penalty appeal waved away by referee Lee Mason.

At the other end Smoggies old-boy, Mark Schwarzer was looking a little shaky on crosses but Mike Williamson headed harmlessly over after the 'keeper had failed to reach a centre from the left.

Former player, Damien Duff - whose own goal relegated Newcastle in 2009 and who scored the winner here against his old side in 2011 - was booed by visiting fans, but provided the assist for Fulham to end their recent goal drought at the 317 minute mark.

But there was nothing fortunate about Krul's save from Dimitar Berbatov minutes later when Cheick Tiote gave away possession in the centre circle but the visiting 'keeper stood up well and beat away the striker's shot.

With Ben Arfa switching from the centre out to the right after we conceded, United's best chance of the half came from Fabricio Coloccini, as we came agonisingly close to breaking our scoring duck from corner kicks. The Magpies captain made a late run to meet Ben Arfa's right-sided flag kick and his header looked a certain goal before Sascha Riether cleared it off the line.

Berbatov went close at the other end before Riether was once again in the right place to clear Demba Ba's attempt off the line after Schwarzer had flapped at a corner.

After the break United looked more purposeful and with Ben Arfa looking to play in Ba and Papiss Cisse, our increased possession finally paid off in the 54th minute when Ben Arfa netted.

Fulham - without a win in seven attempts - had seemed intent on letting another lead slip as finally our passing started to become more crisp and accurate. And at that point, Newcastle's chances of coming from behind to overturn a half-time deficit in the Premier League for the first time in over six years, looked pretty good.

Martin Jol's side still threatened on the break, however, as both our full backs pushed forward, but Hugo Rodallega failed to take advantage of the space available to him when he ran clear from the halfway line. That came to nothing, but the goal shy Colombian was soon on the scoresheet and as he celebrated with his colleagues, the provider of the assist looked pointedly across at his former supporters - but avoided any sort of inflammatory gesture, having already made his point.

Ben Arfa was withdrawn, as planned, having barely trained before the game and Shola Ameobi's height and presence up front saw us deliver some high balls up front that he managed to flick on despite the attentions of Brede Hangeland - himself returning from a three game ban.

Cisse hit the post, although inevitably from an offside position and Coloccini was desperately unlucky to see a fine curling effort come back off the angle. However, some weak efforts on goal from Shola and Ba failed to take advantage of good possession in the closing stages while our front trio could do nothing with a succession of deliveries from Gutierrez - back in his left wing role.

At the other end meanwhile, substitute Mladen Petric struck the outside of the post before a fifth defeat in six Premier League games was signalled by ref Mason after four minutes of added time. Increased possession? yes, more efforts on goal? yes, more (rotten) crosses?, yes, points? no.

Our third successive away loss means that - along with West Ham and Swansea - we've now handed points out to sides of lesser means and stature five times in recent weeks and given their own seasons a nice little gee up.

Worryingly, we'd actually got out of that habit by this point in the 2008/09 relegation season and had started to pick up points here and there, the narrow Boxing Day loss at Wigan ending a six match unbeaten run. We currently sit a point and a place behind where we were at the same point in that season after losing to a raft of teams. You worry what damage the next bunch will do to us.

To state the patently obvious, our lack of goalscoring is putting more pressure on the defence to try and contribute in terms of creating chances - and leaving themselves open at the back. That goes in tandem with every we concede increasing the risk of losing a game that previously we may have drawn - like scoring from corners, the concept of coming from behind to win is now extinct here.

At the risk of scapegoating Williamson for our collective woes, he's having a nightmare and the number of goals conceded that he's involved in continues to increase. On tonight's display he could do with being taken out of the firing line - but that's a luxury not open to us, given the terms of our master plan that barely allows for injuries and suspensions, let alone loss of form.

It could be argued that exactly the same applies to Danny Simpson, whose ricks are many, but slightly less high profile. Like Williamson though, he has to play regardless of his mindset or contractual status - we have nothing in reserve to replace him.

Last Thursday's defeat in Bordeaux was a timely reminder that James Perch is not a central defender, while similarly the shoehorning of Cisse and Ba into the team continues on the basis that there's nobody else save for Sylvain Marveaux who could reasonably be expected to come into the starting XI and be effective at the attacking end of the field.

Under such circumstances, talk of formations is almost irrelevant, we just play the players we have and hope that their talent will get them through. With more likely pain to come in the rest of 2012 and an FA Cup tie with banana skin written through it like a stick of Brighton rock, the machinations of the transfer window now look to be even pivotal to our immediate future.

In the 2009 window we lost Shay Given and Charles N'Zogbia and gained Kevin Nolan and Ryan Taylor, whose short-term impact wasn't enough to save us. 2011 then saw the loss of Andy Carroll and no inward signings, before that was belatedly righted in 2012 by Papiss Cisse's signing.

To expect a second successive goal-laden mid-season arrival after the spectacular success of Cisse though is surely too much to ask (at least from the market we're shopping in). At this point in 2008 nine different players had contributed goals in the Premier League - this time round it's five.

Quite simply, unless Newcastle can hang on to Demba Ba - or reshape themselves to provide the bullets for Cisse to fire - then losing our top scorer in mid-season will prove to be suicidal. Equally though, the defence is crying out for help at both centre half and full back.

So, one of each Alan? Good luck with that. Let's see whether these words come back to haunt him:

"We have had a look at things and I think it is also time for the board to have a little look at things as well, about what has gone on. They have done that. All of us have had to re-adjust a little bit.
"I think it gave us a shake that we needed to do a little bit more work in the summer on recruitment and I don't think we're going to fall short again. We'll be stronger in February."

Does stronger actually translate as "it's like having two new players" when Cabaye and Steven Taylor limp back into contention?
What remains crystal clear to us, but not widely accepted is that his first XI isn't good enough, let alone the reserves. It wasn't in August before injuries and suspensions and it's not now in December - tonight again proved that. People are getting a game here who just wouldn't feature elsewhere.

PS: As fans are prone to do, seeking solace in the misery of one's rivals is now even denied to us, given the situation at the bottom of the table.

On balance, a victory for the mackems over Reading 24 hours after our loss at Craven Cottage was probably a good thing in further anchoring the Royals to the bottom of the table, along with QPR.

That still leaves a third place though and before our run of tricky tests, we sit second-bottom of the form table. This is not a drill, this is a genuine alarm.
Biffa