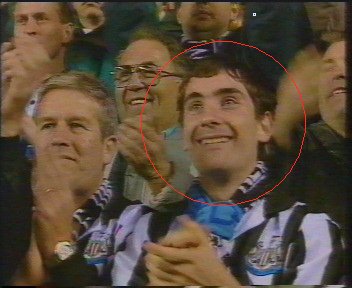 Writing this site never ceases to amaze. Within hours of this picture appearing, we had two positive ID's. Step forward Sean P. from Carlisle (circled) and his brother-in-law Gerry, formerly of Benwell.
Sean and Gerry featured heavily during the Keegan era whenever a bit of crowd reaction was required after a United goal at St. James'.
The pair are pictured shortly after Andy Cole made it 9-0 on aggregate against Antwerp back in 1994. Moments earlier Sean could clearly be seen shouting at the cameraman, "shift yasel' man".
The Face in the Crowd Archives can be viewed here
Send your entries to us at: face@nufc.com

Back to Main Page