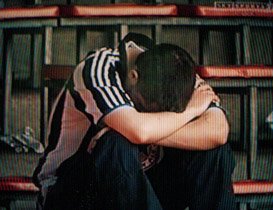 Our second entrant is Danny C. who has done our work for us and sent us this image. As Danny says:
"Here is my moment of fame. Taken from Sky Sports, it shows me saying 'goodbye and thanks for all the heartache' to Wembley at about 5pm on Sunday April 9th 2000 [just after the Chelsea semi-final defeat].

While the pictures were taken, Bob Moncur was telling Richard Keys how the 'magnificent Geordie fans wouldn't be too disappointed after today's performance'. I think I proved him wrong....
The Face in the Crowd Archives can be viewed here
Send your entries to us at: face@nufc.com