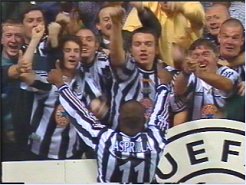 Face no.7 appears to be more famous than the bloke in the no.11 shirt. Dozens of you identified Yorkshire Mag, Michael H. and his dad Alan (bottom right). Michael is pictured directly above Tino, arm outstretched, shortly after our rubber-limbed Colombian made it Tino 3 Barca 0.

Late news:

A mysterious phonecall to NUFC.com confirms that the gentleman on the far left is none other than Tyneside's leading ice hockey reporter. Using the latest digital technology, we've had the photo enhanced to show him in his full glory: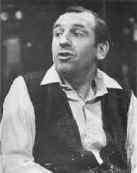 Second from the left is John S. and just to the right of Tino's left thumb is Keith M from Washington (T&W) and far right is a gentleman simply known as THE WRESTLER.
The Face in the Crowd Archives can be viewed here
Send your entries to us at: face@nufc.com

Back to Main Page