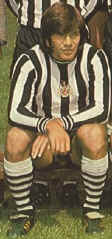 We asked for your questions to send to Malcolm. We'll forward on the best ones for Malcolm to answer. Here's the first:

Ian F. asks:

"Your partners at Newcastle were John Tudor, Alan Gowling and Paul Cannell. In the subsequent 25 years Newcastle have had many good forwards who do you think would have made your best partner, and why ? And as a follow on, could you have played in the same forward line as an Andy Cole or an Alan Shearer who were both as equally driven by the need to score goals as you were ?"

Dear Ian,

"The answer to your question comes in two parts, and I'm taking the second part first. No, I don't think Andy Cole and I would have suited each other but possibly Alan Shearer and I might have done, inasmuch that Shearer has a far greater all round game than Cole, though Shearer has a tendency to go into the danger area and then stay there, whereas I much preferred the area to be left vacant for runs into it. For the other part, it might seem an obvious reply, but Peter Beardsley. He had a tremendous ability to see a teammate's run early and get the right weighted pass in, which would have suited my kind of runs perfectly.

I was basically that tunnel-visioned towards scoring goals it didn't matter who was playing up front with me. People wrongly say to me that it was whoever my strike partner was that made me goals, other than John Tudor the reverse was in fact the truth. In fact, Alan Gowling never made me a single goal in the season he and I played together. I did enjoy playing with Frank Stapleton at Arsenal. He was a baby when he got in the team and so too frightened of me not to do what I told him."

Kindest regards

Malcolm

Taking his cue from this week's "On this Day in History" anniversaries, Malcolm recalls :

Sept 16th 1972

"The Coventry 3-0 where I scored a hat-trick - it so works out that I scored more hat-tricks against Coventry than any other club, home and away. It was a total of 3 for sure, maybe more*. So they became the team I loved playing against the most and Highfield Road where I liked travelling to the best. Sitting there last Wednesday night I saw the electronic scoreboard and realised it was the same one as when I played, except it had changed location. I remembered a scoreline of Coventry 0 Newcastle 3 at the end of one match and underneath the club name were the figures 999. I couldn't help but think the number was just what Gordon Strachan needed to get a resuscitation unit to his dressing room at the end of the game...."

"ps. This week's game against Chelsea reminded me that they were the opponents when I scored my last ever league goal before retiring.
Chelsea 1 Arsenal 1 - last game of 78/9 season. I also scored a hat-trick against them at St. James' Park as well. Think the final score was 5-2."

* Malcolm is talking about his career at both Newcastle and the Arsenal.



16.9.72 CCFC 0 NUFC 3

An explosive treble from Malcolm Macdonald defeated Coventry in front of 17.592 at Highfield Road.

City were managed by Gordon Milne (with Joe Mercer in an "Upstairs" capacity. Milne of course is now part of Bobby Robson's staff at Newcastle.

Newcastle: Iam McFaul, David Craig, Frank Clark, David Young,
Pat Howard, Bob Moncur,
Stu Barrowclough, Jimmy Smith, Malcolm Macdonald,
John Tudor, Terry Hibbitt.
Unused sub: Keith Robson.



Malcolm contributed an article to the match programme for the above game, which we've reproduced here:

"I'll never forget a photographic session I did at Highfield Road a few months ago. I came to Coventry with our Skipper, Bob Moncur to take part in a publicity campaign for a national newspaper.

After the photographs had been taken, I said to Bobby 'Now what about lunch ?' We decided to eat at the club's restaurant and had an incredible meal with good service in excellent surroundings.

There were all these businessmen sitting around enjoying a meal while they settled their deals - and i wondered if the people of Coventry really appreciated what a wonderful club they have.

I don't know if such a setup could work at any other other First Division Club. It was all started by Jimmy Hill- Mr P.R.O. himself - and I doubt if many other people would have the flair to carry it through.

As the owner of a men's boutique in Newcastle, I appreciate a man with a good head for business ideas - and that's why I have tremendous admiration for Jimmy's personality and inventiveness.

Since Jimmy left the entire setup has gone from strength to strength and that's why we always look forward to our trips to Coventry. Not that we can ever expect an easy couple of points here. City are not the sort of team that you expect to hammer or be hammered by. It's always more likely to be a close battle.

That made it all the more surprising when we beat the Sky Blues 5-1 in the Texaco Cup and 4-2 in the League at St.James' Park this season.

I always look forward to meeting up with the Coventry lads - particularly Jeff Blockley, with whom I became very friendly when we played for the England U-23 team against Wales, Scotland and East Germany last season.
I remember writing an article about a year ago saying that Jeff would be the natural successor to Jackie Charlton. Jeff is just turned 23 and Roy McFarland is 25 - and i'd like to forecast some hot competition between the two in years to come.

Although I don't know them personally, I'm convinced that Coventry City have found a perfect partnership in Mercer and Milne. Everybody knows about Joe's tremendous experience. Less is known about Gordon, but he's proved by managing the England Youth team that won the Little World Cup this year that he has the tactical know how and the ability to bring the best out of the players.

But watch out Jeff - and the rest of you ! We're not expecting a pushover this afternoon but even if there's only one goal in it, it will be scored by Newcastle United."

Part 3

Malcolm's own website can be accessed from here