Date: Thursday 17th February 2005, 7.45pm(GMT)
8.45pm (local) Live on Channel 5

Venue: Abe Lenstra Stadium

Conditions: Chilly





Heerenveen

Newcastle United

1 - 2

Teams
24 mins Bramble looked in no danger when he was first to the ball ahead of Arnold Bruggink but inexplicably turned into the striker and was dispossessed. Bruggink fed Huntelaar who turned superbly before firing in an unstoppable left-foot drive in off the bar from 15 yards. 0-1

Half time: Heerenveen 1 Newcastle 0

69 mins Kluivert's neat pass put Shearer through and Al lashed the ball past Brian Vandenbussche, moments after trying to place his shot from a similar position and seeing it hit the Heerenveen 'keeper.

The celebrations of his 23rd European goal for the club were certainly heartfelt, as he ran along in front of the dancing toon fans, jabbing his finger at them as if to say "that one's for you, and you, and you...." 1-1

82 mins Stephen Carr crossed from the right and Bowyer back-heeled the ball into the far corner of the net from ten yards - a goal not dissimilar to that scored by Kluivert at Palace last November. 2-1

Full time: Heerenveen 1 Newcastle 2

Assistant manager Alan Murray attended the post-match press call and said:

"We needed to put ourselves in a position that we can go through in the home leg at St James' and we have done that. We are not through and we will not be taking Heerenveen lightly. We will treat them with respect.

"They are good enough to come back but we are in a strong position. The fans see Newcastle as a really big team and a big team in Europe and I think they get a little bit impatient."

"They want success immediately. It didn't happen tonight, but it came in the end and the players turned that around."

Once back in the UK, Graeme Souness said:

"We should take a great deal of confidence from the game in Holland.

"We were involved in a hard football match and we went a goal behind but dug in and got a result out of it, although we didn't need to win or draw in Heerenveen to be up for Sunday's game with Chelsea as it was always going to be a monster match."

Goalscorer Alan Shearer said:

"I do not know a bad time to score a goal but I was very pleased to see it go in.

"We found ourselves 1-0 down in the first half because of a defensive mistake but that is all that was between the two sides.

"It was not pretty to watch at times but we knew for the last 25-30 minutes they would tire and would not be able to keep up such a high tempo.

"We knew our fitness would tell in the end. The manager changed things slightly by pushing Patrick Kluivert up front and bringing on Laurent Robert to give us a bit of width.

"That is when the spaces opened up and thankfully we were able to take our chances.

"It was a very professional performance in the end. Maybe it was not pretty until the end but these games rarely are and you have to make the most of what you get."

"If people are still telling us we have the best record in three months then great, it will mean something.

"We know we have not done ourselves justice in the past few games and that we should be higher in the league table.

"However, we also know with a win in Heerenveen and another against Chelsea on Sunday suddenly everything in the garden will seem rosy again.

"We got to the semi-finals of the UEFA Cup last season and fell at the last hurdle and I am confident we can at least get that far again this time."

Patrick Kluivert told the Chronicle:

"I would like to stay at Newcastle if I can. I did not come here to play for fun. I have come to a great club and I want to perform well and I want to stay.

"I have to prove something to the people of Newcastle and I want to do that. All I ask for is a little bit of patience. The fans have not seen the best of me but if they are patient, and I think they are, then we can have a nice time together.

"It is normal for most of the players who come from a different country into the Premiership to need time to settle. It is not easy."

"I played more up front in the second half, which is where my usual position is, and I felt very comfortable. I am glad we won and now I am very excited about the FA Cup game with Chelsea on Sunday.

"They are doing very well and if you make mistakes they are like hyenas. We would like to spoil their chances and I am looking forward to the game - but it will be down to the manager what team he picks."

Heerenveen boss Gertjan Verbeek said:

"It was a good match tonight but it went on too long for us. We had no power left in the second half.

"We played our best football, were well organised and had chances, but Newcastle are a clever team and after they equalised it was over for us. Although we deserved better, we were not good enough to beat Newcastle but that's football - the better team didn't win.

"They never lose at St James' Park? Maybe they do against us. We have a little chance, very little."



Alan Shearer edged closer to the double century with his 23rd European goal - extending the club record. That's 187 Newcastle goals now.

Shay Given extended the club European appearance record to 46.

Huntelaar's goal against us was the 100th we've conceded in Europe - in the 97th game.

Once again we found the Netherlands to be a happy hunting ground, winning as we did at Breda last season and Feyenoord in 2002-03. Add to that a draw at PSV last season and the 0-1 defeat at the Phillips Stadion in 1997 is the only recent blemish.

This was the first time in Souness' United reign that we've come from behind to win, in any competition.


Waffle


A very similar set of circumstances to that which greeted us in Sochaux were repeated here in the Friesland area of Northern Holland as our UEFA Cup campaign just about kept on track.

Another low-profile but competent opponent demonstrating decent domestic form and housed in a modern stadium ultimately proved incapable of withstanding us when we kicked on and started to assert ourselves.

However, while we had gained a lead we never really looked like losing by the half hour mark in the Stade Auguste Bonal, here in the Abe Lenstra the boot was on the other foot and shortly after half time our continued inability to cause Heerenveen problems had away supporters imploring their side to "attack, attack, attack."

By this stage it was just like the old days - toon fans standing among a sub 20,000 crowd voiced their anger at the club hierarchy. All that was missing was old baldy heid Jim Smith and a Greenalls' logo on the strip.

Chants of "Freddy Shepherd is a w*nker" were not immediately decipherable on the TV coverage but picked up by the occupants of the press box, while the strains of that old terrace favourite "sack the board" were clear to anyone.

At that stage, with United trailing, the Laurent Robert song was also aired, one or two folks having also begun the game with mention of a certain Celtic striker but seen their attempts at rabble rousing drowned out.

Had Robert stayed on the sidelines though, or the Dutch gone 2-0 up, it's a fair bet that the attentions of a section of the toon fans would have turned from the directors box to the visiting dugout. Thankfully that didn't happen.

Heerenveen gradually became less of a threat as the game wore on and we started to look more menacing. Aaron Hughes had replaced Babayaro after a heavy challenge jolted his knee but it was the substitution of Ameobi that made the difference.

Laurent Robert came on down the left, meaning we could revert to 4-4-2, rather than the 4-3-1-2 that had seen Kluivert playing behind Shola and Shearer, with none of them looking particularly predatory.

This paid dividends within 10 minutes with Shearer's goal and from then on there was only going to be one winner - although Bramble surpassed his earlier rick by presenting the ball straight to Mika Vayrynen to run in on goal, only for to Given to produce a tremendous stop and save our blushes.

Bowyer then inexplicably patted the ball away with his hand and received a second yellow but the ten men held firm to secure a vital away win without too many problems, late sub Steven Taylor reprising the Shearer clock running down round the corner flag routine - nice to see someone takes notice of what other players do.

Given the overall politeness of the whole affair, it came as no shock to see both sets of fans applauding both sets of players as the usual shirt swapping commenced. The Heerenveen players also did a mini lap of honour to salute their fans, while in amongst the post-match love in, a bouquet of flowers were lobbed into the away end.

Nice also from a travelling supporters' point of view that the view from the away section was unimpeded by netting or oversized fences - although one or two locals seemed rather worried by the antics of a bare-chested minority of our lot, who used the perspex dividing fences as percussion, either via fists or head.....

Here's some photos of the night, featuring the specially-made game flags that were much in evidence throughout the night and waved lustily by home fans before kickoff to accompany a local brass band.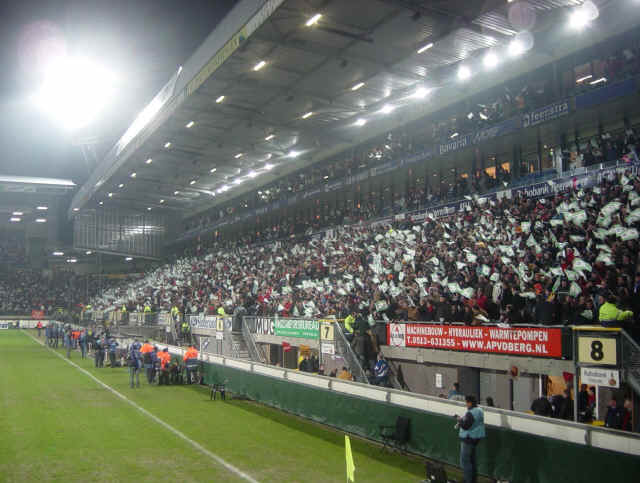 View from the away end 1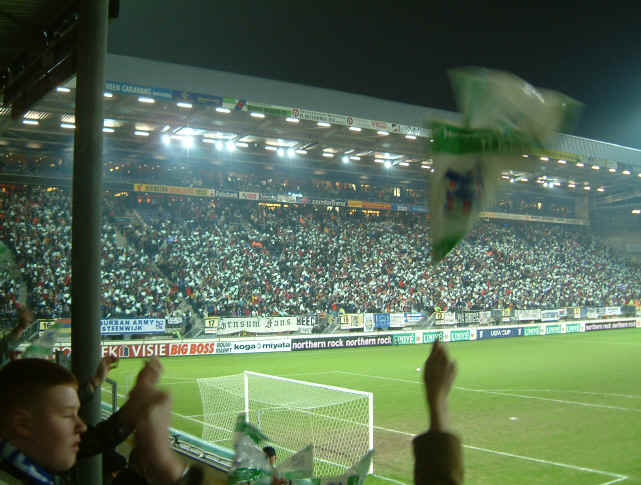 View from the away end 2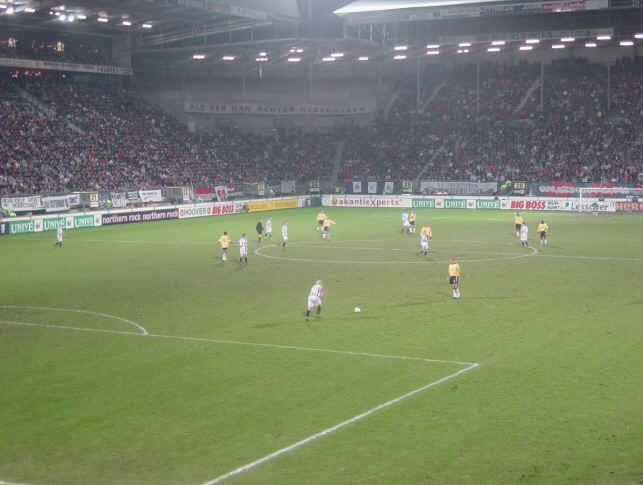 Second half action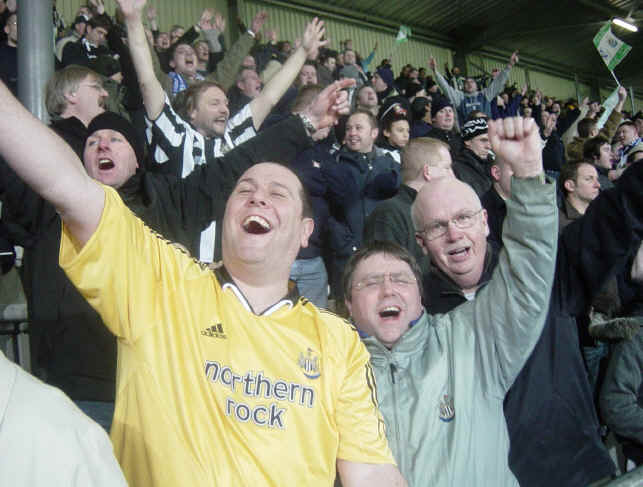 Songs of Praise
Biffa