Ticket news:
West Ham (h) Public sale now

Premier League:
West Ham (h)

Sunday sees Newcastle bid a fond 'good riddance' to the season, when West Ham provide the opposition at SJP in a 3pm kick-off. The Magpies will don their new home kit.

Tickets are on public sale now, with any unsold available from the SJP ticket office on the Milburn Stand side of the ground until kickoff.

The visitors took 3,000 places and used their away fan fund to subsidise ticket prices by £10 per person. That means that adult away fans pay £17, concessions £12 and U18s just £3.

With no reciprocal agreement reached between the clubs and NUFC choosing not to subsidise the away game, Toon fans forked out £43 at the Boleyn Ground in November.

Remaining Premier League fixtures (all 3pm KO):

Sun 24.05.2015:
Arsenal v West Bromwich Albion
Aston Villa v Burnley
Chelsea v mackems
Crystal Palace v Swansea City
Everton v Spurs
Hull City v Manchester United Sky Sports 3
Leicester City v QPR
Manchester City v Southampton
Newcastle United v West Ham Sky Sports 1
Stoke City v Liverpool


Premier League - bottom four:

| | | | | |
| --- | --- | --- | --- | --- |
| Pos | Team | Pld | GD | Pts |
| 17 | Newcastle | 37 | -25 | 36 |
| 18 | Hull City | 37 | -18 | 34 |
| 19 | Burnley | 37 | -26 | 30 |
| 20 | QPR | 37 | -27 | 30 |

Travel: For anyone using the Tyne Valley line to reach Newcastle, there are some timetable alterations in place on Sunday morning with some trains replaced by bus connections for part of their journey.

No scheduled metro disruptions this weekend.

Squad: Mike Williamson is available after suspension and Siem De Jong may return to the squad. Rob Elliot, Jak Alnwick, Steven Taylor, Cheick Tiote and Massadio Haidara all remain absent.

If they feature, Sunday's game will be the last under their current deals at SJP for Sammy Ameobi, Jonas Gutierrez, Ryan Taylor, Lubo Satka and Facundo Ferreyra.

Paddy Power match betting is online here

Newcastle to win @ 4/5
Newcastle to win 1-0 @ 5/1

(NB: quoted odds were accurate at the time of writing, but subject to fluctuation - click on the link above to display current live odds).

WHU: Former Magpies boss Sam Allardyce returns to SJP for the fourth time since losing his post in early 2008. He's yet to lose here, steering Blackburn to a 2-1 win and West Ham to a 1-0 win and a 0-0 draw.

60 year-old Allardyce is out of contract at West Ham following this game, with no clear indication as to what the future holds from him.
Ahead of the game, big Sham said:
"The lads have had a few days off, but not five. The best way after a long season is to spend some time at home with the families. They can't get any fitter. They could do with a physical and mental rest. A few days training with a reminder of the basics, which we always do.

"It's not about Newcastle for me; some people have suggested I am all up for winning to try to send them down, I want to win it for West Ham because that's where I work. I want to finish with a win away from home and finish with 50 points.

"It's too far down the road for any of that stuff. It's been a long time since we parted company. For me, looking back is not what I am really about. Since Newcastle, I have had a fantastic time at Blackburn Rovers and a fantastic time here since then, which is nearly seven years. Time flies doesn't it?"

"Off we go to Newcastle tomorrow and we will try to get a result and a win."

James Tomkins may return but Andy Carroll won't be in action until next season. James Collins is out.

Kevin Nolan missed Saturday's 1-2 home defeat by West Ham due to family bereavement. The former Newcastle player is without a goal in 22 games and has scored just once this season.

However his next goal will be a memorable one, regardless of who it comes against - with 40 for Bolton, 29 for the toon and 30 for the Hammers giving him 99 to date.

After winning three away games from their opening seven, the Hammers have lost six and drawn the other five of their Premier League road trips this season.

Referee: Martin Atkinson - a fifth outing for the whistler from Yorkshire, after the 0-2 home loss to Manchester City, 1-0 win over Leicester City at SJP and 2-1 home success against Chelsea (when Steven Taylor was red carded. Most recently, Atkinson was in charge of our 0-3 defeat at Everton, sending off Fabricio Coloccini.

UK TV: Live on Sky Sports 1 - Sky have switched their live TV coverage of our game from their Sports 3 channel, with coverage starting at 2pm.

Overseas TV:
Astro SuperSport 2
Foxtel Play (Australia)
Gol Stadium (Spain)
GO Sports 7
NBC Sports Live Extra (USA)
Now Sports 3 (Hong Kong)
PremierLeaguePass (NZ)
Sky Mexico
Sport 1 Extra 1 (Ned)
SportKlub 1 Croatia/Serbia
Stod 2 Sport 6
SuperSport 5 Africa
Sportsnet 360 / World NOW (Can)
TV3 Sport 2 (Denmark)

UK Radio: tbc

NE Radio: Live commentary on BBC Newcastle

Overseas Radio: Live commentary on talkSPORT

Stats:

The Magpies come into this game with no win in their last 10 outings (nine losses and a draw). Their worst Premier League run of form remains 14 winless games, consisting of the closing seven games of the 1998/99 season and the first seven of the 1999/00 campaign.

Failure to beat West Ham would make it no win in 11 attempts, but leave the Magpies a long way off their previous worst run of 23 games. That is made up of the closing 21 games in all competitions of the 1977/78 season plus the opening two fixtures of 1978/79.

Hammers in Toon - PL era:
2013/14: Drew 0-0
2012/13: Lost 0-1
2010/11: Won 5-0 Best 3, Nolan, Lovenkrands
2008/09: Drew 2-2 Owen, Carroll
2007/08: Won 3-1 Viduka 2, N'Zogbia
2006/07: Drew 2-2 Milner, Solano
2005/06: Drew 0-0
2002/03: Won 4-0 LuaLua 2, Shearer, Solano
2001/02: Won 3-1 Shearer, LuaLua, Robert
2000/01: Won 2-1 Cort, Solano
1999/00: Drew 2-2 Dabizas, Speed
1998/99: Lost 0-3
1997/98: Lost 0-1
1996/97: Drew 1-1 Beardsley
1995/96: Won 3-0 Albert, Asprilla, Ferdinand
1994/95: Won 2-0 Clark, Kitson
1993/94: Won 2-0 Cole 2

Closing home game results - PL era:

2013/14 Cardiff City won 3-0
2012/13 Arsenal lost 0-1
2011/12 Manchester City lost 0-2
2010/11 West Brom drew 3-3
2008/09 Fulham lost 0-1
2007/08 Chelsea lost 0-2
2006/07 Blackburn lost 0-2
2005/06 Chelsea won 1-0
2004/05 Chelsea drew 1-1
2003/04 Wolves drew 1-1
2002/03 Birmingham City won 1-0
2001/02 West Ham won 3-1
2000/01 Aston Villa won 3-0
1999/00 Arsenal won 4-2
1998/99 Blackburn drew 1-1
1997/98 Chelsea won 3-1
1996/97 Nottingham Forest won 5-0
1995/96 Spurs drew 1-1
1994/95 Crystal Palace won 3-2
1993/94 Arsenal won 2-0

Premier League:
And then there
were two....

All with smiling faces - until Sunday


A scoreless draw against Arsenal at the Emirates on Wednesday night was enough to confirm top flight survival for the mackems - and leave the final relegation spot to be decided between ourselves and Hull.

It also ends any realistic chance of Manchester United overhauling the Gunners to seal third place, with Arsene Wenger's side standing three points and seven goals better off ahead of Sunday's final set of fixtures.

And on that basis, the Red Devils side that takes to the field at Hull on Sunday may now have a more unfamiliar look - in addition to decidedly less motivation in terms of relegating their old boy in the home dugout.

Seconds out:
Watch the wrestling -
or the boxing....

The press blackout mooted by John Carver seems only to have extended to a silence from the captain and other senior players, with local lad Paul Dummett summoned to fulfil media duties as demanded by the Premier League:

"It's still in our hands. I think the fans are probably sick of us saying that as we've let ourselves down in the past where we didn't produce but luckily it's still in our hands now, it doesn't matter what happens with Hull as long as we win our game then we'll be ok.
"The more games that have been coming and the more games we've been losing, the pressure's been building and building and building. Now it's come down to the crucial time where we can no longer make any excuses, we have to produce this Sunday coming.
"I think a lot of players in this squad have never been in this position before so there's a lot of pressure. I think especially me as well being a local player, being a fan, not wanting the club to go down, it's something I don't want to see happen.
"There are a few players who have got experience, who have been relegated before, and they know exactly how it felt and what it was like. They're desperate - everyone in there's desperate for it not to happen again."
Meanwhile, club sources have denied claims on social media that an argument between Papiss Cisse and Daryl Janmaat during training saw punches exchanged.

Closing statement:
Inquest adjourned

Holding his press conference on Wednesday, well ahead of the final game of the season John Carver came out with the following. In addition to the brave words and badge-pointing, let's hope that something approaching a tactical plan was discussed with the players....

"I'm pleading for the fans to forget about what they think of me, Mike Ashley or Lee Charnley. Let's win the game and the inquest will begin afterwards.

"The fans are entitled to protest after the game, but please get behind us for the 90 minutes. We need the supporters this weekend. Put all your differences to one side and get behind the team.
"There's no second chances. This is the final game of the season and it's all about this one game. We have to win the game. If we win, we take care of our own business. Winning is our only thought.
"I have enough players in that room who realise what this game means. I'm expecting the big players to step up and perform. I feel we have to win. I said a few weeks ago we needed four points and I expect Hull to win so we must do our bit.
"We had a meeting with players yesterday and brought staff into the meeting, many of their workmates lost their jobs when the club was relegated in 2009.

"I said straight out, 'If anybody doesn't fancy it, if anybody wants to back-bite, if anybody wants to be negative – there's the door'.

"Steve Stone opened the door, and I told them to leave the room. I told them I was ready for a fight and a challenge, and not one person got up and left.

"From a psychological point of view, it (two days off after the QPR defeat) gave the players a chance to clear their heads and start again.

"Sometimes you need that and, to be honest, maybe some of the staff needed a bit of time away from it as well. It has been intense and maybe I needed a bit of a break because it's been even more intense for me.

"I don't think bringing in them just to tear a strip off them would have achieved anything. That's definite. I did that after the Leicester game, and you can't really say it worked. You can only do it so many times.

"You have to try to find different ways of dealing with different situations. I can't believe it's come to this, but we have to deal with it.

"I have told the players to stay off Twitter, internet and television so they're not distracted - watch wrestling or something – but not football.
"I've actually thought about turning my own phone off. You get so many messages, good messages, but it can actually wear you down the amount you get and that is why I don't have a Twitter account.
"If you have one of them all of a sudden someone starts giving you abuse then that can affect your mental status and I can't afford to have that.
"I remember when we went down six years ago, I remember the feeling well. It will stay with me and we can't have that again this Sunday.

"We've got four or five players here from the last time this team was relegated. They know what it feels like and I watched on TV from a bar, I remember it so well.
"I saw the reaction of everyone, the emotions of Alan and the players and my own reaction was I didn't talk to anyone for more than an hour after the game.
"I've explained the story to the players and hopefully I'll get a reaction from that."
(Back in May 2009, Carver had recently left his post as coach of MLS side Toronto. He returned to football with Plymouth Argyle that December and was on the home bench at Home Park the night we sealed our Premier League return in April 2010.)
Departure:
Magpie takes flight




From The Shields Gazette, Tuesday:

Relegation-threatened Newcastle United have suffered another blow – with finance director John Irving (pictured right) set to quit the club.
Long-serving Irving is third in charge behind owner Mike Ashley and managing director Lee Charnley.
And Irving's departure couldn't have come at a worse time for the beleaguered club, which could be relegated on the final day of the season and faces a hugely -challenging summer whatever its fate on Sunday.
Irving – who, along with Ashley and Charnley, is on the club's board – is understood to be leaving for Newcastle Airport, where he will take up a similar position.
He has spent the past seven years at St James's Park.
David Gilroy, Irving's assistant, is reportedly leaving for Manchester City.
Update:
Twist and shout

Airing our dirty laundry in public - 1989 style


The following is part of an update that appeared on the ashleyout.com website on Tuesday that we're happy to distribute to the widest possible audience.

We can only echo their sentiments of not disrupting the game in any way, shape or form. None of this mess is our fault, but an administration in turmoil would seize on any opportunity that arose to deflect blame towards fans.

Also, unlike Loftus Road on Saturday, efforts to identify and retrospectively ban pitch invaders can be expected at Gallowgate. That will be a meaningless threat though for those intending to ban themselves after Sunday....

From ashleyout.com:

due to the nature of the fixture on Sunday, and what is at stake for the club, we understand that many fans will find it very difficult to stay away.

For those among us choosing to give up their season tickets, this will be our last game at St. James' Park until Mike Ashley leaves. We therefore aim to make the most of this final opportunity to deliver our message inside the stadium in the strongest possible terms.
Whatever the result of the game and the outcome of the "battle" against relegation, during and following any lap of 'honour' that might or might not take place, we will continue to occupy the ground after the final whistle and we urge all supporters to join us in this form of protest, which has been cleared with Northumbria Police. Bring your flags, bring your banners and most importantly bring your voices.

Together we will make it clear that enough is enough and demand – on the worldwide platform that is Sky Sports – that the man ultimately responsible for the club's demise into mediocrity, Mike Ashley himself, puts the club up for sale with immediate effect to "a worthy custodian of such a fine football club", which is how he said he judged potential takeover parties when he first took the club off the market in 2008.
We have no specific protests planned to take place during the game so as not to disrupt the outcome in any way, shape or form. However once again we encourage all fans to show their displeasure in any way they see fit.

You need no permission or direction to protest, this is your club.
Internationals:
Toon trio receive
Lions call-ups

England's U20 squad for the upcoming Toulon Tournament in France includes fit-again Magpie Rolando Aarons.

The 19 year-old made a goalscoring international debut against Romania last September before injury forced his omission from a subsequent squad.

England will face Morocco on Thursday May 28th, Ivory Coast two days later, Mexico on Wednesday June 3rd and China on Friday June 5th.

Also selected by England coach Aidy Boothroyd are Birmingham City's Demarai Gray and James Wilson of Manchester United, two players that the Magpies have scouted on numerous occasions this season.

Fellow Magpie Olivier Kemen wasn't in the French squad.

Moving on to the U18 side and Magpies duo Freddie Woodman and Adam Armstrong are both included in the squad for a pair of internationals against Russia.

The young Lions will be in friendly action on Monday June 8th and Wednesday June 10th - both games taking place in the city of Khimki near Moscow.

Tournament:
A breath of French air

Newcastle United are one of twelve teams contesting the Tournoi International de Football U17 in Saint-Andre -Lez-Lille, which kicked off in France on Thursday.

The youngsters are in Group C along with Copenhagen and Dynamo Moscow while teams from Toulouse, Bruge, Porto, Standard Liege, Real Sociedad, Lens, SV Hamburg, Udinese and host side US Saint Andre are also involved.

This will be the nineteenth staging of the three day event, with matches played over two 20 minute halves. United last took part in 2013, when their squad included Adam Armstrong.

The 2015 selection includes players from U17, U16 and U15 squads as follows: Ben Pollock, Jamie Holmes, Owen Bailey, Yannick Azoakonou, Callum Smith, Ben Kitchen, Mackenzie Heaney, Shane Donaghey, Dan Lowther, Lewis McNall, Nathan Harker, Kurtis Russell, Kieran Olsen, Oliver Long, Kelland Watts, Cameron Armstrong, Jai Grant.

PS: A Magpies U14/15 squad is in France, where they are participating in a tournament near Lyon.

Internationals:
Double Dutch
Forthcoming country call-ups for current Magpies:

Moussa Sissoko (France):
Sun 07.06.2015 Belgium (h) FR (Paris)
Sat 13.06.2015 Albania (a) FR (Elbasan)

Daryl Janmaat, Tim Krul (Netherlands):
Fri 05.06.2015 USA (h) FR (Amsterdam)
Fri 12.06.2015 Latvia (a) ECQ (Riga)
The Borrowers:
No gong for Kevin

Gael Bigirimana, Shane Ferguson, Kevin Mbabu, Remie Streete, Haris Vuckic (Rangers)
Thursday saw Kevin Mbabu play the second 45 minutes for Rangers U20s in the Scottish FA Youth Cup Final at Hampden. However he was unable to prevent a 2-5 defeat at the hands of deadly rivals, Celtic.

A 2-0 win over Hibernian in the first leg of their playoff semi-final at Ibrox on Wednesday saw Vuckic claim a decent assist for the opener and played the full 90 minutes. Fit-again Fergie was an unused substitute.

The teams meet again at Easter Road on Saturday, with the winners facing Motherwell in another two-legged game for a place in the SPL next season.

Sylvain Marveaux (Guingamp)
With his current side safe from relegation, the midfielder will see his season end at St. Etienne on Saturday night.

2015/16:
Remember when we
wore black & white?




The horizontal hold has gone - just like the team


This is Ingerlunnd? or Leeds?


Now on sale this is Newcastle's 2015/16 season home shirt - which will be worn against West Ham on Sunday.

The weekend after, Widnes Vikings will play at the same venue wearing a shirt more deserving of the description "black and white stripes" than this aberration. Typical.

With immaculate timing, this appeared online within hours of Wonga unveiling a new website and advertising campaign - featuring a redesigned company logo....

Saturday:
Information appeal

Investigations into the post-game violence outside Millers near Kings Cross on Saturday continue, with Northumbria Police working alongside British Transport Police and the Metropolitan force to identify those responsible.

Anyone who can provide a witness account and/or any mobile phone footage is asked to email this address

Talk-in:
Prince in Toon
- group offer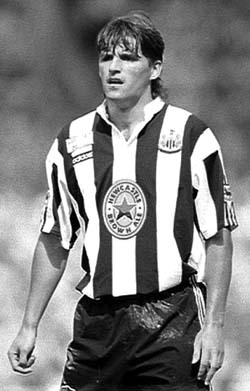 Former Magpie favourite Philippe Albert is heading back to Tyneside for a talk-in event next month - and there's a special bonus offer now available to NUFC.com readers.

The popular Belgian will appear at the Lancastrian Suite in Dunston on Friday June 19th in the company of Sky's toon-supporting presenter Pete Graves.

Tickets cost £20 per person and anyone booking a table of 10 for £200 will receive an unframed NUFC 1984 replica home shirt autographed by Kevin Keegan.

More details and bookings can be made online here (booking fee applies). Telephone bookings made on 07414 960956 in office hours will avoid booking fees.
Premier League:
QPR: Quite Possibly Relegated....

QPR 2 Newcastle 1

Internationals:
Spain pain for
Toon teen

Having failed in their bid to retain the U17 European Championship trophy, England's youngsters had the consolation of securing their World Championship qualification in dramatic fashion on Tuesday.

Newcastle goalkeeper Paul Woolston kept his place as England faced Spain for a playoff game staged in the Bulgarian town of Sliven, the winner progressing to the finals in Chile this October.

The North Shields-born youngster kept a clean sheet but was injured while trying to defend his goal following an 82nd minute corner and couldn't continue.

On in his place came Will Huffer of Leeds United, who saw out the remainder of the game and then went between the sticks for the penalty shootout decider, saving one spot kick to help the Young Lions triumph 5-3.

Centurion:
Telegram? I'd rather
have three points....


1934, 1961, 1978, 1989, 2009....2015?

Desperately hoping that he doesn't witness the pain of relegation for the sixth time in his Newcastle supporting life is the Reverend James W Errington, who reached the landmark of his 100th birthday last Thursday.

Methodist Minister Jim is United's oldest current season ticket holder and watched his first match at St. James' Park during the 1928/29 season - shortly after the Magpies secured their last League Championship.

Selecting Hughie Gallacher as his favourite player, Jim - born in Annfield Plain - once lined up alongside the prolific Scot in a wartime fundraiser against a United XI.
Asked about United's current plight, Jim commented:

"This is the most disappointing of all the season I've seen, for them to be in a relegation place...we've lost the passion, the pride that playing for Newcastle and playing in the North East meant."

Amen to that. Many happy returns, Jim.
2014/15:
Hoyoots

Former Magpies not retained by their current club for next season include:

Darren Ambrose (Ipswich Town)
Damien Duff (Melbourne City)
Danny Guthrie (Reading - Fulham loan)
Alan Neilson (Cambridge United coach)
Oguchi Onyewu (Charlton Athletic)
Ben Tozer (Northampton Town)