In association with NUFC.com

Date: Saturday 13 September 2008, 3pm

Venue:

St.James' Park



Conditions: turbulent

Programme: £3





Newcastle United

Hull City

1 - 2

Teams
34 mins Butt's tackle on Halmosi in the box was deemed a penalty and Marlon King stepped up to force the ball past Given 0-1

Half time: Newcastle 0 Hull 1

55 mins Halmosi was involved again, threading a diagonal pass into the Newcastle half for King to stride onto in acres of space before rifling home a low effort 0-2

82 mins N'Zogbia's low effort from the edge of the area came back off a post and Xisco converted the rebound from close range at the Gallowgate End. 1-0


Full time:
Newcastle
1 Hull 2
Caretaker boss Chris Hughton commented:

"'This is a different situation and we have to deal with it because one thing that doesn't change is that we have matches to play. West Ham and Tottenham are up next and we have to prepare for them.

"The preparation with what we have got has been good. I can't fault the attitude and the professionalism of the players. That I can't fault. We had a starting line-up of 11 players that was good enough in my mind to certainly win the game today, but it wasn't to be."
Un-named Newcastle player in a text allegedly sent to the Chronicle:

"The players did not speak after the game because how can we?
"We are not allowed to be honest and say what we want. It's time for the people upstairs to speak up for themselves rather than reel us out to do it for them. It's a shambles."
Danny Guthrie - after news broke that Fagan had broken his leg:

"I was very upset to hear the news concerning Craig. The club have been in touch with Hull City on my behalf because I want to speak to Craig in person to apologise and wish him a speedy recovery.
"I hope to be able to do that as soon as possible. It was a challenge that came purely out of frustration towards the end of Saturday's game, but anybody who knows me will accept it was totally out of character on my part."
The sand dancer said:


"We came here to do a job and we have done it. It is a great result and a fantastic day for the club. It is great to have our first win away from home.
"We had an attitude and mentality that we needed to score first. It was about a team performance and I thought it was outstanding. It is a great day for me and my family."
(27 of the latter were in attendance apparently):

He later added after the Fagan injury was confirmed as a Fibia fracture on Monday:

"It cannot be tolerated, it needs to be kicked out of the game. When you see that the end product is him putting a fellow pro in a cast, it's just not right.
"That's the horrible side of the game. I don't care what is going on at Newcastle, you cannot tolerate this. If I go back to the incident, my players were killing time in the corner, something that every Premier League club does, no matter who you are.
"In the process of doing that, someone has decided to take the matter into his own hands and lashed out at Craig Fagan".
As his press conference went on amid the din outside:

"I'm just watching that door in case there's a riot."

When asked if his pal Sam Allardyce had been in touch:

"Do you want to see the text he sent?. He just wanted to wish me all the best. He has no personal gripes but it didn't work out for him here and, hopefully, he will be back as a manager soon."

From The Daily Mail:

The Hull team arrived late at a Newcastle city centre hotel on Friday, their manager explaining that the risk of flooding forced them to move from their original base almost an hour away. Of course it had nothing to do with a warm Geordie welcome from a wedding party who had intended to play their part in spoiling Hull's preparations.


F
or the eighth time in our history, we went into a Premier League game with a caretaker manager - Chris Hughton's name being added to the following list:

Jan 1997 Arthur Cox: Villa (a) drew 2-2
Aug 1998 Tommy Craig: Liverpool (h) lost 1-4
Aug 1999 Steve Clarke: Man U (a) lost 1-5
Sep 2004 John Carver: Blackburn (h) won 3-0
Feb 2006 Glenn Roeder: Portsmouth (h) won 2-0
May 2007 Nigel Pearson: Watford (a) drew 1-1
Jan 2008 Nigel Pearson: Man U (a) lost 0-6

(Roeder remains the only caretaker to have taken charge of more than one Premier League game, remaining at the helm for the final fifteen fixtures of 2005/06 before getting the job permanently).

Hughton was assisted by Academy Director Richard Money and youth coach Alan Thompson - whose last first team involvement for the club came back in December 1992, when he played in an Anglo-Italian Cup game away to Bari.

Joey Barton served the first match of a six game ban, while teenage striker Frank Wiafe Danquah and midfielder Mark Doninger were handed senior side bench duty for the first time .

Premier League debuts for Francisco Jimenez Tejada aka "Xisco" and Nacho Gonzalez, who became the 145th and 146th players to represent us in the competition.

The former became the fourth Spaniard to wear a Newcastle shirt, following in the footsteps of Marcelino, Luque and Luis Enrique. His debut goal also made him our 87th PL scorer.

The latter meanwhile became the first Uruguayan to represent the club, bringing the number of South American countries to have supplied us with players to seven (Argentina, Brazil, Chile, Colombia, Paraguay, Peru and Uruguay). That leaves Bolivia, Ecuador, Guyana & Venezuela to go.

Tigers in Toon:

1997/1998 won 2-0 Rush, Hamilton (LC)
1990/1991 lost 1-2 Clark
1989/1990 won 2-0 McGhee 2
1935/1936 won 4-1 Pearson, Connelly 2, Weaver
1934/1935 won 6-2 Smith 2, Pearson 2, Gallantree, Wilson
1929/1930 drew 1-1 Lang (FAC)
1912/1913 won 3-0 Hibbert, Rutherford, Hudspeth (FAC)
1910/1911 won 3-2 Shepherd 2, Veitch (FAC)
Total record against H

ull City:
P

W

D

L

F

A

SJP

5

3

0

2

14

7

BP/KC

4

2

1

1

8

6

League

9

5

1

3

22

13

SJP

(FA)

3

2

1

0

7

3

BP/KC

4

2

1

1

6

2

SJP(LC)
1
1
0
0
2
0

Cup

8

5

2

1

15
5

Tot

17

10

3

4

37

18
Waffle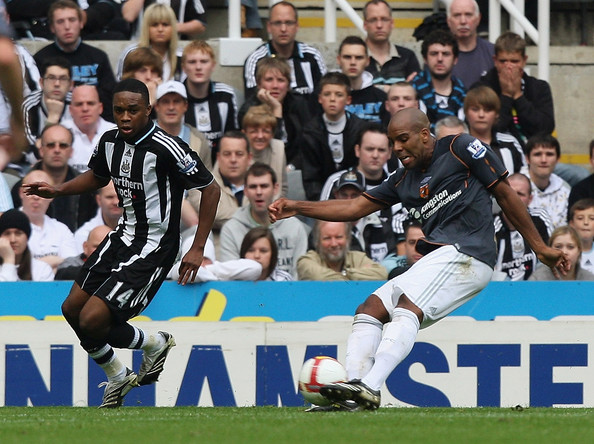 Our headline summed it up: "That was the wake that was...."
Disasters off the pitch were mirrored by events on it, as a team thumped 5-0 by Wigan in their last Premier League game, left Tyneside with all three points.

Pre-match demos on an unprecedented scale had seen fans gather in their thousands outside Milburn Reception, while others took their protests onto the street.

T-shirts and banners were the order of the day, with Ashley and Wise the focus of the vocal discontent. Inside the stadium though it was a different matter, with Hull's grey kit as sombre as the mood amongst home fans.
Buoyant Tigers followers meanwhile ended up celebrating their first-ever top-flight away victory and rubbed it in with chants directed at miserable home fans, including "you should've stayed outside" and "are you Grimsby in disguise?"

Hull boss Phil Brown also entered into the spirit of things, obeying requests from his fans to give them a wave - which inevitably led to requests for Keegan to comply...

And for their mackem-supporting manager it was a double revenge mission, not only putting one over on the club whose followers allegedly gave him a kicking in his youth, but striking a blow for his big pal Sam Allardyce.

But it could have been a very different result as Guthrie, Owen and Xisco all missed excellent first half chances to give us the lead - on a day when a goal was desperately needed to lift the solemn mood.

That was before we conceded a third penalty in as many games, Butt following Taylor and N'Zogbia's recent handball transgressions with a challenge on the byline.

Given had saved from Nolan at the same (Gallowgate) end in the last home game, but although the 'keeper went the right way and got hand to it, Marlon King's effort went in via the upright.

Half time news that Titus Bramble had put through his own net to give the mackems the lead merely added to the gloom, but rather than improving after the break we conceded and lost any shape or cohesion.

By far the most visible protest in ground was a "Cockney Mafia OUT" banner, carried by four fans from the East Stand via the Leazes End to the Milburn Stand and back again.

That expedition was unimpeded by stewards and to the accompaniment of loud applause and a partial standing ovation - with this, the merchandise/food boycott and sporadic anti-Ashley, anti-Wise and pro-Keegan chants the main response from the "silent majority" who stayed away from the Milburn Reception demo etc.

Unfortunately its appearance coincided with Hull's crucial second goal - King racing away in acres of space and checking back from N'Zogbia and Edgar to fire home.

That prompted mass grumbling from Milburn Stand occupants directed towards Managing Director Derek Llambias, sitting in splendid isolation on the row usually occupied by the rest of his cohorts.

With the game draining away to nothing and home fans drifting towards the exits, there was a late outbreak of football when N'Zogbia struck a post and Xisco tucked away the rebound on his debut.

That finally stirred fans into some positive support, but no equaliser ever looked like coming and City hung on through five minutes of added time that included an idiotic and senseless tackle by Guthrie, rightly red-carded -the last thing a squad already way past the bare bones stage needed.

The problems that precipitated the departure of Kevin Keegan from the club were there for all to see, with a midfield crushingly short of creativity when deprived of the injured Gutierrez and not-replaced Milner.

And although N'Zogbia was belatedly pushed into midfield, his reluctant occupancy of the left back spot in the absence of the injured Enrique spoke volumes - that's the position Keegan asked in vain for the club to strengthen.

For the two debutants, it was a strange introduction to the Premier League, with Xisco failing to impress but being in the right place to tuck away his goal.

Slightly more impressive was Gonzalez, who came off the bench for his first appearance in Europe just hours after belatedly arriving in Newcastle - we're not sure whether he was stuck in the Channel Tunnel, on an XL flight or affected by the flooding on the Metro airport section.

Aside from the current ownership and administration of the club, the bile of the crowd was reserved for Ameobi's withdrawal, with the usual lax non-display greeted by fierce booing.

Scarcely any better though was Edgar, who struggled to cover for the absent Beye at right back and whose limitations were shown every time the ball arrived at his feet - initial overlapping attempts giving way to just humping it upfield to nobody in particular.

Sneaking on almost unnoticed for the visitors in the closing stages meanwhile was defender Kamil Zayatte, who had briefly on trial at Newcastle last month.
We may only be in September but the evidence of this encounter is that we lost a relegation six-pointer, unless something is done very quickly to halt the slide.
In just two and a half weeks the club has gone from hope to utter despair and it's difficult to see any way forward for Ashley that doesn't involve him selling up and leaving.

Prior to Saturday, we believed that he could salvage something from this by discarding the despised Wise - but now we're not convinced even that would placate people.
And the unconvincing denials of Paul Ince after Blackburn Rovers were thumped 4-0 at home by Arsenal hardly did anything to improve the collective mood.
When will this nightmare end...?
The next instalment promises to be at an Ashley-free away end at Upton Park, before the visit of Spurs in the League Cup and Blackburn in the league

By the time those two games at SJP come round the fog on this stretch of the Tyne must surely have cleared - otherwise more debilitating demonstrations will surely follow to further destabilise the owner.

Unfortunately that poisonous atmosphere can only have a negative effect on the team, as was shown today. Add to that the various injuries and suspensions that accentuate the shortcomings of our squad and the picture looks even bleaker.

PS: Sunday evening then saw Mike Ashley release his statement, online here

Biffa