19 mins Geremi sprayed the ball out left to Gutierrez, who found his way forward blocked and played a short pass infield to Owen, who had his back to goal. The United captain knocked the ball back to Jose Enrique, finding a yard of space to take the return and setting off for goal unchecked.

Upon reaching the edge of the box, Owen wrong-footed Collins before cracked home a low right-footed effort that Green could only help into the bottom right hand corner of his net. 1-0

29 mins Two old boys linked up to good effect as Parker brought the ball forward through midfield and Newcastle needlessly conceded ground. Via an elongated series of passes that brought no attempt at winning the ball, Parker regained possession on the "D", flicking the ball into the path of Bellamy, who had been left by his marker Coloccini.

Advancing on Given, he toe-poked the ball home from seven yards into the Gallowgate net 1-1

Half time: Newcastle 1 West Ham 1

55 mins With Newcastle looking to be still mentally relaxing in the dressing room, the Hammers put together a series of dangerous attacks. Finally Ilunga sent a left-footed pass forward from just inside his half that dropped in the United area.

Carlton Cole ran on to the ball with Coloccini, Taylor and Bassong all hesitating expecting an offside, the visiting striker scored for the fourth consecutive game, controlling the ball on his thigh before blasting it past Given from close range. TV replays showed Carroll had played him onside 1-2

78 mins Danny Guthrie dummied an opponent to gain space before played the ball out wide to Duff on the left flank. He exchanged passes with Gutierrez before centring for Carroll to power past Upson in the air to net his first senior goal for the club with a strong header. Whether Andy's new "white rasta"/"natty dread" haircut gave the ball extra velocity is unclear. 2-2


Having handled pre-match media duties, coach Chris Hughton once again spoke to the press, saying:
"We want to keep what we've got and we are not really in the position where we can afford to lose our best players. We are hopeful of keeping our best players, most definitely.
"We have an honest group of lads who perform to the best of their abilities.
"Of course the things that are going on and have been going on for some time can be off-putting but they are things we have to cope with and we wouldn't be the only team in this position.

"All we've seen of Shay is him coming in and training and conducting himself like he always has. As far as I know there has been no progress there."
"We're working hard behind the scenes and we do realise we need to bring in two or three new players. We're hopeful that by the end of the transfer window we'll be able to bring them in.

Talking about goalscorer Andy Carroll:
"I'm delighted for him and delighted for the supporters as well because it is always nice to see a local lad come through and ply his trade. If he is able to do that in the first-team it is even more pleasing. He gives us something. He is a young lad, very good in the air, with lots of enthusiasm.

"He's a good player and one who can make progress with us and we were certainly grateful of his goal today.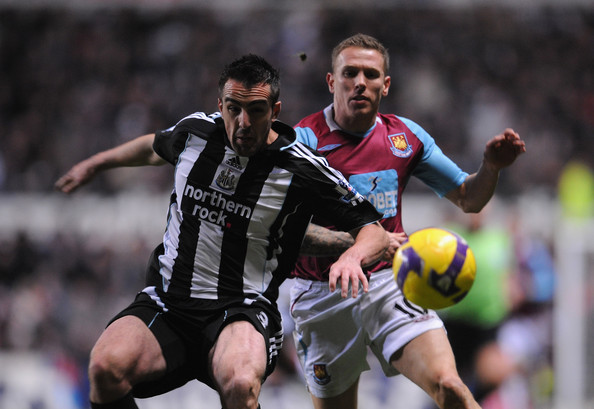 This should have been a game between two entertaining sides, with some quality performers, serving up some heart-warming fayre for both sets of fans to feast on. Two sides destined never to win the Premier League but who should at the very least be in the chasing pack.
And what did we get?
Well, it was certainly an entertaining game that ebbed and flowed with one or two excellent performances, some quality goals and a deserved first competitive goal for a local lad to earn us a point. The ingredients were all there but I suspect most home and away fans left the ground feeling like me; frustrated, miserable and downright angry.
The recent mismanagement of both clubs meant that the undercurrent of this game was actually one of relegation fear, boardroom disquiet, owner upheaval, player discontent and in the case of our visitors, financial ruin.
Today's top performers could all be at new clubs next season and it would be no surprise if two new managers were shaking hands next season but what both clubs are crying out for is stability and sensible management at every level of the club. The chances of that happening at two soap opera clubs seems remote - Eastenders and North-Eastenders seem set to be long-running dramas for decades to come.
A year ago we were thumped 6-0 by the eventual Champions and a month later they turned us over 5-1 at St. James'. This season's league leaders did the same to us on Tyneside and although our draws at Old Trafford and Stamford Bridge should point to some progress, it still feels like our expectation levels are being constantly lowered.
Exactly a year ago Alex Ferguson said this about us:
"The expectation levels at Newcastle are too great, a lot of people are saying that now.

"When you analyse the situation up there, it is beyond belief.

"I don't know what you can say about the situation up there but it is a strange club.
"I would say Newcastle are the most difficult club to manage in the game, gobbling up managers and spitting them out again with hardly a pause.
"If they regarded their managers as something more than ships that pass in the night they might achieve the stability and consistency that is the basis of success at any club."
A strange club, indeed, but are we really that difficult to manage? Expectation levels are incredibly low, I'd say, and a club with a large, blindly loyal, fanbase should be a dream to be in charge of. After all, a manager only needs to win six games a season at this club to become a legend - they just have to be in the same competition.
It took me a second or two to register that Owen's 19th minute shot had gone in. Green should have saved it but I thought for a moment it was one of those that hit the pole holding up the net behind the goal until I saw Michael wheel away to celebrate.
Seeing Owen shoot from outside of the box was also disconcerting - we couldn't recall an Owen goal for any club over 18 yards out - his last effort was confirmed later as a scuffed effort that trickled over the line at Anfield some eight years ago.
Taking an early lead had also taken me slightly by surprise, my own personal omens hadn't been good and the pessimism was just starting to take hold with Bellamy's pace already worrying us.
He's a strange lad, Craig. Constantly gobbing off at everyone with that huge mouth of his and yet it seems to me that he desperately wants to be liked. A classic example came when he was slow to move out of the way after being given offside. Cheeky chappy Bellers shared a joke with his old pal Given who clearly wasn't impressed and the two then traded insults.
That rejection probably did us no favours - a nervous, smiling Bellamy is less threatening than a snarling, scowling one and within minutes he got one up on Given by poking the ball past him after Parker had played him in.
The celebration was also classic - a fairly muted touchline run in front of the Gallowgate before making his way infield to give it large from the centre circle. The sort of the thing you'd expect from someone keen to talk big via texts but shrink away from a face to face confrontation. The "sh*t scared of Shearer" chant was more appropriate than ever. Mind, you'd have him back wouldn't you?
Parker was also making the most of his return to Tyneside but Dyer didn't even make the 18, despite pre-match talk of him starting. Lee Bowyer had already left for Birmingham City - no petition this time from the Brummies - but the two ex-Mags on display were keen to ruin our day, either that or impress the billionaires from Manchester City....
One apiece at the break was fair, although West Ham had squandered some good chances, Collison and Noble both seemingly unwilling to fire past Given after our square defence had been prised open.
But the worst defending was to come ten minutes after the interval when a hopeful lob forward found Cole in acres of space and he had plenty of time to control the ball and lash it past Given to give Zola's side the lead.
Appeals for offside were hopelessly in vain although, on the day I thought Cole was a yard or two onside, rather than level as the TV pictures later showed. Either way, he had become invisible to our back line who deserted their posts with an alarming dereliction of duty.
I don't know what they feed the players pre-match but it certainly doesn't appear to be brain food. We'd already witnessed the genius of Duff sprinting to reach a ball but then needlessly sliding to gift it straight to an opponent who had a clear run on goal.
Guthrie was also lucky to still be on the pitch after throwing himself to the ground, having already been booked in the first half. He wasn't even in the box...!
And just as we appeared to be clawing our way back into the game - following the introduction of N'Zogbia - the stupidity of Taylor looked to have cost us the game. A cross from our right was thumped into his own net by Neill but Taylor had already senselessly pushed Collins and ref Wiley rightly disallowed it.
Thankfully the braids of Andy Carroll got us the equaliser we deserved when he powerfully headed a Duff cross into the far corner of the Gallowgate goal. He can have his hair how he likes if he continues to do that, although it has to be said that his cornrows looked crap on Carl Cort, they just look silly on Carroll.
Bassong made a crucial block to prevent Cole and Gutierrez came agonisingly close to a winner after dribbling into the box, but his goalbound effort deflected wide for a corner, when a moment's hesitation let in Upson.

Once again it was difficult to work out whether this was a point salvaged or two points thrown away but the league table suggested it was the former with the point taking us up to 11th - our highest position for five months.
The Hammers stayed in the top half but if either club thinks they are mid-table sides looking to push for Europe then they are somewhat deluded. By the end of the transfer window both squads look odds-on to be further weakened and 20 more Premier League points to secure safety still seems a mighty long way off, given our remaining fixtures.
An imminent disaster looks to be considerably closer....