In association with NUFC.com


Date: Sunday 1st February 2009, 1.30pm Live on Sky

Venue:

St.James' Park



Conditions: restless & wild





Newcastle United

mackems

1 - 1

Teams
32 mins Cisse took 12 minutes longer than he had done at the stadium of plight to put his side ahead after Fulop's giant clearance downfield was headed back from the edge of his box by Sebastien Bassong.

The ball dropped to Whitehead who pumped it back forward instantly, with Jones and Bassong both missing the ball, which then dropped nicely for Cisse - who had turned quicker than marker Coloccini and just stayed onside. Although Harper half-blocked the initial effort, it rebounded favourably for the Frenchman to knock the ball into the empty Gallowgate net from six yards out. 0-1

Half time: Newcastle 0 mackems 1

69 mins TV replays showed that contact between Taylor and Malbranque was scarcely illegal and more due to our man stepping sideways, rather than a trip or push. Nevertheless he tumbled and successfully appealed, before having a mini-celebration with the Gallowgate End as he retrieved the ball. We'll plagiarise ourselves at this point:

"To audible groans from the crowd, Ameobi seized on the ball and placed it on the spot before turning those jeers to cheers."

That's taken from the NUFC.com report of a home win in the Carling Cup over Norwich in October 2004 - the occasion of Ameobi's first-ever spot kick. Over four years on, the apprehension was much the same, with many people being unable to look. Having said that though, for a split second it did look as if Spiderman was going to take the kick, which was frankly even more worrying....1-1


Full time:
Newcastle 1 mackems 1
JFK enlightened us by saying:
"It was thud and blunder" (we think he meant "blood and thunder"...)

"It could have gone either way, but I thought we dominated things after the break. It was a typical derby, end to end stuff. I'm pleased with the performance, because it's been a struggle just to get a team out of late.
"I want to get 16 or 17 points quickly, because then I can forget about this season and look towards next season. It's been a struggle since I walked in here on day one. We've been torn to shreds with turmoil and injuries, so it will be nice to put that behind us."
On the final day of the transfer window:


"
We're looking for another two players on top of Kevin (Nolan) and Ryan (Taylor). I'd originally earmarked four, and we've been chasing players for a while now. Ideally, one of them would be a striker.
"Ryan's been with us for the last two days. He watched the game and will be a really useful addition. He can play in both fullback positions, and can play in both wide positions in midfield. He has a good future ahead of him, and is an Under-21 international. I'll be disappointed if the deal falls through now.
"We bent over backwards to try and keep him (Shay) at Newcastle and offered him a longer contract to stay at the club. He's been with Newcastle for a long time and has been a great servant, but he felt the time was right to move on and so realistically we had no choice but to reluctantly agree to allow him to make this move."
Steven Taylor added:
"The referee gave the decision and we scored. During the week, we didn't get a penalty against Manchester City, so what goes around comes around. He touched my back leg. There was some contact and I seemed to lose my footing and went down. I celebrated getting the penalty, but we hadn't scored yet. Once we got the goal, I was happy.

"If we can play like we did in the second half, with more belief, then I don't think we will have too many problems. At 1-0 down, we knew we had to stick together given the situation we are in, which is a relegation fight."
Shola Ameobi chipped in with:

"With the fact we had a few injuries, when he asked me if I wanted to play, there was only going to be one answer. It was a big thing, not just because of where we are, but the opposition was our arch-rivals. I wanted to play.
"We were disappointed we did not take the three points in the end but it is a starting point for us. The second-half display from the boys was fantastic. We have to play a lot more like that if we are going to win games."
Ricky Sbragia commented:


"They got the penalty – a bit of a soft one in our opinion – but it was given and we have to abide by it. The referee gave it and I don't want to criticise him.
"Maybe from the angle that the referee was at, he saw it that way. Of course, we've seen it on video and it didn't look a penalty, to be honest. I don't think he actually made contact, I think he (Taylor) has scuffed the ground but the referee has given it and we can't do anything about it.
"The referee gave it – the linesman didn't seem to give the decision. But we have to get on with it. Some decisions you get, some you don't. Looking at things the other way, he could have sent Phil Bardsley off for a rash tackle later on and I was pleased that he didn't!"
"Michael (Chopra) opened it up – he did everything right and I expected him to slot it away but he elected to play it square and he was a bit heavy with the pass.
"In general, strikers tend to be a bit greedy in those situations and I wish he had have been greedy and had a shot!"
"I thought it was a point gained. We had the better of the first half and went a goal up, but we really needed a second goal. Credit to Newcastle, they put us under severe pressure in the second half and maybe we were a bit lucky to come away with a draw because they had a few chances as well.
"Early in the season we might have folded under that pressure but we were quite resilient, but as the game wore on, it opened up again and I felt we had the best chances in the last 5 minutes."



United v smb @ SJP since 1980:

2008/09: Drew 1-1 Ameobi (pen)
2007/08: Won 2-0 Owen 2 (1pen)
2005/06: Won 3-2 Ameobi, og(Caldwell), Emre
2002/03: Won 2-0 Bellamy, Shearer
2001/02: Drew 1-1 Bellamy
2000/01: Lost 1-2 Speed
1999/00: Lost 1-2 Dyer
1996/97: Drew 1-1 Shearer
1992/93: Won 1-0 Sellars
1991/92: Won 1-0 Kelly
1989/90: Lost 0-2
1989/90: Drew 1-1 McGhee
1984/85: Won 3-1 Beardsley 3 (1pen)
1979/80: Won 3-1 Cartwright, Cassidy, Shoulder


All Time Tyne-wear stats:

P

W

D

L

F

A

SJP

65

30

17

18

112

96

SoS/JP

65

19

23

23

88

97

League

130

49

40

41

200

193

SJP

(PO)

1

0

0

1

0

2

JP

1

0

1

0

0

0

SJP

(FA)

5

1

2

2

5

9

JP

2

1

1

0

3

0

SJP

(LC)

1

0

1

0

2

2

JP

1

0

1

0

2

2

Cup/PO

11

2

6

3

12

15

Tot

141

51

46

44

212

208
The failure of the mackems to win this game meant that they failed to do the double over us in a season - having last managed that way back in 1966/67.

The 141st competitive game between the two rivals ended with a 46th draw, with the mackems unable to improve on their 44 victories and Newcastle left on 51 wins.

Shola Ameobi's goal was our 212th in derby games; the opposition have now managed 208.

Steve Harper made his first home appearance of the season and extended his unbeaten record in this fixture to four games, winning one and drawing the other three.

There was a home debut for Peter Lovenkrands as substitute, while Kevin Nolan became the 148th player to have featured for us in the Premier League.

For the opposition, Michael Chopra made a second return to his former home ground but has still to taste a derby win for the mackems in three attempts (being an unused sub at the stadium of plight earlier in the season).

Shola Ameobi belatedly celebrated his new three year contract by netting the 50th senior goal of his Newcastle career - and his fourth in derby matches, one more than Alan Shearer.

2000/01: 2 (2 PL)
2001/02: 5 (3 IT, 2 LC)
2002/03: 8 (5 PL, 3 CL)
2003/04: 10 (7 PL, 3 UEFA)
2004/05: 7 (2 PL, 3 FAC, 1 LC, 1 UEFA)
2005/06: 9 (9 PL)
2006/07: 5 (3 PL, 2 IT)
2007/08: 0 (0)
2008/09: 4 (4 PL)

Those 50 goals have taken Shola 245 games to amass: 145 starts & 100 sub appearances.

Shola from the spot - 4 pens, 4 goals:

Nov 2004 v Norwich (h) LC
Apr 2006 v West Brom (h) PL
Oct 2006 v Bolton (h) PL
Jan 2009 v Mackems (h) PL

Ameobi also netted in the penalty shootout at home to Partizan Belgrade in the Champions League Qualifier.

As for friendlies, he converted his shootout efforts in Thailand and Hong Kong in the 2004 pre- season, but missed one away to Bray Wanderers in August 2005.

PS: In scoring both home and away in Tyne-wear derby fixtures this season, Shola became the first Toon player to achieve this since Paul Cannell in 1976/77.
Waffle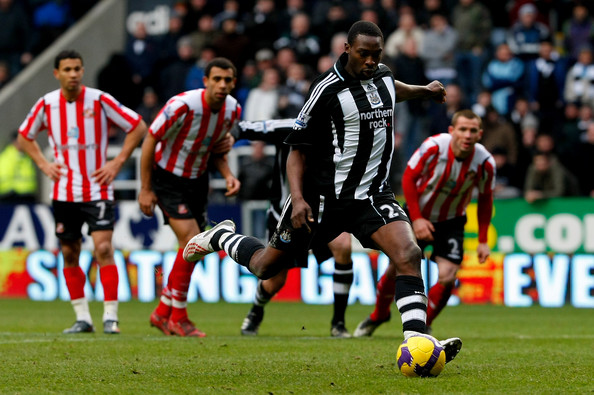 Shola Ameobi struck his 50th goal for the club on Sunday afternoon to save Newcastle from what would have been a catastrophic double derby defeat to the mackems in this wretched season.

But a significant assist came from both referee Howard Webb for his penalty award and Ameobi's former Magpie striker partner Michael Chopra - with the double agent blowing an easy chance of a late winner (before deserting the mackems again just hours later).

However, the initial relief at avoiding defeat couldn't hide the disappointment that of another two points dropped - a look at our upcoming fixtures confirming that this was a must-win game.

And having got back on terms, the visitors were there for the taking - with Jones well shackled in the main and main goalscoring threat Cisse injuring himself. They shaded the first half but going in a goal ahead flattered them, with chances otherwise equally distributed - Richardson's bouncing free kick striking the post before Carroll's header glancing the cross bar.

And the first vital contribution new boy Kevin Nolan made was a vital block on the line to deny Jones a goal as he followed in that Richardson effort.

The mackems drew first blood though, prompting a one-person pitch invasion from a clown in the Leazes End goal. Meanwhile home fans at that end of the ground reported being struck by various objects hurled down from the away fans above them on Level 7.

A rejuvenated Newcastle came out after the break though and thoroughly deserved to get back on terms, although chances had been few and far between before the referee decided to lend a hand.

Damien Duff had already tried to con ref Webb into a spot-kick award with a shocking tumble - receiving a booking for his trouble. Gutierrez also responded to a tackle in midfield by tumbling over with a triple salco that would have made Joanne Conway envious...

Shola had a glorious opportunity to add to his well-taken penalty but failed to make meaningful contact once Duff's perfect cross from the right had eluded the 'keeper. That was a rare piece of proficiency from the Irishman though, fellow wide man Gutierrez equally profligate when it came to passing the ball accurately or providing any semblance of service to our twin six foot spearhead.

Spiderman was duly given the man of the match award, but Bassong had another fine afternoon despite a less-than-exemplary Taylor display - while Jose Enrique gave one of his best performances in our colours.

Kieran Richardson had the chance to repeat his match -winning free-kick from the October meeting at the other end but thankfully could only blast over. Then came the chance for Chopra to become a Tyne & wear derby scorer for both sides after nicking the ball from Coloccini.

Inexplicably however, he elected to pass and his overhit ball to Jones sailed harmlessly past him.

That would have been a hammer blow to our chances of survival and an injustice after our dominant second half display, with another five minutes of added time seeing plenty huff and puff but only a speculative Lovenkrands lob to trouble Fulop

The point lifted us up a couple of places but we remain firmly in the mire. The only real winners today were our relegation rivals, with the boro celebrating another derby draw after failing to beat Blackburn the previous day.

For Shola though there was the reward of a goal upon his return after missing six games through injury. And although patently unfit, he put a shift in while other players were watching from the sidelines - as he did in Keegan's first game in charge here against Bolton a year ago.

Although only three sides have won here in a dozen league games, our failure to hold what was a winning position in all four of our home draws before today has left us in our present predicament.

For once though fortune shone upon us in the form of a favourable refereeing decision - which may not have kept the peace in the streets afterwards, but maintained a semblance of local pride and kept the manager from yet another FA charge.

For the umpteenth transfer window we've failed to strengthen to the degree that fans hoped for, existing players demanded and our slack-jawed boss predicted. Conversely though, we've not repeated the last day fandango that saw Xisco and Gonzalez roll up from another planet.

The Owen absence now has to be offset by a combination of our existing forwards, with Kinnear at least showing that he hasn't spent all of this century in the clouds by talking up the solidity aspect of Smith's game, rather than the potency in front of goal.

While Colin Calderwood has arrived to try and bring order to the defence (which adds credence to the suspicion that former defender Hughton has a larger brief than publicised), someone has to try and get bodies back on the field and find an effective forward formation - without forgetting to pay attention to the supply lines. Over to you Joe.


Biffa