In association
with NUFC.com

Date: Saturday 17th July 2010, 1pm

Venue: Brunton Park

Conditions: sunshine and showers

Admission: £10 stand / £7 terrace

Programme: £3





Carlisle United

Newcastle United

0 - 3

Teams
Half time: Carlisle 0 Newcastle 0

47 mins Newcastle's new-look XI instantly gelled, as Wayne Routledge took up possession midway in the Carlisle half and flicked the ball forward to the onrushing Leon Best. He took a touch to elude 'keeper Adam Collin before calmly striking the ball home into the goal from a narrowing angle 1-0

64 mins Routledge again with the assist, making for the byline down the Magpies right and pulling the ball back at speed for Nile Ranger to backheel in from three yards in front of the travelling support 2-0

74 mins Best it was this time who found space down the right and then drew the ball back, this time for Haris Vuckic. The Slovenian youngster showed good presence of mind to swivel and deliver a left-footed shot beyond subsitute 'keeper Tony Caig 3-0

Full time: Carlisle 0 Newcastle 3
Newcastle manager Chris Hughton said:

"It was probably as we expected Ė Carlisle were was a week in front of us in their preparations. We knew, because of the quality they've got, it would be a tight affair in that first half.

"What generally happens is that the game opens up over a period of time, and it's who is able to capitalise on that. We were, and I think we could have got more."

On Haris Vuckic:
"He is a talent, he's a player who we think has got a very good future at the club. We look forward to seeing him enjoy a promising career in a Newcastle shirt.
They (Vuckic and Nile Ranger) have not done themselves any harm. Of course Ranger was involved more last season than Vuckic was, and he has developed. Vuckic is a young player who was injured last season, so he'll be delighted to have got through a good pre-season so far."
Leon Best added:
"I was delighted to get that first goal, and I think the lads did really well. It was great work by Wayne. I went round the keeper, and just concentrated on hitting the back of the net.
"It's always a delight to get that first goal, whether it's pre-season or the season itself. With a striker, it's all about confidence, and, obviously, if you score, you're going to be high on confidence.
"When you're scoring, your confidence comes, and that first goal will get a few monkeys off my back as well!. I was going to hit that one as well (when he set up the third), but I saw Haris free, and it was a great goal by him as well.
"I've played at League One, and scored a lot of goals, and last season I had a good spell. I'd love to test myself in the Premiership Ė I just need to give myself the best chance. If I keep scoring, it's going to open all the doors for me."
Kevin Nolan added:

"Iím sick of hearing ex-professionals coming on and saying that weíre not good enough. They were a bunch of nobodies when they first went into the Premier League, and they made names for themselves.
"We have a squad here that have probably had more games than a lot of those had at that time. Weíre confident that once we get in there and mix it up with the other teams, weíre a lot better than a lot of the teams thatíll be around us
"Everyone wants signings and new players coming in, and weíre no different. Every team in the league wants new players, but with the way things are, thereís only one team in the league buying players at the moment, and thatís Man City. Theyíre like Chelsea were a few years ago.
"I honestly believe that whatever happens, with the spirit we have and the fans behind us, weíll be a Premier League team again this time next year. Thatís the main aim. We canít look to go anywhere beyond that because we couldnít do it two years ago with a squad of eight or ten more players than we have this year.
"It canít just catapult straight back to the heights it scaled before. If we have a season like Birmingham had last season, brilliant. But we canít get away from what the objectives are, which is to make sure this club is in a stable condition.
"Last year, there were a lot of questions swirling around. People didnít know who was staying and who was going, we didnít know who the manager was going to be, and people were predicting we would go straight back down again. This year is more stable, but you still have people saying, 'Theyíre not good enough' or 'They need this or that'. No matter what this club does, thereís a lot of people wanting to put it down.
"Iím getting quite sick of it, but weíll just have to prove people wrong again. Thereís a lot of doubters to prove wrong, and hopefully weíll do that. As long as those 52,000 fans stick with us and we have a squad that stick together, weíre confident we can achieve what weíre aiming for, and that what happened last year never happens to this club again.

"Because of the way we won it, I think a lot of people thought the league was easy. If we hadnít gone up, people would have said Newcastle were terrible, but because of what we did, everything became easy. It wasnít.
"It was a fantastic feeling and we were delighted to win promotion, but we havenít stopped. Thereís a lot of lads still hurting from what happened two years ago. The scars are still there, they have to be. We had to prove a lot of people wrong in the Championship last year, and we have to prove a lot of people wrong in the Premier League.
"What youíre seeing is a lot of players with a lot to prove in the Premier League. Thereís a lot of players who have been in the Premier League and know what itís about, and a lot of players who are young lads who want to prove that theyíre Premier League standard.
"We have a good mix, but weíre not resting and thinking that just because we romped away with the league last year, weíre going to be ok. We know itís going to be tough, we know itís going to be hard work and we know that weíre going to have to have everyone behind us.

"If we can stick together as a whole city, there wonít be any stopping us. And by that, I mean slowly but surely building this club back up to where it belongs."

Joey Barton then had his say:

"I donít know what role I will have next season Ė but Iím ready to do whatever is required.

"Whatever role Iím asked to play, Iíll be up for it. Iíve played out wide on a couple of occasions last year. Wherever Iím asked, Iíll play, I just want to be part of this squad. Hopefully I can bring something positive and push on from last season.
"At the end of the day I was an England international as a box-to- box midfield player. I donít say this lightly, but Iím a much more rounded footballer now than I was when I first signed for this club. Injuries have restricted my chances to show that. If I can sustain fitness for a long period of time Iím very confident of finding the form that got me in the England squad.
"It was better memories Ė they werenít bad memories last time, it was just a shame because I wanted to get my Newcastle career off to a flier, and it was disappointing. But it was nice to come back this time as part of a strong squad. Everybody got what they deserved today and this time for me there were no hiccups, touch wood.

"For me, first and foremost I want to do well for Newcastle United, but watching some of the performances in the World Cup over the summer I think, that on form, Iím as good as anybody in this country. I donít say that lightly, and I have to go out and prove that, but surely every midfielder in this country should be thinking like that. They should be looking at it and saying Ďthatís where I want to be and thatís where I can goí.
"Thatís my goal and if I break into the England squad, it proves that I am doing fantastic for this football club. Firstly, I have to do well for Newcastle, though. But, as I say, every midfielder at this club should be thinking like that. Danny Guthrie, Nobby Nolan and Smudger Ė anybody who comes in and plays in the Premier League, not just at this football club but everybody else.
"It seems to me that the dynamics have to change of the national game. Fabio Capello said he will pick players who were in form. Sometimes it hasnít happened like that and people have been picked when they havenít performed a club level.
"I think if we can get anyone from this football club into the England team weíre doing really well. Itís not usually players picked from the lower echelons of the Premier League Ė itís from the top.

"They were built up to do quite well and I thought they would do well. Obviously it didnít really happen. People are going to chip in with their opinions, but none of us know.None of us played in that atmosphere or played in that pressure.As an Englishman, though, it wasnít good.
"Hopefully, this can force the game to change and now they will stop picking big names and instead pick players that are playing well. All of the successful countries do that."

And they said he was teetotal.....

Cumbrians captain Paul Thirlwell commented:

"In the first half we were the better team. We created the better chances and could have been ahead at half-time. To have played Newcastle was a great workout for us and we have benefited from that."



Debut for recent signing from Nottingham Forest, James Perch - who played at centre half.

First run out at this level for Academy/reserve defender Jeff Henderson and Shane Ferguson, who featured at full back.

First goal at this level for Haris Vuckic.

First goal at any level for Leon Best since joining Newcastle in January 2010.

This was Newcastle's first public match wearing kit provided by Puma and therefore also the debut of what is the nominal third choice white strip.

Toon @ Cumbrians:

1908/09 lost 3-4 Allan 3 (Hospital Cup)
1909/10 won 2-0 Allan 2 (FR)
1931/32 won 3-1 Cape 2, scorer tbc (FR)
1966/67 lost 2-4 B.Robson 2 (FR)
1974/75 drew 2-2 Burns 2 (Texaco Cup)
1974/75 won 2-1 Tudor, Macdonald (Div 1)
1975/76 lost 0-2 No scorer (Anglo Scottish Cup)
1977/78 drew 0-0 og
1982/83 lost 0-2 No scorer (Div 2)
1983/84 lost 1-3 Waddle (Div 3)
1985/86 drew 0-0 No scorer
1986/87 lost 2-3 Allon 2
1989/90 lost 1-2 Brazil
2007/08 drew 1-1 Solano (FR)


Waffle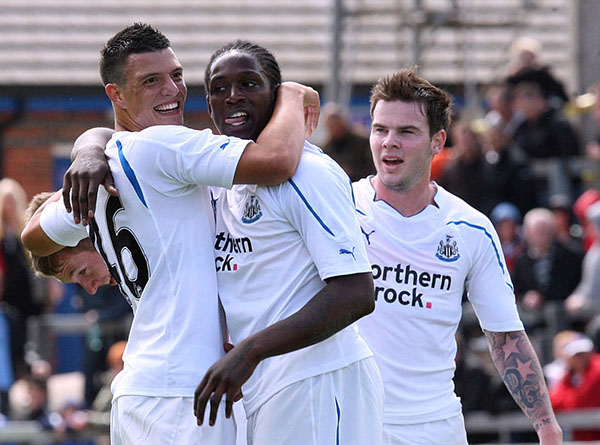 Newcastle got their pre-season programme underway against League One side Carlisle United on Saturday afternoon, the sun coming out just in time for kick-off after some earlier rain.
Both sides wore change kits - Newcastle in their all-white third ensemble and the home side in a red change kit. Andy Carroll appeared with last season's squad number 24 on his back, but was given the number 9 within days.
The first half hour of the game brought nothing in the way of a genuine goal attempt to test either 'keeper, with only a few feeble corners coming from Kazenga LuaLua to show for their efforts.
Kevin Nolan found himself with a sight of goal after Jose Enrique and Kazenga LuaLua combined well on 31 minutes. However United's top scorer last season blazed his left -footed shot well over Adam Collin's crossbar.
Steve Harper then pushed an Ian Harte freekick round his post as the game came to life, with Harte's header from the consequent corner deflected on the crossbar by a Magpies defender.
Gateshead-born Gary Madine broke through the visiting defence shortly before half time as the rain began again, but could only put his shot on to the roof of Harper's net.
Newcastle changed their entire side at the half time interval and within two minutes they were ahead, when Leon Best shot home from close range. Collin then partly atoned by blocking a decent effort from Nile Ranger on the hour but could do nothing to stop the same player from expertly backheeling in soon after. Haris Vuckic then got in on the goalscoring act shortly afterwards.
The visitors were forced into a late change when Steven Taylor went off clutching his shoulder and was replaced by Jeff Henderson. More positively, Joey Barton returned to the scene of his 2007 broken metatarsal and made it through 45 minutes without mishap this time round.
Looking at the 90 minutes, the obvious difference between the two lineups was the chances made and goals scored. However the injection of pace into the midfield from the second half lineup was noticeable, especially on the counter attack.

Biffa