In association with NUFC.com


Date: Sunday 26th December 2010, 3pm.

Venue:

St. James' Park



Conditions: familiar festive failure






Newcastle United

Manchester City

1 - 3

Teams
2 mins Tim Krul's attempted pass to Joey Barton was intercepted by Carlos Tevez and the unhappy striker found Gareth Barry, who slipped the ball through Krul's legs in front of the Gallowgate End with just 72 seconds played. 0-1

5 mins Further carelessness saw Cheick Tiote's attempted forward pass rebound off Kevin Nolan and into the path of the marauding Tevez. He fed ex-Magpie James Milner on the City right and his return ball found Tevez - who had nipped between Coloccini and Steven Taylor - to convert with a first-time shot before whipping a baby's dummy out of his sock to celebrate in apparent tribute to his bairns. The irony of his having recently "spat the dummy out" with his club before patching things up was apparently lost on him... 0-2

Half time: Newcastle 0 Manchester City 2

72 mins Joey Barton's corner was headed home by Andy Carroll for his 11th goal of the season and sixth in his last eight league appearances. City 'keeper Joe Hart pursued referee Chris Foy back to the centre circle and receiving a booking after protesting that Kevin Nolan had stood in his ground. 1-2

81 mins City wrapped up the victory when Carlos Tevez profited from a double deflection off Simpson and Coloccini to leave Krul clutching thin air. A later meeting of the PL Dubious Goals Committee decreed that wor Fab had scored an OG, depriving his fellow countryman of the strike. 1-3

Full time: Newcastle 1 Manchester City 3
United Manager Alan Pardew said:

"The start has cost us the game. There were two big errors. It's something we've focused on - not to make errors in the last third - and we've come up with two real howlers. That put us on the back foot but the response from the team, from the goalie up to the centre-forward, was outstanding after that.
"We stood on Man City man-for-man and we've given them a good old game today. At 2-1, when we got the goal, we thought there could be something special on here. I thought we missed a couple of chances at that stage and unfortunately for us, they get a bit of a fluky goal.
"You've just got to rely on the character of the group. We've got some good players and I thought we could get something out of the game still. We pressed that at half-time, and I thought our performance outside of that first few minutes was as good as we've produced. There was some good stuff.
"But you just can't give away goals, and when you come up against strong opposition like Man City, they're going to make it very difficult for you, which they did. You knew they were going to start fast and we needed to be right for it. Sometimes you get away with individual errors, sometimes you don't, and we got punished today.
"It reveals your character when you get adversity like that. A lesser side might have got beaten 4- or 5-0 today but dug in and had a real battle. We got back in it and almost got something out of it so I'll take that from the game."
Muffler-knotting man about town Roberto Mancini reflected:

"I like Boxing Day. Last year, we won; this year, we won. I am happy with this first year, but it is my opinion that we need to improve again, we need to work. Only if we do that can we arrive at the top and win something at the end of the season. The Barclays Premier League is the best league at this moment in Europe and for me, it is an incredible experience."

"I am happy because Carlos scored two goals and I am happy for all the players because they played very well. They defended very well - it was difficult because they played the long ball for Carroll and we fought for every ball against him because Carroll is a good player

"Carroll is a young player, he is a good player, he is strong. Today he played very well, but I don't think Newcastle will sell Carroll."
Magpies v City @ SJP - Premier League Years

2010/11 Lost 1-3 Carroll
2008/09 Drew 2-2 Ameobi, og(Dunne)
2007/08 Lost 0-2
2006/07 Lost 0-1
2005/06 Won 1-0 Owen
2004/05 Won 4-3 Robert, Shearer, Elliott, Bellamy.
2003/04 Won 3-0 Shearer 2, Ameobi
2002/03 Won 2-0 Shearer, Bellamy
2001/02 Won 1-0 Solano (FAC)
2000/01 Lost 0-1
1995/96 Won 3-1 Ferdinand 2, Beardsley
1994/95 Drew 0-0
1994/95 Won 3-1 Gillespie 2, Beresford (FAC)
1994/95 Lost 0-2 (LC)
1993/94 Won 2-0 Cole 2

Total record against Man City:

| | | | | | | |
| --- | --- | --- | --- | --- | --- | --- |
| | P | W | D | L | F | A |
| SJP | 75 | 48 | 15 | 12 | 148 | 74 |
| MR/CoM | 75 | 16 | 20 | 39 | 78 | 133 |
| League | 150 | 64 | 35 | 51 | 226 | 207 |
| SJP(FA) | 6 | 3 | 2 | 1 | 8 | 5 |
| MR/W | 4 | 3 | 0 | 1 | 10 | 7 |
| SJP(LC) | 1 | 0 | 0 | 1 | 0 | 2 |
| MR/W | 2 | 0 | 1 | 1 | 2 | 3 |
| Cup | 13 | 6 | 3 | 4 | 20 | 17 |
| Tot | 163 | 70 | 38 | 55 | 246 | 224 |
NUFC - Boxing Day Record - Premier League era:

2010/11 Man City (h) lost 1-3
2009/10 Sheffield Wed (a) drew 2-2 (Championship)
2008/09 Wigan (a) lost 1-2
2007/08 Wigan (a) lost 0-1
2006/07 Bolton (a) lost 1-2
2005/06 Liverpool (a) lost 0-2
2004/05 Blackburn (a) drew 2-2
2003/04 Leicester (a) drew 1-1
2002/03 Bolton (a) lost 3-4
2001/02 smoggies (h) won 3-0
2000/01 Leeds (h) won 2-1
1999/00 Liverpool (h) drew 2-2
1998/99 Leeds (h) lost 0-3
1997/98 Derby (a) lost 0-1
1996/97 Blackburn (a) lost 0-1
1995/96 no game
1994/95 Leeds (a) drew 0-0
1993/94 no game

2008/09: NUFC after 18 games: 22 points, 12th position (scored 24, conceded 25)
2010/11: NUFC after 18 games: 22 points, 9th position (scored 28, conceded 29)


Waffle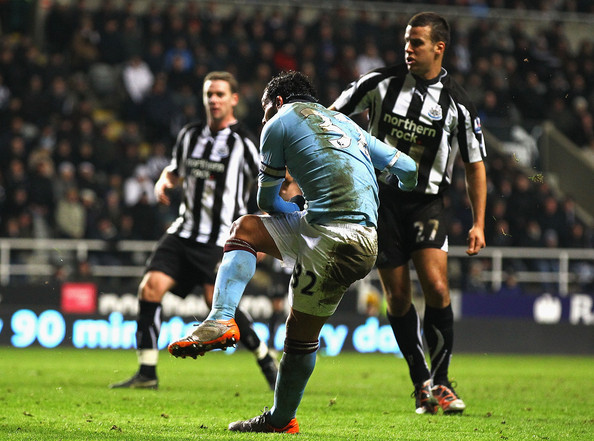 Hopes that a return to home soil might inspire United to a first Boxing Day success in nine years were torpedoed within the first 90 seconds by Roberto Mancini's party poopers on Sunday afternoon.

After spending eight successive seasons on the road the day after Christmas for a scrooge-like return of just three points, the arrival of an inconsistent City side looked like a decent opportunity to atone for our Eastlands misfortune.

Blunders inside the first five minutes gifted the visitors two goals however and despite dominating the rest of the game, Alan Pardew's side were unable to fully recover. Those twin early blows left both home fans and players reeling, with thoughts turning towards our festive 1-5 humiliation here two years previously.

The fight back came though and was inevitably focused on Andy Carroll, with the recalled Wayne Routledge crossing, only for United's number nine to direct his header straight at Joe Hart.

Carroll volleyed wide on the hour and Jonas Gutierrez sent a looping header across the goal as United stepped up the pressure - the introduction of "wild card" Nile Ranger again providing a boost, as it had in the closing stages of the victory here against Liverpool. The momentum was with Newcastle and Carroll then set up a thrilling finale when he headed past Joe Hart.

The England 'keeper seemed rattled and with home fans chanting for Shay Given, touched over a deep Jose Enrique cross that looked to be going wide. The resultant corner was cleared and Coloccini's return in was reached by Ranger, who jumped with Hart and Carroll but couldn't keep his header down sufficiently.

United's best chance of an equaliser came from a move initiated by Gutierrez, who picked the ball up towards his own corner flag and took off down the left flank.Some elongated passing then led to Enrique pumping a long ball towards the back post and when Ranger headed it down, Nolan arrived to beat Hart - but stab the ball wide from barely four yards.

Nine minutes from time though reality intervened thanks to yet another ricochet at the Leazes End. Following on from Liverpool's Kuyt and Chelsea's Kalou, Tevez restored City's two goal advantage and sent sections of the crowd heading for the exits.

However the home side didn't throw in the towel as easily, Tiote clashing twice with Balotelli and Foy rightly booking the City substitute within seconds of his introduction. And despite being two behind, Hart was again called into action to defy Barton from a free kick in added time - Taylor joining Nolan in his now-familiar attempt to psyche out the opposition 'keeper with 'Paddington' hard stares.

The defeat only saw us slip a place down the league and we remain in the top half of the table, occupying ninth position. Admirable spirit at times doesn't detract from the fact that United seemingly sleep-walked on to the field - and by the time they'd woken up, it was just too late.

There's hardly time to recover before another testing trip to face Tottenham is followed by our sixth attempt to get a win or even a draw on the board at Wigan. Alan Pardew claims to have now watched ever Newcastle game this season on DVD, but within the next ten days will learn an awful lot more about his team first-hand when they face lesser Premier League lights in the shape of the Latics and West Ham.

It doesn't take a soothsayer to deduce that the team rightly revolves around Andy Carroll, who stuck at his task admirably today in the face of constant provocation from City and kept his cool despite some blatant holding from Joleon Lescott. Quite how the rest of the side supply and play off him though requires more analysis - with the service to him in this game more prolific than of late, but of variable quality.

Pardew and his coaching staff may also care to look at the number of times the United number nine was reduced to chasing after his own knockdowns and flicks due to the absence of supporting players. And a check of his team's reluctance or inability to shoot on goal may also produce some new drills - our lack of accuracy now manifesting itself in a reluctance to have a go at all - especially galling in view of the pinball goals we've conceded in the last three home games.

Overall though, it's the back line which is the cause of most worry - along with the consequences of losing Andy Carroll to injury or finance. While Tim Krul may point to the shifting centre half pairings in front of him as a contributory factor, the fact remains that our defence is more porous than at this point two seasons ago.

And we all know what happened then.

Biffa