Long before the days of low-cost flights and our overdue return to European cup competition, opportunities to follow the Toon outside England were few and far between.
Aside from day trips to exotic destinations such as Dundee and the club's inexplicable participation in the Isle of Man tournament, for the Newcastle fan with itchy feet, only the occasional friendly against previously-unheard of Scandinavian sides provided the opportunity to visit the Bureau De Change and travel agent for anything but a fortnight on the Costa Brava.
After three seasons of Fairs Cup adventures ended with a penalty shootout loss on a bumpy pitch somewhere in Hungary, we had a seven-year wait punctuated only by the Anglo-Italian Cup, until a brief foray into the competition now renamed the UEFA Cup took us to the back streets of Dublin and then to the island of Corsica.
While the Irish side Bohemians provided stiff opposition in Dublin, with a first leg tie that ended goalless but featured a pitch invasion, a 2-1 defeat away to Bastia saw us dumped out of the competition after the lethal shooting boots of Dutchman Johnny Rep secured a 3-1 away success on Tyneside.
That sad season we slipped into the abyss that at that was called Division Two, a setback that put thoughts of foreign conquests well and truly on the back burner (although we were to voyage to Asia in 1983 and return with a big ugly blue vase called the Japan Cup.)
Fast forward on through the rest of the 1980's when off-field misadventures elsewhere saw English clubs banished from European competition - a situation that was hardly likely to affect a club that had returned to Division Two and whose only destination looked to be the doldrums.
However, in the curious world of Newcastle United, nothing is ever straightforward and courtesy of a stray message on the Club's premium rate telephone information service in July 1990, it was learned that a ban-busting secret European trip was being planned, to of all places, Budapest.
The Hungarian capital was of course the scene of our Fairs Cup triumph, when the crack side Ujpest Dozsa were beaten by the magic of Moncur et al. Our return to the banks of the Danube was to be as part of a four team pre-season tournament featuring two local sides (alas not Ujpest) plus the Belgians of Cercle Bruges - who were obviously easily pleased.
A rapid decision was made by a select number of fans (five to be exact) from the London supporters club that this was too bizarre an opportunity to be overlooked. Right from the off though, we were beset by problems, not least of which was actually confirming that any of this was really taking place.
Calls to the club encountered only stony-faced denials and confirmation was only gained after confronting Jim Smith on the pitch after a friendly at Gloucester City. Well, we were bigger than him...
The Newcastle manager was happy to divulge where his team were staying, apparently safe in the knowledge that our promise to meet up in Budapest was no more than drink-fuelled bravado.
The next hurdles to be overcome were the visa requirement, solved by an afternoon queuing outside an embassy somewhere in South West London, and then attempting to find a flight to the Hungarian capital at an affordable cost – this was before the days of the internet of course.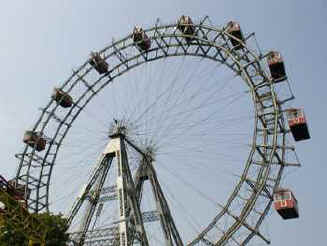 In the event, no flights could be found due to the large number of motor racing fans going to Hungary, meaning we faced a trip to Vienna from Gatwick before switching to the Orient Express to conclude our journey.

However, the overnight stay in the Austrian capital was to provide us with an opportunity to re-enact scenes from "The Third Man", while local brews were also sampled in abundance.
The following day saw an early departure and late morning arrival into Budapest, to be greeted by a crowd of locals offering accommodations and the familiar cry of "shansh marny" from unofficial money-changers.
After one misadventure at a suburban house when the owner suddenly decided that a fistful of dollars wasn't worth the apparent risk of opening her door to five Geordies, we ultimately found digs with an old lady, in a flat near the Danube.
Travelling in the seemingly ubiquitous Trabant taxis, which ran on some sort of foul-smelling fuel, an interesting few hours were spent in exploring the city, at the end of which we had learned that:
* If Albania was in thrall to the comic Genius of Norman Wisdom, then Benny Hill was the uncrowned Hungarian King of Mirth.
* There's nowt worth buying in the state-run department stores and the latest spectator sport in Budapest is peering through the windows of the newly-opened Mcdonalds and Adidas sports shop.
* Hungarian women are beautiful, in fact staggeringly lovely would be a better description.
However this wasn't a holiday, there was work to be done. Passing yet more statues of former communist icons now being demolished as a symbol of the dawning of a new era in Hungarian history, another taxi ride took us to the Ramada Hotel on an island in middle of the Danube, base for the Toon boys of '69 and the current side for the duration of their stay.
After a quick chat with John Anderson, in dispute with the club but still included in the travelling party and reduced to mooching around the hotel gardens, a surreal few moments were spent in the company of Newcastle assistant manager Bobby Saxton. The years may have dimmed our recollection of his profound (and profane) opinions of the players, but his appalling combination of club tracksuit, socks and sandals remains burnt indelibly on the memory.
An adjournment to the Hotel bar was made, via a phone call from reception to the room of a Mr. Smith from England - just to tell him we were here, before assembling to cheer the team on to the coach. He duly appeared and had a few words with us before retreating back to his room, promising complimentary tickets for our endeavours.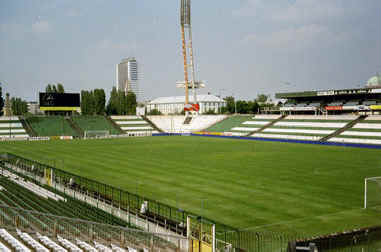 That done, it was back to the cabs and a journey to the Ulloi Ut Stadium that while not rapid, was at least quicker than the slightly antiquated bus that the players were being conveyed in.
Taking time out only to applaud the players again, with one or two flashing looks of recognition without quite placing where they knew us from, we then headed towards what appeared to be a bar in the bowels of the stadium.
The view from the away end
It actually took us a fair while to get there, after stopping to pose for photos with various police and army units and trying in vain to make ourselves understood to a crowd of local fans that we weren't actually the toon team, despite wearing replica shirts.
Our failure to do so resulted in many requests for autographs, but also provided a handy excuse for not giving said strips. Thankfully help was at hand in the form of then-Newcastle chairman Gordon McKeag, who produced a pocketful of badges that were handed out to delighted Hungarians.
In return came more badges, pennants and scarves, plus some rather potent glasses of wine. Note the use the word "wine" here in it's general sense, as opposed to the phrase "rocket fuel", perhaps more accurate.

Being led towards an open door in the rear of the stand that promised some thirst -quenching beer, we were instead confronted with a stern-faced old woman who was ladling out cups of wine from a seemingly bottomless vat.

Memory starts to get a little unreliable at this juncture, but we apparently didn't have to pay, there were two colours of liquid - both of which tasted identical and the bottomless pit proved to be an illusion, with fresh supplies arriving in the form of jerry cans full of the stuff that were drained into the vat.
At some stage the arduous thirty-yard journey to our turnstile was made and we arrived in our allotted places. Despite there being a UEFA ban on English clubs, the Hungarians had seen fit to allocate the five of us our own section of the Stadium, which was about 4,995 under capacity.
However with few local fans bothering to attend (and the Belgians apparently totally devoid of support) things were relaxed in the ground, with no great police presence.

Not as good
as the wine....
On to the game itself, with Newcastle pitted against local side Videoton, as a warm-up to the home side Ferencvaros taking on Bruges. United lined up as follows:

Tommy Wright, Ray Ranson, Mark Stimson, Roy Aitken, Darren Bradshaw (sub Kevin Dillon), Kevin Scott, John Gallacher (sub Billy Askew), Liam O'Brien, Mick Quinn, Mark McGhee, Kevin Brock.

In what was frankly a poor game, the Hungarians had opened up a two-goal lead by the half-hour mark thanks to some suspect defending from United. They briefly raised themselves early in the second half and McGhee was felled in the box before getting up to convert the subsequent spot kick. However, there were few chances of an equalizer and a slightly subdued set of Toon fans remained in their places to cheer on Ferencvaros in their match – after all they had been supporting the Mags against Videoton.

If anything that game was more drab than our own tepid affair, with one goal for the home side eventually settling it, meaning we'd be taking on Bruges the following evening, before the two local sides slugged it out for whatever mysterious silverware was up for grabs (we never did find out.)

The following day again dawned bright and sunny, even if the blue Danube again had more of a muddy brown hue to it, as well as a mysterious aroma. More sightseeing by foot and tram followed, although a planned trip to the Ujpest stadium for a re-enactment of the Fairs Cup final in the car park was cancelled… due to our inability to move from the bar we'd holed up in.

Back to the ground, the welcome was just as warm as on the previous day and again we were waved through the main gates without having to show our tickets. A slightly larger crowd than the 5,000 from the previous day belatedly appeared, although not many were in to see our game.

Jim Smith indulged in what we now know to be squad rotation, but again the out-of-favour John Anderson was overlooked. He was to have the last laugh though, as he subsequently incurred Smith's anger by refusing to join the mackems after a deal was agreed and then, due to defensive injuries, ended up in the starting XI for our opening game of the season.

Our team this time was: John Burridge, Roy Aitken, Paul Sweeney (sub Mark Stimson), Kevin Scott, Ray Ranson, Kevin Dillon (sub Liam O'Brien), Neil Simpson, Billy Askew, John Gallacher, Mark McGhee (sub Mick Quinn), Gary Brazil (sub Scott Sloan.)

Right from the off, it was apparent that the Belgians simply couldn't be bothered. One of their number was ordered off in the first half after an unprovoked assault on Simpson, but even so it took us until just after the hour to open the scoring, when an Askew centre caught the goalkeeper off his line and Stimson ducked to head home via both posts.

The celebrations in the away end had barely died down when Askew again picked up a loose ball and picked out the advancing O'Brien. His run took him beyond defenders and goalkeeper, leaving him with the simple task of slotting the ball into an empty net – not quite in the class of his Roker Park free kick, but celebrated no less ecstatically by the small Geordie contingent behind the opposite goal.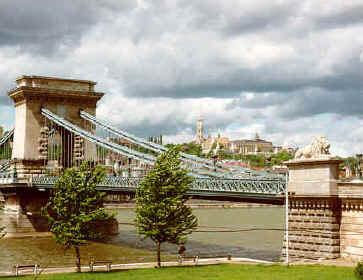 Abandoning the locals to their own private feud, we exited the ground and returned the city centre, having notched up our first "success" in Europe – an occasion that demanded suitable celebration.

Almost inevitably we were to end up some hours later in a bar frequented by Turkish Taxi drivers, having embarked on a whistle-stop tour of local bars and cafes.
An impromptu photo shoot on the parapet of a bridge almost resulted in having a spare seat on the return journey, while somewhere in Sweden a home movie collection now includes footage of five rather well-oiled gentlemen regaling passers-by with a spirited rendition of "The Blaydon Races."

Comparative sanity returned the following day as we retraced our steps to London via Vienna, complete with the local Hungarian papers, the contents of which were incomprehensible to us, except for the back page photo of a man who was unmistakably Kevin Scott. Fame at last for the man from Easington.
And the irony of subsequently reading about our trip and seeing our photograph in the official club newspaper (courtesy of a local ex-pat freelancer) wasn't lost on us, given that the club had refused to even confirm the fact that the games were taking place. But before we basked in our 15 minutes of fame, reality quickly intervened as our next pre-season game took us to the exotic location of Dunfermline, where we were to endure a staggeringly tedious 0-0 draw. Perhaps our players were jet-lagged, or more likely had sampled some of that local vino on their return flight….
Come season 1996/97 Newcastle were back in the Ulloi Ut to face Ferencvaros in the UEFA Cup and rather more toon fans were on hand to receive a slightly frostier reception than their 1990 counterparts. It was enjoyable, but it just wasn't the same as Budapest had lost some of its mystique and the onward march of commercialism had turned it into an ersatz reproduction of many Western European cities.
In our subsequent European perambulations we may have amassed a truckload of memories, from Lee's headed hat trick in Antwerp or the Bilbao experience, to the 12,000 fans that filled the San Siro with Geordie songs.

But for a handful of us, Budapest will forever remain a magical place - and not just for that Fairs Cup Final victory.
Biffa

Back to Main Page