Date: Thursday

22nd July 1999, 7.30pm



Venue: Tannadice Park

Conditions:

1000% better than Livingston - braw!



Admission: £12 upper / £10 lower ("doon the stair")

Programme: £2 (joint programme with Boro friendly)


Dundee United

Newcastle

3 - 1

Teams
7 mins: Jim Paterson made a run down the left flank before cutting the ball back to Craig Easton, whose pass reached Billy Dodds, courtesy of the willing boot of Nicos Dabizas. His initial header was blocked, but Lionel Perez was powerless to stop him knocking in the rebound 0-1

21 mins: Jim Paterson himself this time, gifted a free header by the antics of Dabizas, apparently break dancing as Steven Thompson swung over a far post cross. Routine finish. 0-2

Half time: Tangerines 2 Magpies 0

62 mins: A Hugh Davidson corner dropped right in front of goal on the head of Siggi Jonsson, who planted it in the net via the underside of the bar. 0-3

83 mins: A great individual strike from Paul Robinson, taking advantage of defensive hesitancy to unleash a 25 yard effort that nestled in the bottom corner of the net at the East End of the ground. The goal of the game. 1-3

Full time: Tangerines 3 Magpies 1
Ruud Gullit said:

To follow

Paul Sturrock:

To follow


Magpies @ Tannadice:
1959/60 won 9-2 Friendly
1969/70 won 2-1 Fairs Cup
1970/71 won 2-1 Friendly
1973/74 lost 0-2 Texaco Cup
1999/00 lost 1-3 Friendly

Pre-season pitch time (in minutes):

Andersson 37+0+90+0+0=127 (1 goal)
Barton 90+45+45+90+45=315 (1 goal)
Beharall 0+45+45+0+21=66
Caldwell 0+14+45+0+0=14
Charvet 90+45+90+45+90=360
Coppinger 90+14+0+49+0=153 (2 goals)
Dabizas 0+45+0+0+25=70
Domi 0+0+90+90+90=270
Dumas 90+45+90+90+0=315
Dyer=0+69+45+90+0=205 (1 goal)
Glass 90+0+0+0+0=90
Goma 90+45+90+90+90=405
Griffin 90+0+30+0+0=120
Hughes 0+45+0+0+65=110
Kerr 53+21+45+0+69=188
Ketsbaia 0+90+90+90+90=360
Lemmens 33+0+0+0+0=33
Marcelino 0+90+0+45+0=135
Maric 0+76+0+90+90=256
McClen 90+45+90+41+45=311 (2 goals)
Perez 57+90+90+90+90=417
Robinson 0+0+0+0+21=21 (1 goal)
Serrant 90+45+45+0+69=249
Shearer 0+76+0+0+0=76 (1 goal)
Speed 0+45+90+90+90=315

A shadow Magpies XI played a training ground friendly at Motherwell earlier in the day, with Alessandro Pistone, Stuart Pearce and George Georgiadis all involved. Paul Robinson was an unused substitute there and turned up here on the bench, getting on and scoring.

Paul Robinson scored his first senior goal for the club.

The hosts wore a predominantly black third kit to celebrate their 90th anniversary. Familiar faces included former striker Alex Mathie who came off the bench but remains transfer-listed. Lurking around the Tangerines dugout was assistant boss John Blackley - once of this parish.


Waffle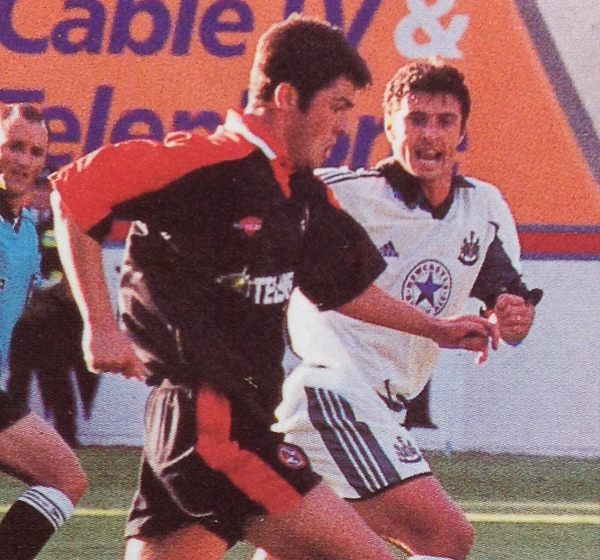 Another Scottish friendly; another 80 minutes of humiliation with an influx of effort when the game was almost gone. Rather than retread the well-worn path of the Livingston report from 48 hours previously, I've opted to pass judgment on the players individually:
Perez words cannot express the contempt I feel for this man. Go and go now, anywhere.
Charvet maybe a right back, not a central defender by any stretch of the imagination.
Dabizas legislation should be passed to stop Greeks from playing for us - a complete joke.
Domi did little wrong but has to accept a share of blame for the ease with which Dundee scored.
Goma again, nothing poor but was exposed due to shortcomings of others.
Kerr a couple of quality passes but with no focal point for the attack was urinating in the wind.
McClen not one his better nights, first touch continues to frustrate.
Speed back to his worst, if Rob Lee cannot do better I'm Judy Garland.
Ketsbaia one of those nights when the spark was missing, summed up with glaring last minute miss.
Maric I now feel sorry for him: no improvement, devoid of confidence, looks like he wants his mam.
Serrant one of the better performers, a measure of how poor we were….
Hughes steady and unspectacular, earns plaudits for not being Greek.
Barton a trier but by no stretch of the imagination a creative midfield powerhouse. Passing variable.
Beharall would surely have benefited from 90 minutes alongside Goma ahead of callups/injuries.
Robinson should have been on sooner, should have had support, scored a beauty. The one genuine bright spot, hope he stays fit and in contention for the first team.
To be hard-hearted about this, it was a meaningless friendly and a public arena in which to experiment. The fact that people like us are prepared to pay good money to watch is a side issue.

It's certainly not obligatory to turn up for kickabouts and false dawns in Newcastle's pre-season campaigns are legendary (Jon Dahl Tomasson in 1997 or a 7-0 Mirandinha-inspired win at Peterborough in the 1988/89 relegation season immediately spring to mind.)

BUT: for a team of highly-paid footballers, some of whom are playing for their very futures as premiership professionals to swan about like extras on "Top of the Pops" is totally unacceptable.

Even if it's a kickabout against the ballboys there should be an element of professional pride and a will to win. The Arabs are certainly nowt flash, but on this evidence should be carrying Scotland's hopes in the Champions League.

It's a great pity Stuart Pearce played at the Motherwell reserve match rather than here - cages would no doubt have been well and truly rattled (we were at that game also and in the words of coach Tommy Craig, "Psycho" went through his preparations "as if it was the World Cup Final".

Hopefully a hint of form will appear before the Celtic encounter, otherwise Mr Dalglish will have that smug grin clamped to his face. Before that though, our interminable pre-season takes us down to Berkshire and a reunion with former assistant boss Tommy Burns - once Kenny's right hand man.
Biffa