Date:

Thursday 16th September 1999 8.45pm (6.45pm BST)

Venue: Balgarska Armia (Army Stadium), Sofia, Bulgaria)

Conditions: Warm, well, balmy (in the words of Bobby Moncur.)

Tickets: £1-£3









CSKA Sofia

Newcastle

0 - 2

Teams
Half time: CSKA 0 Newcastle 0
51 mins. A free kick some 25 yards from goal was rightly given after Kieron Dyer was cynically chopped down by an opponent. Nolberto Solano stepped up to bend in a great free kick 1-0

77 mins: Substitute Temuri Ketsbaia chipped in from just inside the box after an increasingly ragged Sofia defence failed to stop another strong Dyer surge forward. 2-0

Full time: CSKA 0 Newcastle 2
Sir Bobby said:

"We've finally won a match And for the players, that's very important.

"We didn't let them take the initiative. I thought Gary Speed and Robert Lee played very well and they did the donkey work that gave Kieron Dyer the room to enjoy himself.

"The players are learning and concentrating, and it is going much better. We have played two away matches and we have conceded one goal - so that's a marked improvement. We conceded 18 goals in six matches prior to me coming here."


manager tbc:

To follow


Croatian midfielder Silvio Maric remained in England after Bobby Robson dropped him from the travelling party in response to his arriving late for a team meeting.


Waffle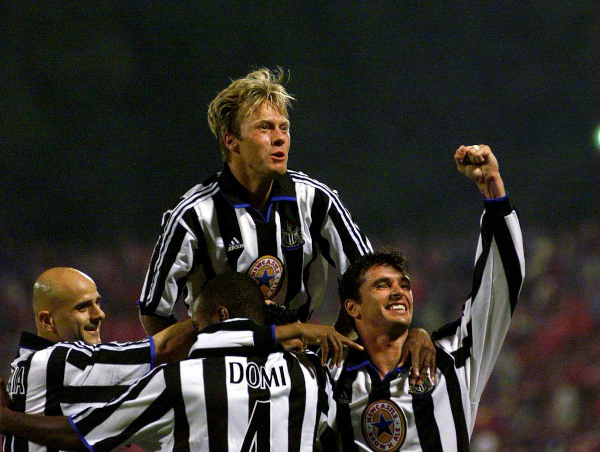 As your correspondent never got any further than his front room due to being grounded by the doctor from flying with a gammy leg, here's an on-the-spot report from a supporter who made the trip to Sofia (and on his his birthday as well, bless!) Step forward, Dave Greaves:
"Unexpected hospitalisation of my travelling companion meant meant a solo trip behind the former Iron Curtain. Last train from York on the Tuesday evening was delayed long enough to miss the last tube, so it was across to Trafalgar Square and thence Night Bus to Heathrow. Now that's an experience for you. People snorting coke openly and at least half a dozen managing to fall down the stairs when they approached their stop. Not to worry, arrive unscathed at Heathrow long after all the best kipping seats were taken, so it's "make the best of it" and incur a stiff neck. Give up entirely about 05:30, get some scran before checking in on Czech Airlines flight to Prague.
Good flight but no other Geordies visible to the naked eye! Into Prague on time and a walk around the very cheap duty free to select a pressie for the wife, thus gaining the brownie points to ensure the next round sees me there. Picked something out, but decided to wait until the return trip before purchase.

Mid-afternoon arrival in Sofia again courtesy of Czech Airlines, and there the problems begin....for a start, there ain't a lot of information in our alphabet, never mind our language! Me and Cyrillic don't mix well.
Anyway, I happen across a hotel booking service and ask for a hotel where i've been informed fellow Geordies are staying. Surprise, surprise - no such hotel in Sofia. I now opt for another choice, where Toon Travel are apparently booked. One quick phone call establishes this isn't the case... A polite "bollocks" not going down well. Quick decision to book in anyway, and out comes the plastic.

Unfortunately modern things like credit cards aren't accepted, all they are after is my hard currency. OK it's 30 dollars a night cheaper in cash but it's a bloody good job I went prepared.....
The deal done, I'm offered a taxi to the hotel for £12-£15 which gets bargained down to a tenner. However, before money changes hands, the alternative of a bus is mentioned by the booking lassie. What the hell, it's still daylight and I've plenty of time to kill, so bus it was and for the exorbitant sum of 8p I was dropped off at the door of my hotel.

An enquiry at reception confirms that "a party of English gentlemen" is due around 9pm. The hotel is fine and after a shower, it's down the serious business of sussing out the local watering holes; an essential role for the advance party. A couple of likely haunts are located, although at 33p a bottle we can afford to be choosy. The only problem would appear to be ensuring adequate supplies were available....
Shortly after 9Pm and the aforesaid gentlemen arrive, most of them wearing toon tops and looking the worse for wear. I hitch myself to three faces familiar from many reserve games and other continental jaunts and it's off for a few bevvies. No problems encountered and the luxury of an early night, around 1:30am.
Thursday is Match Day and my birthday (the second I've spent in Bulgaria) and it's off to the Princes Hotel where rumour has it that the elusive match tickets can be collected from a club official.

After trying out various bars en-route, we arrive only to be told that nobody from the club is staying at the Princes. Another dodgy rumour. A quick beer in the hotel foyer and a photo opportunity with Peter Beardsley (but not Mick Martin), before we grab a taxi and head off to the CKSA Stadium in search of them damn tickets.
Club officials appear only 30 minutes after the scheduled meet and envelopes containing said tickets are handed out. Things are looking up. An excellent programme is spotted by someone and we are told they are available from "administration." This turns out to be a bloke sitting at a card table in the car park, who also has some nice commemorative badges on sale. £8 secures three of each, although curiously the programme lacks a price....
Into the stadium and now the man known as "The Undertaker" can celebrate making it to his 200th different ground watching Newcastle United. Well done John! If you watch the video of the game, he can be glimpsed standing in the very back row of the away fans, looking like...an undertaker.
The match? well you've seen the telly and read the reports, but suffice to say we were comfortable in the first half and almost dominant after the break after goals from Nobby and Kets. Good performances all round, but Goma, Dyer and Speed were the pick for me.
Post-match plans went perfectly as we grabbed a taxi without it actually stopping to pick us up. John Wayne eat your heart out (!) Back to a bar selected after the previous evening's tour, before venturing into the nightclub in our hotel. Some people were disappointed to learn that it wasn't in fact a strip club, but to compensate, one of our number gave us his version of the "Full Monty."
Friday, and my colleagues left for the airport at 09:30, leaving me a day to amuse myself in Sofia. No difficulties there, thanks to a beer festival going on in the town square.

By now I'm into this bus lark, and confidently make my way back to the airport. Flight on time into Prague, but inevitably the pre-selected pressie from the Duty Free is sold out. OK, something else was selected but this didn't have the necessary initials on. Onwards to London, back to York and then back in the house just after Midnight.
A great trip, a good result and a memorable birthday. Roll on the next round!
Dave Greaves