6 mins: Alan Shearer easily won a header in the penalty area and was able to control the ball and hook it over his head for Gary Speed to side-foot firmly past goalkeeper Alex Manninger in the Leazes End goal. 1-0

7 mins: Most people were shuffling their backsides back down after the opener, when a forward ball seemed certain to provoke a bit of flag-waving. Not so though, Kanu running on to lob Given with comparative ease. 1-1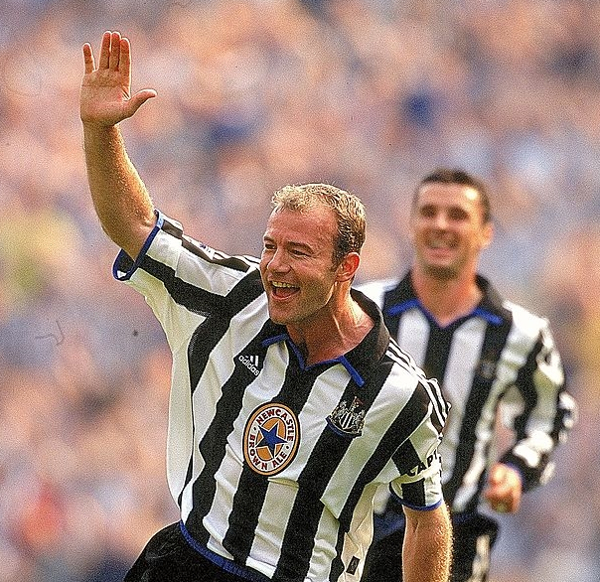 23 mins: Postage stamp stuff from Alan Shearer, who executed a free kick from outside the box with perfection. It may have gone through a slightly suspect wall, but the ball was still rising as it bulged the top corner of the net. David Beckham may be without equal when it comes to swerving and bending a ball, but he'll never hit a ball as hard and truer than this one from Al. 2-1

Half time: Newcastle 2 Arsenal 1
53 mins: A bit of a disappointment for Warren Barton, who let Stefan Malz steal half a yard on him when there seemed minimal danger from Kanu's pass. Just as Barton was about to challenge, the midfielder placed a low shot beyond Given. 2-2

59 mins: Solano swung over a corner and Gary Speed showed real determination to get ahead of the Arsenal defence to power a firm header down and over the man guarding the near post. 3-2

63 mins: Game over as a neat build up involving Solano and Ketsbaia played in Andy Griffin who had timed his run to perfection. I swear he looked up for someone to cross to, but ended up finishing smartly with the outside of his boot. A nice way to open his NUFC account. 4-2

Full time: Newcastle 4 Arsenal 2
Sir Bobby said:


Arsene Wenger:

"It was a good occasion to give a run out to some of the younger players because there are not many times when you can give them a chance."


Newcastle finished the season as third top Premiership scorers with 63 goals, beaten only by champions Manchester United's tally of 97 and runners-up Arsenal, who managed 73.

A browse through the PL statistics for the season also reveals that Nolberto Solano tied with David Beckham as the most prolific provider of assists. They both set up 15 goals.

NUFC Premiership record to date:
1993/94: 77 points, 82 goals, finished 3rd*
1994/95: 72 points, 67 goals, finished 6th*
1995/96: 78 points, 66 goals, finished 2nd
1996/97: 68 points, 73 goals, finished 2nd
1997/98: 44 points, 35 goals, finished 13th
1998/99: 46 points, 48 goals, finished 13th
1999/00: 52 points, 63 goals, finished 11th

(all 38 game seasons, except * 42)

Andy Griffin scored his first competitive goal for the club.

NUFC PL scorers 1999/2000:

Alan Shearer 23
Gary Speed 9
Duncan Ferguson 6
Nikos Dabizas 4
Didier Domi 3
Kieron Dyer 3
Nolberto Solano 3
Kevin Gallacher 2
Aaron Hughes 2
Diego Gavilan 1
Stephen Glass 1
Andy Griffin 1
Helder 1
Alessandro Pistone 1
OG 3


Waffle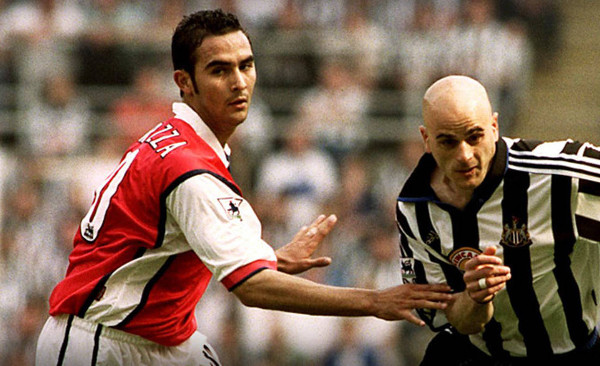 It was party time at a relaxed and sunny SJP, as Arsenal warmed up for their UEFA Cup Final and Alan Shearer found the net for his 300th career goal and 30th in black and white this season.

Arsene Wenger put out a reasonable looking side (presumably after negotiations with the FA) but it was sufficiently weakened for our lads to close the season in some style.
Gary Speed started the ball rolling with a smart finish after Shearer had won a free header and played it back over his head into the path of our second top scorer; Speed side-footing in smartly.
And then came the equaliser barely a minute later. The giraffe-like Kanu ambled through looking well offside and lobbed Given expertly.

Shearer had already skied one free-kick from a good position but when another was given ten yards outside the box he grabbed the ball once more. Nobby Solano would have tried his luck, but as Bobby Robson had predicted after the Derby game, Al wanted his goal in front of the Leazes End where he'd opened his league account against the now-relegated Wombles back in August 1996.
What followed was top-drawer. Al lashed the ball straight into the top corner, with Alex Manninger a mere spectator. All but a tiny corner of St. James' were celebrating before it bulged the net, the moment it left his boot it only had one resting place. Shearer celebrated accordingly and would doubtless tell you a penalty or six-inch toe-poke would have been just as good - but he'd be lying.

The game continued in an open and friendly manner with our top(?!) referee, Poll, beaming his way through the first 45 minutes. I love the way this misguided fool thinks he's the player's best mate. Having said that he's improved since he stopped trying to grab the headlines.
Kieron Dyer buzzed around like the proverbial blue-arsed fly. However, for me he chose and timed his runs badly, although the crazed Temuri Ketsbaia must be a nightmare to play behind.

Someone needs to bring young Kieron back down to earth but unfortunately that wasn't to be the England boss Kevin Keegan, including him in his provisional Euro 22. Hopefully Big Al will act as chaperone as the temptations of the Nether regions offer themselves on their summer holiday
Warren Barton had another cracking game on the unfamiliar left side of defence, so it was a shame that he allowed Malz a yard that he never recovered as a low drive was dispatched past Given.
On the other side was a welcome first start for Andy Griffin. The absence of Aaron Hughes gave Griffin his chance but he grabbed it pretty well (more later). Dyer made a half-hearted attempt to restore our lead, pulling out when he seemed favourite to get a strike on goal. Speed gave him a lesson from the corner, muscling through to plant a header into the turf and up and over.
Given then attempted to make the game safe with a Pat Jennings impression that caught Manninger unawares. The Arsenal keeper just tipped the ball wide as history books were about to be rewritten.
Griffin gave Dyer a fine example of an incisive run and as he looked up for someone to square to the absence of a black and white shirt forced him to shoot. He finished superbly with a flick around the advancing keeper to put the game beyond doubt.
At 2-2, the scattering of visiting Gooners had reminded us that we were "only playing reserves" and the UEFA Cup Final lineup will probably confirm that. However, beating a team with messrs Kanu, Suker, Parlour, Keown and Winterburn is still worthy of note.
Shearer then appeared to get his 200th league goal when he got a boot onto a ball scrambled forward. Manninger stumbled backwards clutching the ball and the crouching linesman seemed to be the only one at the Gallowgate end of the ground not to see the whole ball cross the line.
As goals three and four sealed our three points the misguided also celebrated the Wearsiders slipping to defeat at White Hart Lane. Personally, a top half finish and the extra £200k was worth more to me than another mackem defeat. Also, the added bonus of any points for the mackems was that they finished even closer to that unattainable UEFA place....
Bobby orchestrated the lap of thanks around the pitch and the boys donned Newcastle Brown T-shirts for the last time as the S&N sponsorship came to an end. That was contrived, but the return of anthem "Local Hero" before and after the game was welcomed by many.

The amble around the pitch was, of course, meaningless with no Cup Final send off or place in Europe to celebrate, but worth it for the mutual respect between Bobby and his people.

Shearer and Lee got the chants they deserved, Barton, Speed, Dabizas and others probably didn't and the disgrace aka Perez went surprisingly heckle-free.
So what happens over the summer? Bobby's leading of the applause for Ketsbaia suggests that he could be on his way but he did the same for Lee who had just signed a new contract.

The absence of others from that walk round the pitch shouldn't be too meaningful and if Bobby is given a bit of the wedge from incoming sponsor NTL and cashes in others, he should have a tidy sum to hopefully invest more wisely than the Scottish and Dutch money-wasters who preceded him.
Niall