Date: Saturday 22nd July 2000,

Venue: RFK Stadium, Washington DC, USA

Conditions: Sultry.

Admission: $tbc

Programme: Free





A3 teamsheet/
placard see below
DC United
3 - 1
Newcastle United
Teams
28 mins "Moreno faked out Newcastle midfielder McClen with a little right-foot juke and cranked a left-footed laser from the top of the box that found the net's upper left corner." (Washington Post) 0-1.

33 mins Llamosa 0-2.

Half time: DC 2 NUFC 0

51 mins Marino 0-3.

67 mins Cordone 1-3.

Full time: DC 3 NUFC 1


Bobby:

"The guy with the long hair (Marco Etcheverry) was a clever player. He had a great pass. He was a bit lazy but he had a clever pass and a sweet left foot.

"We conceded two goals here today, with the one in the corner which normally we solve and a second goal from a silly throw-in, when I think four of our players were asleep in the locker room or asleep.

"I am satisfied with the game; we would have liked to have won, but it is not a disaster for us."


To follow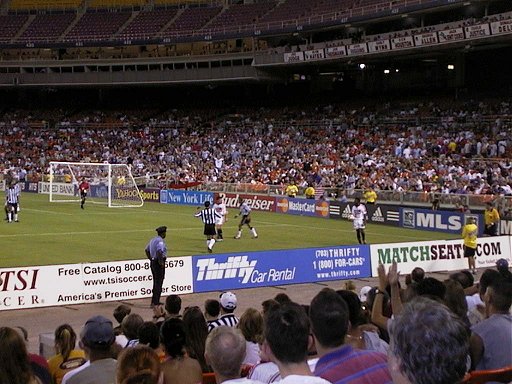 Newcastle's opening pre-season game saw Bobby's boys stumble to a well-deserved defeat in the RFK Stadium here in a humid (but bearable) Washington DC on Saturday.
Goals from the MLS hosts just before and after the half hour gave them a commanding advantage and a further strike early in the second half confirmed that a scalp had been taken -answered only by a shot from Magpie man of the match Daniel Cordone.
Without being unduly harsh on the Premiership side in their first competitive action since the Trinidad & Tobago stroll, they were rotten.

An underwhelming opening selection and later substitutions did little to provide any cheer, and with DC having a point to prove to their own fans after a desperately disappointing league campaign, the visitors provided little obstacle to a morale-boosting home win.
Aside from the muscular efforts of Cordone, and second half flurries from Kieron Dyer and Diego Gavilan, the considerable toon-attired presence at RFK had little to cheer apart from the second half introduction of Alan Shearer.

New boys Carl Cort and Christian Bassedas put in performances lacking in memorable moments, but the expensive former Womble at least showed some individual skill on the ball - hopefully the linkup play with his colleagues will appear in the coming weeks.
All in all, plenty for Bobby to ponder on before a second Stateside outing on Wednesday, but nothing to get too worked up about. That's in stark contrast to some of the locals, who appeared to believe their victory worthy of at least medal-awarding status.
Local sources confirmed that Didier Domi sat out training, and Aaron Hughes had been sidelined with an ankle problem (obviously minor) while inevitably Duncan Ferguson didn't train with the team, instead being put through his paces in the swimming pool.

Anybody know of a waterpolo outfit with money to burn looking for a big lad to stand in the deep end ?
One or two familiar faces were spotted in the crowd but in the main our support was mostly composed of shirt-wearing US and Canadian-based Magpies. For many of them it was a rare chance to see their heroes in action, while of course for some it was a live debut - best forgotten about really.
PS: This report was written at 03.45 local time after returning from the Dubliner pub, where drink was taken. Thanks to everyone who took time out to drop by and say hi....
Biffa & Niall