Aston Villa 1 Newcastle United 1

Date: Saturday 2nd December 2000 3pm.

Venue: Villa Park.

Conditions: Not too parky. Officially "bracing."

Crowd: 34,255. Highest at the rapidly expanding Villa Park.

Referee: David Elleray (Harrow-on-the-Hill).
Teams:
AVFC (normal home kit): James, Wright, Southgate, Boateng, Dublin, Merson, Ginola (Samuel 79mins), Barry, Alpay, Hendrie, Stone. Subs:
Subs Not Used: De Bilde, Walker, McGrath, Enckelman.
Booked: Wright (41 mins). Late tackle on Solano.
Hendrie (51 mins). Wild lunge on Solano.
Sent off: None.
NUFC (normal home kit): Given, Barton, Goma (Domi 36 mins), Acuna, Lee (Lua Lua 75 mins), Dyer, Speed, Griffin, Solano, Cordone, Hughes (S. Caldwell 20 mins).
Subs Not Used: Bassedas, Harper.
Booked: Speed (33mins). Foul on Hendrie. Third game in a row for Speed who has now got four bookings. Doesn't look like the one picked up in the US friendlies was reported to the, FA otherwise he'd now be suspended.
Domi (89mins).
Sent off: None.
Goals:
4 mins. Shay Given produced a good save from a Lee Hendrie shot after Merson and Dublin had put the youngster through. The ball ended up at Ginola's feet who spotted Dublin at the far post who headed down into the unguarded far side of the net. 0-1
Half time: Aston Villa 1 Newcastle 0
82 mins. Andy Griffin pumped the ball forward and Gary Speed flicked a header into Solano's path. As David James came out Nobby lobbed a volley over the keepers head and it seemed to take an age to drop into the empty net. 1-1

Full time: Aston Villa 1 Newcastle 1

Match facts:
Just one Premier defeat at Villa Park - the one presided over by the flying Dutchman. Four wins, three draws and one defeat.
Third Premiership game in a row there has been a goal scored in the 4th minute.

We said:
Uncle Bobby said about missing captain Shearer:
"Alan's problem is the same problem as at Euro 2000 when he had an injection. It has flared up again and we will have to see what the specialist says on Monday.
"But it could be the case that I have to go and look for some new players. The injuries to the defenders were also what I didn't need and Goma looks like being a longer term problem because he has torn something in his calf."
"I was delighted with the response of the players after the Worthington Cup defeat at Birmingham on Wednesday. I wanted a response. I wanted the players to be heard and I got the right sort of response. I felt we deserved something from the game."
They said:
The Prince of Darkness legged it back to his crypt before nightfall. However, his captain Gareth Southgate said:
"John just said that he couldn't fault anyone for their effort and that they had given their all and to be fair it is not often that you can level a lack of effort against our lads."
"In fairness to them they are behind the team but you know that as soon as things go wrong there is a bit of a mutiny. We have to try to put that out of our heads and concentrate on playing. Fans have voiced their opinion in the last couple of games but there is no point in us commenting further on this matter."
And Assistant boss Steve Harrison added:
"John, as you expect, was disappointed. This was the second time that we have been a goal in front in successive weeks and then thrown away points to a long ball down the middle. The mood after the game was disappointing but it's not for me to get involved in matters away from the playing side."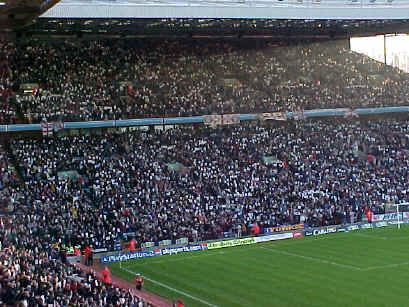 Villa fans make their feelings known, holding up £ sign banners.
Waffle:
Well, it was an improvement on Wednesday, but only in the way that chemical castration is marginally better than a rusty hook round one's tackle....

Weekend press speculation had it that the Prince of Darkness John Gregory was being lined up to take over from uncle Bobby. Well, on this evidence he'll be looking for a job soon, as he is seemingly incapable of either making a tactical decision or communicating it to his players. After going a goal up in the opening moments and possessing a multiplicity of talents onfield capable of dropping it on the prominent head of Dion Dublin, Villa became increasingly prosaic as the game progressed and failed to capitalise on the departures through injury of Hughes and Goma.

This game also marked a belated first start in a Villa shirt for David Ginola, who seemed to have been on the Thomas Brolin "eat yourself fitter" diet, a fact only partly hidden by his baggy shorts and billowing top. Griffin by and large handled him well, forcing him deeper and eventually seeing the Frenchman substituted.

In simple terms, we should have been dead and buried by the time Nobby salvaged a point, but having weathered what little Villa threw at us, we seemed to belatedly realise that a point was there for the taking. Cordone made a hash of the one chance he had with a header than passed wide of the post, while on another day we could have been awarded a penalty when Stone seemed to indulge in a spot of basketball.

A cynical person would say that Barton's one-man fist waving appreciation of the away fans at the end was part of a bid to quell the terrace unrest that sprang up as a result of his aberrations at Birmingham. No matter what one's own opinion of the player however, he was outstanding as a makeshift central defender and deserved the Man of the Match marks that many journalists gave him.

He also partly compensated for the grudging applause that his colleagues managed. They could hardly have been less appreciative, given that they had to walk off the pitch and down the tunnel, situated only a couple of yards from where the away fans were housed.

A good point then, and one which kept up our fantastic record on this ground, but the jeers of the home fans at the end showed that their opinion of Villa was little different from my opinion of the toon. A makeshift side played well enough and stole a goal from a rare chance, but doubts persist about the quality of the stand-ins (if there happen to be any) in all areas of the pitch.

Barring some more seasonal cheer at Highbury, I cannot help but approach the trip to Arsenal with a mild feeling of dread at the possibility of whichever of their striking combos is picked running riot. A home win against Bradford or something from Derby is absolutely vital, given the stiff home opponents and tricky away matches (i.e. in London) that lie in store.

At present, we're still well away from a Boro-type capitulation, but equally nowhere in the vicinity of the Holy Grail of European qualification. There's always the FA Cup though.....
Biffa