Date: Sat 13th January 2001 3pm.

Venue: St.James' Park

Conditions: average



Newcastle United
3 - 1
Coventry City
Teams
Goals:

4 mins. G

ary Speed rose well to meet a Nobby Solano corner at the near post and powered a header past Hedman. 1-0

Half time: Newcastle

1 Coventry 0

58 mins. Kieron Dyer ran down the wing and found space. The unmarked Ameobi was in support and as Dyer squared it Ameobi crashed the ball past Hedman with great delight, acknowledged by the jubilant crowd. 2-0

66 mins. Kieron Dyer went off on a trademark run from the halfway line. As he entered the box he cut inside Williams with ease and clipped a brilliant right-footed shot past Hedman into the far corner with the outside of his boot. 3-0

78 mins. Stephen Glass lost his bearings as he guarded the far post when David Thompson fired in a left-sided corner. Common consensus seems to be that it was an own goal but he seemed to head it upwards from well inside the goal.

If I was David Thompson I'd get the goals committee to analyse this one. If I was Stephen Glass I'd check those old Christmas cracker gifts for a compass....

PS: Thompson was given the goal subsequently. 3-1

Full time: Newcastle 3 Coventry 1

We said:

Uncle Bobby said:

"It was a little bit of a ding-dong without much music, I guess. But we've ground out a result.

"We got off to a marvellous start when Gary Speed did what he can do regularly if the ball is placed correctly for him and then it developed into a scruffy sort of football match.

"They had chances and missed them, we had chances and missed them, but then we got what I would call two marvellous football goals, and in the second-half we picked up the game and gave the public a smile, and I think that pleased everybody."

Like everyone else, Bobby was happy to see 19-year-old Shola get his first senior goal for United.

"He needed a goal and he's got it," he said. "That will do him a lot of good.

"I would have liked to have taken him off to rest him for Wednesday at 3-0 because he's young. He's doing well to stay on the pitch and play 90 minutes.

"He's a bit leggy, like a young colt, but with their ability in the air, we needed him to defend for us on set plays."

They said:

Wee Gordon said this:

"I've come here with Manchester United and Leeds United and never made as many chances as that.

"I've come here previously four times as manager of this club and, if you put the four games together, never made as many clear-cut chances as that.

"But I think that was an example of how we've been playing lately.

"If I'd got up this morning and thought we were going to make as many chances as that, I would have been more than happy, and to come away with no points is very disappointing.

"They've got good players, but Kieron Dyer is an exceptional talent. If he was on my side, we'd have won the game easily."

Waffle: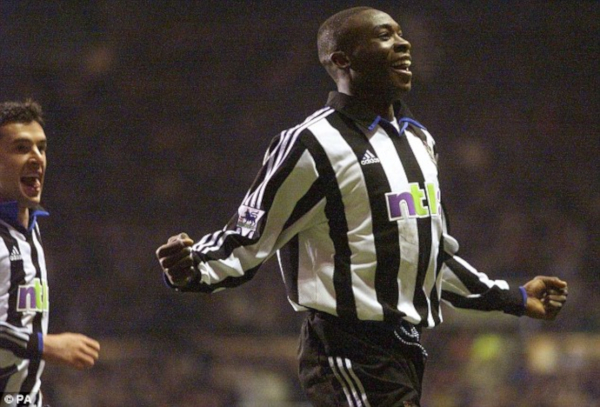 Strike us down if we dare not celebrate a victory for the black and whites, given some of the sub-standard spectacles we've endured over the last four years, but the result of this game masked the true tale of the afternoon.

The scribe who penned the words "Newcastle run riot" in the Sunday Times was either being ironic or had a particular grudge against Gordon Strachan's men.

A schizophrenic performance from United saw three sparkling examples of crafted goals interspersed with defensive failings that allowed Coventry frequent free runs on Harper's goal. That they squandered over half a dozen good opportunities was mostly due to the failings of their forwards, although our current number one glove-wearer did make a number of good stops.

Pity the same couldn't be said about his attempts to capture crosses into his box.

While there seemed to be a general thumbs up from press and fans alike for the performance of debutant Wayne Quinn, first impressions from this quarter were that his forward-looking tendencies unbalanced the rest of the defence and the gaps that appeared at left back were filled by a colleague to the detriment of another area of the field.

That said, he competed for and won a pleasing number of challenges in what was his first Premiership game, and will at least bring some variety to the squad with being left-footed.

If Quinn's performance on one flank was at the expected (Nationwide) level, it has to be said that once again Barton's display was below-par.

Any flashes of inspiration were invariably followed by a moment of slapstick and when he did muck up a pass or botch up a clearance, the intended move was mostly of the hoofing variety anyway. Our current captain is a weak link, and a full-back pairing of Quinn and Barton against half-decent opponents could be potentially risky on this showing.
One wonders whether Barton would be in the side at present were he not wearing the armband, and also precisely why Griffin was excluded from the starting team to face Coventry for the second time this season?

Hopefully he'll come back in on Wednesday refreshed and ready to reprise his previous role of frustrating Monsieur Ginola, the ineligible Quinn giving way. What happens next Saturday is open to question, however.

In the centre of the backline, the Goma/Hughes partnership struggled to contain the forward movements of ex-toon target Bellamy, abetted by Aloisi. Bobby Robson later confirmed that Hughes had been under the weather, and with ongoing doubts about the future of Goma and Marcelino, Steve Caldwell's contract talks will hopefully be resolved very soon.

Given our recent record of buying central defenders, I for one would much rather see one or more come through the reserves like Hughes, rather than from some hitherto-untapped backwater of South America.

At times there was so much space on the edge of the United area that one feared that a fleet of gypsy caravans might appear and take up residence. Had that happened, the manure from their horses could have put to good use improving the increasingly bare surface at Gallowgate, but as it was we had to make do with that carthorse Paul Williams trundling across the pitch, flattening what grass remained with his large arse as he attempted to elicit free kicks from referee Winter.

Although we've often criticised the Stockton, Billingham or Middlebrough official (location seemingly depending on which daft old comentator was covering his game on Match of the Day), he was actually tolerable and seemed to be wise to most of the tricks City pulled.

Purists may argue that the failure of one of his assistants to be able to recognise when the ball crossed the line was cause for concern, but far more noteworthy in my eyes was the colour of Mr Winter.

Put simply, he was orange. With the news that Spanish referees are to wear sponsored clothes, Jeff is presumably positioning himself for that lucrative Tango contract when the idea spreads to these shores. Either that or the rich and luxuriant vapours of his beloved Teesside are to permeating through his skin.

Enough of Morrissey-like misery and moanings though. Three points, an unbeaten home record stretched to an almost-impressive six games, a beautiful goal from Dyer and a debut strike for Shola were all worthy of post-match glass-raising.

Our young striking prospect celebrated the 394th minute of his first team career with his first goal, and seemed almost as pleased as your correspondent was. In truth it wasn't the most difficult of chances, but you still have to put them in, and a failure to bury this one could have undermined the lad's confidence, perhaps fatally.

That isn't an over-reaction if one considers the Magpies career of one Jon Dahl Tomasson, who missed an early chance to notch on his home debut and never seemed to get over it.

Shola would probably be gracious enough to admit however that the provider of his maiden strike was also the scorer of the goal of the game, with a trademark scamper from the halfway line and the coolest of finishes.

Without getting to an Opta-stats level of sadness, Kieron Dyer seems to be converting more chances when rushing towards the opposing 'keeper with the ball at his feet. Evidence of some good old-fashioned practice on the training pitches, plus the confidence of having seen a few efforts nestle in the old onion bag, Brian.

The youngster its out our next two games after his Tottenham transgression, and gets the opportunity to rest his shin splint ailment. The Villa and Leeds defenders will no doubt be thankful for his absence, but his Newcastle team mates will need to dig deep into their reserves to maintain our recent Cup traditions, given that Solano also misses the trip to Aston Villa.

News that Lee is likely to miss out is tempered by the return of Gallacher, who may yet be used in midfield behind Shola. To be frank, I'd rather see anyone play than Cordone, who seems to have lost whatever he had when he came.

I may not be up to much in the sartorial elegance stakes however, even I would think twice about emulating Daniel's short sleeved shirt and gloves stylings, reminiscent of the dreaded Lionel Perez to my twisted mind....

After predicting Shola's goal in our preview, we'll be saying a silent prayer that Bassedas can get off the mark on Wednesday, having actually managed a shot on target against Coventry, which still didn't explain the standing ovation afforded him by the Milburn Stand when he was replaced.

Perhaps it's a guilt thing about not serving corned beef sandwiches in corporate areas, or collective conscience over allowing Jimmy Nail to appear in the film version of Evita. Whatever it is, Bassedas must now move on from demonstrating to us that he's perfected the sideways short pass,

An Argentinean Ray Wilkins perhaps, but even Butch got the odd goal.

Biffa