Date: Sat 21st July 2001, 7.00pm.

Venue: St. James' Park

Conditions: Relaxed

Admission: £12

Programme: £1





Newcastle United
1 - 0
Sporting Lokeren
Teams
Half time: Newcastle 0 Lokeren 0
60 mins. Home debutant Craig Bellamy deflected a Nolberto Solano header past Dabanovic from inside the six yard box at the Leazes End for the first European goal of his career - and his opening strike for Newcastle 1-0
Full time: Newcastle 1 Lokeren 0
Uncle Bobby said:
On the turnout:
"They were talking about 20,000, 21,000 or 22,000, but 29,000 roll up on the night.
"It's just exceptional, it's unique. It was a massive crowd for a match like this where we were leading 4-0 in the middle of July.
"I think they were probably expecting not an avalanche of goals but when you win 4-0 away from home, they expect 5-0 at home. But it never works like that.
"They had nothing to lose. They came to enjoy it and they did. They made it difficult for us and they worked hard, but we had chances and didn't take them.
Craig Bellamy's home debut:
"It was important for Craig to get his first goal. I had a chat with him before the game and said 'it's your first match at home, it's important that you show the public whatever quality you have, show them that you're proud to be a Newcastle United player in a black and white shirt'."

On the Trevor Sinclair situation and allegedly tapping up the West Ham player:

"To some degree, my reputation and my credibility was attacked by a few papers and that's rather hurt and distressed me.
"You know yourselves that I don't do business in that way. I never have done and I never will. I'm very experienced in buying and selling players. I will never discuss club business with you until that club business is completed. All this with Sinclair, as it is with other players, has been papers fabricated and speculation by the papers.
"I understand West Ham's anger and I have a certain amount of sympathy for Glenn Roeder, a young manager coming into the circus. I understand how he feels.

"We did have words together yesterday and I need to talk to him again today personally because the whole thing is fabricated. It's very sad. He's been misdirected. I'm very angry about it. It's caused irreparable damage, I think."

Our next opponents, 1860 Munich:

"It's a Bundesliga team, they're strong and they're well-organised. Charlie Woods has watched them and Leeds United have helped us by sending us some tapes because they played them last year.
"Charlie's gone for a personal look, but we're away first and I quite like that. "It should be a pretty good game here, the second leg in 10 days. If we get 29,000 tonight, we'll get 35,000 for the Germans."

Counting all qualifying games, and matches in the Fairs, UEFA, Cup Winners, Anglo Italian, Champions League and Intertoto cups, this was our 71st European tie and 36th victory.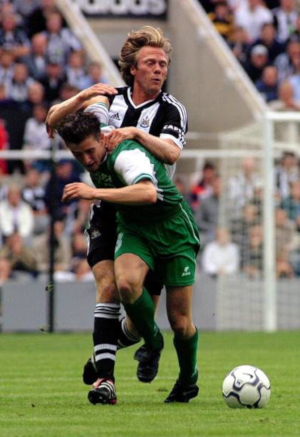 First team football returned to Gallowgate after a nine week absence, and a fantastic turnout of almost 30,000 fans were on hand to witness an eminently forgettable evening.

Many of those in the ground were obviously making a diversion before plunging headlong into the hedonistic delights of Newcastle's nightlife, boosted this weekend by the additional love parade-related events.

One or two others appeared to have started their own celebrations somewhat prematurely, as the aroma of what were once called "jazz cigarettes" drifted across the stand, causing a certain mellowness in the crowd.

Unfortunately United appeared to have also been at the whacky baccy, and the ninety minutes passed by in something of a slumber, with only valiant attempts by the crowd to lift the team nudging the Magpies from their soporific state.

Of course this game was a dead rubber in terms of the tie, but regardless of that a tremendous number of folks were persuaded to part with £12 and show up.

A quick look around my usual section confirmed that many season ticket holders had either taken the opportunity of having a different view, or not bothering to attend at all.

In their place however came the usual non-league-game crowd to take their places, with many fans taking advantage of the ticket sales continuing until kickoff, and bringing along various children, grandparents and most things in between.

Their genuine enthusiasm at being inside the hallowed walls of the park and seeing their heroes in the flesh gave the occasion an atmosphere that it scarcely deserved, and at times the support eclipsed that of some games with a full complement of regular fans.

The enthusiasm was such that even the ballboys were given mini-ovations, deserved in the case of the lad in front of the deserted East Stand who showed some outstanding ball control at one point.

Perhaps he'd have been better off employed fielding in the slips for England at Lords.....

Robbie Elliott received great applause before the game, especially from the "Gosforth" corner of the Leazes, and had a reasonable game with one or two of his trademark out-swinging line-hugging passes evident. The same couldn't be said for the lumbering Quinn, filling a shirt in the left side of midfield, who struggled to get into the game.

On the other flank, Solano was obviously earmarked as the key to unlocking the Belgian defence, and was often found in a wide right role. Unfortunately, he was hampered by the inability of his colleagues to find space to get on to his crosses, except at set pieces.

Had Carl Cort played, this game may have been the goalfest many expected, but a lack of height throughout the side and invention on the ground made for a sterile affair.

The visitors had no ambitions to do anything other than stop us scoring, but may have had cause to reconsider that policy as we were guilty of defending too far up the pitch and almost paid for it on a couple of occasions.

The goal and following introductions of Lomana LuaLua and Olivier Bernard kept the crowd in a semi-animated state, and both brought an increased sense of urgency to proceedings. It stayed at one goal though, and a scrappy one at that - symbolic really.

1860 will require a damn sight more effort and application to get past, methinks.
Biffa

Back to Main Page