Date: Sat 11th August 2001, 3.15pm
(kick-off delayed for 15 minutes).

Venue: St. James' Park

Conditions: Not much sun, but pleasantly warm.

Admission: £20 adults, £11 concession

Programme: £2.50 for A4 sized brochure.




Newcastle United
0 - 1
Athletic Bilbao
Teams
Half time: Newcastle 0 Athletic Bilbao 0
64 mins. A deflected shot from Guerrero looped off Aaron Hughes, over Steve Harper and into the Leazes goal - the goalkeeper appearing to think it was going wide. 0-1
Full time: Newcastle 0 Athletic Bilbao 1
Uncle Bobby said this about new boy Laurent Robert:
"Laurent was our inspiration, he had moments of genius. He looked what he is: a talent.
"We just need to know how to get the ball to him more often. That's quite easily remedied on the training ground."
"It was a disappointing match for me because we faded so badly in the second half.
"It's our first defeat in six games, but I've let the players know what I feel about it.
"I know it's different because it was a semi-festive occasion, but we played with a sort of semi-festive attitude.
"We had too many people today playing negative football and I have said to them: 'Don't go home and think everything is alright, because it isn't."
New Boy Laurent Robert spoke to the press and said:
"I thought I did not do too badly against Athletic Bilbao but I really can do a lot better.
"Don't forget I went into Saturday's game with just a couple of days of training with my new colleagues and I think it showed.
"What I need now is time for them to get to know me and for me to get to know them.
"And when this happens you will see a different Laurent Robert to the one you saw on Saturday.
"I have been carrying a bit of a foot injury and it is better that I stay behind for a bit of treatment so that I am fully fit for Sunday."
Jupp Heynckes:


Last 5 testimonials at SJP:
| | | |
| --- | --- | --- |
| Year | Player | Crowd |
| 2001 | Robert Lee | 18,189 |
| 1999 | Peter Beardsley | 36,773 |
| 1992 | John Anderson | 13,780 |
| 1989 | Kenny Wharton | 20,899 |
| 1984 | Kevin Keegan | 36,772 |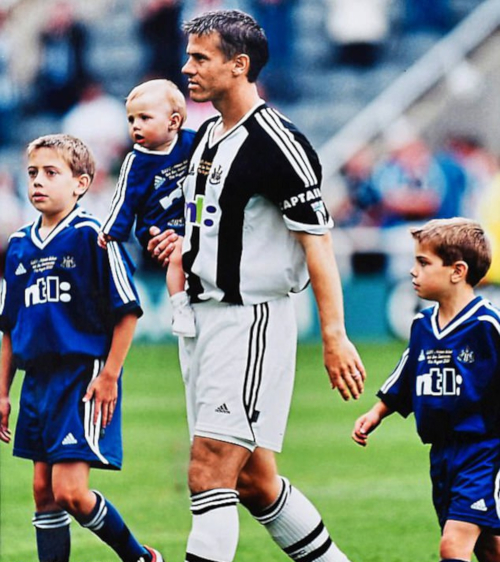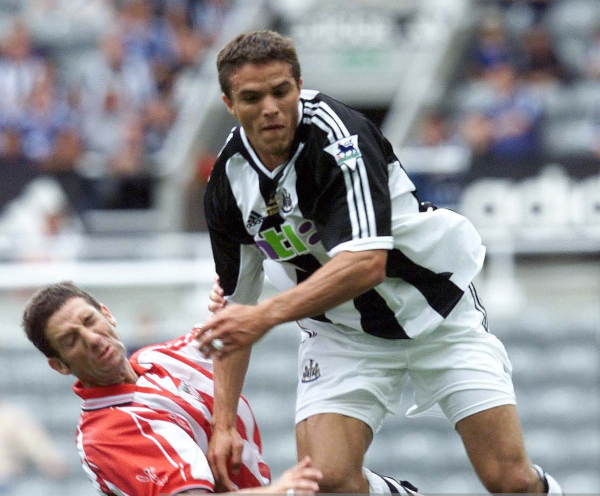 Before I'm pursued by East End Villains and the Campaign for Real Robert Lee, can I just say that I was at his debut (v Boro League Cup, nowts apiece), toasted his Antwerp treble in a Belgian fountain and still have bruises on my knees from when he scored at Wembley. I salute the gallant effort that the lad has made to our cause, and consider him possibly the second greatest adopted London Geordie after the Duke of Ferdinandshire.

However....

A more po-faced miserable excuse for a testimonial I have never witnessed, at a bargain price of only £20. Presumably this is what these events are like when the elder statesman of the Dinamo Tirana team packs in: no frills, no entertainment and a rush to shut the gates before the Albania leccy board flick the switch for the night.

While it was unfortunate that Lee couldn't agree to get a top-class side like Barcelona (who oddly enough found Derby County and Blackburn Rovers willing to meet their terms over the weekend), the ticket price nonsense was a genuine own goal.

Put simply, the decision to pitch the prices a fiver above the Intertoto rate was brainless - only the truly committed would pay more to see a game where nothing was at stake than a delicately poised contest that promised a UEFA Cup place to the victors.

Under those circumstances it was a testament to our loyalty/foolhardiness that just over 18,000 punters showed up - the Basque side bringing far less than 189 fans, so few in fact that there wasn't even an away "end", the Bilbao lads and lasses mingled happily in the stands with the locals.

Pre-match rumours of special guests proved to be false, save for a sprinkling of patrons who wandered in and sat in the Milburn posh seats. While some banter with adjacent paying customers was reported, for the rest of the ground it was the usual dodgy PA system, and presumably in recompense for the non-appearing Robbie Williams, the B side of his latest single. Gosh, thanks.

Kickoff time approached with scarcely a murmur, save for the late arrivals who all seemed to have been sold tickets in the East Stand, which was almost full, in stark contrast to the Gallowgate and Milburn Upper stands.

If the name of the game was maximising earnings, surely a couple of hundred quid could have been saved by closing Level 7 and laying off a few of the bored-looking stewards who had barely a handful of fans to look after.

At 2.45ish. an announcement was made that the kickoff had been delayed due to crowd congestion (a queue of people buying tickets had been snaking past the main entrance at 2.30pm - why they couldn't have paid at a turnstile directly is a mystery known only to the United ticket office.) However, with no noticeable boost to the numbers inside the ground by the time the game did start, maybe the old joke about someone ringing to ascertain kickoff and being asked when they could get here had become reality.....
A solitary concession to razzmatazz came with the US-style introduction of the players one by one, which at least woke the crowd up. Of course the beneficiary of the day was last to appear, and was richly applauded.
Early indications were that United seemed up for the contest, with Solano, Robert and Ameobi all turning tricks in early forays forward as the toon attacked the Leazes end. However, as the afternoon wore on, the pace and the interest slackened.

New boy Robert was clearly in the mood to impress, with a couple of dribbling runs and a rocket free kick reminiscent of a certain other left-sided Frenchman (no, not Olivier Bernard...) The interval duly arrived with not a great deal to show for the afternoon's work, but at least some solace that the visiting goalkeeper had been called into action.

The half-time entertainment then unfolded in suitably odd fashion. Some muffled announcement and a brief round of applause heralded the arrival of a bloke with a microphone accompanied by a chap carrying a football but not dressed to do anything with it (my companion speculated he was wearing hush puppies, while I had a fancy for gentleman's brogues.)

Strangely enough there didn't appear to be a goalkeeper for what was shaping up to be a decidedly odd penalty shootout. It was only then that the awful truth dawned, when in a rare moment of clarity the chap with the microphone announced that his partner's task was to bounce the football off the Gallowgate end crossbar twice. His prize? a Mini Cooper car. Problem was that he had to do it from only three attempts, and from the edge of the area...., the bloke stood more chance of winning Tommy Cooper.....

As most of the current professionals at United would struggle to accomplish this feat, you won't be shocked when I tell you that our man failed, and his first two efforts passed below the bar and nestled in the back of the net - in itself a feat that has proved most difficult for United players, especially in penalty shootouts.

An apparent strict adherence with the rules in a Fairs Cup style (Pecsi Dosza away - ask your dad) meant that a third and now even more futile attempt to hit the bar had to be made, and to his great credit, the failed contestant battered the ball over the bar into the Gallowgate end, a' la Peter Withe and Mirandinha.

Back to the action then, such as it was, and a second half as grim and uneventful as any in living memory. Even the star of the show in the number seven shirt looked bored, and wandered off just after the hour mark. By then United were one behind to a goal as scruffy as the match it graced.

Lee's departure from the field also woke the crowd up again, coming as it did at the same time as Marcelino returned to the fray. To say his arrival marginalised fans was something of an understatement, his entrance to field being greeted by a fairly widespread chorus of booing, but first challenge and pass winning a warm round of applause.

Some residual goodwill may still be felt towards the Spaniard by a section of the crowd for some mysterious reason, but such was the paucity of entertainment that those in the ground would have cheered the arrival of Peytar Reid - I wasn't fooled and I suspect the player wasn't either. Walls will have to be run through before I'm convinced as to the sincerity of Martha.

Eventually the ref ended this god-forsaken spectacle, and for many fans the chief business of the afternoon began. The ovation which greeted Lee as he was substituted was equalled and bettered, as he was deservedly applauded for his services to the black and white shirt by all four sides of the ground. A presentation to mark the occasion was made by the Bilbao captain, and Bobby Robson also strode on to the pitch amidst great support to hand over some other commemorative trinket.

Lee then picked up a microphone to give a brief thank you to the crowd before embarking on a lap of honour clutching his youngest son (which I understand now to be compulsory under FA legislation). He was accompanied by his other two lads, who, clad in the new away strip, had acted as mascots for their dad.
Actually lap of honour is an overstatement: it was was more of a slightly elongated circuit of the centre circle and Lee was soon off down the tunnel - was it a farewell? The player has been quoted as saying he'd like another year after this one (which would make it a proper ten years.) However, talk of a move to join his mentor Kevin Keegan at Maine Road continues to circulate - watch this space.

So, yet another curmudgeonly match report from NUFC.com, and an inauspicious warm up to the new season.

While we continue to wait for millions of pounds of talent to regain match fitness, doubts remain about our ability to compete with anything other than the other also-rans of the Premiership. New boy Robert showed enough to suggest some optimism for service down the left, but had he not turned out this would have been thin fare indeed. From a playing point of view, this game did us no favours, aside from an introduction to his colleagues for Robert and a reminder to Robert Robson of the shortcomings of his squad - Speed was unable to play and Shola went off injured at halftime.
Lee himself mentioned the recent Man United v Celtic game for Ryan Giggs, which certainly seemed far more of an event than our Bilbao game. However, let's not forget that both Giggs and Lee have made sure that their loyalty to their respective Uniteds' has been recognised in the contractual negotiations conducted to keep them at the club.

Even taking that into account, the fact remains that Old Trafford housed as many Celts in the 67,000 crowd that night as toon fans on Saturday, lured by their toon-like tradition / gullibility and the prospect of seeing a fiercely-contested game which had a genuine edge to it. They got it, while the home fans got some old faces (a certain Mr Cantona) and of course the little matter of a nice big Premiership trophy to accompany Ryan's lap of honour.

I'm sure Lee is as gutted as I am that he never got his hands on a proper trophy during his toon career, but the fact remains that it's still Bobby Moncur who holds that particular distinction. Actually, the presence of Bilbao seemed symbolic to my mind, given that there had been a ham-fisted attempt to evoke the spirit of the UEFA cup tie - two ties that will live long in the memory, but which we lost. Proof to me at least that the result doesn't always matter if other factors are right....
Cast your mind back to the Beardsley game against the boys from Parkhead. Certainly an occasion, but as much for the events of the evening, not just honouring the beneficiary but seeing Cole, Gazza, Keegan and even bloody Albert Craig do it just one more time in the shirt. Even the McCoist game at Ibrox we played in was a rattling good affair, enjoyed by players and fans of both sides, and played with genuine passion.

Want another example? Stuart Pearce at Forest - we'd just blown the league but a good night was had, not knowing that the beneficiary would end up in our colours. Keegan and McDermott again turned out, the Forest keeper Crossley played up front, Psycho got a fat cheque and everyone went home feeling a little bit better than before.
While Lee's game was an allegedly serious pre-season workout, but even an old gits kickabout beforehand would have been been welcome.
Going back to the whole argument of testimonials, without raking over the money aspect too much, it has to be said that this game was just a match too far. For the career of one of the best post-war players this club has had to be commemorated like this was just sad.
With a seeming lack of effort put into anything except the well-presented programme, this game for me just seemed like a cynical cash-grabbing exercise. If the lower than expected audience proved one thing, it's that we're not always as daft as people think we are.

Twice as many people at half the price would have surely been a better option all round, along with at least a pretence of offering something approaching entertainment to the audience, at least during the 90 minutes if not at any other time.

Let's leave the last word to Robert Lee, who said, "It's down to the fans. If they think a player is not deserving of a testimonial, they won't turn up." You got your answer.
Enough - let the real stuff commence.
Biffa

Back to Main Page