| | |
| --- | --- |
| Roy Keane's red card brought to you in association with a Ginsters Prawn Sandwich | |

Date: Sat 15th September 2001, 3.00pm

Venue: St. James' Park

Conditions: Euphoric.




Newcastle United
4 - 3
Man United
Teams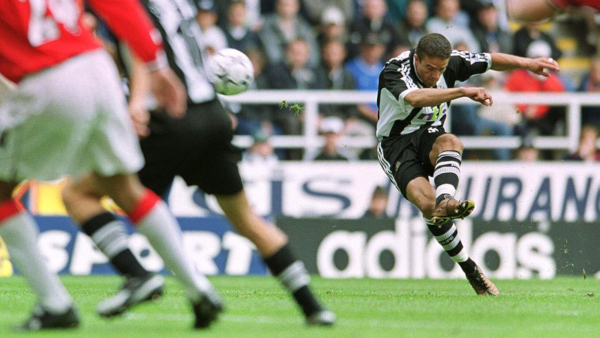 5 mins Alan Shearer was fouled by Blanc on the right side about ten yards away from the edge of the box. Laurent Robert stepped up and curled the perfect free-kick over the wall and into the top right corner of Barthez's goal at the Leazes End. 1-0
29 mins A cross into our box found Cole's head and when he nodded across to van Nistelrooy the Dutchman controlled, turned and shot in one swift movement. 1-1
34 mins Rob Lee was allowed time and space to approach their box straight through the middle. His shot had power but should have been comfortable enough for Barthez to gather. Inexplicably the French keeper misjudged it and stuck out a leg that only succeeded in diverting the ball into the roof of the net. 2-1
Half time: Newcastle 2 Manchester United 1
51 mins A right wing corner was half cleared to Robert who hit the ball goalwards. The ball hit a defender and landed at the feet of Nicos Dabizas. He knocked it forward and then lashed it past Barthez in the Gallowgate goal. 3-1
62 mins A cross from the right found Giggs unmarked on the edge of the Newcastle box and a right-footed shot into the corner beat Shay Given comfortably. 3-2
64 mins Veron volleyed a deflected clearance past the Magpies goalkeeper from much the same position as the Giggs goal. 3-3
83 mins Bellamy strode forward and played a perfect ball into the path of Solano but as in injury time against the mackems, Nobby's shot was weak. Barthez cleared as far as Shearer who drilled in a shot destined for the far corner. Wes Brown stuck out a leg but couldn't prevent the ball finding its target.

Subsequently the FA Committee who dictate such things ruled that the goal was Brown's. 4-3
Full time: Newcastle 4 Man United 3
Uncle Bobby said:
"It was an absolute belter of a game. It had everything, really.
"What do you need in a match? You need spills and thrills and goals at both ends, and the game was on a knife edge. It was such a remarkable game.
"They do come along every now and then - the more times the better, of course.
"When you see a Premiership game of football like that it can be the best view you can ever have of a game, and both sets of players deserve praise."
"That game was a dazzler for sure. You saw the spirit and motivation of the club today. They had chances and we had chances. It could have ended 6-6.
'The key was not being afraid of them. We said before the game we could win and we believed in ourselves. At 3-3 it was two very good teams at each other's throats."
About Keane's dismissal:
"He got sent off here two years ago. It's just sad because he's a fantastic player. He's just got to hold his ground - but he's such a fiery player, how can you do that?"
Fergie said:
"Giving credit to Newcastle, I think that when you have a go at United like that with the two wide players and the pace of Bellamy through the middle, there's an intent about them - and I think it's difficult to handle.
"A lot of teams will find that coming up here, and the passion of the crowd helps them also.
"Getting off to the start we did doesn't help. There wasn't a lot we could do with that strike because it was superbly hit. But we got back to 1-1 and we could have gone in front after that.
"But when you score three goals away from home you should never lose a game. In fact, I thought we were sure to win the game.
"But credit to them, they kept producing moments from their front players which caused us bother. It's a disappointing result for us - but we've always found it quite difficult playing up here."
About Keane's departure:
"I spoke to Roy and Gary Neville, who were nearest it, and they said Shearer stopped them taking a throw-in.
"But that's to be expected. Players are always going to waste time when you're up with a minute to go. He left the referee with no option, I felt.
"He gets three games for that red card, and you see some things that go on in the game of football. It makes it all so stupid.
"You get players elbowing opponents who get one match. It's quite amazing. He was sent off for throwing the ball.
"I don't think it's a serious offence, but in the last minute of the game the crowd are going to force the referee into a situation like that. A home player would probably not have been sent off."
100 games up for Bobby, meaning his record as toon manager now stands at:

Played: 100 Won: 44 Drew: 27 Lost: 29

Laurent Robert's opening cracker was the 200th goal we've notched against the red enemy in all competitions.

It's now 13 games unbeaten for Bobby's boys, and 3 unbeaten at home in succession against Man Utd (3-0, 1-1, 4-3 in chronological order.)

Sylvain Distin became the 92nd player to appear for Newcastle in the Premiership - even though he didn't actually touch the ball.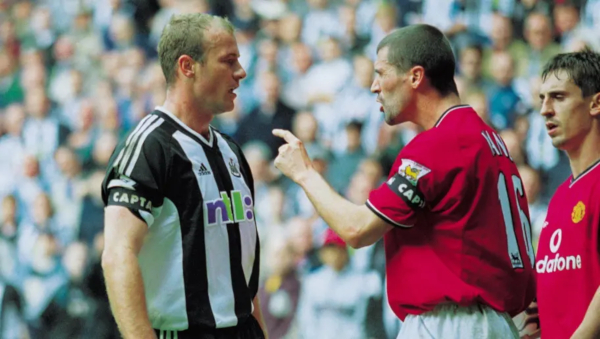 (Aptly named this time out - not for us a deconstruction of the formation or snide remarks about how RvN looks like that English tennis player with the American accent. Instead pure stream of consciousness nonsense, straight from the optics, no mixer.)
Game summary: Robert out-Beckhamed Beckham, Bellamy ran like the wind, Given rode his luck and justified his selection. Lee and Acuna wore holes in centre field with their tireless harrying. Shearer was Shearer, Elliott was something approaching the old Elliott and Griffin was 1000% better than Wednesday. O'Brien and Dabizas just about held out despite threatening to buckle when Scholes appeared, and Solano wasn't quite at the races but still played his part.

PS: the absence of Bassedas from the bench may prove symbolic - Bobby preferring two defenders and two forwards as cover for his team and leaving an alleged international midfielder kicking his heels. After his disgraceful non-performance on Wednesday, it was hopefully his arse that was kicked....
Three times in a week we've notched four goals, three times we've recorded victories, and three times the bright-eyed and ebullient figure of Bobby Robson has appeared before the TV cameras. However, while the wins against Boro and Brentford were welcome, if slightly predictable, then this titanic accomplishment was the one that really mattered, to him and us. It's always nice to beat them lot on a one-off basis, notwithstanding the fact that they invariably have the last laugh....

The pressures on Robson are as much self-imposed as they are thrust on him by the demanding audience of Newcastle fans and critics. For a bloke of any age to take on the responsibility is a mammoth task requiring a curious mixture of vanity, confidence and ambition. For someone of pensionable age it's downright barmy.

Maybe it's just that he wanted to see things right at his "own" club and being a fan, was as sick as we were of moody Dutchmen waging their own jealous wars on the playing staff and miserable jocks heading for the golf course at the first sign of bother.
Recent events had seemed to be getting the old boy down, with pre-season fixture and injury frustrations culminating in his embittered reaction to the departure of his confidante Wadsworth. Something needed to be done to restore his faith, and as most of those present on Saturday would concur, what goes on in the green heart of St.James' Park is all that matters. The smile of Robson's face at 5pm showed he felt the same as those people toasting his team in nearby ale houses.

Supporters' moans and whines about the shortcomings of the board and everything from the colour of the away strip to the beefiness of the bovril seem to melt away when the product on the field is right. For 90 minutes last Saturday it was damn near perfect.

Alan Shearer was spot on when he said post-match that in a way this 4-3 victory was better than the famous 5-0 battering of the same opponents. The very essence of Newcastle United isn't in strolling to big scores, it's in battling for every kick and inch of ground and triumphing with a bit a style, allied to tenacious competitiveness. It's not being smug and conceited like the global occupants of the Milburn upper corner, and it certainly isn't in acting like a flouncing ponce when your side is losing, Roy.
No amount of painted faces and stylised fizzy pop commercials will change that. This place we love should be a snarling bearpit not a bloody library. The team has to inspire the fans off their collective arses now the thought police demand we sit down. Intimidation should be our middle name, not hoying bottles or petrol bombs, just good old-fashioned fervour, appreciation, support and noise. 50,000 people paying their hard-earned demand a certain level of performance and effort. If that is forthcoming, the response from the Geordies can be awe-inspiring.
Being labelled "the entertainers" a few years ago was in tribute to our crowd-pleasing ability, despite the fact we never won owt. For every 5-0 there was a 4-3 loss. Whether we can ever anchor the cut and thrust of an attacking force to a bedrock of defence is debatable, but after some of the crap we've lived through post-Keegan, this season's entertainment so far is long overdue. Bellamy and Robert have played a handful of games between them for Newcastle, but already have started to cotton on to what it's all about up here - the Silvio's and Andre-arses of this world didn't.
Let's just hope that we can keep the run and form going, along with that all-important slice of good fortune. Dyer and Cort will return at some stage, it would be nice not to be pinning our hopes on them to salvage our season in the way we were earlier this year. At the very least, our unbeaten run is winning the points to keep us away from the bottom of the table. A sense of proportion, as well as of the ridiculous is always required to watch this lot.
Given the utter unpredictability of the club, Bobby may not see too many more days like this one.

In the absence of that elusive trophy, this result stands as a monument to the manager: his motivation, his tactics, his purchases. Who knows whether this is a one-off or the start of something more substantial - we might know a little more next Sunday night, after we've done battle with dirty don and the cockney curse.
Biffa