Date: Sunday 23rd September 2001, 4.00pm.
Live on Sky Sports

Venue: Boleyn Ground

Conditions: Grim. Occasional rain showers in
the first half - black clouds above the travelling
team, fans and manager from the outset.

Admission: £tbc

Programme: £tbc




West Ham
3 - 0
Newcastle United
Teams
18 mins: A needlessly-conceded corner was played short to Courtois on the right of the Newcastle area. The Frenchman sent over a cross that Don Hutchison headed in from close range amidst a pack of players from both sides.

Having scored right in front of the away fans, who had been serenading him to the strains of "greedy mackem bastard", he rather unwisely dwelt in front of them. Fortunately (for him) nobody broke ranks to engage him in erm....conversation. 0-1

Half time: West Ham 1 Newcastle 0

53 mins: Paolo Di Canio was on target to the delight of home fans, controlling Dailly's raking pass just over halfway and powering past a helpless Barton before beating Given with a low shot into the bottom right corner of the net.

The goalscorer alternately wore and carried a stars and stripes armband round the pitch in tribute to the victims of US terrorist atrocities. 0-2
82 mins: Hutchison and Robert Lee tangled on the right hand side of the United area as they attempted to control a Di Canio flick, allowing Kanoute to seize on the loose ball and finish without much trouble at all. 0-3
Full time: West Ham 3 Newcastle 0
Uncle Bobby spoke about the Capital Curse and our continued failure to overcome it:

"Of course we've tried, but sometimes we haven't had the team to do it.
"The Premiership is a tough task and it isn't easy to go to Arsenal or Tottenham or Chelsea or indeed West Ham and win. There's a competition between all the clubs to be the best and the strongest club in London. Chelsea are always trying to master Arsenal and so on, and now we have Fulham as well.
"We're aware of our record and we're trying to put it right, but it's not as easy as that."

On the omission of Andy Griffin:

"It was a hard decision to make between Barton and Griffin and I did what I thought was right. Barton has been doing very well for us and he was in the team. Griffin came in against Brentford and did very well against Manchester United last Saturday.
"It was in my mind to play Griffin against Leicester City on Wednesday but he will be in anyway now. We have three games in a week and I was just trying to spread things around a little bit.
"Barton was injured just before half-time and we sent him out for the second half to see how he could cope but he got caught out by a long diagonal ball.
"He was isolated against Di Canio and because of his hip and back problems he could not twist and turn and Di Canio scored a wonderful goal. It was the goal of an artist.
"Compared with our win over Manchester United we were poor and there is no doubt West Ham deserved to win.
"They won every personal and individual battle on the field even though I thought Alan Shearer and Craig Bellamy did very well with limited service.
"I just do not know why we do not do well in London. It is something we have talked out and rallied and geed up our players but we still lost.
"We felt that there was never a better time for us to win in London. West Ham were bottom of the table and they were a bit nervous.
"And if we had got that early penalty nobody knows what the result might have been, but at the end of the day in my eyes 3-0 is a drubbing."
Hammers boss Glenn Roeder said:

"I watched the two videos of Newcastle's games with Middlesbrough and Manchester United.

Against Middlesbrough I thought they were most impressive after the penalty and the first 30 minutes and in a high-tempo game against Manchester United I thought Newcastle were stunning and obviously this was a concern to us because we were their next opponents.
"I chopped this video down to about 20 to 25 minutes to everything that is good about Newcastle United and I showed it to my players on Saturday morning - not to scare them but to make them realise the sort of quality players we were playing against on Sunday and they did the job.
"I thought my players were right up for it and on the day I don't think anyone can begrudge us our win. But I must say that I thought we beat a good team yesterday."
Asked about the penalty:
"These things happen all the time in football, but after a team has won 3-0, the other side cannot really have too many complaints. This was our first win and now that we are up and running and Sunday's game is over

" I can get back to looking at Newcastle as a fan again, and it goes without saying I'm looking forward to going back up to St James's Park at the end of April."
Assistant boss and fellow former Magpie Paul Goddard commented:

"It was a great team performance, some excellent goals, and a win. It was very much needed and we are all very pleased about it. We've had five games with four good performances and one disappointing one, which was last week at Middlesbrough.

"Unfortunately we hadn't scored goals until yesterday and people have harped on about that. But with the quality we have got we were never worried that we weren't going to score some.

"You might say that Newcastle beat Manchester United last week and will be disappointed by the loss against us. That is football, that is the motivation side of things, and that is why Manchester United stay at the top, by getting themselves up for home and away games.

"It's very important that we go into next week's game at the same level."

Asked about the penalty he said:

"It was a long way away, and I think you always judge by the reactions of people.

"Our players around reacted by showing that they thought he just went over for no reason. I don't think many of their players thought it was a penalty either - it was too far away to tell."

"The first goal was very important; you could just sense we were a bit edgy until then, and the second one seals it a little bit. It was a great ball from Christian and then Paolo, unusually for him, shot early when normally he likes to drag it a little bit.
.
"It just gives you that bit of breathing space and a platform to go on and win the game well. I'm pleased for Fredi to get the third; he is not totally tuned in yet but he can only get better and we are a better team when he is playing."
Our 26th consecutive failure to win in London, and the end of our 14 game unbeaten run. We matched the score that we lost by in our previous defeat, at Liverpool in May.

Our fourth consecutive defeat at West Ham - goals for: 1 goals against: 7

Dirty Don Hutchison last played in a side that was defeated by Newcastle in March 1999, when his Everton side were beaten 4-1 at St.James' in the FA Cup.

Since then, he's registered six games unbeaten against us (two for Everton, three for the mackems, one for West Ham).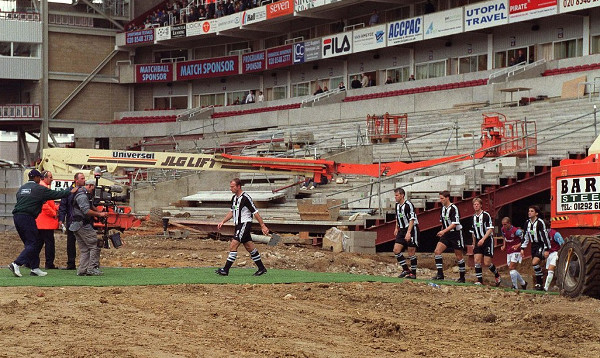 It's difficult to rake over the ashes of a game when the only good things to take from it were that we only conceded three and the suffering toon fans who travelled and tuned in have one less London game to endure this season.

No doubt part of the problem was that we were universally proclaimed as champions of the world after our 4-3 win last week. The players seemed to have disobeyed the words of political rappers public enemy and believed the hype.

By contrast, the toon fans were comparatively subdued even before kickoff, obviously sensing a good old fashioned false dawn when they see one.

Not one player can honestly say they won their personal battle against their opposite number except Given, who had to make more stops than Shaka at the other end (who was, as usual, warmly applauded by the Toon fans.)

In every other department we were short-handed on concentration, guile, team play and general spirit. In fact, not too different to the pre-penalty display at Boro.

Claim and counter-claim about the Griffin / Barton situation will continue to reverberate, but in truth Elliott's laughable attempts at passing and Dabizas in first half fanny-about mode was as depressing as the poorness of the right back performance.
It's all turned to the proverbial again, as we feared it would. However, two home games in a week provide the ideal opportunity to bounce back, and we haven't got a London game until later this year......
Here's a reader rant that hits at least some deserved targets:

"Just to say that I think Robson's response to yesterday's defeat at West Ham was completely wrong. It's no use whinging on about a supposed penalty when the defence is so obviously inadequate.

"Everyone knows that this is the real problem for the Toon and has been for a number of years.

"So far I am yet to meet anybody outside of Tyneside who does not consider Warren Barton to be the worst defender in the Premiership. For example, his record of most missed passes, last season, was the highest amongst any other player in the division; according to Carling Opta.

"Dabizas is also prone to errors and this can be seen every time the team plays against quick thinking/moving forwards. For example look at his performances against Michael Owen, 9 goals plundered in 6 head to heads!

"Given may be a brilliant shot stopper but is small and has no confidence in his box rarely leaving his line; have a look at Poyet's goal in the FA cup semi for a good example. If you add that to his poor distribution, cack-handed punching and bouts of the wobbles you get the picture.

"Collectively this adds up to the worst defence in the Premiership. That is 3 clean sheets in over 40 Premiership games, including a run of over thirty last season. This is far and away the worst defending in the division and that includes every team relegated in the 9 years of the Premier."

Don't blame the Ref Bobby.

Have a look at your own selections and ask yourself why?

long suffering magpie