Date: Tuesday 9th October 2001, 7.45pm.

Venue: Oakwell

Conditions: Mild, in stark contrast to some dirty nights we've endured on this ground.












Barnsley
0 - 1
Newcastle United
Teams
Half time: Barnsley 0 Newcastle 0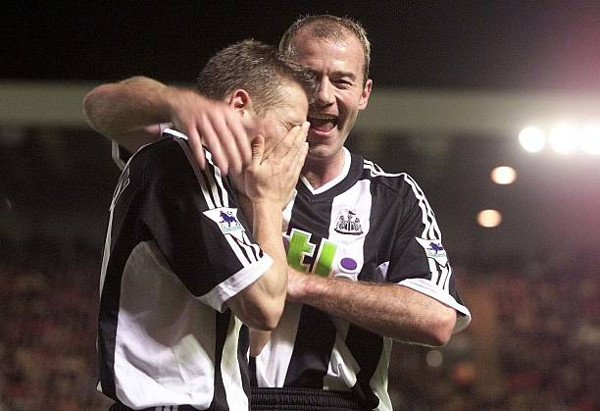 79 mins: Olivier Bernard and Laurent Robert linked up down the Newcastle left, with the latter controlling the ball and cutting inside. His cross into the box found Craig Bellamy who finished from 10 yards. 1-0
Full time: Barnsley 0 Newcastle 1
SBR on Craig Bellamy, whom he considered leaving out after his international exploits:
"I'm glad I kept him in - he made things difficult for Barnsley with his explosive pace and he's on fire at the moment.
"When a player is in form it's hard to leave him out and Craig didn't want to miss the game.
"He looked very penetrative all night and he's done so well for us in the last few weeks.
"Even so, he's not a big, strong striker in the Alan Shearer mould and I must admit I thought about resting him after his exploits at the weekend."
About Andy O'Brien:
"I thought Andy was superb. It's amazing to think he has 10 years at this club and then some. I'm only worried about the first 10 years because I probably won't be around after that!
"It was nice for (Sylvain) Distin to be able to play alongside such an assured defender and I thought Andy was terrific.
"It was his best game in a black-and-white shirt but the true test will be whether he can repeat that kind of performance against Henry and Bergkamp, or Rebrov and Sheringham.
"As it is, I have a very pleasant selection problem ahead of the Bolton game on Saturday, with a rested Nikos Dabizas to come back and O'Brien and Distin in such good form."
About man of the match, Olivier Bernard:
"Olivier is going to be great for us. He's powerful, quick and impressive in the air and I think we have unearthed a special player.

"I know Robbie is desperate to play against his former club but Olivier has done his chances no harm at all. I didn't think this tie would be settled by a single goal before the game but as both teams created and missed chances it looked more and more like it would finish that way.

"After 20 minutes I said to John Carver that one goal would win it, and I thought we deserved to score that goal."
Barnsley boss Nigel Spackman was refreshingly honest:

"I wouldn't say it was the best performance this season but it was a very good performance.

"We have now got to take it on into our next league game and if we can show the same attitude and commitment and some of the football then we will move away from the foot of the table.

"The players have set themselves a high standard today and they have to maintain that but unfortunately the result was wrong for us and good luck to Newcastle.

"I thought they played well and caused us some problems at times.

"The new players played very good football coming in against a Premiership side and it is hard enough going into any game but to play against Newcastle was very tough on them – Peter Sand in the end found the pace of the game a little too much for him and Chris Lumsdon did very well, he got on he ball and organised things but tired towards the end which was expected.

"Even for the rest of the players playing against quality players is a step up and playing against the likes of Shearer is very difficult for them.

"I think we adapted well and put on a good performance.

"We could have gone in front early on and could have had the chance to win the game.

"If that had gone in it would have given us a good chance of holding on and going through but when Craig Bellamy scored in the 80th minute we found it difficult to get back into the game.

"Overall I think Newcastle had the better chances and deserved it.

"Andy Marriott has played very well since he has come into the team and tonight was no different.

"In the first half he made two or three very good saves and you think it is just one of those night where you won't get beaten, but we got beat late on and it was a good finish by Bellamy."
The first time Bobby didn't use any of his five substitutes in 2001. The last time was against Leeds at Gallowgate on Boxing Day, 2000. This could be a good sign in that he didn't make changes for the sake of it, although he may have forgotten that they were there at all....

Steve Harper claimed his first clean sheet of the year, his last coming when we overcame Leyton Orient 2-0 at St.James' in the same competition back in September 2000.

Bellamy's goal meant that he became the first toon player to register goals in consecutive League Cup ties since Les Ferdinand in 1995/96 (Bristol City at home, Stoke away.)

Craig also moves into the table of top scorers in this competition, his four goals putting him equal fifth, along with Peter Beardsley, Alan Shearer, Mickey Burns and Paul Cannell.

The record number of goals by a Newcastle player during one season of League Cup competition is Alan Gowling's 7 in season 1975/76.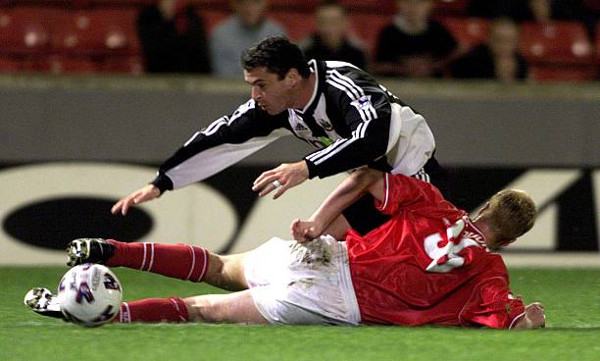 This was almost like old times for Newcastle fans, a large contingent of away travellers having a comparatively short journey and many opting to enjoy the delights of the local hostelries from the early afternoon.

With every white transit in the North East seemingly bound for Yorkshire, all it needed to complete the illusion of days previous was the Piranhas on the PA system and some chanting related to the miners strike...
Even the admission prices were nearly old-fashioned, with a fair few folk taking advantage of the rare chance to pay on the gate for a first team game. Thankfully our hosts had redeveloped their inhospitable away end and at least some people took advantage of the seats installed.

They also appeared to have discovered inside toilets since we were last in these parts.

What atmosphere there was to be had in Oakwell mostly came from the toon fans, although the occasional shout from the home ranks would have been more substantial had Olivier Bernard not been on hand to clear the ball off the line in the opening moments of the first half.

After surviving that little heart-stopping moment, United then weren't seriously tested before the break, and managed to slice open the Barnsley rearguard twice, both Bellamy and Robert forcing saves from Marriott in one on one's.

Robert also ruined some neat work by twisting into space only to launch his shot high into the night sky, while Alan Shearer claimed a penalty after both he and a defender tumbled inside the box. TV replays later showed that his appeal was highly optimistic, but given that he was booked later in the game for a late tackle, it's as well that the referee ignored his foul-mouthed reaction to not being awarded the spot kick.

At the back, our latest defensive pairing of Distin and O'Brien did reasonably well against a willing but somewhat lack-lustre forward line. The Frenchman earned the applause of the away fans in his first Newcastle start for a handful of timely interceptions and hefty clearances, if not for his variable passing.

From what he's shown so far, his heading ability is a major part of his game, and for a big lad he has a fair turn of pace. Purists would comment that he wasn't facing a very potent threat and some of his best work was in clearing up scrapes he'd contributed to, but it's so far so good as he adjusts to a new set of colleagues and the pace and style of football in a foreign land.

Equally deserving of praise was his fellow countryman Olivier Bernard, almost unrecognisable from the player we belatedly introduced to the reserves nearly a year ago. On that cold December night at St.Helen's we commented after his debut against the Liverpool stiffs:

"The introduction of Bernard at left back certainly livened up the flank for United, and his performance included some immaculately timed and executed tackles, astute passes and a mazy dribble....there's definitely something about him that deserves a second look, and some undoubted potential...."

Well, after a year in which he's gone from being part of a French colony to the sole representative at the toon and back again, and tasted life in the basement with Darlington, he continues to show the same attributes allied with a willingness to get stuck in and a desire to succeed.

At the risk of offending the Geordie Nation party, he's impressed more this season in my opinion than the returning Robbie Elliott, who still seems to be finding his feet back in the top level.

Both players cost precisely nowt in transfers, but the younger Frenchman looks a better prospect at this stage, and deserves the chance to stake a claim in the Premiership side. His pre-season performances in low-key games at Ashington and Queen of the South showed that he wanted to impress the watching Robson, and earn an extension to the contract that expires this season.

After rewarding him with a cameo role in the Intertoto and then a debut in this game, he obviously still has a lot to learn, especially in defence, but has shown enough to make all the red tape and bureaucracy that club and player endured to prise him away from his previous club Lyon worthwhile.

Back to the action, and the second half unfolded in similar fashion to the first, with Barnsley showing slightly more in front of goal and forcing Harper into a couple of decent stops.

However, gaps again appeared in the opposition ranks when we won the ball in midfield, and with increasing contributions from Solano and Robert as the game went on, chances continued to come and go. Distin joined the attack and went close on two occasions, while Shearer sent one swerving shot just past the post. It has to be said though, that we failed to test the keeper as we had done before the break.

Although the deadlock remained unbroken, with only a slight threat from Barnsley an air of calmness remained amongst the toon fans, extra time again looking as if it would be required for us to take the tie.
Eventually however it was the livewire Bellamy who scored the all-important goal to his obvious relief, having previously ballsed up a great opportunity right in front of the away end. Some rough treatment by home defenders had also gone unpunished by the referee, and the Welshman was deservedly cheered by the toon fans for another committed display.

He could have had another treble to put alongside his Brentford haul, but despite earlier misses he was in the right place to claim the one that mattered.

While it's perhaps unjust to criticise tactics in a winning side, United had cause to be grateful for the absence of extra time (and the dreaded penalties), with both Lee and Shearer having put in hard shifts and Speed returning from injury. As it is, 90 midweek minutes on players of a certain age are bound to take their toll, and although we won it with a late goal, there's a reasonable case for questioning why subs weren't employed.

Shearer was in uninspired form, and another opportunity to give him a break wasn't taken, meaning that once again Shola Ameobi sat on the bench. With the decision being taken not to play him in the reserves, since Shearer returned to service in late August, the understudy has only had the Brentford game as a runout from the start and stints of 9, 14, 3 and 17 minutes in the league are hardly an ideal return for a player learning his trade.

Still, the fact that we played most of our "stars" in the game demonstrates how seriously Bobby is taking this competition. With a chance of silverware and a European place up for grabs, Robson was obviously mindful of the circumstances that saw us slide out the competition at Birmingham in the previous two seasons, and now all of a sudden this competition loses it's Mickey-Mouseness and becomes a serious affair.

In conclusion, a relatively trouble-free victory, trees not pulled up, but useful performances from some shadow members of the squad and an all-too-rare continued interest in this competition as the year draws to a close.

Biffa