Brought to you by a Ginsters Buffet Bar, as we made a right meal of trying to beat these lot, ultimately lacking the power to open the damn wrapper.


Date: Mon 8th April 2002, 8.00pm.

Venue: St. James' Park

Conditions: Pleasant - if you were in the library. Noise abatement society in residence again.....




Newcastle United
1 - 1
Fulham
Teams
21 mins A goal which sprang from a period of Fulham pressure, with Laurent Robert nodding a pass into the path of Kieron Dyer. He who took advantage of a loose Fulham touch to gallop forward into space towards the left hand side of the box, steady himself
and tuck a low shot inside the far post despite Van der Sar getting his leg to it. 1-0
Half time: Newcastle 1 Fulham 0
75 mins A corner taken from the Milburn / Leazes flag was half-cleared to the edge of the box, falling to Sean Davis on the right flank. He half-volleyed it towards goal at crotch height and it hit Luis Saha on the thigh a couple of yards out to end up in the goal despite a ruck of players being on the line. 1-1
Full time: Newcastle 1 Fulham 1
Bobby Robson kept his players barricaded in the dressing room after the game before emerging to speak about the negative response from sections of the crowd:
"They forget how well we've played, I think.
"Everybody was so expectant here and everybody wants it so badly and we've had that type of reaction from the crowd, which I can understand.
"They pay their money and they want to see us win 3-0. But if we had won 1-0, I would have been really pleased.
"It's just a disappointment reaction from the crowd at the fact that we've dropped two points - but nobody was more disappointed than everybody connected with the club from the chairman downwards.
"It's a point and we've gone above Chelsea and we've got one game in hand to be played at Blackburn, so there's three points to be won."
"Everybody's wanting Craig Bellamy to play, but Craig Bellamy at the moment isn't in training. If you're not training, you can be fit medically and clinically, but not fit physically to play.
"We're in a frustrating period with Craig because we're trying to get him fit clinically and trying to look after his knee. And because we're looking after his knee, he can't train, he can't run. When he comes to go in, he'll go in like Kieron Dyer without any base high level of fitness.
"We'll just hope that he can go into a match and last enough and do well enough in a game to put us in a winning position."
Jean Tigana said:
"We showed a great improvement against Newcastle. We were strong and pressed and I think that is good for the next game. It is a fantastic game for us on Sunday and you can see the belief coming back.

"It was a very good point. It was important to get that as a minimum because we had lost seven of the previous eight games. It will be important for the confidence of the team."

"His performance (Saha) deserved a goal. He played very well and his only problem is in his head because he has big quality. Even one off his knee will help but it is the one time he has been lucky."

"We need to get back the confidence of the strikers and midfield because we created lots of chances but we did not arrive to score. It is a collective problem."

"People say the point at Newcastle might be enough but other teams might win their games and we must look after ourselves.

"I don't know how many points we need. The problem is now Ipswich's performance. "Four more points will be enough, I hope. I have never had a team at the bottom and sometimes you can't shout at your players when you are at the bottom.

"You have to learn together and it can be very frustrating sometimes, but for me it is still a fantastic experience."

"I ask my team to keep playing all the time but the question is one of confidence for the strikers and midfielders - It is normal because players have to learn, but it is difficult for me because we have a new team and when you are troubled inside it is difficult to play well."
Our failure to win Premiership matches against London-based clubs on Tyneside continues to undermine our progress in other areas: it's now only seven wins in twenty six attempts against cockney XI's.

97/98: W'don (1-3), Spurs (1-0), Arse (0-1), W.Ham (0-1), Palace (1-2), Chelsea (3-1)
98/99: Charlton (0-0), W.Ham (0-3), W'don (3-1), Chelsea (0-1), Arse (1-1), Spurs 1-1
99/00: W'don (3-3), Spurs (2-1), W.Ham (2-2), Chelsea (0-1), Arse (4-2)
00/01: Spurs (2-0), Chelsea (0-0), Charlton (0-1), W.Ham (2-1), Arse (0-0)
01/02: Spurs (0-2), Chelsea (1-2), Arse (0-2), Fulham (1-1),

We now have two remaining home games....against Charlton & West Ham. Oh goody.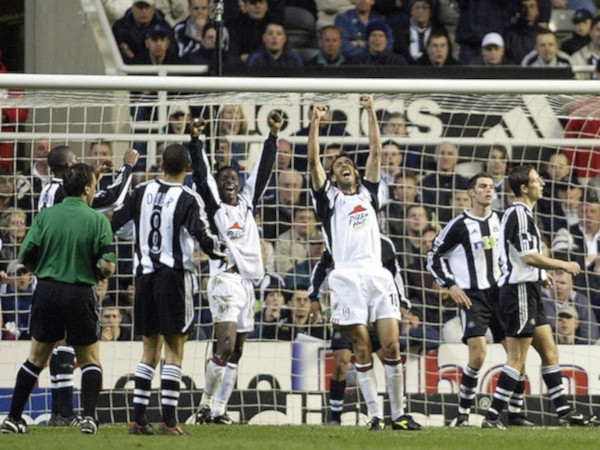 The Champions League has always been something of a misnomer ever since they allowed the runners-up of each division into the competition. So now that the top four of the Premiership can take on the cream of Europe, the name of the competition just looks ludicrous.

UEFA seem unlikely to revert back to making it a cup just for the winners of each country's league, so why not just change the name? After all, it used to be the European Cup when I was a lad.
But more threatening to the reputation of UEFA's blue ribbon event is that one of the sides playing in this game could actually take part in the Champions League. And to think it could be the one wearing black and white would probably break some sort of trade's description act.

Hopefully we'll be Champions of something in my lifetime but games like this will have to become dim and distant memories before we can ever dream of topping the English league.
As Bobby quite rightly pointed out, we have had a fantastic season and a UEFA spot is the minimum we deserve but our progress on the pitch seems to be like our play at the moment - one directional - and that direction is backward. The ability to break down teams through the midfield has seemingly evaporated and to simply blame the absence of Bellamy is ignoring the ten outfield players given the responsibility at the moment.
Our midfield is currently misfiring badly. Whichever permutation has been used in our current spell of point-dropping, the line-up on paper doesn't look bad. I think we'd all struggle to leave Dyer, Robert or Solano out of our starting elevens and with Speed returning, dropping Jenas to the bench must have been hard for Bobby.

However, a team with two out-and-out wingers who refuse to get stuck in leaves us looking very weak against teams like Fulham, Villa, Ipswich or even thinking back to Blackburn and Charlton.
Nobby Solano is not a shirker but despite what any Opta statistics may tell you, his tackling ability is negligible. Laurent Robert must also be one conceited individual to think that the odd free-kick and cross from the left can excuse a night of prancing up and down the touchline.

Not only does he not track back (apart from the odd token gesture) but his ability to lose the ball by running into the opposition is staggering. Whatever you thought of Ginola, he very rarely lost the ball, just his footing....
Kieron Dyer was probably the only black and white shirt-wearer who played with any purpose, strength or intelligence in this extremely forgettable encounter. That may be a bit harsh on Sylvain Distin who looked accomplished back in his central defensive role but as an attacking unit our six upfield players looked like they'd never met before.

Alan Shearer went into the game looking for his 200th Premiership goal but to be honest he had more chance of finding Osama Bin-Liner than the back of the net.

The vast majority of post-match column inches and comments during the game have been directed at Carl Cort. This is my limited view on the matter: The lad didn't have a good game, he knows that, Bobby knows that as does everyone in the crowd.

He's not looked particularly clever since his comeback from injury - again that's something which is stating the bleedin' obvious. But shattering the lad's confidence is about the only certain way of ensuring that whatever ability he has (and most grudgingly admit he has "got something") is sunk without a trace.
Whichever myth you'd like to believe about the "fantastic St. James' crowd" there's one thing which Newcastle fans have been exceptional at over the years - turning on their own players and hounding them out of the club. It goes on at most teams but we seem to do it in a particularly vicious and destructive fashion when someone's face doesn't fit. Did Cort play worse than Shearer? Did he put less effort in that Robert? Then why was he barracked from the first whistle to the last and jeered off the pitch?
What should Bobby do? While Bellamy nurses his knee we have no-one else to play up front with Shearer. Should we have started the game as we finished it, with Jenas and Dyer sort of supporting Shearer from a shambolic midfield formation? Should we play Robert through the middle? Should we give Michael Chopra his first start at the tender age of 18? Or should we play a £6m striker who has just returned from a catalogue of nasty injuries and who recently scored a cracking goal?
If we don't play Carl Cort then what do we do with him? Stick him back in the reserves to get match fit and confident? Err, we've already done that. Should we rest him until next season, shattering the little confidence he has left and heaping more pressure on his shoulders? Or should we just cut our losses and sell him? What price do you think we'd get? £2m perhaps, if we're lucky. The only option in my opinion is to play him until Bellamy returns and GET BEHIND THE LAD 100%. Anything else does him, the club AND OURSELVES no good whatsoever.
It might be worth remembering that we never bought him for his heading prowess but he must have leapt at least four feet off the ground to meet one centre here and although a couple of inches off target is as useful as a mile, it came pretty close to being a winner.

He also controlled and volleyed a Dyer cross superbly into the back of the net, admittedly after the whistle had already gone. Perhaps Cort should take a leaf out of the Queen Mum's book - no, not croak but start doing Ali G impressions: "Is it coz I is black...?"
If we don't get 4th spot - which still looks an odds on bet that we will, every time I look at the fixtures and league table - then the blame needs to be shouldered by many, not least those who refuse to encourage the team on cold Monday night's when we're having an off day. Do you think the players are lying when they talk about being motivated by the crowd? Do you think they're just looking for an easy life when they suggest that booing doesn't help them? I have absolutely no doubt whatsoever that even after Fulham scored, the crowd could have lifted the lads to go on and win that game. Instead we threw away the alleged one-goal lead that our "magnificent 50,000 crowd" gives us.
"We only sing when we're 3-0 down" should become our anthem. "We're Geordies we're mental, we're off our f***in' heads". Aye, because we never use our strongest asset when it's needed most - when the lads are having a bad day and when we need a lift from somewhere.

Cast your minds back to Old Trafford and the semi-final against Spurs. The crowd won that game with the fantastic support that greeted Big Dunc's substitution. Singing when you're getting stuffed 3-0 at Highbury or 6-2 up against Everton is wasted effort. Save it for the remaining games, if we're struggling against Blackburn, West Ham, Charlton, Southampton or Derby. That's when the team needs to be encouraged not discouraged.
St. James' Park gets more like Old Trafford every day. If we had a similar trophy cabinet then I could probably accept it but our club is nothing if we lose the unconditional support. Yes, I get frustrated and bad-mouth some players during the game but as much as I kid myself it's only me and the people around me who hear my rantings. It's just noise to the players.

Shouting and bawling during the game is how I vent my anger and I won't applaud a performance that doesn't merit it - it's amazing how deafening silence can be at the end of a game. A chorus of boos is something different.
It's been my belief for some time that the nation gets the media and politicians it deserves. Buy crap papers and they'll serve up more crap. Watch trashy telly and that's what you'll get. Moan that politicians are all the same and not worth voting for and.... you get the picture. I'm fed up of being told by SKY that we deserve something to match our tremendous support. As far as I'm concerned, the events on the pitch on Monday night matched our support perfectly.
With five games to go, we will probably get the league position that our support deserves. Let's make sure that it's fourth....

Niall MacKenzie