Date: Wed 21st August 2001, 7.45pm.

Venue: St. James' Park

Conditions: Balmy/barmy.

£15 flat rate for normal seats. £1 programme.





Newcastle United
4 - 4
Troyes
Teams
Have a squint at all 8 courtesy of Troyes: http://a2v.free.fr/butsanglais.mpg
2 mins. Rob Lee won the ball midway in their half and played in Solano. Nobby steadied himself before firing in a powerful 25 yard shot that flew past the keeper. 1-0
25 mins. Leroy hit a 30 yard free-kick that swerved viciously, without deflection, but Shay lost the flight and could only push the ball into the net. 1-1
28 mins. Time and space afforded to Gousse after a poor defensive header - he made his way into the box before firing across Given into the far corner. 1-2
Half time: Newcastle 1 Troyes 2
47 mins. Barton was caught horribly in possession by Rothen who laid it back for Gousse, his shot cannoned off the post to Boutal who scuffed the ball into an empty net. 1-3 but as our pic shows, the lad was actually offside: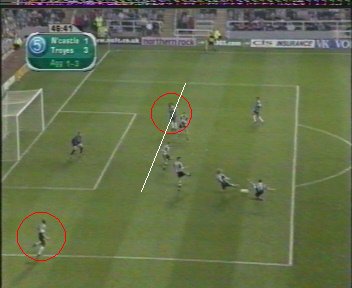 61 mins. Rothen crossed from the right after a poor clearance from Given was played out to the wing. The cross eluded Given and Boutal nodded firmly at the far post finding the net with Shay unable to block. 1-4
65 mins. Solano won the ball in the box and the ball broke loose to Ameobi who crashed it into the top corner. 2-4
70 mins. Ameobi broke into the box with a bit of trickery down the left Meniri stumbled and Shola took full advantage to tumble over the prone defender. Speed hit a poor penalty but the keeper dived over the ball. 3-4
90 mins. A LuaLua corner found Elliott's head and although Andy O'Brien was in front of the keeper he didn't get a touch. Heurtebis fumbled and the ball bounced in. Exactly where Hughes figured in it all is a mystery but the world and his wife credited him with the goal. 4-4
Full time: Newcastle 4 Troyes 4
Uncle Bobby said:
"I was down once 3-0 at Barcelona at home with 100,000 handkerchiefs out for me, and we won 5-4.At least we went out fighting. We got the crowd back on our side and we went out in a blaze of glory.
"We actually might have won it 6-4 to be honest - but at 4-1 down, we were well and truly out of it. What's cost us the match is some very poor defending at various times in the match. But we haven't lost to a poor side. They played quite well. They were very quick over the ground, they counter-attacked very well. There was a spell when they did play better than us.
"I wouldn't say they were worth 4-1 because some of the goals were poor goals. The third and fourth goals were down to dreadful defending which cost us the match. But there was a great appetite from the players to bring it back to 4-4. We had to salvage some pride because at 4-1, it can finish 6-1 if you don't buck yourselves up."
"We've had three decent gates at home, so we've made more money from our pre-season fixtures that we would have, and that's a plus.We've given some players European experience, and that's a plus and we've blooded one or two players, so that's a plus as well.
"European football is not for us this year - a continuation of the club's progress is. It's nothing to be worried about, it's not doom and gloom. We've sent people home both happy and disappointed and it's something to build on."

The "underachieving" Warren Barton opened his heart to the agony aunts at the Chronicle. Of the booing, he said:

"I don't want to say too much about it.
"But I will say I was quite upset about it although there is not much I can do about it."
"The fans pay their money and they have a right to do what they want to do. We have got to be man enough to accept it and just get on with it."
"We let in sloppy goals at the back all through the night, Troyes are a good team and we don't want to make excuses particularly Shay Given and myself.
"At half time the manager told us to go out and win it 2-0 but their third goal was a kick in the teeth and to tell the truth I don't really know how the fourth one went in.
"Yet in all our pre-season games, including Sunday at Chelsea, we have looked solid at the back. Obviously the result was a massive, massive disappointment to us.
"We had a mad 10 to 15 minutes after half time when we threw the game away. But at the same time you have got to give the players credit for the way they came back.
"They showed a lot of character and we gave Troyes a run for their money and nearly dragged something out of the game, but the ball kept hitting knees and elbows inside their penalty area and the keeper made two fantastic saves.
Speechless with delight, the trophy winners: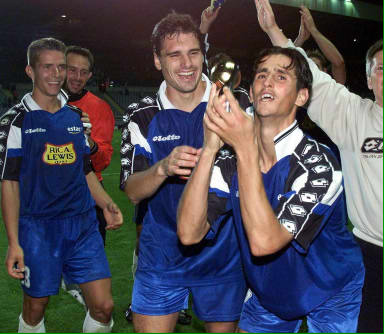 Our first 4-4 scoreline since October 29th, 1977 when bottom-placed United drew at Everton. Current reserve coach Tommy Craig, Alan Gowling (2) and Tommy Cassidy scored for United. Three days later United lost at home to Bastia 3-1 in the UEFA Cup.

To Anderlecht, Bilbao and Partizan Belgrade the name of Troyes is now added - the four sides who've ended our European dreams with away victories.
As the rest of the continent prepares to shed it's Deutschmarks, francs and lord knows what else, here in the go-ahead North East we've already wholeheartedly embraced the concept of a United Europe. Unfortunately against Troyes, our vision seemed more based on the International version of "It's a Knockout" than sporting excellence.

We were at pains to point out in the first leg report that the French side were no mugs, and had the game in Troyes been televised in England, the prevailing pre-match mood might have been slightly less confident. That said, when Nobby Solano battered the back of the Leazes net with barely two minutes elapsed, visions of more late nights in the fleshpots of Europe were conjured up on a grand scale.

Such daydreams were dashed however by half time, after a visiting team exhibiting quicker reactions, vision and fleetness of foot had opened us up enough times to warrant something of an inquest at half time in the home dressing room. At that stage the game was still reasonably balanced, but mostly due to the reluctance of the rampaging French wide men to play obvious balls in to their striking partners. Had they done so, they could easily have scored five in the opening half. Our defence, full backs in particular, seemed incapable of stopping the onrushing hordes.

With Bobby having decided to continue to play his joker(s), the second half saw United in general and Barton in particular fall for the sort of sucker punch that Troyes had taken on the chin in the opening moments of the game. Unfortunately our boys responded in a punch-drunk manner and were carved open twice more in quick succession.

At this point, It didn't need uncle Arthur Ellis to measure our chances of UEFA qualification with his dipstick - 4-1 down, our main striker Ameobi looking utterly disinterested in the whole event, the defence not even at sixes and sevens (more twos and threes from my vantage point) and Shay Given having apparently developed an aversion to making decisions, it didn't look good. Had another forage down the left ended in a fifth goal, more would surely have followed, but a belated comeback was underway within five minutes. Shola roused himself long enough to knock his shot home and the French began to defend deeper and deeper towards their own goal. Game on, sort of.
No mention of the crowd has been made up until now because it's hard to know what to say really. People pay their money and are entitled to do most things but I'll never ever understand why some alleged Newcastle fans turn up and then flounce off when things don't happen the way that they expect. More than one or two people chose to leave their seats with half an hour (plus added time) remaining, because we'd gone 4-1 down. Worse still, some of them had children with them, who obviously now think quitting is an acceptable practice.
No doubt the departees climbed into their cars and switched on the commentary, or stood in the pub goggling at the telly - obviously a first hand view wasn't good enough for them. There was even booing at half time - a fat lot of good that did.
Fair enough, the less demonstrative of us might not want to stand up or shout and chant, but to stomp out in a Keeganesque manner when things look a bit bleak is tantamount to treason in my book. Never mind that certain players appeared to have meekly surrendered, this isn't their club it's ours. Pride is always at stake.

As for the barracking of Barton, unlike Marcelino I don't honestly believe he was deliberately acting like an arse. While his defensive shortcomings cost us dear in this game and he needs to be forcibly reminded of the fact he's playing at full back, the fact he often had two or more attackers to cope with is a reflection on the problems the whole defence had, and the failure of a certain Peruvian to drop back and assist when we were struggling. Three days before Barton, had quite literally worked his you-know-what's off at Chelsea, and had it not been for his intervention on the goal line in the second half, we'd currently have zero Premiership points.
Having praised the visitors, it must also be said that we were singularly lacking in many key areas - the left hand side was a talent-free zone until the introduction of Bernard, with Quinn an utter waste of space. Elliott again struggled, and has now endured a nervous three games (Troyes H & A, Chelsea) when he's stood off the players coming at him with the ball, and been reduced to lumping clearances out of defence too often.

He does it too much, Barton doesn't do it enough - sort that one out Bobby....or put Griffin on the right (and Hughes on the left as it's been suggested elsewhere?).

Bellamy again showed that his ball control is as much a hitty-missy affair as his shooting, and aside from the nuisance value of his runs, there's not a great deal to write home about yet. The absence of Acuna was slightly odd, as was the full match played by Lee - both in terms of his energy-sapping contribution days before and the upcoming home game.

So to the final engrossing 30 minutes of this tie, and what was almost the greatest comeback since the last one. Shola finally woke up to the fact he wasn't playing in a practice match and with the eager prompting of LuaLua and Bernard a penalty was won and crowd faith at least partially restored. From then on until the final whistle the ball pinged around the French half, as something approaching a fighting spirit was rediscovered on and off the field, and roars of support spread round the ground. However the damage had been done earlier and despite the belated equaliser, added time loomed with another one still needed to prevent the away goals rule frustrating our ambitions again.

Had Stuart Hall been in the commentary box against Troyes, he would have undoubtedly wet himself in the final few moments as tragedy, comedy and high farce combined in an irresistible stew. Some frantic late attacking from United resulted in an impromptu bout of Norman Wisdom comedy falling from the French, much to the indignation of the home fans, and more work for the stretcher bearers in ten minutes than they normally get in three months. The final whistle saw the whole Troyes entourage (who almost outnumbered their travelling contingent) celebrate on the pitch before being awarded whatever you get for winning this thing in front of a handful of fans who'd stayed on in the Milburn stand.

The men from the Champagne region thus became the third French side to pop our cork and hand out a footballing lesson in our own backyard, and while we managed the goals that eluded us against Monaco and Bastia in previous eras, the consequences for our European qualification were much the same.

Let's not forget though that this was a glorified exhibition tournament that we partially failed to exploit for it's financial possibilities; for the Northern Echo to add this to their North list of cup final defeats stretching back to 1974 was laughable.

We picked up a place on the off-chance, dragged the players back in from their hols, tempted 100,000 people through the turnstiles, had a few laughs, scored a few goals and some of us had an unexpected wander round Europe. We're arguably better prepared for the league season (if by better prepared we're more aware of our many shortcomings) and we cut down our number of drab and meaningless friendly games to one. In short the positives outweigh the negatives, even without UEFA qualification. The alleged £5m we'd have got for being in the UEFA Cup would have been nice, but when the powers-that-be sat down at the end of the season and plotted the capture of Zenden, Robert and god knows who else, we weren't in the competition and that wedge wasn't on the table.

My biggest regret is that we only scored three in the "comeback" and failed to go through as winners. Not for the money or UEFA Cup glory you understand, just to sicken those quitters who walked out when we went 4-1 down. Hopefully they'll consider stopping away completely, or getting themselves down the road when the metro extension is finished.
Some sources have muttered darkly about our exertions catching up with us later in the season, which may turn out to be true, but doesn't explain why we were so crap in the second half of the last campaign.

In conclusion, as an intertoto Eurosceptic, I can honestly say it's been a hoot from start to finish and a pleasant diversion before the real business gets underway. One can only hope that uncle Bobby remembers to post his Intertoto entry coupon for next season with a big tick in the "yes please" box, just in case we're somehow cheated out that Champions League spot.....
Biffa