Date: Wednesday 14th August 2002, 8.15pm (7.15pm BST).

Venue: Kosevo Stadium, Sarajevo. Site of the 1984 Winter Olympics and used as the normal Zeljeznicar ground was unfit for such a game.

Conditions: Warm and sunny during the day, cooler when night fell in the second half.






NK Zeljeznicar
0 - 1
Newcastle United
Teams
Half time: Zeljeznicar 0 Newcastle 0
55 mins Lomana LuaLua broke forward and Dyer nipped it off his toe before playing a one-two with Shearer. Al touched it on for Kieron Dyer, making an angled run, who poked it past the keeper before running to the away section to celebrate. Gettin! 1-0

Full time: Zeljeznicar 0 Newcastle 1
Sir Bobby said:
"It can't be over. We've scored a goal away from home which is vital to us. It's better than 0-0 I'll tell you. We know that any draw at home will get us through. We're not looking to draw, but it puts us in a strong position to get through.
"But there's a lot to play for. Our opponents tried very, very hard but our defence was very strong.

"The pitch wasn't what we're used to. I'm told that they cut it, but I don't believe that. I think they brushed it - there's a difference between brushing and cutting.
"They had a hostile crowd and it's not always easy. I know they can't play but they were very intimidating and that's an advantage for the home side.
"We got a great football goal and a hard pitch to play on, Dyer did well with it and Lomana LuaLua could have got another and sealed it.
"I'm trying to curtail some of Kieron's runs because sometimes he gets there and he can't get back, but it's difficult for me to stop him going forward because that's what you want from a player like him.
"What a goal he got. He just came out of the pack, out of midfield and nobody sees him and he's in with a great, clever goal."
Amar Osim commented:
"To win against Newcastle, you have to be very, very lucky and we were not so lucky tonight.
"It was a very big night for us, the first time such a strong team as this has played in Bosnia and it was a big night for the fans."
Sarajevo photos

Part I

Part II

Part III

Part IV

Part V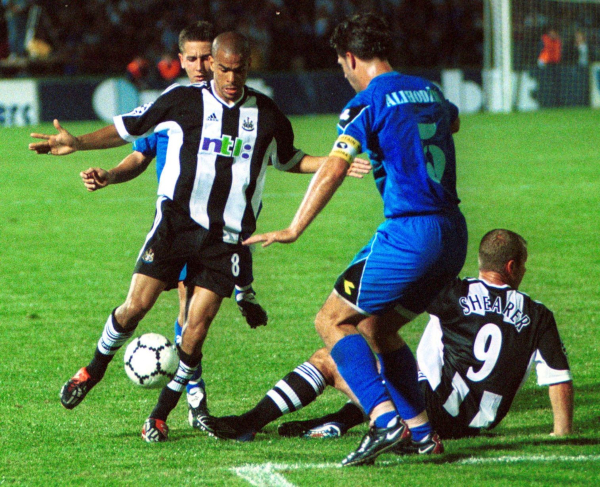 The gates to the Champions League group stage and its financial rewards swung open for Bobby Robson in Sarajevo, courtesy of a fine Kieron Dyer finish.

While it's unlikely Zeljeznicar will cause an upset in the return leg on Tyneside however, this tie should have been been put beyond their reach at the first time of asking.

An unbelievable miss from Lomana LuaLua and a late Shola Ameobi effort that bounced away off the crossbar should have confirmed our eventual superiority.

This is how we reported the events unfolding in Sarajevo, via the gift of text messaging:
Thirty or so Newcastle fans waving England flags with too many pivos (beers) on board are goading the Sarajevo equivalent of the Tufty Club over a low fence....
United are wearing white numbers on a black square which are unusually readable. The ground is a bit like Munich with a running track around it. Toon fans are spread across the seats behind the goal - around 500 with army Scots & Irish swelling the numbers.
After speaking to our correspondent he sounds like he's well pivoed himself.... Huge roar as the game kicks off....
Three minutes gone Zeljeznicar score... but it's given offside.
Half an hour gone still 0-0 with United having the majority of the chances.
Half time and it's still goalless. Dabizas has been booked. Few chances for either side but signs that we may force a breakthrough. United will be kicking towards the Toon fans in the second half.
In a surprise second half move, coach David Geddis gets off the bench, fights through Police lines, runs half way up the away end and out through the exit into the night. No explanation given!
55 minutes 1-0 Dyer.
A bit of post-goal posturing as locals throw a few missiles and toon fans get annoyed with the policing.
Should have been 2-0 after 69 minutes. LuaLua was in the clear and had Dyer in acres of space but he failed to pass to him.
Shola Ameobi comes on for LuaLua.
Ameobi hit the bar with a few minutes left.
Three minutes of added time negotiated fairly comfortably. Good result to take back to Tyneside.
After a 25 minute lock-in we were led into a pitch black car park, where they encountered Shearer and Robson giving interviews to TV crews.

After providing suitable accompaniment to both, the rest of the players then emerged in their tracksuits and boarded the team coach (it later transpired we'd refused to change in the dressing rooms at the ground and changed at the hotel before boarding the coach.)
Predictably the lads were cheered enthusiastically by the fans, who surged towards the bus only to be held back by the local constabulary. After a short spell when most of the players were hailed and forced to wave to the crowd (except for one, but nobody joined in my chorus of "Wayne Quinn in the Champions League") the team pulled away into the night, complete with police escort.
A euphoric moment, immediately contrasted by the sobering march back through the town past recently-built graveyards.


So, football aside the trip gets the NUFC.com thumbs up on all counts.

While we were undoubtedly a novelty attraction (one local reckoned we were the biggest news in town since U2 played a gig there), there was no mistaking the warmth of the people who we met in our two day stay.
It's almost impossible to comprehend the fact that this city was under siege for almost half a decade, and thousands of it's inhabitants died at the hands of their former countrymen.

And all a bare two hours from Newcastle by plane.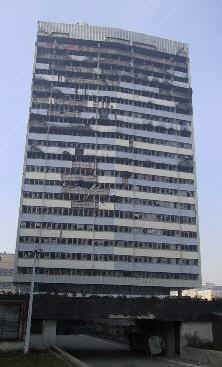 In 2002, the main visible signs of the conflict are the ravaged Government building (pictured), presence of NATO soldiers and bullet cases in the marketplace.

However, we were told that the Government building is being deliberately left alone while investment continues elsewhere, in the hope that the European Community will subsidise eventual rebuilding of this symbolic site.

As for the NATO soldiers, they mostly looked bored and strolling around in the sunshine, a couple of brits admitted that they'd struck lucky with their posting compared to their mates in Northern Ireland.

And those shell and bullet cases in the marketplace are on stalls and in shop windows, fashioned into a variety of objects from pens to paperweights and jewellery.
However, the echoes of recent history do linger, with ample evidence of bullet holes riddling various houses and other buildings, hand-written memorials on the site of atrocities and of course the vast spread of new white crosses marking the final resting place of many.
Sarajevo is very much a city in transition, with reminders of what went on here in the recent past contrasting with the positive attitude of the locals. If your past is so shocking though, I suppose the only way to look is forward....

Sitting in the sun outside a cafe with a 60p bottle of local ale, thoughts of conflict and hardship seem a million miles away and on that basis it was easy to play the tourist and enjoy the place for our brief stay.

For those who remember what went on here though and have to deal with the reminders on a daily basis, memories will take a lot longer to heal.

This was one of those times when football really did take a backseat and for totally different reasons this trip was every bit as memorable as Bilbao. Those who made the effort to get there and open their eyes will remember Sarajevo for many years.

Cheap drink, but a sobering experience.

Biffa