Date: Wednesday 18th September 2002, 9.45pm local (7.45pm BST).

Venue: Olympic Stadium, Kiev. Dynamo's home ground only has a 17,000 capacity.

Conditions: Warm and sunny during the day, light drizzle during the game. Not as cold as some were expecting, being slightly earlier in the year than in 1997.

Programmes: At least 11 pirate issues were spotted on sale outside the ground as well as an apparently-official folded team list (pictured right):

Admission: £tbc





Dynamo Kiev
2 - 0
Newcastle United
Teams
16 mins An absolute rocket from Maksim Shatskikh simply flew past Shay Given into the top right-hand corner of the goal. There had seemed little danger when Leko fed the ball through to the goalscorer but he hit a shot of rare curve and venom. 0-1
Half time: Dynamo Kiev 1 Newcastle 0
62 mins Cernat shot at Given from the right of the box and the goalkeeper could only parry it into the path of Aleksandr Khatskevich, who had the simple task of nodding home from close range to confirm the destination of the points. 0-2

Full time: Dynamo Kiev 2 Newcastle 0
Sir Bobby said:
"The pattern of the match came as a big surprise, I thought Dynamo would venture forward and we would play on the counter, but it was exactly the opposite.
"They were tremendous at the back and there was simply no way past them.

"We were given few chances by their defenders and my forwards, Alan Shearer and Craig Bellamy, were forced to play without the ball for most of the game.
"Their opening goal changed the face of the game. Until then, we were comfortable.

"Their goal came as a surprise. It was a wonderful strike and the second half one was just as good.
"We have lost a big game but they have to come to St James's Park. We will see what happens then.
"It's a learning experience: we've got five games to play and we were never going to win all six of them. There's hope for us and I'm not afraid of it. As so often happens they got the second goal on the breakaway and managed to see the game out.
"But we never gave it up. We put Nolberto Solano and Laurent Robert on, we got some corners and put the keeper under a bit of pressure.
"Where Dynamo were very clever was on the counter-attack. They defended very well and counter-attacked very quickly and caught us.
"That is what you see very many times in the Champions League, that a team which is defending well can counter-attack quickly and can make and take a chance."

Dynamo coach and ex-Rangers player Alexi Mykhaylichenko gushed:

"We have launched our Champions League campaign with a great victory. It is not just important for us as far as the tournament goes but also from a psychological point of view.
"We were up against it because so many of our players were injured but we managed to beat Newcastle, one of the strongest English sides. Maybe this team (Newcastle) is not yet used to the Champions League.

"Nevertheless, it is only the first step of what will be a lengthy campaign. I'm not going to single out any particular player for praise as that is not in the tradition of Dynamo."
Pirate programme corner:
Where do you start with a match report for a journey that started at midnight on Tuesday and ended 48 hours later? To say that the four main ingredients of sleep, beer, food and football filled those hours might be an oversimplification but only just....
Arriving at Newcastle Airport at just after 4am wasn't unusual for most of the 110 odd passengers waiting to board Keith Barrett's Toon Travel charter. It was just another jaunt into Europe for most of them and the drill, if not routine, was certainly familiar. Places on a trip like this fill themselves and Keith could probably have written the list long before he took the passports up to Edinburgh to get them stamped with visas.
Even at 4.30 in the morning the queue for the airport bar snaked back yards from the over-worked assistant desperately trying to defy the boast that Guinness make about the time it takes to pour a pint. For most of us the trip provided an oasis from domestic concerns so time became irrelevant and an ale in the dead of night seemed as good a time as any.
Dawn was just breaking as we were bussed out from the terminal building to the charter plane - a no-frills Ukrainian Airways contraption which had definitely seen better days. To everyone's surprise, entry onto the plane seemed to be through an old bomb-hatch which brought about the predictable jibes about rear entry.
Breakfast was a ham and pease-pudding sarnie that judging by its weight took up a fair amount of the allowance for the flight - good job most of us only had hand-luggage....
It was a bit grey and dreary as we arrived in Kiev, just before midday local time. Guards, Police and other security bods were all in attendance as we waited to get on the two double-decker buses that would take us to the hotel. Without wanting to pander to the easy imagery that others having fallen into, being surrounded by uniforms was a theme for the visit. At times it was difficult to know exactly who they all were - military, the police or private security but apart from the over-the-top treatment at the game, their presence was not a problem.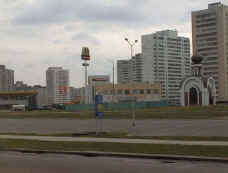 Our man on the mic gave us some interesting background to the city as we were driven through its suburbs. The airport side of the city was the one you might have expected. Row upon row of tower blocks that don't do much for any city, whether that be in eastern or western Europe. But once we crossed the river it was a verdant and vibrant Kiev that seemed to take most of us by surprise. For those on the last trip, the changes were notable, for us first-timers it was nice to experience the reality of post-communism and not rely on those who have seen too many films.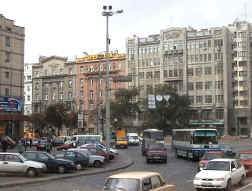 The heart of the city is beautiful and atmospheric. I'm sure many would have you believe that is down to the introduction of the colours of Benetton and a big yellow "M" but don't you believe them.

Wide streets - some of them still cobbled - and wide pavements gave the feeling of freedom to which the bleached hair and western denims also contributed.
Shortly after getting our bearings and room keys we made our way to the stadium that was adjacent to the excellent Hotel Rus. We managed to negotiate an assortment of unofficial programmes with strange old women selling them from the back of old green vans before heading off towards the city centre.
Majestic architecture, impressive monuments and modern skyscrapers also gave Kiev an air of grandeur that I hadn't envisaged. Perhaps it was only the odd beaten-up old Ladas and Moskovitchs which were a throw-back to previous times and an old dishevelled hobo rambling on about mafia persecution also made the streets look untidy.

However, once the vagrant in question made his way back to his hotel room to file his copy for a certain North-Eastern evening paper we headed off to find a suitable watering hole....
O'Brien's was at the top of a steep hill from the main square and had enticed United's followers by offering a free pint to anyone wearing the black and white. After some negotiation - the bar staff seemingly expecting all Toon fans to be wearing the full replica kit - we were able to enjoy the local brew well into the evening. Once again time seemed to be an irrelevance as mid afternoon came and went and with kick-off at 9.45 the pre-match ales were many and varied.
Luckily for most of us the next few hours became something of a blur but a taxi to the ground dropped us right outside the Olympic Stadium. I remember being surrounded by curious locals who quizzed me about my origins. Thankfully I was whisked away by one of our number before another of our party took a fist on the jaw from an interloper. I guess Kiev have a number of idiots just like any Premiership side.
To most locals we were obviously Brits but presenting the local military with a UK-printed match ticket was the signal for some personal attention. We were escorted by several red beret-wearing guards to turnstile 18 and even after finding a seat we enjoyed their company for the duration. We were well outnumbered by the guards - most of them looking half our age - but things were relatively civilized until half-time.
Without an altimeter it's difficult to say if we were higher than the away fans are at St. James' or the lofty perch given to us in the Nou Camp, but we were certainly nowhere near the pitch. The running track didn't help either and although the old Wembley was a dump, I don't ever remember having a view like this one.
It made for a strange atmosphere and the match seemed a bit unreal being played out at the foot of this huge bowl lit by a frightening number of floodlights. The rain was light but constant and the decibel level impressive, with noisy plastic trumpets being used by home and away fans alike.

I've seen footage of the game since returning and it looked nothing like the strange events unfolding beneath us. That could have been the beer, the view or the shock of the team selection but when Shatskikh rifled in that shot it didn't seem much more than a flukey snapshot. I've subsequently revised that.
The game passed me by but our inability to get forward with purpose was exasperating and when we did, a few aimless crosses never looked like getting us back on terms. Shay was a bit unlucky with the second, although there seemed little danger as Melashchenko shot across Given. But the ball bounced down and off the turf invitingly onto the head of Khatskevich who couldn't really miss from six yards.
Defeat seemed inevitable and most of us were more concerned about the state of our bladders than the decreasingly ineffective forward thrusts on the pitch. With the toilets well away from the away section they simply wouldn't let us out at the break and things threatened to get nasty at the interval, even when a rational approach was taken.
We were held back for 45 minutes of excruciating lower abdominal pain and by the time the soldiers had enjoyed their sadistic pleasures, we eventually filtered out of the ground. Our route was lined every step of the way to the hotel up a steep hillside and it was made clear that we should stay in our hotel. Many broke the curfew but to be honest it was close to one o'clock and even drowning our sorrows seemed too much of an effort.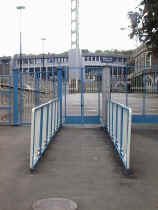 The plane left at 2pm on the Thursday, leaving us plenty of time for a trip up to the Valeri Lobanovsky Stadium, named after the legendary late Manager, to grab some Kiev memorabilia and a few snaps of the ground.

After lunch at O'Brien's - remarkably quiet now - we had time to grab a few duty-frees before assembling at the hotel.
Experiences and theories on the previous night's "entertainment" were shared while the coaches took us back to Kiev airport. The less said about the flight home the better but despite good flying weather a certain amount of turbulence was encountered.

This continued as we attempted to make our way through customs back in Newcastle. The allowance of 200 cigarettes per person caught a few by surprise and as baggage was hastily redistributed us non-smokers were able to slip away into the grey Tyneside evening, making our way past the High Rises of North Kenton and the McDonalds.

As the people of Kiev probably say, the city centre's canny, mind.
Niall Mackenzie