Date: Saturday 21st September 2002, 12.15pm. SKY

Venue: St. James' Park

Conditions: Feverish, Relieved





Newcastle United
2 - 0
Sunderland
Teams
83 seconds Shay Given's clearance found Alan Shearer on the halfway line towards the dugouts. He was fouled by Bjorklund (who was booked for the challenge after the goal) but managed to find Kieron Dyer with the ball.

The England midfielder scampered into the mackem half before releasing Craig Bellamy, who finished with a side-footed low shot from the left side of the area inside the far post. As the ground exploded with delight, he ran towards the Milburn /Leazes corner flag to celebrate, affording the away contingent a grandstand view in the process. 1-0

39 mins With his head swathed in bandages, Alan Shearer had time to batter home a low free kick that was touched on to him by Nolberto Solano from a central position just outside the area.

Shearer had been bundled over for the offence by McAteer and the mackem wall obligingly stood aside to let him finish. 2-0

Half time: Newcastle 2 mackems 0

Full time: Newcastle 2 mackems 0

Sir Bobby commented:

We needed to win and we've done it. Now we can have a nice weekend.

"We knew they would come here with a tremendous urge to try to strangle us in a packed midfield and up front.

"But we needed to get in front and once it happened I think it was always going to be our game at our ground.

"We've had the doom and gloom merchants but that has never been the situation here - you just need time in football sometimes and we'll be okay now.

"We got off to a fantastic start, a dream start really, when Craig gave us the lead inside a couple of minutes. We scored the second goal at a good time as well, and I felt we were comfortable out there in the second half.

"The players were a little bit down, but that will give them a huge boost ahead of the game against Feyenoord. It's a big, big win for us.

"I was delighted with the performance right across the park. We were very strong at the back, and when we got the ball at the back we attacked quickly. There is a lot of flair and pace in the team and we caused them problems."

About Peytar's plight:

You always want to protect players, but there comes a time when you have to question them. It's a last resort if you like.

"You have to say to a player 'look I've had my turn, now it's your turn.'

"I have to admit it was a lot easier in the past. In Brian Clough's day he'd say, 'hey son, you're out the team.'

"Say that now and a player is as likely to pop down the Metro Centre shopping. It doesn't matter."

"Peter has some difficult choices ahead. They don't look like scoring a lot of goals, especially without Kevin Phillips.

"They haven't got dynamic pace so he has to try to get narrow victories.

"He has to get everything from his players now and they owe it to him. They are in wonderland at a good club, on good salaries with a great stadium. Now they have got to give Peter commitment all the way through.

"I said to Peter after the game that he will get it right. He is under pressure and that's wrong in my opinion because he has done an excellent job there in the last seven and a half years.

"It's only September for goodness sake. I really hope they do well this season, and I've no doubts they'll stay in the Premiership by a long, long way."

About Bellamy & the booking:

He (Bellamy) is not going to dive. I know when a player has dived and he wanted to score.

"He wouldn't want a penalty because Alan Shearer takes them and he wanted to score. In my opinion that's a rough booking."

Bellamy himself said:

"The important thing was we needed a good start because we thought we might tire later and that's what we got. I felt we were the better footballing side. It was a great result.

"Obviously there was a lot of tiredness but the win will make it a lot better. We had lost three games on the row and a lot of people have been criticising us, and rightly so, but we needed this result.

"It gets us going. We've had tough start but we're a game behind other teams and if we can win that game in hand we're back up there. It's a long season."

Peytar said:

"I thought we were poor all over the pitch - second best all over the pitch.

"It's a derby game and you ask for desire from the players but we never got that. I like to protect my players but I can't protect them today. It's a big game for the supporters and they've (the players) let everyone down. It was sad."

"I've just told our players that they were too easy to roll over,

"The first tackle of the game, Alan Shearer won it - and it kept going on like that. They had been to Kiev and might have been feeling tired but there was only one team out there that looked tired today and it was us."

Lovely Niall Quinn also slung in his tuppence-worth:

"A lot of players owe the majority of their careers to him and he's done nothing but defend us. I'm just glad he's now had a go publicly - they can now read how poor they've been.

"Everyone's gutted, but there is a difference between that and having the bottle to put it right. It's payback time for what Peter's done for this club.

"When you lose a derby it's a disaster, but to come off knowing every player collectively didn't give our all for Peter is scandalous."

A first Premiership success at SJP against the mackems in our fourth attempt - our last victory at the top level against them since a Beardsley hat trick in January 1985.

A long-overdue first home success over the old enemy since Scott Sellars flighted a free kick at the Leazes end for the only goal of the game in April 1993.

Now unbeaten in our last four first team games against the red and whites.

Shearer's second goal against the mackems for Newcastle, his 1st being the last we scored at the Gallowgate end of the ground against them, in 1997. Since then we've netted 5 times in 4 games against them, all at the Leazes.

Derby debuts and a meeting of two former club colleagues from Sporting Lisbon, Viana and Babb.

50th Newcastle start for Andy Griffin in all competitions - debut was v West Ham (h) Feb 1998.

150th Newcastle start for Nicos Dabizas in all competitions - debut was v Coventry (h) March 1998.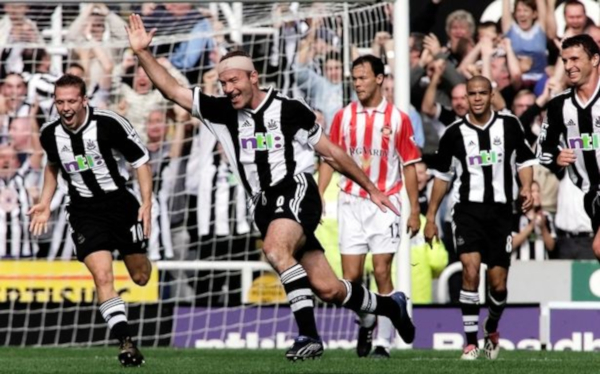 Should one of those Sunday magazines or free papers ever be desperate enough to ask yours truly for his likes and dislikes, I'll wade through favourite song, film etc. to take
great delight confirming that my favourite word is....Curmudgeonly.

A fabulous word, which tops my list having usurped (oh!) malcontent at around the
time Jim Smith slung his balding and inebriated hook, it neatly encapsulated the post-
match feelings this victory stirred. That's along with inebriated of course.

In the brief pre-match inquest that accompanied several rushed pints, opinion was
divided between those who firmly believed that we only had to find the right door out
of the dressing room to hump Peytars mob and those rather less optimistic of an end
to the bad run.

Having seen not only our three-handed failure to beat Leeds, Chelsea and Kiev as well
as previous bleak afternoons on our home ground when the primate sent his boys out,
your correspondent tended towards the negative. There's a surprise.

That lack of belief and our goal drought lasted precisely 83 seconds. By then the visiting
players were looking at each other and Peytar was seemingly seeking divine intervention
from above as he gazed to the heavens. The visiting fans averted their eyes downwards.

Meanwhile, a short distance away, Bellamy, Dyer and co. jigged round a corner flag amid thousands of celebrating geordies in the ground and long-suffering TV viewers around the world.

On Sky, John Beresford punched the air in delight, while Sewpa Kev sank a little lower in his chair embarrassed but surely secretly glad he wasn't part of this humiliation.

Taking the lead in this game hasn't proved a wise option in recent times - Kieron in
the rain or Speed's header both seemed only to spur the forces of darkness on. Added to that the fact Bellamy also converted into that Leazes goal and the bunting wasn't quite being hung out yet.

We needn't have worried.

The most spineless and inept bunch of red whites seen in these parts for many years were memorable only for their lack of talent, confidence or stomach for the fight. Three points were there on a plate for us and thankfully we did enough to pick them up, as we did on wearside last time out.

Back to that curmudgeonly feeling though - it feels disloyal seeing a victory and still moaning, but we may never have a better chance to hump the mackems by a score akin to the batting average Durham cricketers have been achieving this summer. They were that bad, while we did merely enough to end our goal drought and regain that winning feeling. The hammering that could have been never was.

There was still something less than wonderful however about our display, and it's a little
premature to believe that we've turned the corner - let's play some proper teams first.

Accentuating the positive though, that clean sheet was partly due to the rottenness of the opposition and also a welcome return to form by that perennial nearly man, Andy Griffin.

If past events are any guide, then expect Griff to injure himself in the next fortnight or be
inexplicably dropped by Bobby. For now though let's pay tribute to the return of the best
defender at the club, who seems to relish crunching tackles and the physical challenges. Would that he could pass that on to Bernard, along with a tendency to remain in defence rather than wander off at inopportune times...

Elsewhere, the Shearer free kick sealed the match before half time and saw a mass scurrying from the away section down below decks, presumably in order to avoid watching further punishment.

The second half seemed to promise more in the way of goals for the black and whites, and had Riley given the expected penalty on the hour and Shearer avenged his Gallowgate end miss from the spot, then a more accurate scoreline may have ensued.

With thirty minutes left and Shearer looking a hat trick against punch-drunk local rivals, then that Beardsley treble record would have been in danger, no doubt to the delight of the sheet metal worker's son.

As it was maybe Big Al & the boys heeded the chants of "Reidy must stay" from the home ranks and turned down the heat. It would be nice to be able to say with conviction that we saved ourselves for the upcoming Feyenoord game, but that would be stretching things a little. Precisely what Dyer and Solano were saving themselves for remains to be seen.

So, after our debut victory at their new midden last time, another unwanted piece of local history tumbled and we bade a hearty farewell to the bottom three of the Premiership.

A confidence booster just when we needed it, those three points were more than welcome and set us up for another must-win game, this time in the Champions League. With Robert returning to fitness we can look forward to a resumption of the assists that propelled us up the league, while Bellamy also seems to easing his way back in - at a rate of knots if he plays against defensive dummies like this lot every week.

His goal set us on our way and took some pressure off the lad after the gross stupidity
of the Kiev headbutt incident. Once again though he kept up a running commentary in this
game and referee Riley would surely have been better disposed to award that penalty or keep his yellow card pocketed had he not been bawled at in the previous hour.

Unless LuaLua can return and take up where he left off, then the likely European ban that Bellamy will incur threatens to derail any Champions League progress. There did seem to be a general feeling last season that the Welshman had finally matured sufficiently to be able to channel his passion into more productive areas. Sadly he looks to have had a relapse - emptying his bank account looks to be the only sure-fire way to shut him up.

Dave Stewart, Joanne Conway, Paul Collingwood, Kate Adie, James Herriott, Gina McKee, Alan Price, Steve Cram, your boys SHOULD have had one hell of a beating.

After disposing of this rubbish it's onwards and upwards hopefully, with Viana and Jenas playing a more high-profile role from the start - to steal a phrase from the mackems, both look ready to go. Get them in.

Biffa

Back to Main Page