Date: Tuesday 24th September 2002, 7.45pm. Live on ITV2

Venue: St. James' Park

Conditions: mild





Newcastle United
0 - 1
Feyenoord
Teams
4 mins Van Hooijdonk rose above Nicos Dabizas to meet a through ball and nod on upfield. Next to underachieve was Andy Griffin, who skied his attempted clearance on the edge of the area. Finally Andy O'Brien placed a poor header into the path of Pardo, who lashed a wicked half-volley in under the bar at the Leazes end, Shay Given caught off his line and flailing helplessly. 0-1
Half time: Newcastle 0 Feyenoord 1
Full time: Newcastle 0 Feyenoord 1
Sir Bob said:
"I am not thinking about the UEFA Cup.

"It has damaged us. We've played two games and got no points - but it's not all over. We won't give it up just because we're bottom of the league.
"There are four games to play and on tonight's evidence we need a bit of luck.

"Juventus have beaten Kiev 5-0 so I think we will have to take an army there next week. We won't be despondent about this, we will get over it. We will approach the Juventus game exactly as we have planned to do.
"They drew with Feyenoord 1-1 in their first game, so were obviously closely matched. We have been close to Feyenoord in this game so we will be positive. I am fighting for my team, fighting for my players - we will be all right
"We could and should have scored. Not only has it been a disappointing night but a cruel, unfortunate night for us.
"We will play a lot worse than we did tonight and win.
"The goal was made out of our errors and that has cost us this huge game. We made one mistake and got punished, while they have not made any and have defended very well.
"We were looking for a couple of crumbs but got nothing all night."

Alan Shearer said:
"We couldn't have played any better to be honest - but we got off to a terrible start.
"Poor defending let them in with a goal and it took a cruel deflection - but from then on I thought only one team was going to win it.
"Poor finishing and good goalkeeping kept us out - on another night I could have had three.
"It's repairable but it's going to be difficult from now on - two defeats is not ideal.
"We had such high hopes but we're not out of it and we won't give up."
Feyenoord coach Bert van Marwijk said:
"We have to go for it from now on.
"If we win against Kiev, we will have seven points and will be in a very good position.
"Still, we have to look at RBC Roosendaal at the weekend, that comes first, and then we can concentrate on Kiev."
Highest ever Champions League attendance at SJP (note forgetting the CL capacity was just over 35,000 in 1997/98.):

1997/98 Zagreb: 34,465
1997/98 Barca: 35,274
1997/98 PSV: 35,214
1997/98 Kiev: 33,694
2002/03 Zeljeznicar: 34,067
2002/03 Feyenoord: 40,540

However, not enough fans turned up to make it the highest crowd to watch Feyenoord on Tyneside, as we attracted 46,348 for the Fairs Cup game that began our European adventure 34 years ago.

In years to come, how many people will believe that more fans attended a Worthington Cup home game against Bradford City than a Champions League game against the current UEFA Cup holders?

1st November 2000 Bradford (h) 41,847 (we were 15th in the Premiership)
24th September 2002 Feyenoord (h) 40,540 (we were 16th in the Premiership)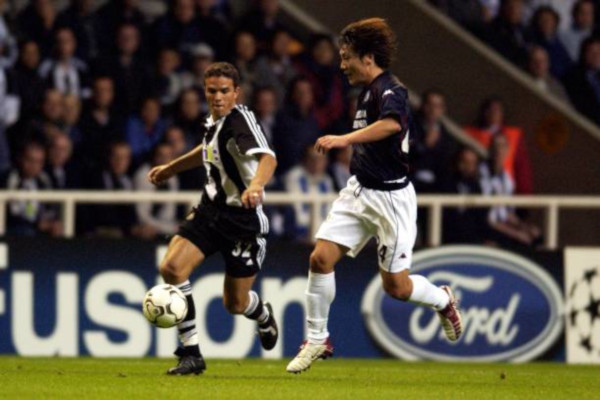 Having achieved the noteworthy feat of actually qualifying for the exclusive Euro party, we seem hardly to have wiped our feet in the group stages before we're being ushered towards the exits.

Maybe our name wasn't down on the guest list or we were inappropriately attired, but our second dalliance with the big lads seems to be heading in much the same way as the first.

Given that we had four points and five goals at this point in 1997, then our chances of even making the unfashionable UEFA Cup are now receding.

A shame that, because at present that inferior competition is probably where we should be.

Quite simply we took on Feyenoord from the first whistle to the last, and one slip-up proved to be the difference between the two sides, despite our best efforts. We huffed and puffed but couldn't blow their house down, while they held firm thanks to a superior defence, better cover from their midfield and scoring more goals.
If you don't want to read the rest of this waffle, in a nutshell...we were found out at this level.

A total absence of any good fortune in attack (although one or two prayer in defence may have been answered at times) is unfortunate. However, like poor officiating it can't always be an excuse.

Playing at this higher level leaves absolutely no margin for error, and the high-quality early strikes that have beaten Given in both group games overshadow the valiant efforts of his colleagues thereafter.

By the time the Dutch took the lead we could have been ahead ourselves, but Robert failed to connect with the necessary venom when presented with an opening. Sebastian Pardo however had no such problems.
We then proceeded to pepper their goal with a quoted 20 shots, but crucially none were good enough to beat the keeper. And equally good chances fell to the visitors in the desperate last few minutes of the game.

Tough, but that's the nature and essence of top-level competition.

I genuinely believe that those selected in black and white put in what must be the most effort-laden performance of the season so far for no ultimate reward. It was a step-up in quality from the mackem match and also the recent Leeds game, which followed a broadly similar pattern.

Shearer certainly seemed determined to put things right and strained every sinew to try and propel his side back into contention, putting in a shift of rare effort that harked back to his younger days. Difficult to think of a higher compliment than that.
He was assisted by some good work from Bellamy and frustratingly variable contributions from Solano and Robert, while Speed seemed to get warmed up as the game went on, his ricks became more sporadic and he started to contest and win challenges. Nice also to see little treasure make his reappearance after a suitable period of sulking by the manager.

And then there was Dyer.

Now regular readers of this drivel will know that we aren't hatchet men and don't lightly slag off players or management - the ticket office and other departments of the club being a different matter....

However, after having avoided the subject for weeks and had a cyber postbag highlighting that fact, the question does has to be asked - what the hell is wrong with Kieron?

We're told that big players need big stages to display their big talents on, most notably by the likes of Dyer's agent when contract negotiations are in the offing.

And remember that when we were scrabbling around in domestic competition that the same Kieron Dyer was linked with a move to those European kings Leeds and his mate Rio Ferdinand? A story that afforded the Newcastle player the chance to pledge his allegiance to us, while upping his salary in the process. Oh, and he also urged the acquisition of fresh talent by Newcastle.

It's payback time my friend.

While successive injuries kept Dyer sidelined, his reputation seemed to have been enhanced. And after the Southampton incident his world cup contribution was excused on the grounds of lack of fitness, form and inappropriate positioning of him in the side by Sven.

Meanwhile, Viana, one of those aforementioned investments sits waiting for his turn to show what he's got. Robson has shown admirable loyalty to Dyer so far (and others such as Gary Speed) but for how much longer? The signs aren't good when the manager won't even admit Dyer is having a stinker and substitute him.

Now Kieron is apparently injury-free, his stage is set and the expectant audience awaits his award-winning performances. In short the hype has to become reality.

This game was tailor-made for him to take it by the scruff of the neck (whatever that means) and dominate a midfield where some talented and admired players were playing. Talented and admired like Bosvelt, whom Robson tried to attract, but not revered and spoken of as a world-beater like our number 8.

Could it be that he's being found out? Does the fact he was unable to get into the game for long periods and his own team bypassed him when creating attacks not set alarm bells ringing? The champions league is for world-class players - it's about time Dyer proved he deserves to be mentioned in that category.

Notice that we're not harking back to his missed chances in other games - at least then he was combining with his colleagues and trying to damage the opposition in dangerous areas.

Contrast this to the circumspect performance against the Dutch, reminiscent of such greats as erm... Georgiadis. Even bloody Bassedas could have accomplished
most of what Dyer achieved in this game.

We can only hope that we take ourselves down to Birmingham on Saturday and produce a similar collective performance. A good away win over that lantern- jawed smug turncoat Steve Bruce would help dim the pain of finding out first-hand we're not as good as we thought we were.

If a further reality check were needed, the final score from Turin of Juventus 5 Kiev 0 provided it. Ignoring a shallow Boardmanesque jibe about the Italians taking no prisoners, our biggest away performance since the Highbury success is required next week in the Stadio Del Alpi.

And like the Feyenoord game, that might still just not be enough.

Biffa