Date: Wednesday 23rd October 2002, 7.45pm. Live on ITV News Channel

Venue: St. James' Park

Conditions: feverish





Newcastle

1 - 0

Juventus

Teams
Half time: Newcastle 0 Juventus 0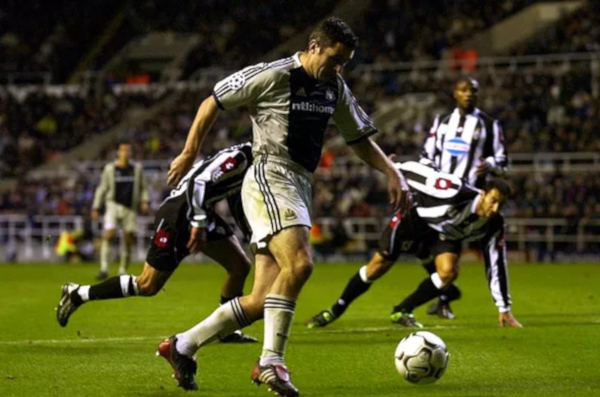 62 mins Laurent Robert surprised everyone by playing a free-kick near the corner flag to a forward-running Andy Griffin on the edge of the area. Griff strode clear of the visiting defence before drilling over a cross-shot two yards from the byline.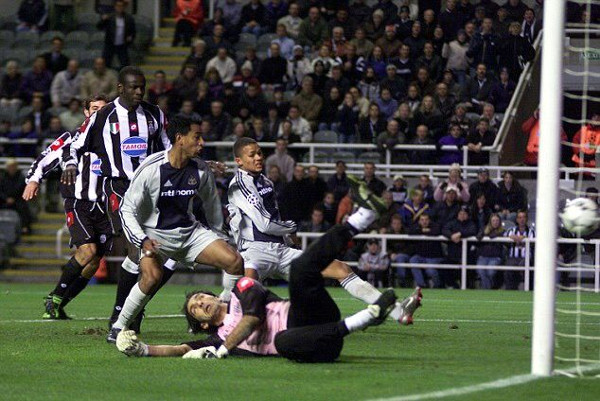 Solano was waiting in the middle but the ball never reached him - Buffon deflecting it into his own net at the Leazes end. The goal was greeted with a small ripple of applause and Griffin was congratulated with a warm handshake from the captain. Ahem.... 1-0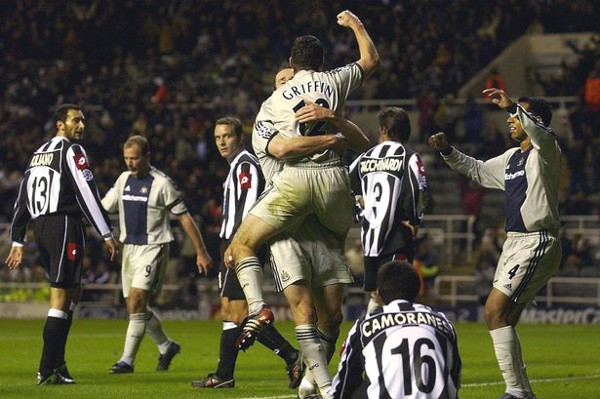 Full time: Newcastle 1 Juventus 0

Sir Bob said:
"That goes down as one of my greatest Newcastle victories.
"We must take pride in the fact that we have defeated one of the most powerful teams in Europe and a side which had not tasted defeat this season.
"My players showed incredible resolve and tenacity to get us back into this group and if we can show those same qualities against Kiev and Feyenoord then who knows what we might achieve?"
"We knew we had to win that match and the players responded with a superb display.
"That defensive performance was the best I have seen all season and Titus Bramble grew up against one of the best strikeforces in Europe. He made a couple of early errors but came through well and for a 21-year-old his distribution is up there with the best in the Premiership.
"Right across the back we defended and attacked as a unit and that made Juve's life very difficult."
"Had we lost against Juve that would have been four successive defeats and no way would my players have deserved that.
"We've never been outplayed in this group and we have shown tremendous resolve to beat one of European football's superpowers.
"Now the players can wake up with their heads held high and feeling full of pride. That victory was crucial for their confidence and defeat may have had a quite damaging effect." Robson, as expected, picked Steve Harper ahead of Shay Given and the Easington-born keeper survived an early scare to keep the most important clean sheet of his career.
"Steve claimed he couldn't see Nedved when he kicked the ball straight at him and I told him I didn't need a goalkeeper who couldn't see."
"But, in all seriousness, it was never a gamble selecting Harps and his saves in the dying stages were vital in getting us back into the group."
Andy Griffin said:
"It was my goal and I hope nobody is going to try to take it off me. It was my goal, and too right, I'm claiming it.
"There was a little bit of luck involved, but I don't score many so I'm having that one. It was only the second goal I've scored since I came to Newcastle - if you don't count that own goal against Blackburn Rovers.
"My only other goal was that end-of-season goal against Arsenal at St James' Park three years ago. That wasn't a bad one, but this one was easily my most important."
About some crunching tackles on Di Vaio:
"I don't dislike di Vaio, but that's the way I am and I always will be. After all, I kick Laurent Robert in training and he's one of our players.
"Tackling is an important part of my game, but I am honest and fair at the same time.
"I've had some great times at Newcastle since I came here from Stoke City. The FA Cup semi-final with Spurs a few years ago was a big one and I really enjoyed the derby victory over Sunderland recently.
"But this match against Juventus takes some beating, what with the goal and the importance of the game."

Juventus coach Marcello Lippi said:
"Coming to play in a stadium like Newcastle United's ground is not an easy task and what they have shown is the fact that zero points doesn't really reflect their performances in the tournament.
"We had a few chances but obviously when you go one goal behind in front of a crowd like this one, it's not easy to come back.
"We created three clear chances, but didn't take them and it wasn't easy at all because of Newcastle's performance.
"Football is a very simple game. It's a game where you need to score goals in order to win. We created lots of chances and just didn't take them."
Tonight brought the highest ever Champions League attendance to SJP (not forgetting the CL capacity was just over 35,000 in 1997/98.):

1997/98 Croatia Zagreb: 34,465
1997/98 Barcelona: 35,274
1997/98 PSV Eindhoven: 35,214
1997/98 Dynamo Kiev: 33,694
2002/03 Zeljeznicar: 34,067
2002/03 Feyenoord: 40,540
2002/03 Juventus: 48,370

We drew closer to a century of "proper" European goals - this was our 98th in Champions League, UEFA Cup, Cup-winners Cup and Fairs Cup ties.

Our all-time record in those competitions is:
Played:62 Won:30 Drawn:12 Lost:20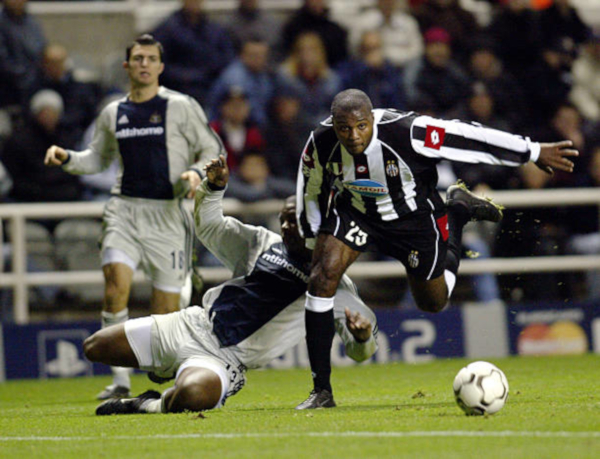 After the massive disappointment of the three group games came salvation, at almost the last time of asking. And if this victory won't live in the memory in quite the same manner as the Tino/Barcelona night, then it won't be far away.

Clad in the unfamiliar and decidedly non-Toon like away garb, United set about their task in a realistic manner as Juventus settled into their expected pattern of deep defence, not unlike their tactic in Turin.

For once the crowd didn't get the players over-excited and while there was pressure from United in the opening moments it wasn't of the desperate boys-own comic type variety. That's apart from O'Brien, who seemed to have some crazy notion that the best way to unhinge the Italian scudetto holders was for a central defender to charge headlong at them, attempting impossible dribbles.

Thankfully his central defensive companion Bramble was in command at the back and grew in stature and confidence as the clock ticked on. His Newcastle career so far has been a little rocky, but in this match he showed good timing in the tackle and an eye for a positive and creative ball out of defence - and by goodness do we need someone capable of the latter.

A cynical person would say that Juventus played within themselves until we took the lead and then moved up a gear, but that's to underplay the performance of our side in the latter stages when the Italians pressed hard for an equaliser. It also overlooks the body of responsible work that the likes of Speed, Jenas and Solano did to assist their defensive colleagues, as well as their more offensive duties.

Shearer was less spectacular than we've seen in recent games but every bit as committed, and again seemed to be relishing tussling with the foreign foe pitted against him. Maybe it brought back happy memories of playing for England.

Alongside him, LuaLua also got through a lot of running without ever threatening to do something genuinely outrageous in the skill/shooting department. It would have been nice to see Bellamy tearing through on goal, but it later transpired that if suspension hadn't robbed us of the chance to see that, injury would have done so.

So, with Newcastle matching their illustrious opponents, history looked to be repeating itself on a number of occasions - notably when Robert spurned a chance just before the interval, and when we gave away a free kick just outside the box. Thankfully on this occasion the ball was planted high into the crowd, not the Newcastle net.

The mood in the crowd had remained positive, if not always as raucous as some media watchers would have you believe. However they kept faith with the team and provided heartfelt support as we made our way towards goal.

Again our set pieces were variable - a few wasted from Robert and a pile-driver free kick from Shearer, but just after the hour the enigmatic Frenchmen found Griffin with a shorter pass instead of pumping a free-kick near the corner flag into the box, and the rest is rapidly becoming history.

In typical style, we then tried to get a second and me, Solano and around 30,000 others thought we had, until the world's most expensive goalkeeper made a staggering stop, flinging himself at the ball and even managing to steer it away from the lurking Shearer

At the opposite end the contribution of Harper was slightly less spectacular but no less important, as he rode his luck in the first half in an incident with Nedved but came off his line to make a vital block when the Italians swarmed towards the Gallowgate goal late on.

His post-match celebrations also told the story of a man genuinely pleased to be doing his job - playing for Newcastle. No great gestures or playing to the crowd - just clenched fists and a wide grin as he strode towards his celebrating team mates.

This sits alongside the mackem victory as our two biggest results of the season so far, and there are certain similarities in that we made the running and deserved to win both games, were underwhelmed by the contribution of the opposition and never scaled the heights that we are capable of.

We're not really in a patch of great form at present, but happily seem to be making up for it in work rate and commitment. The good fortune that deserted us earlier in this campaign returned tonight (excluding Kiev) the confidence boost doubtless invaluable.

So a night to savour, but only in the knowledge that we've got to do it all again next Tuesday and then almost certainly find at least a point amid the ferment of Rotterdam.

Oh, and fit in the odd Premier League game, to ensure we earn enough points to put ourselves through all of this nonsense again next season. There is no other place to be (although I'd still settle for dropping into the UEFA Cup this season and seeing Seville full of Geordies come next May....)
There's an Ultra flag often seen at the Stadio Delle Alpi, which reads "black and white fighters". Lippi's men may have had the strip, but tonight Bobby's boys had the balls.

Still playing, still hoping, still fighting. Toon, Toon.

Biffa