Date: Saturday 22nd February 2003, 3.00pm

Venue: Elland Road

Conditions: Clear skies, except above the boardroom....





Leeds United
0 - 3
Newcastle United
Teams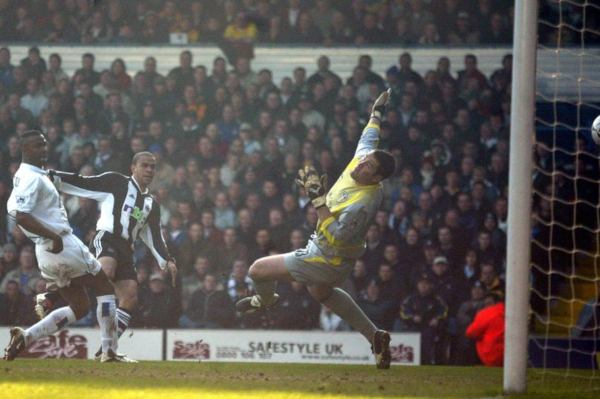 17 mins Laurent Robert chipped a measured pass to Alan Shearer on the edge of the area. Al chested it down and played in Kieron Dyer, who timed his run perfectly before steadying himself and lashing a left foot shot between Paul Robinson and his near post. 1-0

Half time: Leeds 0 Newcastle 1
48 mins Craig Bellamy scampered through the middle before finding Kieron Dyer on the left edge of the box. Shearer ran outside him, but the midfielder held onto the ball before slotting a low curling effort inside the far post to the delight of the travelling support massed behind that goal. 2-0

54 mins The Magpies took advantage of the referee ignoring the linesman signalling a Titus Bramble foul on Alan Smith at the other end of the field.

Laurent Robert ran with the ball down the left before Danny Mills pushed him into touch. From the resultant free-kick, a perfect cross was headed down and in by Alan Shearer who timed a late run perfectly to move past Michael Duberry. 3-0

Full time: Leeds 0 Newcastle 3
Sir Bobby enthused about two-goal Dyer:
"I'm surprised he doesn't score more in the league because he gets into some great positions, but he just doesn't put it past the keeper.

"But he has done it three times today, although he hit the post with the third effort. His second goal was beautifully taken. It was the sort of goal you would see Robbie Fowler or Thierry Henry take. He made it look easy when it wasn't.

"But his runs were unbelievable. He saw more of the ball than anybody else and I just don't know where he gets all his energy from.

"He deserved a hat-trick and Leeds couldn't hang onto him. But he has to learn to put that ball past the keeper more.

"I thought it was going to be a tricky game for us. It was at 3pm but just after four it was a little bit different.

"We've done well yet again after coming back following an European match. We don't seem to let it affect us.

"In the second half we were outstanding, but we squandered some late chances. If it had been 0-0 late on and we had done that then I would have been pulling my hair out."
Eddie Gray (in the absence of the poorly Terry Venables) said:
About the 'Sack the board chants':
"It was disappointing. But it's the team on the park that dictates the reaction of the crowd and things don't happen like that when it is you who are winning two or 3-0.

"For 45 minutes we competed reasonably well, but when the second goal went in it was disappointing to see heads go down and they then took complete control of the game."

"It's a lesson for our lads because if we want to get back to the top this is the type of team we have to compete with and in the second half we didn't do that."
Magpies @ Elland Road Premiership:

2002/03 Won 3-0 Dyer 2, Shearer
2001/02 Won 4-3 Bellamy, Elliott, Shearer, Solano
2000/01 Won 3-1 Solano, Acuna, Ameobi
1999/00 Lost 2-3 Shearer 2
1998/99 Won 1-0 Solano
1997/98 Lost 1-4 Gillespie
1996/97 Won 1-0 Shearer
1995/96 Won 1-0 Gillespie
1994/95 Drew 0-0 No scorer
1993/94 Drew 1-1 Cole
The three points made Elland Road our most profitable away ground:
Our record at Leeds since we were promoted now reads:
P10 W6 D2 L2 F17 A12 Pts 20
While at Aston Villa it's:
P10 W5 D4 L1 F12 A6 Pts 19
Newcastle have still never lost a game that has followed a European game under Bobby Robson. The run now stretches to 19.
Apart from seven minutes at Highbury in the FA Cup last year, Brian Kerr has been something of a lucky charm for us. His record so far:
2000-01
Coventry 0 Newcastle 2 (sub 89th min)
2001-02
Peterborough 2 Newcastle 4 (sub 89th min)
Arsenal 3 Newcastle 0 (sub 83rd min)
2002-03
Newcastle 4 Zeljeznicar 0 (sub 75th min)
Newcastle 1 Liverpool 0 (played 73 mins)
Newcastle 2 Man City 0 (sub 89th min)
Newcastle 1 Bolton 0 (sub 84th min)
Tottenham 0 Newcastle 1 (played 61 mins)
Leeds 0 Newcastle 3 (played 81 mins)

Saturday's shutout by Newcastle goalkeeper Shay Given was his 11th of the season in the league from 27 games, officially the safest pair of hands in the Premiership.

Dyer's two goals were his first senior strikes since the Worthington Cup penalty defeat at home to Everton back in November 2002, when he also struck twice. His last Premiership goal came in April 2002 in a 3-2 away win at Derby County.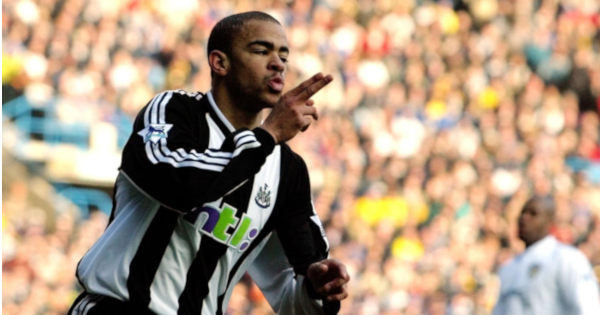 Another formidable display on foreign soil from the black and whites, as Sir Bobby's birthday bash extended into the weekend.

In truth it's hard to recall a Premiership game in which we've featured when the opposition were in such disarray by the final whistle and the Toon fans had sore throats from "oléing" each successful pass and move.

And had the comparatively proficient BBC been covering the game rather than the slipshod ITV crew, then there's a good chance Barry Davies or Motty would have been drawing comparisons with the memorable runaround Southampton received on this ground in the 1970's.

At a venue that has become an increasingly happy hunting ground in recent seasons, we reshuffled our resources after the Leverkusen success and once again came up with an irresistible blend of attacking prowess.

Happily our backline also played their part, with Andy Griffin in "take no prisoners" mode as he returned to compensate for the loss of the suspended Bernard. After an early skirmish with Wilcox, the Leeds player wisely sought to avoid the man known in the club as "Fred West" and hid behind the Leeds fullback before wimping out at the interval.

Pre-match media talk had sought to make an issue out of the Woodgate situation, but with the player remaining on Tyneside and O'Brien, the man likely to make way excelling in defence, then it was a bit of a dead rubber.

The inevitable Woody chants from the toon fans in the early stages didn't provoke much of a response from a home crowd who appeared to have undergone a programme of mass sedation, and thereafter only the increasingly popular Peter Ridsdale song got an airing, interspersed with our more regular away repertoire.

Early stages of the game saw us easing our way into proceedings, rather than the turbo-charged opening salvo that has been our trademark on other occasions. However we still took the lead just after the quarter hour mark and never really looked likely to be pegged back after that as Leeds heads dropped.

Terry Venables had opted to avoid the match with the flu, and although his club fielded a full side for the game, many of those seemed equally under the weather and incapable of shaking a leg. A notable exception to this was Radebe, who once again did his level best to stem the tide and limped off with twenty minutes remaining after having bravely launched himself to deny Newcastle at least one certain goal.

Alan Smith also at least had the good grace to look p'ed off about the whole situation and did what he could by fair means and foul to try and raise his side and their moribund fans. In the absence of Viduka the responsibility for leading the line fell to him and he was as robust as ever, while maintaining the ability to tumble over at the slightest provocation.

Having seen his music hall act before though, Alan Wiley was wise to it and ignored a large proportion of his free-kick seeking antics, as well as the flag-waving of his linesmen when they attempted to halt play in Smith-related incidents.

After two anxious moments each side of the break when Kewell looked set to test Given from positions that favoured the attacking side, Newcastle moved on to what aged hacks always call easy street with a stylish second from Dyer.

While he celebrated along with the toon end, the mood of the home fans darkened still further and many in the Lurpak Stand were quick to join in the ironic sack the board chants coming from the away sections, with a few daubed bedsheets being unfurled as a dry run for the post-match protest by home fans outside the main entrance.

Enough of the yorkies though, we've done our bit to help them out by agreeing the wedge of cash for Woodgate. And in return they go away and give more players undeserved pay increases and contract extensions.

Let's concentrate on the United that matters, and although the deluge of goals we threatened never appeared, the manner of our second half performance was one of a side oozing confidence bordering on arrogance as opponents were brushed aside by what was becoming an irresistible force.

One is almost tempted to say that it was the sort of performance often seen from Arsene Wenger's side on away grounds, with Dyer's second strike akin to some of the seemingly effortless goals scored by Henry et al.

Text and radio updates though in the first half had confirmed that Arsenal were inflicting even greater punishment on Kevin Keegan's side - as we seem to catch up then so they find an extra gear....

It's worth recalling though that while both our away wins this week were impressive results and deserved victories, the opposition in both matches was somewhat dispirited and had taken their eyes off the ball, metaphorically speaking.

But how many times have Newcastle gone to grounds where points seem to be there for the taking, only to underachieve and hand the initiative to an inferior side? Far too often we've been the obliging guests dispensing relief to beleaguered hosts - West Ham away last season still sticks in the throat, but there are others....

Heartening then to see a toon team in form, playing with a purpose and a lack of fear and reaping the benefits. It's also reassuring to see that players are doing their allotted jobs, whether it's their chosen position or not. While Brian Kerr was unhappy at being forced into a wide right role when on loan at Coventry, he's giving it his best shot in our first team, happy just to be involved after a frustrating year or two when injury saw him fall behind McClen in the pecking order and then the likes of Jenas appeared.

He would be the first to admit he's not an attacking right-sided player, but he was deservedly applauded from the field by the toon fans for his whole-hearted contribution. Also in that category is Aaron Hughes, who occasionally gets found out by top-class players when employed in a full back role but slots in with the minimum of fuss and plays his part in a vastly improved defence among the meanest in the country.

While some mix and match, there are others who have their specific jobs and they were also earning their keep at Elland Road. Bramble again looked the part and rode his luck a little as he had in Germany but emerged unscathed, while Robert kept that goals / assists tally clicking on - now two converted crosses and one goal in as many games.
On a purely personal note, it was reassuring to see that Robert had pulled out of his end of year depression that culminated in tossing off a performance at Wolves and looked to be enjoying proceedings at Leeds as much as anyone. He also broke with recent tradition and acknowledged the crowd with smiles and thumbs up while waiting to take a corner - acknowledgement richly returned by the Mags.
We now genuinely seem to have a squad in place that allows us flexibility to turn out different forward lines and not worry too much when key players aren't available about weaker replacements letting the side down.
It's also prudent to remember that with three of the promising players in Premiership unavailable to us and therefore some £20m+ worth of Viana, Jenas and Woodgate not on the field, we won at a canter.

Our away record is being repaired game by game - long may it continue as success breeds success. At present we fear no-one, and while Arsenal seem to be disappearing over the hill our interest levels in this season continue to rise - big games on Tyneside interspersed with a massive Italian jaunt and more mundane but vital visits to Moyes-eyside and that London.

Exciting times to be watching this team who are growing visibly in front of us - Sir Bobby is rightly proud and so should the fans be. Appreciate it, support it, enjoy the moment - like Leeds you never know what the future holds....

Biffa