Date: Tuesday 11th March 2003, 8.45pm (7.45pm BST).

Venue: Giuseppe Meazza Stadium, Milan aka the San Siro

Conditions: Calm and clear but unwanted moisture still landed on the toon fans from the heavens (see below)

Programme: Unofficial issue available at the ground for €5, another one spotted at airport for €10.




Inter Milan
2 - 2
Newcastle United
Teams
42 mins Nobby Solano chipped a ball forward for Craig Bellamy to chase down the right. Confronted by two defenders Bellamy skipped away from Guly and slid over a cross for Alan Shearer to side-foot home from a couple of yards. 1-0

Half time: Inter Milan 0 Newcastle 1
47 mins Titus Bramble broke up an Inter attack but lost the ball to Martins in the centre circle. Martins played it out to Cordoba on the right and his early cross was met by Vieri who headed into the far corner. O'Brien looked favourite to meet the cross but seemed distracted by Speed who had sprinted back to help out.

Would we have conceded this goal if Woodgate had been playing? we'll never know...1-1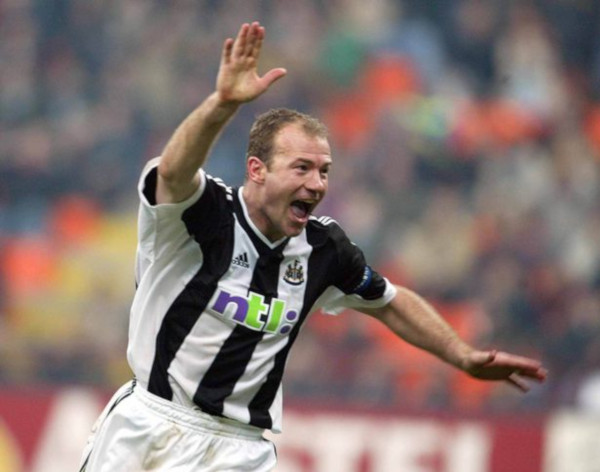 49 mins Laurent Robert put in a decent ball from the left but Toldo looked able to gather it. However, the keeper fumbled and the ball bouced up off Coco to Alan Shearer who stroked the ball in from six yards. 2-1
60 mins A very dubious free-kick was awarded for a nothing challenge by Bramble down the left. Emre curled a strong ball across and Cordoba rose above Gary Speed at the far post to send a downward header past Given.

Shay got a feint hand to it but the pace and power of the header meant only an extraordinary save could have kept it out. Would we have conceded this goal if Woodgate had been playing? we'll never know... 2-2
Full time: Inter Milan 2 Newcastle 2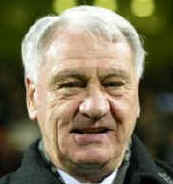 Sir Bobby said:

"I'm disappointed with a draw here. Hector Cuper will be delighted with a draw - he'll be jumping with delight.
"As long as mathematically it's possible, we'll always have a chance, but the advantage obviously is with Inter because if they win their last game, they go through even if we win our last game."

"On the evidence I have seen, I really don't think Bayer are capable of beating Inter - I don't know everything about football, anything could still happen. But I feel Inter will have too much for Leverkusen next week so, however I feel about my players, it is tinged with disappointment.
"As long as it is mathematically possible there's always a chance. But the advantage lies with Inter, and as long as they win their next game, they will go through to the quarter -finals.
"We could win and still not go through but we will do all we can. You never know what can happen in football, all we can do now is play Barcelona next week and play to win.
"If this had been the first game of the group and we had come here and got the draw, it would have been a tremendous result for us. But we had to win to have a real chance of progressing.
"We knew what we had to do and we had no problems with that.
"We had no inhibitions or difficulties knowing how to play and twice I was delighted when we took the lead. But twice we couldn't hold on and we really need to learn how to defend a bit better than that when we play at this level."

On Vieri:
"He is a very valuable player, they would have done very badly against us had he not been playing. Any big players who are missing gives us a better chance. You never know what's going to happen in football."

On Bellamy's penalty claim:
"It doesn't matter now, it isn't going to change the result. Craig was very unlucky to get a yellow card - he wasn't trying to dive, he wasn't trying to get a penalty. He got straight up and told the referee that. What can I do?

On Bramble:

"He had a difficult task - handling Vieri is not easy. He's a powerhouse of a player.
"He scored with a wonderful header and he was always lurking around looking dangerous. But with respect to Titus, he's come out pretty well. He's had a fine match. He's young, he's had a wonderful experience here, as indeed all of our players have. We've just got to learn away from home when we're winning like that, can we defend better."
"This is a learning process. The San Siro is a cauldron, a hard place for young players to play."
"We are learning all the time, don't forget this is our first year back in the Champions League for a while."

On the referee:

"Bloody awful."

Hector Cuper said :
"I think the draw is absolutely precious. We have every chance of progression.

"We knew it would be difficult with the players we had out, but we did what we had to do. We played particularly well in the second half.

"Alan Shearer's second goal hit us hard but we reacted superbly. Leverkusen will not be easy - especially with Vieri now banned.

"We have faith we can win the match, and whoever lines up will have my total faith."

The Gazzetta sports paper the following day said Inter "had a bad night" against a Newcastle United FC side that "controlled most of the game."
Congratulations to Alan Shearer who joined Newcastle legend Hughie Gallacher on 143 Toon goals after his San Siro salvo.

Not a bad place to get the two goals that take him to equal third in the all-time toon goalscorers list.
Next in Al's sights is Len White's 153 with Jackie Milburn's double century still some way off.

However, Shearer did claim two club records tonight, as well as notching his first career goals against Italian opposition at club or international level.

His second goal of the game was his 11th in European competitions for Newcastle, one more than existing record holder Wyn Davies, and his 7th of the season, one more than Pop Robson who grabbed 6 in our inaugural Fairs Cup campaign.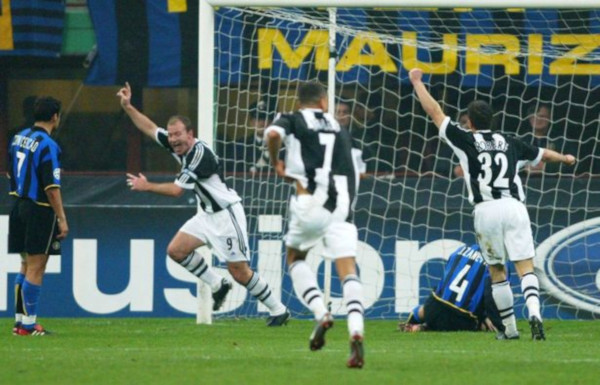 It's an easy line to spout when journalists are ready to pounce, but anyone within the Newcastle party who said that this game was the biggest game in living memory for once was right.

All the hyperbole in the world couldn't prepare one for the sheer scale of the San Siro stadium, especially when approached in the dark - lights twinkling away up into the night sky, more like the mother ship in Close Encounters than a football ground.

And after a remarkable match packed with incident and controversy that we emerged unbeaten from disappointed not to have won, the endless twists and turns of this campaign present us with one more chance to pull unlikely qualification off, with the aid of our Leverkusen chums of course....
That there was that collective feeling of disappointment after this result bears testament to the progress made since that first game in Sarajevo. Many miles travelled indeed in the interim and not just by the team and fans.

Lessons appear to have been learnt (in some cases painfully so) and although the club have taken steps to bolster the squad and Woodgate isn't able to feature until next season's campaign, those who were there at the beginning have grown into the part.

Non-believers will of course now be waving their teamsheets frantically in our direction, anxious to point out that we failed to beat a significantly weakened Inter side and had been ruthlessly pushed aside by their big lads on Tyneside - even though it was our lot who were caught doing the pushing.
But it's almost incidental who was in the blue and black striped shirts, as we put in what was nothing short of an astonishing display of football in the opening forty five minutes. We didn't just play as well as the home side allowed us, we came with a plan and a determination to carry it out, and did so regardless of the opposition's footballing and acting skills and the outrageous bias of the officials.

How Bobby's heart must have soared when Shearer turned away in triumph after scoring that first goal, as did your correspondent, once he'd confirmed that Portuguese twonk with the whistle and his flag-happy compadres had actually allowed the damn thing.

Mass incredulity was the order of the day, as seemingly sane people careered across seats and into mass huddles without regard for their personal safety. If anything it was even more bonkers than the Bellamy/ Feyenoord moment, and more akin to Lee's semi-final goal, when for a few marvellous moments we seemed to have finally opened the door to the big time, after years of jiggling the key fruitlessly in the lock.

We might have known it wasn't going to last.

Half time produced a procession of stunned expressions from some of those nearby, while others jigged around in the manner of the demonically possessed. That didn't last long, once the lads had been roared back on to the field for what promised to be an epic second forty five minutes.

But this is Newcastle United remember.....and the Milanese promptly went upfield and popped one in to provide a severe jolt of reality to the romanticists on the Curva South.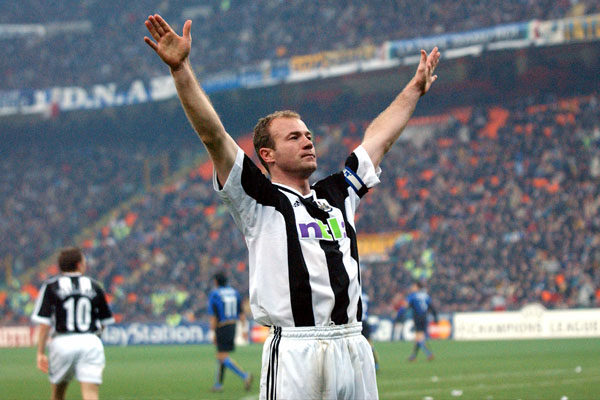 No matter though, the ball gets dispatched from Robert into the box and somehow big Al is there to knock it home. The carnival has started again and there's Gosforth's favourite son in front of us, arms aloft, with a Peruvian climbing on his shoulders as thousands of geordies go collectively nuts. He's scored. For Newcastle. Against Inter. In Milan. And we're there - and we're winning. "2-1 in the San Siro" was the song, manna for the ears. Bloody hell.

At that stage, those present wouldn't have swapped their place on this earth and alongside this pitch for anything, anyone or anywhere. Bedroom romps with film stars, swimming in vats of drink, breaking the bloody bank at monte knaa where.

Moments that you can't buy on Ebay.

But it couldn't last - the fickle finger of fate peed in our face again, along with a number of the gutless Italian bastards in the upper tier, and back they came with another equaliser, just as some of their fans were starting to leap from their seats to unleash tirades of abuse at their own side.

Try as we might, we just couldn't summon up that late winner as we had in Rotterdam. And in those excruciating final seconds while an atrociously-awarded free kick almost turned into a penalty-length opportunity thanks to the ball-shifting antics of Inter, we faced an exit.

Thankfully the theatre of tragedy didn't serve up a command performance though and we face the visit of Barcelona with at least the same hope we had travelling to Feyenoord. And there may yet be justice of a sort, with Vieri picking up the dubious yellow card that keeps him out of that final game in Germany.

Such was the disgracefulness of the home side's cheating, the complicity of the match officials and criminal actions (or inactions) of the Milanese police and fans that it did seem at one stage that we were destined to win this game, just to prove that the good will out, occasionally. But it's still not over, there's still one more game that could just top everything - even the Tino hat trick night.

The team and fans were absolutely fantastic in this game, regardless of the fact we didn't win it and regardless of whether we yet sneak through. Like Bobby Robson, we're proud to be Geordies and if we go out on next Wednesday we go out with heads held high knowing we've given a good account of ourselves, something that seemed most unlikely earlier in the competition.
Biffa