This report is brought
to you by Ginsters.


Date: Sunday 11th May 2003, 3.00pm

Venue: The Hawthorns

Conditions: Sunny and friendly





West Brom
2 - 2
Newcastle United
Teams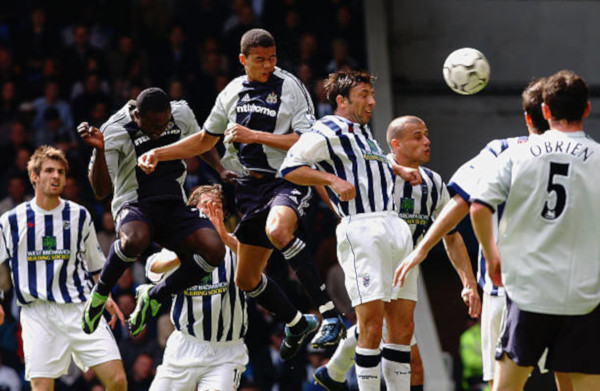 43 mins Newcastle could really have scored several of these given Albion's depleted central defence. A low purposeful cross (this time from a corner) by Nolberto Solano was headed in from 12 yards by Jermain Jenas. This can be a simple game at times....1-0
Half time: West Brom 0 Newcastle 1
57 mins Dobie seized on a downward header and following a good first touch he was able to steer the ball past Given. 1-1
72 mins Dobie took advantage of a loose ball in the area and a static United defence to curl a right-footed shot around Given and in off the far post. 1-2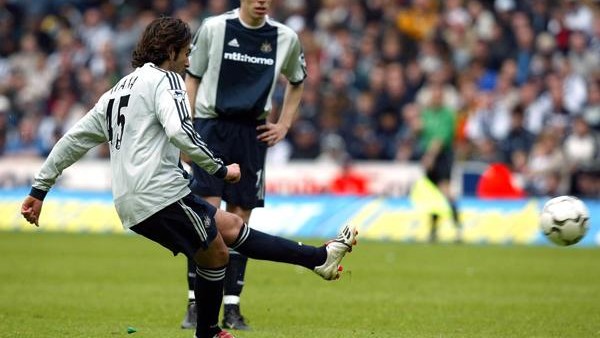 80 mins Hugo Viana knew exactly what he was going to do, as did virtually everyone in the ground including the home defence.

Russell Hoult placed his wall accordingly and at one stage even had a man on the line. Whether the man was there or not, no-one could have prevented the ball finding the top corner as Viana stroked it in with his left boot. Bend it like Beckham, indeed.... 2-2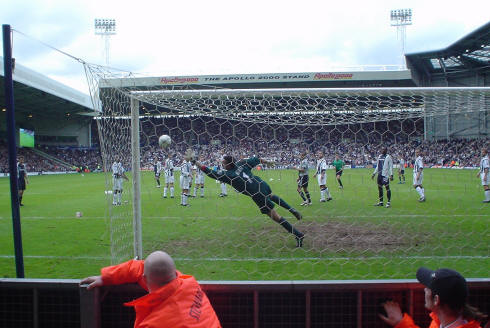 Full time: West Brom 2 Newcastle 2
Sir Bobby Robson kept a lid on his temper and said:

"I would have been very angry had we finished the season in third place and lost to a team that has already been relegated - that would have meant we were going nowhere.

"I would have been really cross. I would have been just as disappointed losing a game where the three points made no difference to our position in the league as I would have if we'd needed the three points and missed out on the Champions League.

"It was a good job that didn't apply but the job was done last week.

"We did not have to have any sympathy for West Brom and we did not have to lose to a team which was already relegated. That would have meant we did not approach the game in the right way. Look what Arsenal did at Sunderland as a comparison.

"At half-time we looked quite secure and I said to the players: `A good team would not lose this match. Arsenal would not lose this match - now can we match Arsenal?'

"We had a series of decent chances just after half-time and we only needed one to go in and we would have been home and dry. But we showed a great attitude during the game and to be fair the players have given this club and the fans a fantastic season.

"You cannot crib at the players because they did go out and give a spirited display and a sensible performance against a battling Albion team."

Former Magpie Gary Megson said:

"I think we had a very good attitude which followed on from our last game at Blackburn.

"I would have been disappointed if we'd lost even though the result didn't really matter.

"The players' spirit got them back in the game. In the first half we played like we were feeling sorry for ourselves and waiting for the season to end.

"But in the second half we went about it in a much more lively manner and took the lead and, as we've done on so many occasions this year, we didn't manage to hold on to win."
This was our 700th top flight draw (Division One & Premier League).

Darren Ambrose and Michael Chopra became the 99th and 100th Newcastle players to play in the Premier League. Since joining the new-look top flight in 1993-94 in its second season, of those 100 players 60 have scored a Premier League goal for us.
Kieron Dyer completed a century of league starts for the club and Nolberto Solano notched 150.

Once more we went in at the break leading 1-0. In our last five Premiership games we scored just before half-time:
1-0 Fulham (Shearer 39)
1-0 Aston Villa (Solano 37)
1-0 Sunderland (Solano 43)
1-0 Birmingham (Viana 42)
1-0 West Brom (Jenas 43)
At least we managed a second after the resumption against the Baggies, unlike in the other four games. That run of half-time 1-0 scorelines can also be extended to 8 out of the last 11 games in all competitions.
We missed the chance to match last seasons 71 Premiership points by not winning, ending the season on 69pts. In the end, our away form compared reasonably favourably with other recent seasons, although the nine defeats were ultimately costly.

Premiership away form - ten seasons

1993/94: 31 points from 21 matches (9 wins, 4 draws, 8 defeats)
1994/95: 24 points from 21 matches (6 wins, 6 draws, 9 defeats)
1995/96: 26 points from 19 matches (7 wins, 5 draws, 7 defeats)
1996/97: 26 points from 19 matches (6 wins, 8 draws, 5 defeats)
1997/98: 15 points from 19 matches (3 wins, 6 draws, 10 defeats)
1998/99: 19 points from 19 matches (4 wins, 7 draws, 8 defeats)
1999/00: 17 points from 19 matches (4 wins, 5 draws, 10 defeats)
2000/01: 17 points from 19 matches (4 wins, 5 draws, 10 defeats)
2001/02: 32 points from 19 matches (9 wins, 5 draws, 5 defeats)
2002/03: 22 points from 19 matches (6 wins, 4 draws, 9 defeats)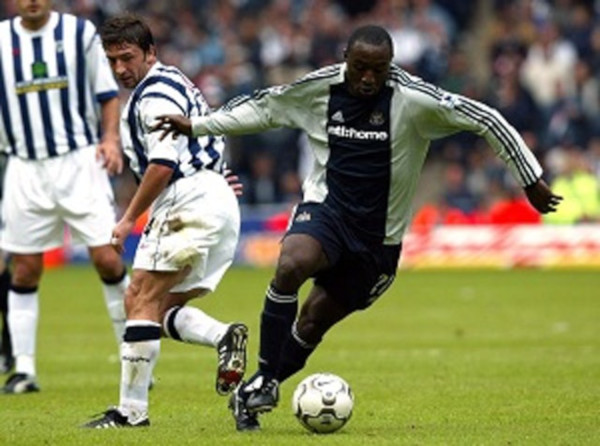 I've never been a believer in having a "second" team.

Perhaps there's some scope in having favour for a team on your doorstep, like Blyth Spartans, for example or a sneaking regard for a Scottish or European side but other than that, the concept of supporting two football teams is a poor one for me.
St. James' Park was probably the nearest football pitch to my place of birth (I'm not including the lethal four foot high goals on the Nun's Moor here) so I never really had a more local team than Newcastle to watch.

Scottish or European football never threw up a team I was ever bothered about and after getting a bit carried away with Mexico 86 (Beardsley's fault), Italia 90 and then Euro 96 I promised myself never to get embroiled in an England campaign again. The heartache and misery bestowed on me by the Toon was always enough without room for any more.
So where on earth did I develop a "soft spot" for the Baggies? It's difficult to say. There is some early evidence - my 1974 FA Cup Final programme is defaced with their FA Cup successes underlined with a black felt tip pen. Hardly conclusive proof and other than having an early West Brom subbuteo team, I can't think why.

Nevertheless, I've always quite liked them and it's only in later life that I've accumulated a number of family and friends who are Throstle-watchers to confirm that they're a good club with cracking fans. Not dissimilar to us.
Ever since the fixtures came out I'd hoped that there wouldn't be much resting on this game and although I'm sad to see them drop back down to Division One, I'm glad it wasn't us sending them down on the final day. However, the carnival atmosphere didn't detract from the hunger of both sets of fans to end memorable Premiership seasons with a win.
For me, this was a big test for our youngsters - a glimpse of things to come with no Shearer and no Speed and no-one to really command the side with Kieron Dyer once again handed the captain's armband. LuaLua and Shola had the chance to shine as they had done against Bayer Leverkusen and at the back it was the chance for Steve Caldwell to persuade Bobby he was worth more that his current contract valuation.

Why the hell Steve Harper wasn't given a chance in goal is still a mystery. Was Shay's ever present league record really put ahead of appeasing one of the best second-choice keepers in the Premiership?
Once the first whistle went it was certainly game on - neither team were pulling out of much and there was some hard graft from the home side and a distinct lack of anything resembling an exhibition of uninhibited free-flowing football. Bob Taylor became the first victim, going down in a crumpled heap, although his injury looked to be the result of an awkward fall rather than a heavy challenge. He was obviously in some discomfort although the stretcher-bearers were waved away as he limped on.
We were starting to gain the upper hand - more through gifts from the opposition rather than any incision from our midfield or attack. Occasionally we would knock it around swiftly and precisely but the end result was usually a floated cross from Solano onto the head of Shearer. Unfortunately our top scorer was on the other side of the city in the SKY box at St. Andrews.
With LuaLua and Shola in the middle we have no aerial presence and exactly why Viana and Solano persisted in lifting balls into the middle was baffling. Fair enough, they were undoubtedly weak at the back but we didn't have anyone to exploit that. Shola seems to duck when he jumps and for a gymnast Lua doesn't seem to have much spring unless he precedes it with three or four tumbles....
Of course, we ended up scoring through a header and it was one that Big Al would have been proud of. A corner was whipped into the danger area and of all people JJ met it full-on to divert it from near the penalty spot. A less likely source of a goal is hard to imagine, given the previous 42 minutes but it was a welcome break to the stalemate.
By that time we could and should have been behind. Taylor inevitably admitted defeat and his lengthy departure from the pitch received generous applause from all sides of the ground. Up front they were poor and with Dichio looking every bit a failed mackem, Andy Johnson missed a sitter, trying to lob Given when a low shot to the side of our keeper would surely have opened the scoring. Dichio's low point came when he almost seemed to stop and claim an offside decision for us, rather than turn the ball in from inside the six yard box.
Yet another 1-0 interval lead flattered us slightly but we had managed to make dispirited and disjointed relegation fodder look good. Credit to the Baggies, however, for giving it everything, as they seemed to have done for all but the Liverpool home game.
No changes for us at half-time with Bobby probably waiting for our second goal before introducing Ambrose and Chopra. He had a long time to wait....
Captain Dyer was quite frankly a disgrace in the second half. His movement and touches weren't bad, although he certainly wasn't at his best but his attitude was rotten. Two or three times he wasn't given decisions that could well have gone his way but to stop and raise his arms in disgust rather than try to win the ball back was prima donna behaviour at its worst. To then turn round and sarcastically clap ref Barber when he eventually got a free-kick was pathetic and he was lucky that his lecture wasn't accompanied by a card.
No, Dyer was passing up his opportunity to rise head and houlders above his peers big style. Unfortunately Shola followed his lead moments later with a similar tantrum and it was no coincidence that Albion took heart and took the lead. Both goals were similar coming from the right boot of Scott Dobie on the left hand side of our area. Marking was sloppy but his finishes were tidy enough and suddenly the whole ground was bouncing.
To be fair, it wasn't the end of the world for us and a fair few of us joined in with the "Boing, Boing!" celebrations. But that didn't excuse the lack of professionalism on the pitch from our lot and Bobby was clearly fuming. As he revealed afterwards it was vital we didn't let the season finish with a whimper.
Thanks goodness we didn't have too long to wait to get back on terms. Darren Ambrose had already replaced the increasingly disinterested Solano and made a couple of good runs before Dyer was a bit fortunate to win a free-kick on the edge of the 'D'.

Megson & Co. may have seen The Premiership the week before but there was nothing they could do to stop Hugo Viana giving a perfect replay of the free-kick goal he scored against Birmingham. There was a slight worry Barber might disallow it with Viana striking the ball a fraction before the ref blew his whistle but it would have been a tragedy to disallow such a stunning strike.
This allowed Michael Chopra to get on and as he had done for Watford, he looked lively and tricky on the ball but too easily dispossessed. Visions of Jamie Coppinger, Paul Brayson and other promising starlets flashed before my eyes but hopefully my natural pessimism proves to be unfounded.
Thankfully, Shay dealt with one or two one-on-ones and the game ended in an amicable share of the spoils. With more good-natured swapping of chants ("You're not bouncing anymore" etc.) followed by some heart-warming swapping of shirts by the fans and handshakes all round as two sets of genuine fans bid their farewells.
We'll meet again, don't know where, don't know when but I hope it's damn soon. I'd rather have a team like this in the Premiership than the East Midland rabble soon to be replacing them. And heaven forbid that we have to travel to the Molyneux again.
A cracking day out played in the spirit that very rarely happens in the pressure-cooker, money-driven world that football now inhabits. However, that's the one we play in and this talented team of ours needs to adopt the hard-headed ruthlessness that brings home trinkets if we are to be remembered for decades to come.

It's time for some of our lot to grow up quickly and follow in the steps of those whose days are now numbered. Which brings me nicely to our man of the match and the only captain on the pitch that these eyes could see. Step forward Steve Caldwell, who didn't put a foot wrong and almost scored when others seemingly had their minds on getting back to Tyneside for the Justin Timberlake gig.
The one player who had every right to act like a huffy bairn after his recent derisory contract offer stood out from the rest. I can't believe he or Steve Harper for that matter, will be forced out of the club. That really would be cutting off an O'Brien-sized hooter to spite your face....
Niall MacKenzie