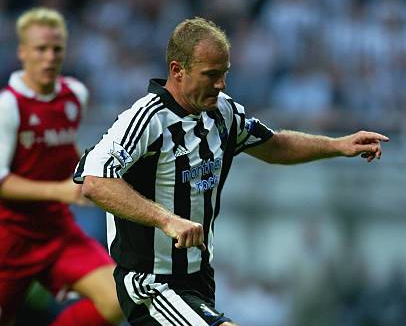 Have we improved in the last year?

Certainly, if the results of our two home warm-up games are to be believed, even if this performance was rather less majestic than one or two reporters reckoned.

Back in 2002 a packed house generously saluted Patrick Kluivert and Barcelona, partly due to their deserved 3-0 success on Tyneside but mostly because there wasn't a massive amount to cheer amongst the home ranks.

Fast forward twelve months to what was an ostensibly meaningless game, but in many ways more of a contest than the previous visit of German opposition to Gallowgate - that one-sided champs league victory over Bayer Leverkusen.
Now, as then, it was Alan Shearer who was the scourge of Bundesliga backlines and were it not for some over-protective whistling from Jeff Winter, the fit-again forward could have grabbed even more of the headlines.
As it was both managers could withdraw with dignity and pride intact: Sir Bobby to look forward to next week's trip abroad and Ottmar Hitzfeld to welcoming new star striker Roy Makaay and building on their opening day domestic success.
On a night when four goals were shared, the biggest winner was home debutant Lee Bowyer, booed in Kuala Lumpur and Sheffield but warmly greeted here.
His night had got off to a memorable start - nutmegging an opponent in the 13th minute. With Newcastle kicking into the Leazes end in the opening 45 minutes, he occupied a right flank position and was cheered and clapped by fans in the North East corner of the ground when he took a succession of corners from that side - a fact he wasn't slow to acknowledge.
This became more general applause when Bowyer was replaced by Solano for the final quarter, a generosity hailed by Bobby Robson in his after-match comments.
Bowyer's contribution on the field was to be competitive and offer some balance to the side down the right, a forgettable game from Griffin not helping particularly in this respect.
Elsewhere in midfield, Dyer seemed busy but without contributing a massive amount overall, while Speed was often faced with unfair odds as Munich attacked with quick, short interplay.
Out on the left Robert opened up in an almost exuberant fashion, fizzing a couple of crosses over and blazing a match-winning chance over the bar in the final seconds. Perhaps he was breaking in a new pair of boots.
Up front we saw familiar situations when Bellamy and Shearer operated in tandem before the break - the former showing his pace and setting a goal but not having a clear chance on goal, the latter tangling with defenders and getting on the scoresheet, both in his inimitable style.
The second half saw Bellamy withdrawn as a precaution with a groin pull and the introduction of Ameobi, complete with his usual mixture of skill and clumsiness.
Like Tino before him, his undoubted talent is of an individual nature and the unexpectedness of some of his play doesn't always lend itself to being understood by his colleagues.
On more than one occasion one could almost sense the frustration of Shearer when his young apprentice jumped for the same ball or beat his opponent only to trip over the ball before delivering.
However, like Robert it only takes a quick look at the stats for last season in the back of tonight's programme to appreciate that it's worth the effort to harness individuality for the greater good of the team.

Besides, when their stand-ins are Viana and Cort respectively, the contributions (not to mention availability) of Laurent and Shola begin to look a bit more consistent....

To put each player under the microscope in what was a practice match is perhaps a little unfair, but we're a week away from our first competitive game of the season and after that the challenges come thick and fast, both at home and abroad.

While it's excusable for tackles to be a little less than whole-hearted in games like this, the fact that the ticket prices made no more than a token gesture towards the fact this was a kickabout (£20 here, £25 for the champs league in a few weeks) should mean that a modicum of effort is expended on both sides.

Happily this was the case, and even though we could have done without the below-par officiating of the Stockton tangoman and the diving histrionics of a number of the visiting players. Still, that's the sort of thing that one encounters every week during the real stuff, so it's as well to re-acquaint oneself with it now, whether you're a player or watcher.

To end this report on a positive note, a draw was probably the best result, with the victory that one of those late goals would have brought perhaps leading to unrealistically-expanded hopes of success this season. As it was, the "honours even" outcome keeps things going in the right direction without uprooting conifers.

Finally, mention of the large number of younger fans who took advantage of the £5 admission to make a rare, or in some cases debut visit to the mansion on the hill.

As a hard-bitten cynical old so-and-so it's easy to forget the sheer thrill and excitement of going to a game, any game at what must seems like a giant's back garden when you're only a little 'un. And there's always something special about a night match at SJP, with the lights on and the grass almost seeming to shimmer...

For those new fans alone, the sight of Shearer banging one in at each end was enough to send them home with a head full of memories of their big night out.

Long may it continue.