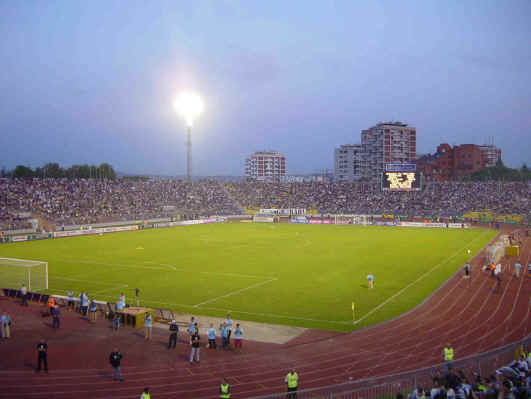 JNA Stadium 2003 - slightly more welcoming than in 1998
In many ways this victory bore a strong resemblance to the victory in
Sarajevo almost exactly one year previously: a vocal home crowd who thought
they'd seen their side take an early lead, only to have it rightly ruled out
and a single goal victory for the Premiership side courtesy of a
midfielder's boot.

Without question though, this Partizan side was a cut above the Zeljeznicar
one encountered in 2002 and Mattheus's men could also be judged a superior
outfit to the Grobari (Gravediggers) team who knocked us out of the
Cup-Winners Cup in 1998.

That night a single goal from the penalty spot eliminated us on away goals
and the fervent home fans seemed to have succeeded in their attempts at
intimidating the English side (not to mention bombarding it's supporters
with a variety of missiles.)

Happily dubious talents of the likes of Charvet and Ketsbaia have been
disposed of, but we still started this game with no less than five survivors
from the class of '98 in the first side picked by Sir Bobby in season
2003/04.

Here's our assessment then of the contributions of Given, Griffin, Speed,
Solano and Shearer on their return to the JNA Stadium, plus their debuting
colleagues:

Given: A bitter-sweet night for toon fan Steve Harper, seeing his team win
but his rival between the posts give a typical display, mixing agility and
instinctive reactions with a slice of luck.

Griffin: disciplined but not firing on all cylinders. Benefited from playing
behind Solano, with the Peruvian happy to track back and lend a hand.

Bernard: no such luxury for the other full back, who was regularly left
exposed by Robert in a manner reminiscent of Ginola's cold-shouldering of
Bez a few years back. Did manage a couple of forward runs to provide a
reminder of his usefulness on the side of midfield on those occasions when
we'll need eleven players contributing fully on the field.

O'Brien: happy to be the submissive partner in the combination with
Woodgate, but like Bramble it seems inevitable there'll be a self-inflicted
rick at some stage in the game. Fortunately tonight it didn't cost us.

Woodgate: Almost flawless. Hard to recall a toon defender with his heading
ability. Up in the stand the England Manager agreed and included him in his
squad announced soon after.

Dyer: Threatened to get involved without ever quite doing so, but showed
some responsibility in covering counter-attacks from the home side.

Speed: Toiled a little - in truth we could do without him playing next week
up the road at the Red Star ground for his country. A timely reminder that
it's not just the massive presence of Shearer that we have to replace.

Solano: Once again one of the finest imports ever to wear our colours kept
his head at the vital moment. Last season it was a penalty against the
mackems, this time out ensuring shouts for a penalty were rendered
meaningless.

Robert: Failed to contribute enough either when we defended or attacked -
the former is only excusable if the latter isn't the case.

Bellamy: Withstood almost constant punishment with the minimum of response.
Number of FFSSUMC moments (for flip's sake shut up man Craig) = 1.

Shearer: No real chances apart from being fouled in the area before Nobby
scored, but a couple of typical clashes with defenders to gain free kicks.
Suffered from poor service, notably in closing stages when man marker Taribo
West went in search of an equaliser.

Sub Ameobi: Gave Partizan something different to contend with as he proved
difficult to dislodge when in possession.

(Sub Jenas: brief contribution in latter stages)

So, a vital away win achieved in a hostile arena which opens the door for
another season of Champions League adventures.

We may have ridden our luck a little in the final few minutes, but for the
200 fans who made it to Belgrade, first-hand evidence that Bobby's boys are
back in business in their first meaningful game.
The Trip

By now most of you will have heard about the events in Serbia, which culminated in a party of Toon fans partying at the residence of the British Ambassador, after he stepped in to resolve the hotel "siege" situation that the club and British police apparently had no interest in.

While thanking the gentleman concerned, Ambassador Charles Crawford (and his staff) for his efforts in assisting the Toon fans, the question was asked of him what part Newcastle United Football Club had played in his actions.

His answer was short and concise:

"None whatsoever"

Interestingly enough, we hear a different story being touted around from sources close to the club - don't believe the hype.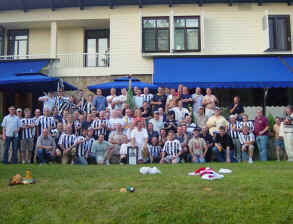 The Toon Army - by royal appointment
(click on photo for larger image)
And while we're on the subject, having been messed around for an hour before the club representative bothered to show up and pass on tickets in Belgrade, it was slightly surprising to see him selling them to all -comers for cash.

While it's nice that the club chose to help fans who were unable to get vouchers from SJP, it was more than a little annoying for those fans who obtained the special forms from the club and returned them completed to find out they'd wasted their time, money and energy on filling in the bloody things.
So, having been messed around and forced to go to a different hotel to get the match tickets, our escorted convoy pitched up at the city centre Excelsior Hotel that had been booked for the 108 Toon Travel customers.

Passports were handed over in exchange for room keys and most people headed off to dump their bags then get out into the city for a wander and some refreshment, as recommended by the official Foreign and Commonwealth Office fact sheet released especially for this game.

That was before it became apparent the burly policeman with the big feet who looked like Jack Douglas and his mates weren't going to move from the front door to let us out. And looking out of the window, the heavily-armed robocop clones on the pavement and across the road in the park weren't handing out streetmaps either....

Amid the confusion (which allowed a few toon fans to escape through a side door that a friendly janitor was leaning on) the message filtered though that we were being kept in the hotel until being taken to the game "for our own safety."

"Welcome to the Hotel Excelsior -
you can check out any time you
like, but you can never leave..."

Apparently various unruly elements were massing in the city intent on inflicting severe damage on the English visitors - a "fact" that seemed rather odd given the sight of toon fans who had travelled independently wandering unmolested past the hotel window with no obvious sign of injuries, prevented from walking past only by the increasing number of press photographers camping on the pavement.
While negotiations continued, the hotel bar and restaurant did good business (giving credence to the theory that the hotel was owned by a relative of the chief of police.)

Elsewhere, escape plans were being hatched, although a ploy of setting off the fire alarm was unsuccessful when the glass was broken....and no alarm sounded. A search of the building revealed a certain lack of fire escapes, back stairs or conveniently-placed windows.

That didn't seem to deter everyone though......

Meanwhile in a nearby street,
Toon fans were forced to hide
their colours and cower under tables

I'm just popping out for a pint, pet"


Phone calls were made to the team and media hotel in Belgrade and also to St.James' Park, with no positive results,

Meanwhile others were in contact with UK radio stations and the Foreign Office, which turned out to be a more productive course of action.

By now it had become apparent from talking to hotel staff and a local guide caught up in the situation that the over-zealous security was a reaction to problems in previous European games when some visiting fans had been injured.

However, our detainment wasn't for our own safety - it was to remove any risk of problems, which would put the continued involvement of Partizan (and presumably Red Star) in European football at risk.
So, that UEFA stipulation about clubs having to move games out of their home nation if the safety of fans could not be guaranteed obviously doesn't apply here in Belgrade.

After about three hours of stalemate, a well-spoken gent appeared at the doorway, announced himself to be the Ambassador and confirmed "you chaps are coming down to my place for a drink". That resulted in a hearty rendition of Rule Brittania from the fans and several unsettled restaurant bills....

Buses duly appeared and once more we headed off under police escort, with seasoned travellers muttering about it being a con and our destination being an early rendezvous with the uncovered away end of the JNA Stadium, in the heat of the afternoon.

In the event, we did get off the bus near the ground, but thankfully just over the hill and at the entrance to the British Embassy.

The next couple of hours rank amongst the most remarkable pre-match drink ups that Toon travellers have ever enjoyed, fans relaxing against a backdrop of well -manicured lawns and a swimming pool.
Unfortunately the Pimms was in short supply, but to compensate, copious amounts of local lager and Boddingtons were dished out of large ice-filled bowls by servants, while others circulated with bowls of crisps and plates piled high with pastries.

And while all of this was going on, our former captors the local constabulary stood glaring at us through the railings, the Embassy grounds of course being off limits to them.

Eventually, having posed for some "team" photos we said our goodbyes and returned to the buses for a short hop to the ground.

A further large police presence greeted us there, but the locals who lined the path to our ground entrance were friendly enough, even applauding our arrival - a far cry from 1998, when police used their shields as protection when lighters, batteries, rocks and bolts rained down.
Inside the ground things were no more threatening, although the home fans were noisy without being as boisterous as before and the only things they threw all night were paper aeroplanes and abuse about birthday boy Alan Shearer.

And although we were ringed by a strong police presence, they had little to do all evening and were perfectly amicable.
For our part, the evening passed off without any problems, a good result was achieved and after the expected hour-plus hold back in the stadium, we returned to Stalag Excelsior by bus again.


For our overseas readers,
Bill Quay is a place...not a person.

Once there things briefly threatened to turn ugly as toon fans staying at other hotels tried to get through police lines, but after a few seconds the police seemed to realise they had little chance of getting everyone back into the hotel and they simply stood aside.

Thursday saw only a token (non-armoured) presence in the hotel lobby, with fans free to go and explore the city and another day of fearsome temperatures (at one point it was actually hotter than it had been in Kuala Lumpur for the Asia Cup.)
The sting in the tale came at the airport in early evening, where local bureaucracy kept us hanging around for three hours while a phoney argument over an allegedly unpaid tax bill was resolved, much to the frustration of fans and flight crew alike.

Eventual arrival in Newcastle for the charter flight was 11pm, with a strong police presence inexplicably greeting the returning fans - obviously nothing better for the local forces of law and order to do than stand around posing and gawping at people getting off a plane. On that basis, there's a job waiting for them in the Serbian Polis....
PS - there was one arrest among the toon contingent that we heard of - a lad was picked up in late afternoon, missed the match and at a midnight court hearing chose to pay a £60 fine rather than spend 20 days in the clink for the crime of.....singing in a public place.

And yes, we did ask the obvious question.... and it was "an N and an E and a W C....." that was being sung.

Serbian news bulletin, Thursday:

Newcastle fans who arrived to watch their team play a Champions League third-round qualifier against Partizan Belgrade on Wednesday were confined to their hotel before the game, the Belgrade daily Blic reported yesterday.
It said Belgrade police secured the transport of about 200 Britons from the airport at noon to a downtown hotel and prevented them from leaving for a "beer-drinking tour of cafes" before the 8.30pm match.
Some of the fans protested their confinement and a few of the "most belligerent" tried to break through, while others apparently considered leaving the hotel through first-floor windows.
British ambassador Charles Crawford eventually arrived at the scene. Eventually, special buses took the fans to the British embassy until it was time to leave for the stadium. The embassy, surrounded by a tall iron fence, has a large yard and its own cafe.
At least one group of Newcastle fans nevertheless made it into the city – Blic reporters caught them in a downtown cafe exchanging souvenirs with their Belgrade counterparts in an "utterly friendly atmosphere".
No incidents were reported after the game, which Partizan lost 0-1.