Date: Thursday 14th August 2003, 7pm

Venue: Netherdale, Galashiels

Conditions: Pleasant

Border Amateur Select XI

1 - 6
Newcastle United Reserves
Teams
Half time: Border XI 0 Newcastle 0

55 mins Zola header 1-0

57 mins Brittain penalty 2-0

59 mins Orr header 3-0

82 mins Brittain shot 4-0

86 mins Gordon Blacklock 4-1

88 mins Orr 5-1

89 mins Orr 6-1

Full time: Border XI 1 Newcastle 6
Back among his "ain folk", Tommy Craig commented:

"It was a good fitness exercise for us and obviously there's a difference in class which we expect.
"But to be invited up here and to get such a good turnout was very pleasing. It was a really warm night so from our own point of view the boys had a really good shift and we weighed in with a few goals at the end.
"We were sitting in the dug-out thinking the game could end 0-0 because their goalkeeper was pulling off all manner of heroics.
"I thought surely he can't do the same in the second-half, but low-and-behold he comes out and he's still putting the shutters up. It was an amazing performance for an hour. It's a long time since I've seen a keeper perform like that. If he does that every week he's got a chance."
Borders Amateur coach, Rob Shiel, said:

"We did very well. We have a very, very young team. I thought the defence was excellent. Obviously fitness was a big factor as we have amateur players, but to compete with them in the first-half the way we did is a credit to football in the region.
"People often say we're a one sport area, but I disagree. Football's definitely a growing sport and especially in the amateur ranks.
"I believe the Newcastle team have not lost a goal for a few games so it was great to score and it's great for a team of such quality to come to the Borders and entertain the fans.
"Willie McMillan was absolutely tremendous and he's one to watch for the next couple of seasons in the Border Amateur."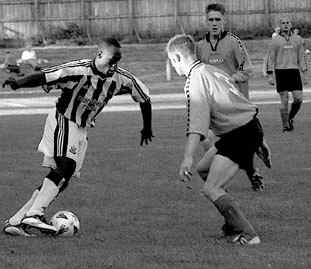 A rare visit by a Newcastle team to the borders town of Galashiels, birthplace of former Scotland international midfielder John Collins and a fair few other Magpies followers.

However, although the game was staged at the Netherdale ground of Gala Fairydean (frequent applicants to join the Scottish League), the opposition was composed of players from a number of local non-league sides, assembled in the name of charity to raise money for children's charities in both Iraq and Burma.

A Bradley Orr hat-trick and a Martin Brittain brace helped United side come away with a 6-1 victory, despite a goalless opening forty five minutes.
Congo-born striker Calvin Zola-Makongo opened the scoring ten minutes into the second half heading in from a Martin Brittain corner.
And it was the livewire substitute Brittain who doubled over advantage within two minutes, being chopped down on the edge of the penalty area and getting up to make it 2-0 from the spot.

He was also involved in our next goal, as we scored three in four minutes, this time crossing for Bradley Orr to nod home.
Brittain then claimed his second with a strong shot in the 82nd minute, an effort that would have completed his hat trick had the goalpost not denied him from 20 yards a few minutes earlier.
However, not to be denied was Bradley Orr, with goals in the 88th & 89th minutes to seal a 6-1 success in the final scheduled pre-season friendly for the reserves.

For the Border amateur side, Gordon Blacklock had claimed a consolation goal with four minutes left on the clock, while the heroics of goalkeeper Willie McMillan made him the undisputed man of the match, keeping United at bay almost single -handedly.
Biffa

Reports