Date: Wednesday 24th September 2003, 7.45pm

Venue: St. James' Park.

Conditions: Decompressed.....





Newcastle United

5 - 0
NAC Breda
Teams
31mins Direct football of a devastating simplicity. Andy O'Brien's free kick from midway in his own half was floated forward to Alan Shearer, who nodded it on into the path of the unshackled Craig Bellamy. He galloped forward and neatly lobbed the ball over the onrushing keeper into the empty Leazes end goal. 1-0

37mins Kieron Dyer picked the ball up and scampered forward, unimpeded by meaningful challenges. Enter the Frenchman, who unselfishly squared the ball for Craig Bellamy to prod home 2-0

Half time: Newcastle 2 NAC Breda 0

59mins Laurent Robert's flag kick from the Strawberry corner was headed home powerfully by Titus Bramble 3-0

77mins Robert rolled the ball infield to Alan Shearer from a free kick outside the Breda box. As the defensive wall stood apparently mesmerised, big Al had time to take a couple of touches, look up and drive his shot home low to the 'keeper's right. What he wouldn't give to have that sort of space in the Premiership. 4-0

89mins The icing on the cake for the Magpies and the tin lid on it for the Dutch. Having been on the pitch for barely ten minutes, Darren Ambrose found himself totally unmarked on the edge of the Breda six yard box and steered his header home from.....you guessed it, a Laurent Robert centre from the left 5-0

Full time: Newcastle 5 NAC Breda 0

Sir Bobby said:

"I said to our players, 'You've got to think that you're not playing Breda, you've got to think that you're playing Barcelona, Inter Milan, Juventus, that's the level you've got to think you're playing against.

"'Now, whether Breda are going to be like that, I don't know, I don't care, you've got to think it's a difficult game and you've got to be full of running and have a winning appetite. The mood of the team has got to be outstanding.

"And we went for it and we gave Breda a very difficult game. I didn't think for a moment we'd win by five - I thought we could win by two, something like that. I know the quality of our team."

"It was obviously a very important win and we were back to something like our best that you saw many times last season.

"I always felt we had the ability to do that. It was always a question of time, patience and support and we'd be okay. It was important that we finally won in front of our home public, and to score goals.

"But the important thing in the first half, for me, was Shay Given, who made two wonderful saves. At half-time, we went in 2-0 and it could have been 2-2.

"Shay made two very, very good saves, but in the second half, obviously, we subdued them, submerged them really, and then when the third goal went in, it was very difficult for them.

"They kept chugging away, but with respect to them, we probably had too much on the pitch for them overall. They had some good players, but it was a difficult night for them.

"We've all been under pressure. We needed to win and we needed to win well, and we've done it. It can only do us a power of good.

"It's not over because we have to go over there and play, so it can't be. But it would be a catastrophe if we lost 6-0."

Home debutant and goalscorer Darren Ambrose said:

"A goal has been coming for me, I have hit the bar a few times for the reserves and had a few missed opportunities. So to get out there and make my home debut plus score has just been a bonus for me.

"I was delighted to be called into the squad after playing on Monday night and then to be on the bench as well, I am just really pleased.

"It was a great game to come into leading four - nil and I think we answered some of the critics. Hopefully now we can take that performance into the league and Arsenal on Friday night."

Coach Ton Lokhoff said:

"I'm devastated. I expected a rough night but nothing like this. I thought my team were well below their normal standards. Eighty to 90 per cent of my players didn't play well.

"In the first half I thought we were doing quite well but when it got to 4-0 I realised that it was game over. We have to win the second-leg 6-0 and that is mission impossible."


Given and Speed made their 29th appearances for the club in European competition, a new record.

NUFC in all European competitions:

Played:92 Won:47 Drawn:19 Lost:26 Goals for:160 Goals against:100

Fairs Cup / UEFA / CWC / CL only (ie no anglo-Italian or intertoto):

Played:73 Won:36 Drawn:13 Lost:24 Goals for:119 Goals against:81

Messrs Ambrose and Bramble netted their first senior strikes for the club - joining Silvio Maric and Paul Robinson in doing so in the UEFA Cup.

Waffle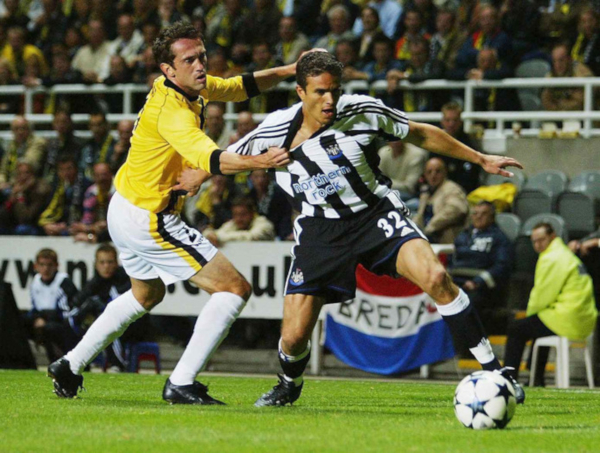 Runs, passes, shots, headers.....goals. Ambassador, with this entertainment you are spoiling us.

Football returned to St.James' Park on Wednesday night after an absence during which the whole of Tyneside and toon pockets of resistance further afield had been plunged into something of a black mood. Happy new season.

It's amazing what a couple of goals can do for restoring faith in ones team, or colleagues. The problems at the club between different players may not have been cleared, but displays and scorelines like this don't half paper over the cracks. Thankfully, ninety minutes of frustration on Saturday hadn't extinguished the stirrings of solidity and determination that had been evident at Goodison.

Our recent shortcomings on the field and consequent uncertainties were banished in grand style, with Robert especially turning the clock back to serve up a performance almost Ginola-esque at times in his hunger to be positive and damage the opposition. And if the fans revelled in his deliveries and dribbles, Shepherd and Robson were probably the two most relieved men in the ground - grateful that their bollockings had finally sunk in and Robert was doing his talking on the wing, not on the web.

We've said in most of our match reports so far in this campaign that nothing was going right for us at all; that everyone was on a collective downer. Well, we may have had our celebrations tempered by news of Woodgate's seemingly inevitable trip to the operating theatre, but everywhere else across the field there were plus points.

A groin strain suffered by Solano and Bowyer still paying for sins of a previous sporting life gave Robson the opportunity to play Dyer down the right, and while his energy levels were as high as usual, his focus seemed better and his dashing around more meaningful. And that allowed Jenas a spot in the side and a chance to remind those watching of his quality.

Add to that a visiting defence which didn't hassle Bellamy to such an extent that the red mist descended and his effectiveness disappeared up his own posterior and suddenly we were in business.

Further icing on the cake was provided by the opportunity to slip Hughes back in for a confidence-boosting return to the fray and the goal-den moment from Ambrose - would that Chopra had been as fortunate in his cameo appearances so far.

But the biggest plus of all, even more so than another decent performance by Titus, some keen tackling by Bernard or Bellamy's goalscoring, was Robert's display.

Frustration beyond belief from the lad at times, but when he can play like this he's worth every penny and it's difficult to find an equivalent player in England away from Old Trafford or Highbury. One dribble in the opening part of the game when he swept through a trio of Breda players with a mixture of skill and strength was almost worth turning out for on it's own - an all-too rare "gan on son" moment.
There remain certain "situations" to be addressed - such as whether Speed can play another 90 minutes just 48 hours after this good performance and whether LuaLua or Caldwell will be forgiven for their transgressions (playing for the Congo and hesitating over a contract respectively). But thankfully for tonight at least there were plenty positive things to talk about and conspiracy theories remained unaired (that's apart from the one about Breda not trying as hard as they might of course....)

Those who were there or managed to find a bar with Dutch telly will be able to form their own opinions as to the strength of the opposition. While it's true that Given had his fingers warmed on a couple of occasions in the first half, there must also be a grain of truth in the observation by the other half of NUFC.com that Ajax cannot be ower clever.

As ever, some perspective is required here. There are Division One sides who would have been more difficult to beat and perhaps only Wolves in the present top-flight have been as exposed at the back this season. However, regardless of who we were playing, this was a country mile ahead of anything we've suffered so far, as we rediscovered the rudiments of passing accurately, moving sensibly and crossing the ball intelligently.

The challenge of Friday night in London is still to be faced and it's arguable that we could hardly be playing Arsenal at a worse time, with their siege mentality at it's height....and all those suspensions yet to kick in.

However, let's just be thankful that players, supporters, manager and pressmen can now make the trip with renewed confidence and an at least an air of optimism that the corner has been turned, whether of not it's the Highbury one..

Certainly if Robert can emulate this level of performance against more cynical and streetwise defenders and evoke memories of his display there in December 2001, then it might not be all one-way traffic.
Biffa

Reports
---
Page last updated 31 October, 2019