21 mins With United attacking the goal furthest from the away end, Lee Bowyer looked to have over-hit cross to the back post. However Alan Shearer was able to nod back into Gary Speed's path from almost on the goal line.

The Welshman chested the ball forward and although it ran away, it fell for Shola Ameobi to turn sharply and strike it past Mark Schwarzer from six yards. 1-0
Half time: Middlesbrough 0 Newcastle 1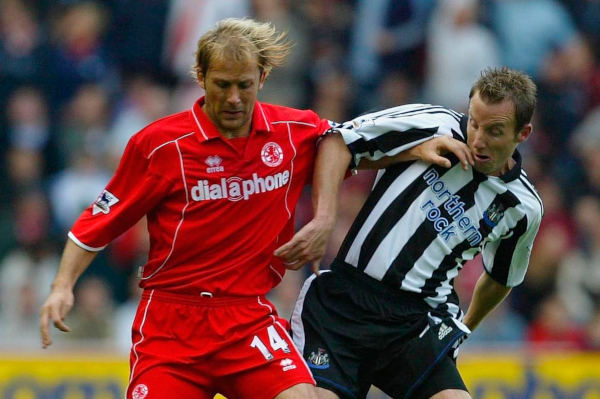 It's a thin line between success and failure in the Premiership - and at the Riverside on Saturday it was the width of an Irishman's glove that ultimately gave Newcastle the upper hand.
While Shola Ameobi's first goal of the season that ultimately divided the sides, the crucial difference was the proficiency of Shay Given. That and a modicum of good fortune of course, of a sort that invariably accompanies our visit to smogside.
While political correctness still allows, use of the phrase "Indian Sign" was never more appropriate when describing our apparent hold over the Teesside forces of darkness at their own lair.
Since moving from the Hell's Kitchen that was Ayresome Park, only last season's single goal defeat has seen the smoggies bouncing up and down in their seats come full time, at least in the league.
And despite the belated introduction of the Brazilian Gazza by Boro boss Mike Baldwin, once again only those home fans who hadn't abandoned ship until the bitter end remained to see the away end erupt once more into a sarcastic chorus of that Pigbag record.

Fast forward a couple of hours to more than one Tyneside hostelry and yet another, slightly more raggy, refrain of "da da da da, da da da da da...." - I'll name that tune in one.....
Enough of the cellnet ragamuffins, who could well have won this game if Steve Gibson had spent some of his brass on Sewpa Kev rather than some borrowed haircuts. As it was they made their chances, missed them in an up a bit left a bit manner and to put it into plain language.... shot their bolt.
Sir Bobby was spot on when he remarked on the lack of prettiness from United in a functional display, but tributes have to be paid to a side that had just ground out a third successive 1-0 win. We must be doing something right - even if it's just papering over the cracks more efficiently than of late.
While local boy Woodgate was missing through injury, our central defensive pairing of O'Brien and Bramble were relatively rick-free, with the latter showing admirable tenacity in the tackle.
Slightly less impressive though was Bernard, who was as much of a threat to the home side as anyone in a black and white shirt, but often at the expense of leaving a hole down the Boro right for Mills, Zenden et al to funnel into.
Some poor distribution and the aforementioned goalkeeping prowess ensured that we weren't punished on this occasion, with Bowyer also showing his responsible side by dropping back to plug the gaps when he wasn't required elsewhere.
The goal, coming as it did after an opening onslaught from Boro that bordered on the manic, was against the run of play but satisfying for the identity of those involved.
The seemingly over-hit cross from Bowyer that allowed Shearer to turn provider and the consequent foray into the box by Speed and shot into the net from Ameobi were virtually the only time we combined effectively in front of goal - in those circumstances it was reassuring that the quartet were still capable of carrying out their tasks at least once.
For the captain though, while he never looked like adding to his goalscoring tally, we still saw another virtuoso performance pulled from his repertoire of skills.
We've said this before, but there really should be a compilation video in the shops by now devoted to his corner-flag-hugging displays to run down the clock.
This example was almost as entertaining as anything he's done upfield, coming as it did right in front of a jubilant away section and managing to bring those home fans still in the next paddock snarling to the railings in high dudgeon.

Still more hilariously, Gareth Southgate, the mild-mannered janitor of the Boro backline was seething enough to crash headlong into his erstwhile England colleague in a gesture of utter frustration.
And things almost took a comic turn when Juninho entered the fray to reprise his comedy lecturing of Philippe Albert a few seasons ago. To this, Big Al at least turned off his deadpan, dead-eye expression long enough to tell him where to stick his Copa Cabanas.
So, a workmanlike performance in an inhospitable arena, with the only fancy- dannery coming with the late appearance of Robert from the bench, leaving Viana and LuaLua to stretch and twitch on the sidelines and soak up the adulation from the black and whites in behind one goal. Meanwhile, if the papers are to be believed, one severely dischuffed Peruvian was just passing Easington Services....

After expressing frustration with our lack of solidity in Premiership away games this season, it would be churlish to moan about a lack of flair on a day when grit and graft got us through.

That said though, it's a measure of the times we're in that Robert wasn't employed from the start to try and reprise the livewire performance that ignited his toon career on this ground two seasons ago as we took a more regimented approach.

If Robson proved one thing, it's that he's capable of picking teams to win matches unlike a certain former Magpies boss now at Manchester City, whose horses were always the same, no matter what courses they were on.

Whether he'll always be as fortunate remains to be seen, but here he deserved the win his side handed him and can take pride in their efforts. On another day we'd doubtless whinge about a lack of creativity and bemoan the fact that nobody but Shola managed a worthwhile attempt on goal - but for now, we're content to laugh at Boro and look ahead to improved displays to match our improving results.
On to Loftus Road then and an appointment with a side that we've come unstuck against on the last two occasions. Another 1-0 will do us, but thanks to Saturday's efforts a draw wouldn't be the end of the world.

Onwards and upwards then, at least until the next off-field calamity.....
Biffa